You must have faced some trouble while browsing some websites, either the URL or Ip address is blocked or not available for your country. And if you are a person who wants easiest way to access a blocked webpage is to use a proxy website. When you try to connect to a non-secure website, advertisers, hackers, can see where you're located and what kind of source you're using. These proxies also allows you to stop all ads and also block cookies from websites you don't want.
Some also disable cookies to minimize the storage of your browsing history and also can do safe online banking with good connection speed/internet speeds. Your online activities can be hidden easily. Many of the popular web proxy service that we recommend in this article has added additional security that can give basic proxy server security so that your private web browser experience is protected. Any system that translates traffic between networks or protocols is referred to as a proxy server. It's an intermediary server that sits between end-user clients and the websites they visit. Depending on your use case, demands, or company policy, proxy servers provide varied levels of functionality, security, and privacy. 
Today, you are lucky to visit Brighter Guide for we will give you the 10 best free proxy sites of this year.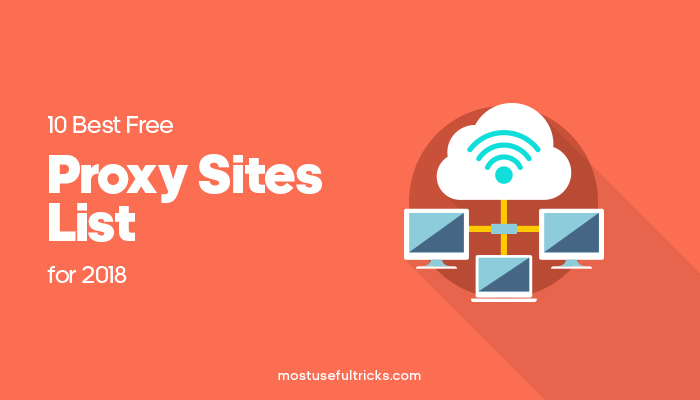 Proxies are something that can lift the restrictions on accessing websites that are blocked in offices, schools, a private network colleges or just IP address restricted. Using Proxy server is the easiest and the most efficient technique to browse the web anonymously. Here in this article are putting up the best and handpicked proxy websites which are entirely safe to use.
Proxy server can act as a savior in critical situations too. One day when I was in college, I needed to login to Facebook to finalize a major deal with a client of mine and no doubt, the network administrator blocked Facebook. That was the day when proxies or a proxy server helped me to save my deal with a US-based client.
It is not unique to me, most of the colleges/schools blocks users social networking and video streaming sites and all of us want to access them. Proxies or proxy server are not only vital to access any blocked website, but it also helps to browse anonymously.
Not only this, proxy server sites are very easy to use. They redirect your network traffic through their network servers which enable you to browse the blocked URLs because their servers are not blocked to access that particular website or window. In order to minimize data collection on your web movements details or browsing, you can switch or opt-out of tracking at Network Advertising Initiative and Digital Advertising Alliance , by any advertisers who are part of these business organizations or platforms.
Note: You can also use free VPN software like Psiphon or Opera browser to access blocked sites. Opera comes with built-in free VPN which no other browser offer. I personally use the Opera browser whenever I found a website is blocked.
Features Of Proxy Websites
Access useful websites that are blocked by your ISP/Government/Organization.
Browse Web pages and download content anonymously with anonymous proxy.
Hides your primary identity. However, you are still traceable by the government person, cops, or network geeks.
Easy to use.
Several Proxy websites or proxy server support SSL.
It can be used to access country-specific sites and to be anonymous online or be in incognito mode and much more.
We have lots to offer if you want to read useful articles. You can learn here the alternatives for Skype, TeamViewer, and YouTube.
Efficient and Safe Proxy Sites List
Just like torrents and filesharing websites, there are a lot of distorting/fake/not-working proxy server on the internet. Few of them even contain threats like malware on your internal network and can lead to hacking of photos and credit card information. In aid of this, we are listing self-verified websites in this list which you can use without a second thought. Here we are putting down our personal list of best proxy sites, and we suggest you surf the web using these proxy servers only.
NOTE: Remember that not all VPN services are equally created. In some countries where certain sites are banned, many people make use of VPNs tools to surf social media with IP addresses that appear to be from another country, in order to access social media including Youtube, Facebook and other social media sites also as private browsing.
Feel free to visit our website to learn the different how-to's we have. You can learn how to block a website, how to share Google calendar, or how to uninstall on Mac.
1. HidemyAss.com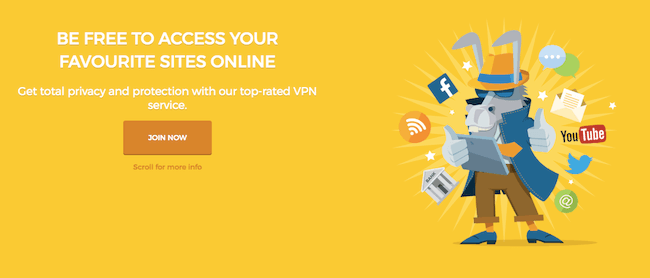 This is my personal favorite proxy site to browse sensitive or blocked webpage. HMA doesn't need any precise introduction because it already has earned a lot of fame in the Internet market. This is the best proxy website that offers two different services. One is Hide My Ass VPN and another is a free proxy site.
HMA has an elegant and manageable address bar which is supposed to access a blocked website is anonymous. Furthermore, this proxy site has SSL support along with other latest features.
2. FilterBypass.me

This is yet another excellent proxy site which is literally very easy to use and is completely free at the same time. Once you visit FilterBypass.me you will find a box in which you can enter the URL of the website you want to surf. Once you enter the URL of the site, the desired site will be opened in another tab.
This proxy server has loaded features like if Cookies or JavaScript should be allowed and whether the Secure Sockets Layer should be enabled. Filter bypass does not have too many ads which helped this proxy site secure the 2nd position in our list.
3. UnblockmyWeb.com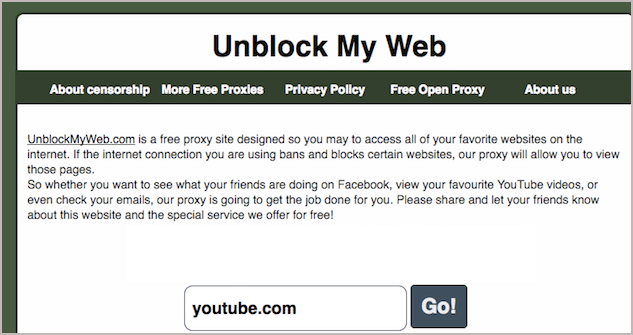 UnblockMyWeb is a clean looking multipurpose proxy site that allows you to unblock your favorite sites that are blocked by your network. This proxy is totally safe to use and overrides your IP address to make you anonymous and start private browsing. When you visit the homepage of UnblockMyWeb, you will land into a simple but nicely designed page with a text field to access your website.
UnblockMyWeb serves non-irritating ads to deliver you the services free of charge. Furthermore, this proxy website doesn't bound its users by providing unlimited access every time.
4. 4everproxy.com

4everproxy is a seamless proxy site known for its fast and easy web browsing capability. This proxy site boasts different web servers with IP location mask of numerous countries for private browsing. When you visit the homepage of this proxy website you will find a URL field along with multiple checkboxes, each having different add-on features that are applied while browsing a web page. The benefits of using this are enormous!
In addition to this, a random outgoing IP location is set to all of the 4everproxy connections which lets you surf blocked WebPages anonymously. The best part about 4everproxy is that it doesn't limit their users in bandwidth or speed which makes it worthy enough to enter this list.
5. Kproxy.com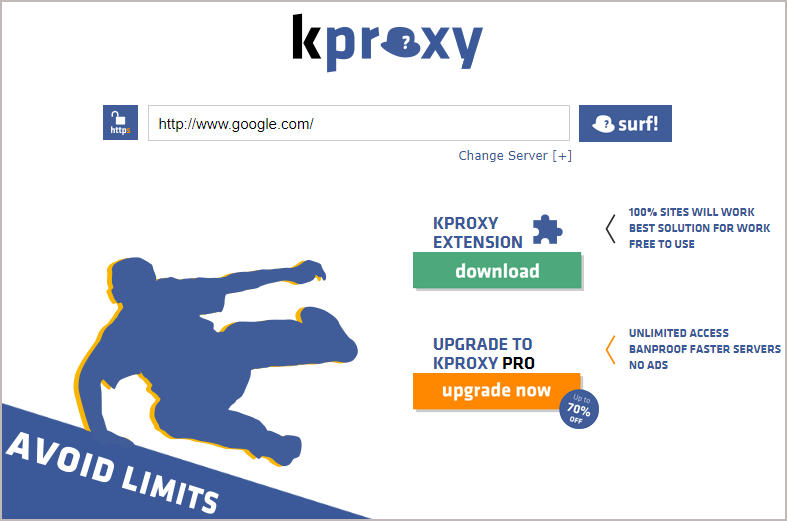 Kproxy was launched back in 2005, and since then, it is one of the leading proxy sites. This site is on our list because of its extensive features. It is an industry-leading proxy website when it comes to surfing over SSL.
Furthermore, it provides the extension for both Chrome and Firefox which is the best way to visit the blocked site without opening any proxy site just enable the Kproxy browser extension from the icon and you are all set. You don't need to worry if you don't have either of these two browsers because Kproxy also comes with its own browser in which you can enjoy the same benefit.
6. AnonyMouse.org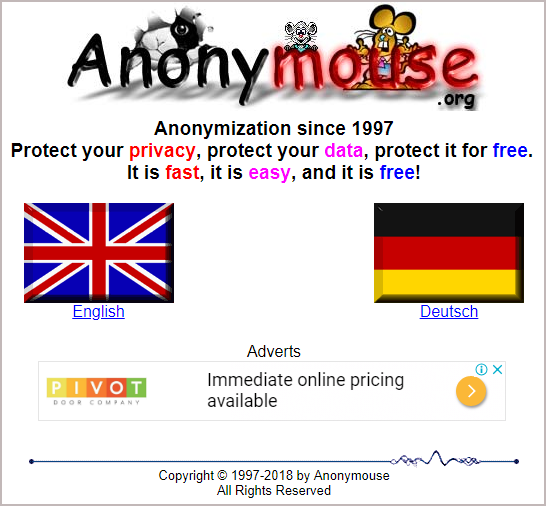 This is another good proxy on the internet. Many sites keep logs of all of your visit but with the help of this proxy, you can protect your personal information and identity. Apart from providing you anonymity and unblocking restricted WebPages by the government or your network administrator, this proxy offers you many more features.
Anonymous is fast, has antivirus protection, built-in encrypted connection and lot more. It provides the two versions of the proxy. First is free in which it will show you ads and second is paid (ad-free).
7. Proxify.com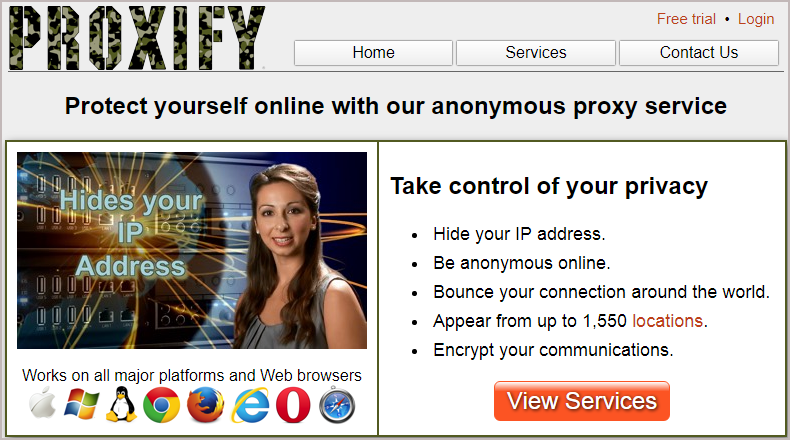 Proxify is a single solution for all your needs with very simple UI and advanced features. It is the only paid proxy site on our list of best proxy sites. You might be curious to know that why I included this proxy site in the group of free proxy servers is because it has a lot of advanced features with minimal cost.
Proxify boasts to offer you anonymity from 1,230 locations across the globe. Through Proxify you can keep yourself from getting tracked by the website you visit. You can even use location-specific IP addresses according to your needs. So, if you can shred out some money, then Proxify.com is a single tool for all of your needs. Not only this, Proxify offers 3 days free trial to let you know how good they are.
8. JustProxy.co.uk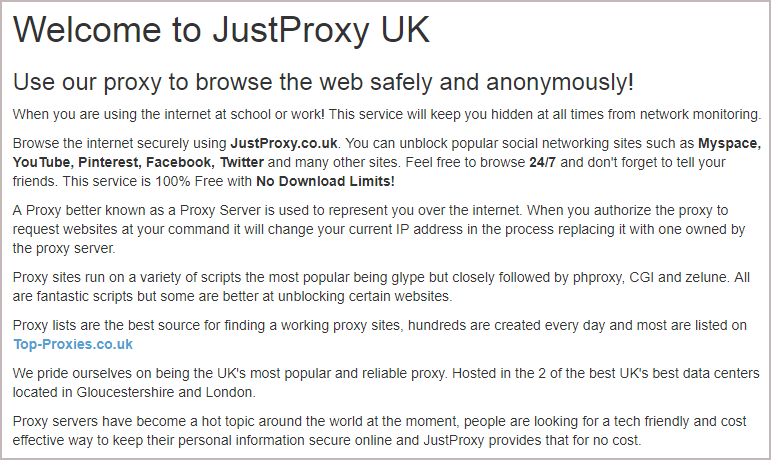 Justproxy.co.uk is another big name in proxy sites. It is a UK based free SSL supported proxy site which lets you browse blocked sites such as Facebook, Twitter, YouTube, Instagram, etc. JustProxy doesn't limit the usage of its users, and it offers truly unlimited bandwidth and anonymity to its users. With privacy features, faster speeds, and yes extra privacy.
JustProxy has the potential to override your current (blocked) IP address to that of owned by the proxy server. It is one of the most reliable proxy servers hosted in the 2 best data centers in the UK, located in Gloucestershire and London.
9. Dontfilter.us
Dontfilter.us is a proxy site with a clean user interface. Despite having a simple homepage, this proxy server offers a lot of features. It is a site unblocker and a seamless privacy tool that suits almost all of your privacy and unblocking needs.
When you visit the homepage of Dontfilter.us you'll land up to a simple and clean webpage in which you can find a box to type the URL. After typing the URL, dontfilter.us opens the requested website on their proxy server and serves you the desired content.
10. NewIPnow.com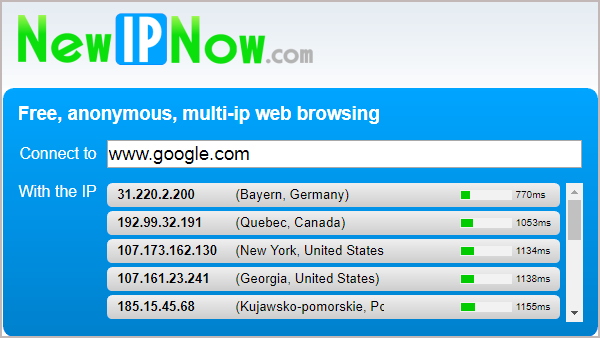 As the name suggests, NewIPnow masks your current IP address with that of the proxy server. Despite having a very basic homepage design, this proxy site has a lot to offer.
When you visit the homepage of NewIPnow you will observe an awesome feature of choosing from a list of IP addresses along with different locations. This proxy site really becomes useful when you need to browse a location-specific website. NewIPnow.com offers all of this free of charge which made it enter this list of best proxy sites.
Did you enjoyed reading this article? You will surely love to read other articles such as 7Zip Alternative, best android music player, and best Chrome extensions.
Conclusion
This list of proxies was the list of 10 best proxy servers obtained from our personal experience and research. There are different types of proxies. Get to know about IP Proxy Involvement, dedicated proxy service, Next-Gen Residential Proxy, private proxy plan, Party IP Proxy, Scale proxy users, about private web browser, proxy providers and proxy on PCs. We have included the best proxy sites by their features and user interface. Have any doubts or want to share some thoughts? You can post questions about popular sites, service quality, requirements, anonymous surfing, better-paid web proxies basic proxy server, VPN proxies, payment plans, subscription plans, affordable pricing plans, advanced VPN option, premium VPN option, proxies bases plans, regular plans, privacy policy privacy protection, VPN for privacy/ online privacy, browser add-ons, proxy server providers performance speed, substitute IP address/proxy IP address or any queries about the article. Shoot them up in the comments section.