Do you ever think of connecting to someone else's PC? How easy can it be? Indeed it is with the help of software like the TeamViewer. This remote access software helps you easily control computers that you don't have physical access to. Team viewer is absolutely free for personal use, but company charges might apply. This goes for anyone using it for commercial purposes. TeamViewer is one of the best software solutions for remote connections, screens sharing, web conferencing, online meetings, and file transfer between PCs.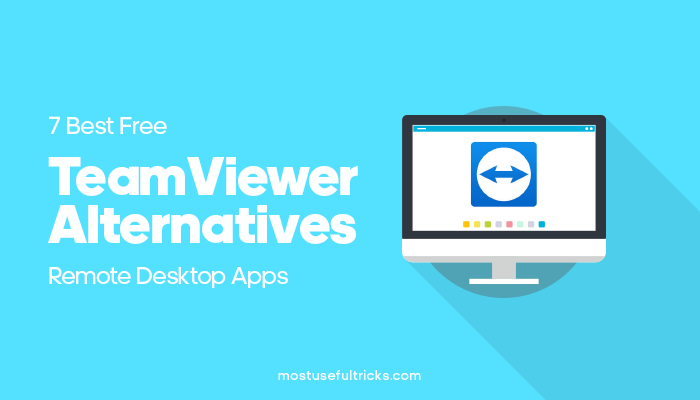 A remote desktop connection helps you connect and manage a distant computer remotely. This is vital while helping your acquaintances troubleshoot their problems. For developers, it helps to speed up deployments. Data centers are mostly managed using remote desktop connections, which are useful for accessing online tools.
There are many advantages about Remote Desktop Connection that are too good to be ignored. However, to get the best experience, you require the right Remote desktop cloud application to perform your tasks. There are many Remote Desktop Applications available, out of which Team Viewer pioneers the list.
TeamViewer got hacked and now security is the primary concern for most of its remote users. Security experts also suggest that enterprise users drop TeamViewer and avoid facing severe problems in connection to security lapses. Yes, TeamViewer is a target and reportedly all of the active sessions during the hack got logged out. Furthermore, everyone got an email to verify ownership and set up two-factor authorization.
Why you might need an alternative
However, you might be seeking for TeamViewer alternatives for multiple reasons which can be.
Lack of Simplicity and reliability.
Security is the primary concern for some users.
Free for personal use but charges high for the commercial license.
TeamViewer simply doesn't run on your computer.
Fetching some faster cloud-based applications.
Want a free alternative to TeamViewer.
Just curious to use another application or whatsoever.
Although TeamViewer software has plenty of useful features like files transfers, smartphone access, and collaborations, there are better Teamviewer alternatives you might want to give a try.
Best TeamViewer Alternatives 2021
1. Real VNC
Real VNC comes with free and paid license options for the Remote Desktop Application, backed by the VNC framework. Virtual Network Computing is an open-source technology on which Real VNC is based. It is more complicated than TeamViewer to set up, but Real VNC makes sure that your connections are secure and reliable at the same time.
Real VNC not only offers you the features of TeamViewer like File Transfers and chats, but it also powers authentication, encryption over a cross-platform remote control software. This remote access desktop client lets you connect to a remote computer individually and connects to numerous PCs behind a public IP. Download It
2. Windows Remote Desktop Connection
Microsoft's very own Windows Remote Desktop Connection is prebuilt for free in the Windows operating system. This can be your first choice to connect to any remote desktop system. You don't need to walk the extra mile by installing a new remote desktop application. The software comes in Business and Ultimate versions, too, which gives complete access to a remote PC.
Supported by Windows and  Mac OS X, it is pretty simple and easy to use, making it perfect for beginners to start with a remote desktop client. You can find its settings on the control panel (system's settings). The router of the Remote PC is supposed to be redirected to port value 3389 to initiate strong connections. However, this tool has some cons, like unable to connect multiple PCs simultaneously, and it locks the remote PC's screen. Though this tool can be a great choice for system administrators to control multiple PCs in the office. Download It
3. Join.me
Developed in the house of LogMeIn, JoinMe is proven as one of the most spectacular platforms to connect multiple people at the same time and from different places. Supported by Windows and Mac OS X, JoinMe offers unlimited voice connections using any device, which means any user can connect over any VOIP or telephone.
JoinMe also features recording, instant schedule sessions, meetings and offers phone numbers in 40 different countries to support voice connection over telephone lines. The paid version further features up to 250 members allocation capacity with a presentation swap feature so that anyone can share their screen across the conference or session with a screen sharing feature.
While the basic VOIP service on JoinMe is free, you can further shred out as little as 15$/month for Pro and 19$/month for Enterprise plan. These plans are fit for having a premium meetings' experience and more advanced settings. So, you can make JoinMe an ultimate priority for any corporate personnel to connect with their clients and employees.
4. Splashtop
Splashtop is another deserving alternative of TeamViewer for personal and commercial usages. This Remote Desktop Application offers free and paid versions, and you can connect up to 5 PCs in the free version. Setting up the client on Windows or macOS using your Android or IOS mobile devices is what Splashtop does effortlessly.
Splashtop further features minimum ping support, which lets you enjoy the media remotely. If you are using Splashtop to troubleshoot little problems, it will do the job spectacularly. The ease of access and enormous secure experience, which Splashtop provides at zero or little fees, makes it one of the best TeamViewer alternatives. Download It
5. UltraVNC
UltraVNC is an open-source remote desktop application that uses VNC protocol to access other systems remotely. This is one of the few completely free alternatives available for TeamViewer. Despite charging nothing, UltraVNC is pretty promising for the job. This is a free tool developed for Windows-based PC to access other PCs remotely.
Although UltraVNC is exclusive for Windows, setting it up is just a matter of minutes. This tool can come in handy when you need to help somebody remotely to troubleshoot their issues. It is a light tool that allows you to complete another system once the connection is established easily. In addition, this tool also allows seamless file transfers with a quick connection establishment feature, which gets your tasks done even quicker. Download It
6. Chrome Remote Desktop
Another alternative for TeamViewer that doesn't need to install a new application is Chrome Remote Desktop. If you have Google Chrome preinstalled, so is Chrome Remote Desktop. This tool instantly creates trust in our subconscious mind as Google Inc develops it. The name is enough.
This tool is easily accessed from the extensions page on any operating system running the Google Chrome Browser. The add-on lets you access the remote PC and its content over an internet network right from your browser. Google Remote Desktop Access works well when you need to access remote computers without even leaving your browser. The setup is quick, easy and it doesn't cost a single penny to get a remote computer connected. Download It
7. AMMYY Admin
Ammyy Admin is a free Remote desktop application to take over a remote PC. You can use it for personal as well as commercial purposes. Ammy Admin distinguishes itself from most of the other Remote Desktop Applications by being ultralight and loaded with wonderful features simultaneously.
Having a file size of less than 1 MB, Ammy Admin provides features like sharing of files, live chat features while being connected to remote computers. Even after being so light, AMMY Admin doesn't compromise with user security even for a bit.
Ammy Admin doesn't consume much of your system resources when it comes to memory consumption and leaves a big resource chunk for other applications. The setup and usability of AMMY Admin are quite easy, which makes it the first choice for many users. So if you are looking for a light, fast and easy Remote Desktop solution for business or personal usages, then AMMY Admin might be a perfect tool for you. Download It
8. Dameware Remote Support
Dameware is another alternative to TeamViewer. It is a remote control software that allows users to share desktop and control remote devices. Developed by Solarwinds, Dameware Mini Remote Control, and Dameware Report Support are the two on-premises solutions. Dameware Remote Everywhere is their SaaS solution.
Remote access to frozen computers or switched-off PCs.
Access from primary operating systems, Android and iOS.
Multi-Factor Authentication
It needs a strong internet connection
These are some of the key features of Dameware. According to the user experience, Dameware premium has all the features like TeamViewer. You can enjoy a 14-day free trial of the tool. According to the user experience, the Dameware premium basic plan has all the features like TeamViewer. You can enjoy a 14-day free trial of the tool. You can remotely access it from mobile phones, tablets, and PCs. Download it.
In Conclusion

We built this list of Best Team Viewer alternatives after testing dozens of different remote desktop software. The list includes the best alternatives available. So, if you are looking for a TeamViewer alternative that can provide you with an equally good experience, you can consider any of the above Remote Desktop Applications. The above software is all TeamViewer alternatives that you can access directly via most primary operating systems, whether on smartphones, tablets, laptops, or desktops. There are many different types of protocols supported by remote desktop services to establish a connection over the internet. In terms of security and image quality, many users are less than 100% satisfied and are therefore looking for alternatives to TeamViewer. Depending on your needs, you can record your sessions and generate reports, which is yet another plus from the management perspective. These are some top TeamViewer Alternatives. TeamViewer long enjoyed the advantage of being the primary remote management software solution in IT. Still, complaints about the high price point and a series of worrisome hacks have left many seeking alternatives. 
Have some doubts while choosing remote client computers? Download the above alternatives and give us your feedback. You need to share your experience or something? Then, shoot them all in the comment box.