When it comes to important documents and other content, everyone becomes extra careful so that they don't lose them under any unfortunate event. However, data loss is very common and arises due to a number of failures that are hard to expect and control. This is where the concept of file recovery comes in.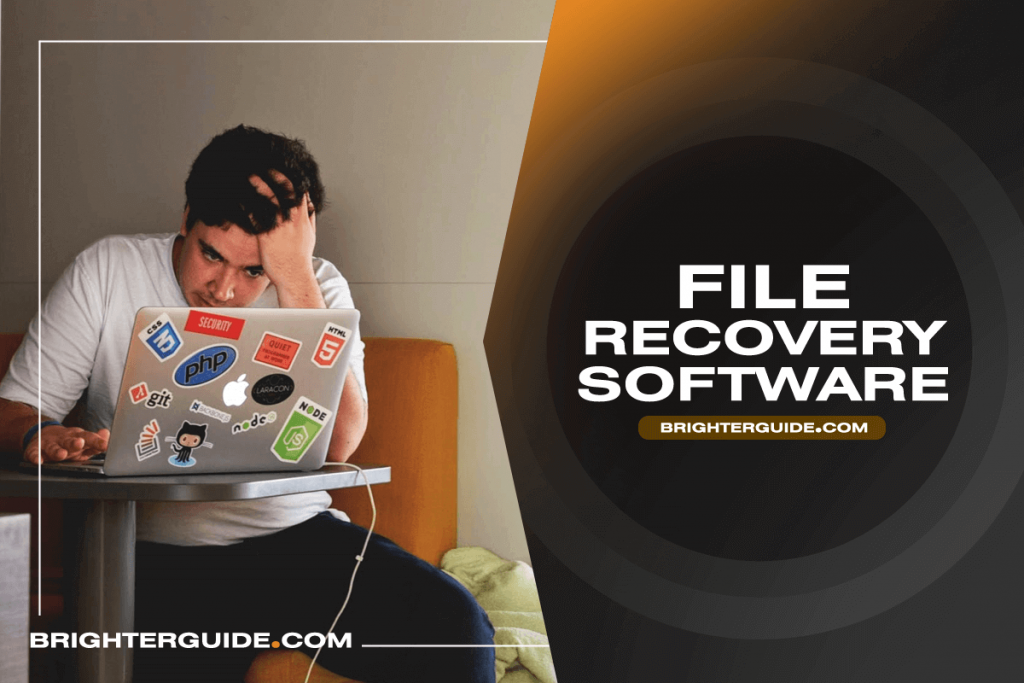 Check out other articles about the following from us: ERP Software, OCR Software, Payroll Software, Property Management Software, Video Editing Software
Best File Recovery Software 2021 – Our Top Picks
Several software platforms are there which will help you to recover the lost files from any device, be it the OS, a corrupted or damaged optical drive, an external hard drive, or any other place where you have stored the documents. With so many types of storage and file types, it can be a real problem to recover the data on time. This is why you need to ensure that the software chosen will help you in restoring all the types of files you have lost due to any unexpected turn of events.
Here are the top 10 recovery software from which you can choose.
#1 data recovery software in the market
The Stellar data recovery tool is the number one software in the market, and hence you should try it out this instant. It is wizard-based software where you will have several options and buttons to choose from. Based on the filters, you will be able to search for the file you want and then restore it. You can select the location where you will like to store the files after the recovery process. You can either choose a location on the system, any hard drive, or a cloud database at your convenience. With this software, you won't have to spend huge time and effort on the installations, which is why it's perfect for both personal and professional use. Another amazing feature which you will indeed like is the preview feature which will allow you to see the data before recovering.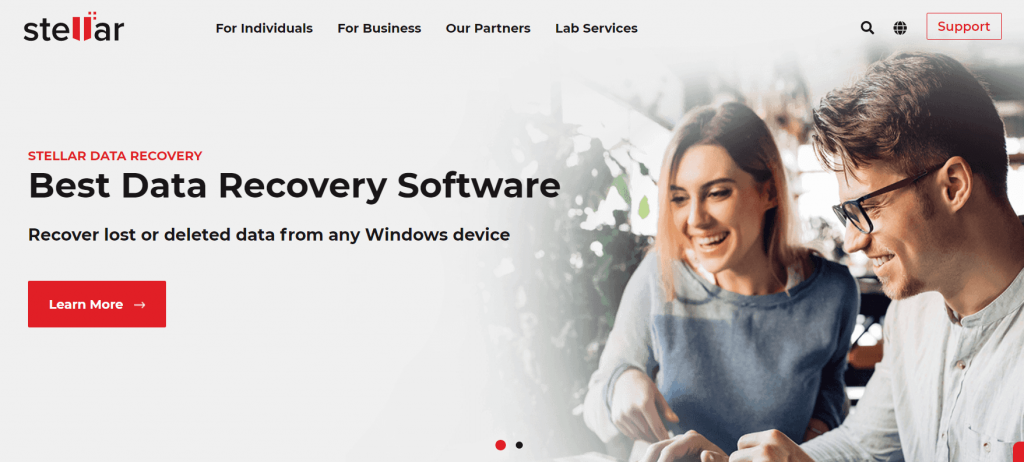 Pros
Guaranteed recovery of lost data without making the data corrupted
Easy-to-use GUI
Cons
Cannot specify the time period for scanning the device for deleted or lost data
30 Days License $59.99
1 Year License $79.99
High-performance data recovery for cheap
If you are not a pro in using different technologies, you can use the Orion software for the swift recovery of files you have accidentally deleted or lost. Orion is based on the wizard interface and hence you won't have to deal with command lines or programming codes to find the file you want to restore. This platform will provide you advanced data recovery feature, which will help you to scan a file before storing in the system. This will further eliminate any corruption or malware present in the file, thereby safeguarding the storage device. If you are using external drives, Orion will let you scan the device for deleted files and allow you to recover them as per the necessity. Deletion feature is an add-on which will help you to discard the files that are not needed after restoration.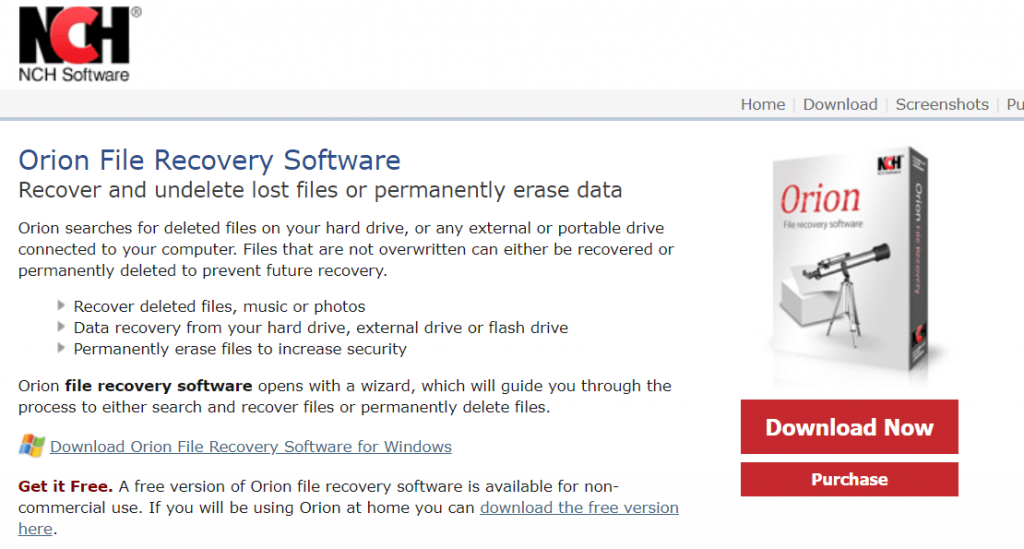 Pros
A cheap option for deep hard drive scans
Comes with a permanent data scrubber
Cons
No preview of recovered data
Quick scan isn't that fast
Orion File Recovery and Drive Scrubber Software Plus – Commercial License $9.99
Orion File Recovery and Drive Scrubber Software Plus – Home use only $7.99
Orion File Recovery and Drive Scrubber Software Plus – Commercial License Quarterly Plan $0.83/mo
Ideal for home and personal use
For users who are looking for a personal recovery program, iBoysoft will indeed be the ideal choice. Even though it can only recover 1 GB of data, the limit is enough for personal files, unless you want to revive a lost gaming file or a movie. You can connect any external drive with the system for recovery. iBoysoft will scan the contents for deleted and lost files and then show in you in folder format. With this application, you will have the independence of choosing the file you need the most. This application supports different file formats which will allow to filter them at the choosing the deleted content. The best thing about iBoysoft is that you will have multiple storage options for a recovered file.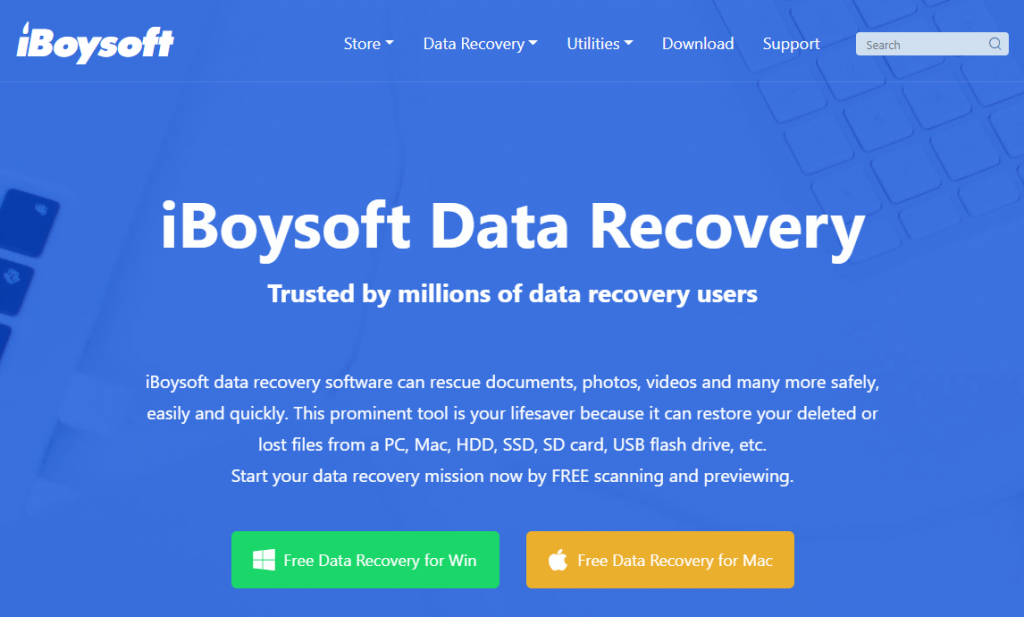 Pros
Easy UI
Can recover up to 1GB for free and more for a relatively cheap price
No viruses and ads.
Cons
Takes too long to scan
Few deleted files may not be found
iBoysoft Data Recovery for Windows – Standard edition 1-year license- $69.95
iBoysoft Data Recovery for Mac -Professional edition 1-year license- $99.95
iBoysoft Data Recovery for Mac -Technician edition 1-year license- $299
Excellent app for all your file recovery necessities
MiniTool power data recovery is an excellent application loaded with advanced features that you will need for both personal and organization use. This application needs to be present in your system, and once the installation will be over, you can use the interface for the recovery process. The trial version of the application will provide you only 1 GB recovery limit which is very low indeed. If you want to recover more files, you need to upgrade the software to the premium version which is not free. MiniTool will allow you to recover data from multiple locations, mainly the operating systems and the USB drives. File searching process is indeed very quick and hence, you won't have to waste much time in searching the data during emergencies.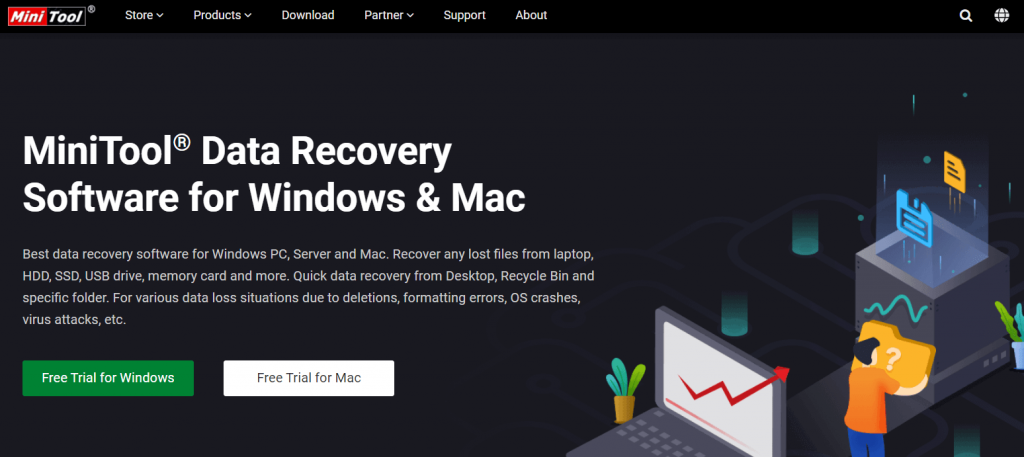 Pros
The product is very simple but very powerful
Monthly Subscription- $69.00
Yearly Subscription- $89.00
Personal Ultimate- $99.00
Free and straightforward to use
Having the ARDC data recovery tools will not only help you prevent the untimely loss of files but also deep scan any drive for finding a list of deleted files. No extra knowledge about the software will be needed since its user interface is very easy to control and navigate. With advanced options, you will be able to easily search for deleted files in CDs and other drives like the OS, USB drives, discs, and others. It is a portable data recovery tool which will help you to use it anywhere in different devices as per the compatibility factor. Even though this is quite an amazing and efficient platform for recovering the lost data, the software gets hardly updated and hence, you won't have an access to the new features the software market is following.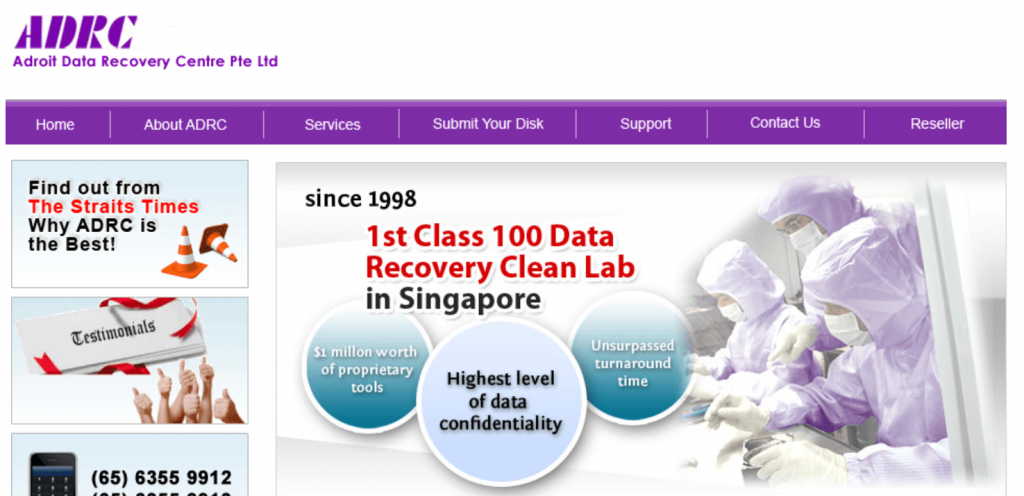 Pros
Straightforward to install and use.
Cons
Didn't recover failed NTFS partition.
Contact ADRC for your custom pricing
Will recover your files with ease
If you are looking for an application that will help you in comprehensive data recovery, SoftPerfect is the ideal choice. Not only it will allow you to navigate through the software with ease but also you will be able to search for deleted files quickly without wasting any time. This software can restore a lost file from any device but not the optical drives which is one of the biggest flaws of the application. You can use the application from anywhere since it is portable in nature, thanks to the 500 KB memory it occupies in RAM while functioning. It supports several versions of Windows along with macOS and Linux which is why this SoftPerfect is used in several organizations where data loss can incur huge complications on the workforce.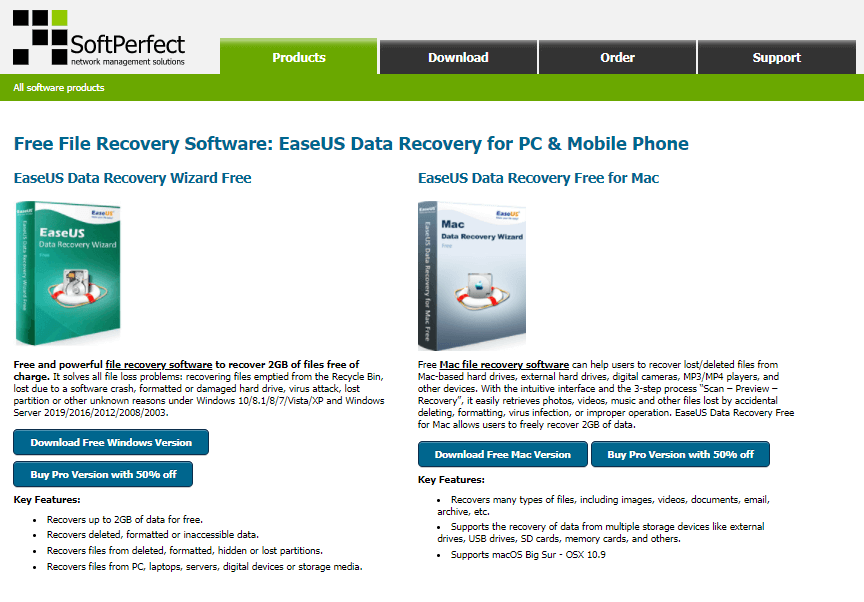 Pros
Easy to use software.
Many options to scan for more additional device info.
Cons
Pro Version of Windows and Mac- $49.74
For professionals, by professionals
For professional data recovery, Disk Drill is the ideal choice, and truth is told, you would never get disappointed with this application. it has an easy-to-use interface that will allow you to search for the deleted files easily without any hassle. Apart from organizations, it is perfect also for inexperienced home users who don't have any idea about how a file recovery system usually works. It offers a wide range of storage for the restored files which will allow you to choose a location of your convenience. You will be able to preview the files before recovery which is of great help since you will be able to know whether the file restored will be a replica of the original one or not.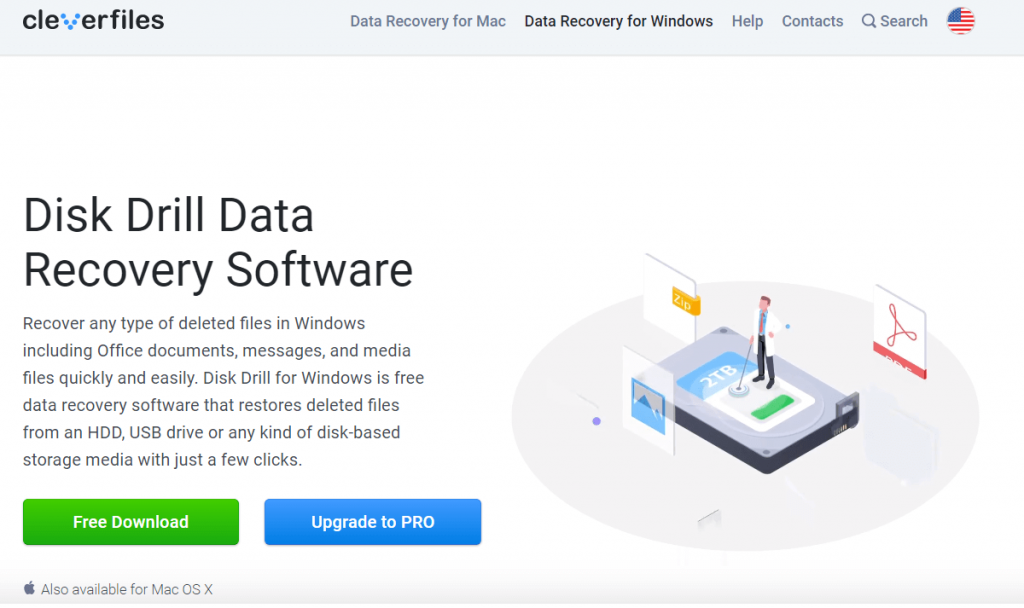 Pros
Straightforward to use
Supports a variety of media types and files
Cons
PRO option is very pricy
Recovery vault folder names are useless
PRO $89.00
Enterprise $499.00
Famous option among PC users
EaseUS data recovery software has become quite famous which is why installing it in your system will help you to recover various file types regardless of the OS you are working on. You can even retrieve the deleted files from different devices like memory cards, USB flash drives, and others. It has an intuitive user interface in the form of the wizard which has made file searching a hassle-free task. You won't have any problem finding the proper files and restoring them as per the need. During the trials, you will be able to recover only 500MB of data. If you want to enjoy extra recovery capacity, you need to upgrade the package to the paid version where you will be allowed to recover 2GB of data.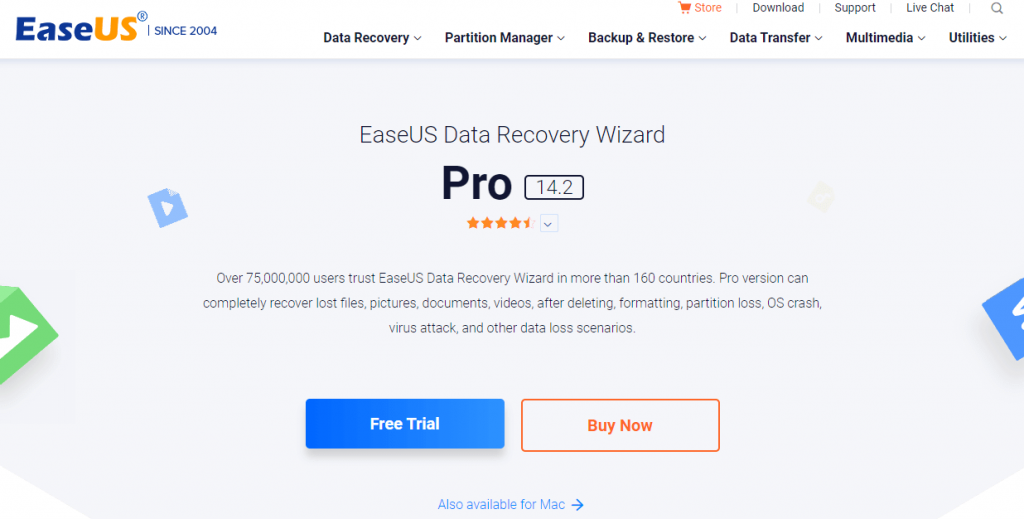 Pros
Beginner-friendly
Recovery results are great
Cons
Licenses that are paid are expensive
Recovery scans are sluggish
Monthly $69.95
Yearly $99.95
Lifetime $149.95
Wondershare Recoverit will store and recover all your important information.
Wondershare Recoverit is an amazing backup and data recovery software that works on almost all devices. If you want to shield data because you work at home, or you want to know if your photos and videos are protected, then you can easily try the soft and see if it's the right tool for your needs.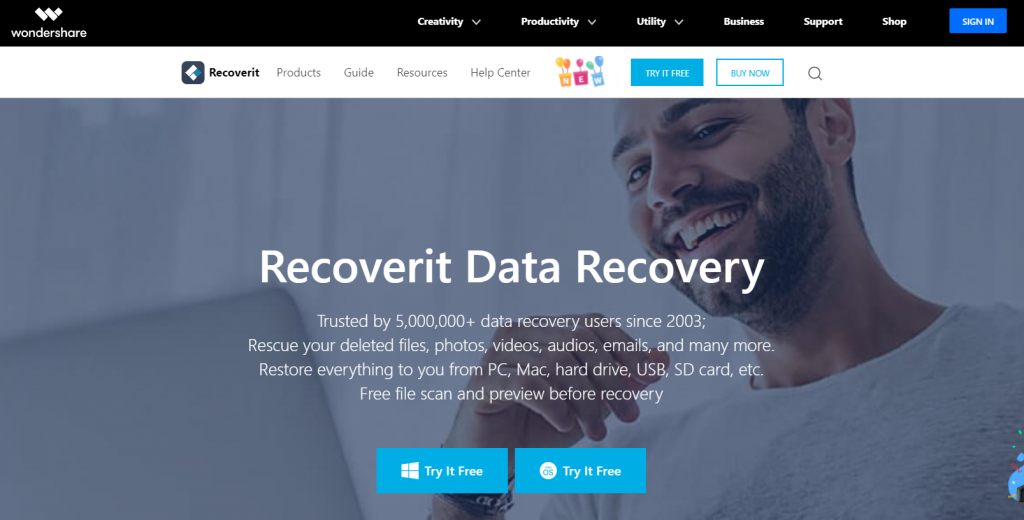 Pros
Has a free version
A variety of backup choices
Can repair multiple files simultaneously
Cons
Command-line interface can be quite hard
Unnecessary registration
1 Month License- $79.99
1 Year License- $99.99
Lifetime License- $159.99
An attractively priced and easy-to-use data recovery software
Recuva is up there with the best data recovery programs. The free version is great for those who want a demo of the software before purchasing, and the annual subscriptions are fairly priced.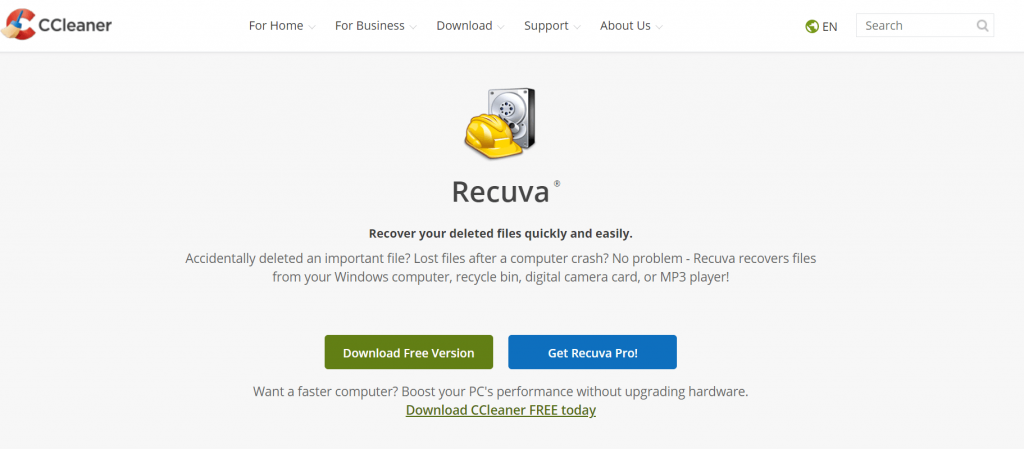 Pros
Fair price.
Has a free version
Clean UI
Preview screen.
Cons
Not as powerful as high-priced rivals.
Importance of File Recovery
Before moving to discuss the top recovery software applications, we would like to speak about the benefits of a file recovery program. This will make you realize how beneficial such applications are and that you shouldn't ignore them, irrespective of whether we are talking about personal or professional data.
Evades the huge compensational expenses
One of the primary benefits of using data recovery tools is the elimination of huge losses in terms of monetary funds. When important documents are lost, you either need to retrieve them back after spending a thousand bucks or you need to bear the consequences in the form of loss. However, if you install the best version of file recovery tools, you will be able to avoid these costs without any doubt.
Prevents permanent data loss
Most times, you are in such a hurry that you forget to keep a backup of your work. If the systems you are working on fail or suffer a crash, all your work will be washed off into the water. This means there will be a permanent data loss which might put you in a complicated situation. On this account, having recovery software applications will help you prevent these kinds of mishaps, no matter whether the system is damaged completely or not.
Allows extra backup database
Some recovery software solutions also provide additional services of backups. This will help you to access the files any time you want in case recovering of the files is not successful or is delayed due to several unavoidable circumstances. Even though for most, you will have to pay a certain subscription amount this extra little cost is worth the troubles you will face without any backup.
Prevents starting over from scratch
If the software is allowing actual data recovery, you won't have to worry anymore about starting the work from scratch all over again. In fact, most times, you will be able to start from where you left the work. This is why the recovery tools are completely essential for work environments.
You might also be interested in lists about Webinar Software, Backup Software, CRM Software, Tax Software, Fan Control Software
5 Considerations for Choosing the Best File Recovery Software
Ata recovery software is a technology and hence, you will find a number of such applications being used in the market. Choosing the most prospective one is not an easy task. For this reason, we have discussed here some of the most essential factors you have to consider for choosing the recovery solutions.
File preview feature
The recovery toolbox you will choose must have the feature which will allow you to preview a file prior to the recovery process. be it casual data losses or serious corruption, a lost file can suffer from various problems. And, most times, the recovered file looks nothing like the original one. So, to prevent putting more effort, the software should allow you to preview the file.
Multiple packages
Every software should provide advanced recovery packages so that you can choose from the most suitable one. For first-time users, trial packages will help you to understand the working of the application. If you are a regular user, you can choose the premium packs which will help you with a huge load of regular works.
Data backup feature
If you want to have more flexibility with the software, you need to choose one which will offer you backups. With a variety of storage options, you will be able to view the original files any time in case you don't have recoverable files.
Different format supportability
Another factor that will affect your decision is the software's compatibility with different file types. Not only it should be able to recover the doc files but also images, videos, sand other documents and contents which have been lost due to a system crash or an external drive failure.
Device compatibility
The application should be compatible with different devices, be it multiple computers in an organization or your personal laptop and mobile device. This will give you better options of saving multiple files from being lost permanently under different situations.
24X7 customer support
Users might face some problems at the time of recovering a file using the software. It is because of this reason you need to choose a toolkit that will support you 24X7 and will be available to solve your issues.
Easy user interface
No matter what application you are choosing, it must have a simple user interface. Not everyone is tech-savvy and hence if the interface is too complicated, you won't be able to use it efficiently.
F.A.Qs
Is using the data recovery safe for sensitive files?
Since using the file recovery program is extremely essential, one of the questions that usually users ask is regarding the safety of their files. Most files are confidential and hence fretting over security is expected. These software platforms have high-level encryption, and hence, recovering files will not harm you in any way.
Where shall I store the recovered files?
Since you have already experienced device failure, it is best to store the recovered files on a cloud platform or in the backup storage provided by the software itself.
Is data recovery software necessary for personal use?
Yes, indeed it is necessary to use a wide data recovery tool for your personal use also. Just pretend that your important image collections have suddenly disappeared. With a recovery tool, you can still restore those images which wouldn't have been possible otherwise.
Can a recovery application be used both on a personal laptop and mobile device?
If the software is compatible with different devices, you will be able to use it on your personal computer as well as with a mobile device. However, it will be wise to check the compatibility level before deciding.