Gone were the days when filing for the tax was used to be an easy task. There are people around who have meager to no knowledge of the taxation system and complex returns, making it very difficult for them to pay taxes. Moreover, the recent changes in the system have not even left it an easy task for those people who have proper knowledge of the taxation system.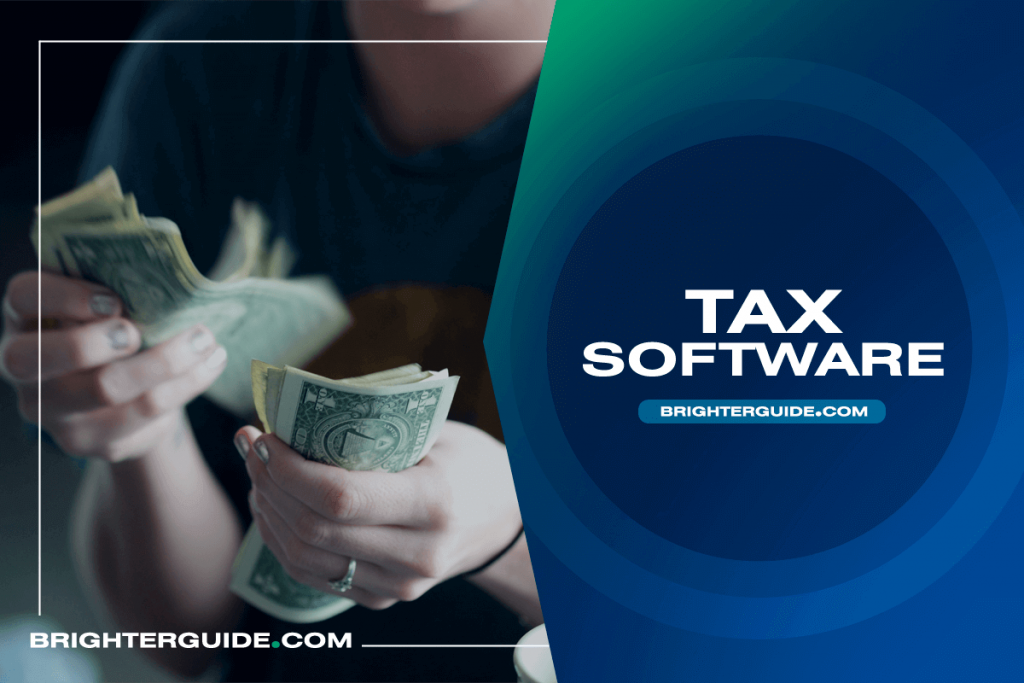 The new rolled-out rules are so confusing that it takes a lot of time to understand everything and then proceed to file taxes. But there are many taxpaying solutions available online which can help a person throughout the simple return and credit process. Here's a list of the best Tax software one can have in 2021.
Before proceeding, you may want to check out our pages about Firewall Software, Email Marketing Software, Inventory Management Software, Hard Drive Recovery Software
Best Tax Software List – 2021
Here's a list of the top 5 tax software we picked for this year. Take a look at the table and its main features.
| | | | |
| --- | --- | --- | --- |
| | | | |
| | | Records all types of transactions | |
| | | | |
| | | Interactive tax assistance | |
| | | Special feature for freelancers | |
| | | | |
The following list is the 10 best tax software you might be interested in. All of these have different features and help you out with different requirements.
For Tax Preparation Offices, Software And Online Filing
The H&R Block software has topped the list due to its crazy offerings in its free software version. There are many deciding features that have helped him make up to this place in the list, and they are:-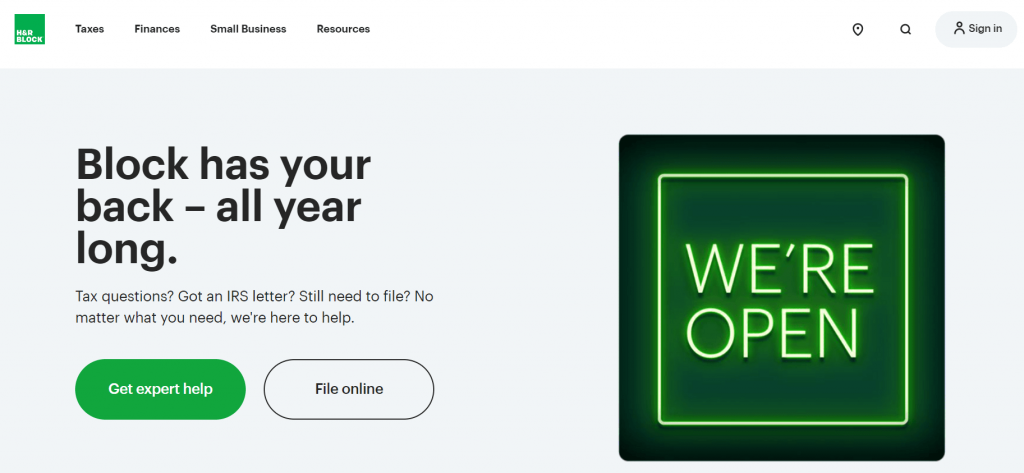 Pros
It helps out in filling the Form no. 1040 and also file schedules 1 and 3.
They help in reporting their business incomes, contributions they have made towards their retirement, and other alimony details.
The software is made very simple for the taxpayers by placing banners at the top, which helps in knowing your position in the filing process.
Helps in filing the student's loan interests.
The income gained from the dividends and bank interests can also be filed easily with the H&R Block Free tool.
Cons
A bit pricey
Not for beginners
File with a tax pro starting at $69
Excellent, Quick, Comprehensive, Easy to use
The turbo tax software is very well known for the easy-to-use services that they are providing. The design of the tool is made in a way that the process a taxpayer needs to go through proceeds very smoothly. Some of its classical features are:-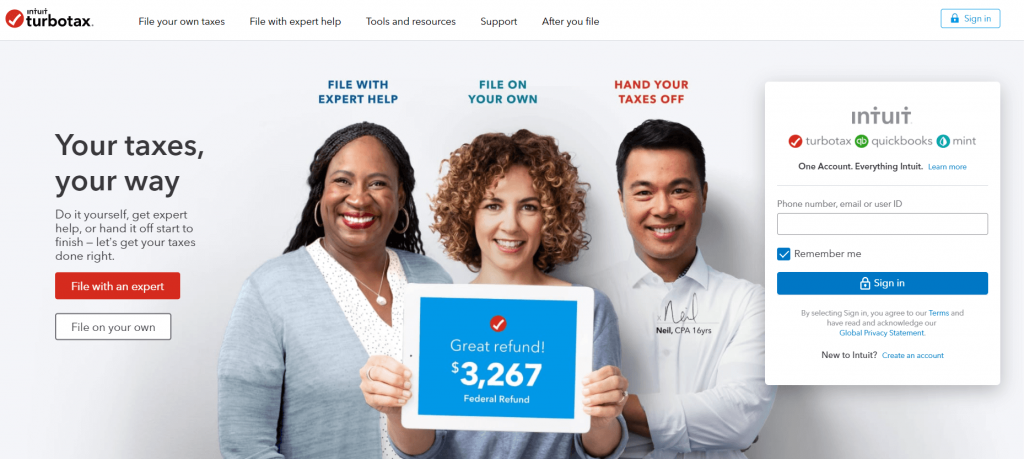 Pros
There are some tax preps that a person needs to perform all by themselves, but the tool helps out a person with that process also.
They will let the customer go through an interview-like process that will guide a person through the whole tax prep questions.
The information can be entered very easily with the help of various filing options available for the customers.
Very clear explanations are provided by the tool authorities through online chats that can help a lot to a person who has very little knowledge regarding the processes.
There are many sound security measures also that are available in this tool.
Cons
No brick-and-mortar office or human interaction
Cost of service is not transparent
Deluxe $60
Premier $90
Self-Employed $120
For taxpayers looking for the step-by-step structure of other tax software with a lower price point
TaxAct 2021 is a new and improved version of the tool tax year which is made for better support to all the people who are filing the tax no matter they are new or experienced through virtual filing option. All the options that are available in the free tool are very navigatable, which makes it suitable for most of the population out there. Some of its detailed features are:-

Pros
There are options for direct entering your data as well as proceeding step by step which one can choose according to their ease.
There is assistance available at the platform for all the new people entering the platform through interactive tax assistance.
There are larger tax refund options that a person can choose from in this tool.
A person drops the PDF also through an e-file provider also, which can save the time of the filings process.
Help out with a variety of loan options and also have a savings calculator.
Cons
Mobile app isn't smooth as portal
Audit support is absent
Customer support is not regular
Deluxe $47.95
Premier $71.95
Self-Employed $94.95
Tax Slayer makes the process easy
TaxSlayer is the one tool in the list that always finds a way to improve and provide some updates that also astonish their users. Some of the tax filing services provided by this tool are discussed below.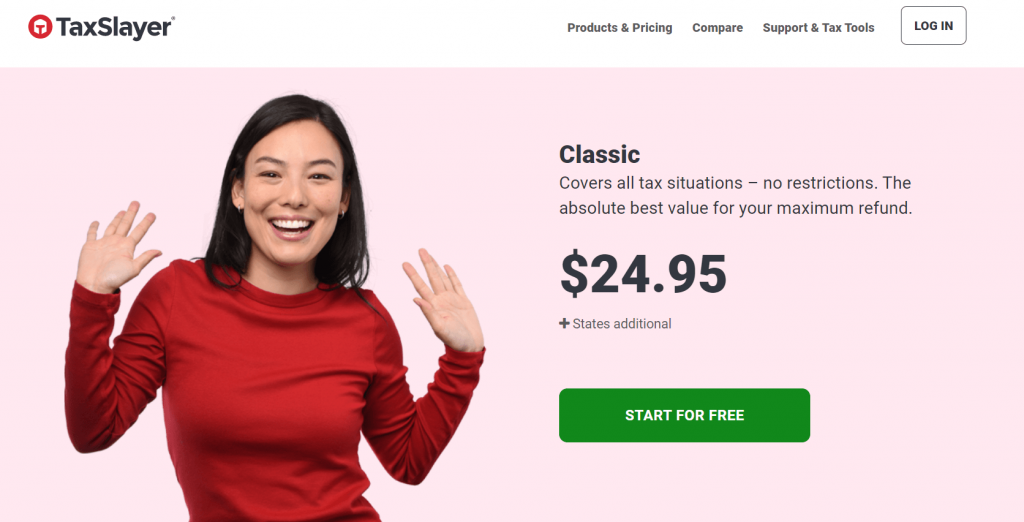 Pros
There is a deduction finder in this tool that will help you find ways through which you can find new ways to get some tax credit on your income tax returns paid.
The state return is also included in the tool along with the federal returns.
One can prepare their file in the tool and share it easily through E-files or can take its printout if necessary.
One can get assistance through a voice-over that is already recorded and added to the platform.
You can ask any question from the field experts and clear your doubts about who will be available on the platform itself.
There are some special features for small businesses and freelancers on this cloud-hosted platform
Cons
Audit support is not to proficient
No live chat option for some versions
No third-party app integration
Classic $24.95
Premium $44.95
Self-Employed $54.95
A great tool for small businesses
Zoho Books is entirely cloud-based, easy to use, and tightly connected to other Zoho products for maximal flexibility. Zoho Books' system allows you to enter and edit tax information, apply them in your transactions and update/delete rates accordingly. The system can also categorize your taxes into custom groups.

Pros
User-friendly.
Great mobile app.
Great UI, easy to use, lightweight and fast.
Cons
Not great for bigger companies.
Standard $10
Professional $20
Premium $30
Affordable, Convenient, and Thorough
The FreeTaxUSA is an effective tool that is going to help out millions of people in filing their federal taxes along with the preparation of a candidate for the taxation system and also provide some advice on taxes. Some of the features that are offered by this software are:-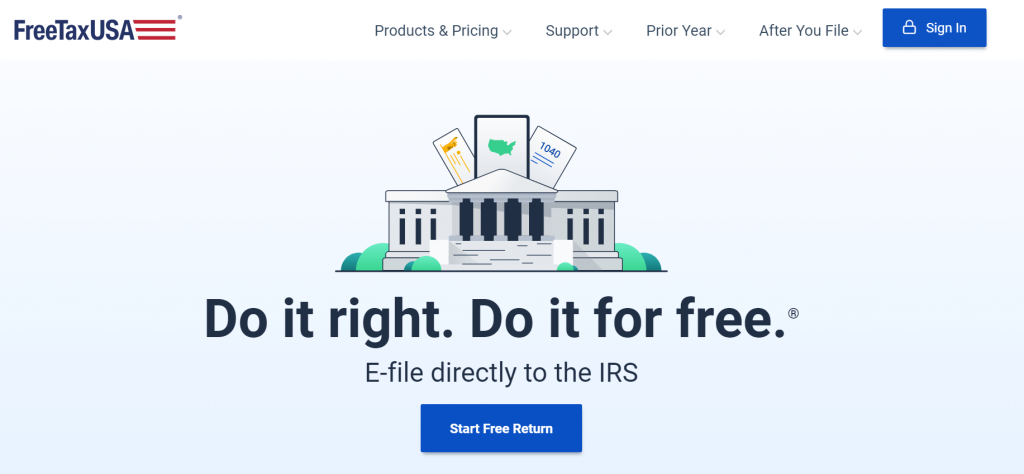 Pros
The state filings that are offered by this platform are at very competitive prices as compared to other tools. On the other hand, federal filing is completely free.
There is very strong on-ground support provided by this tool if a person ever faces some issue related to their tax payments.
The platform is known for its dead-simple interface as the navigation is very easy. Still, if someone faces any issue then they can take help through video chat also.
The mobile phone experience of this software is very smooth through itemized deductions options.
Cons
No professional customer support.
Deluxe $6.99
State filing $14.99
A straightforward way to file taxes online or with a pro
The Jackson Hewitt service provider is the second largest tax filing firm and tax software providers which also plays a very important role in filing for the tax. Some of the best features that are offered by these party providers are:-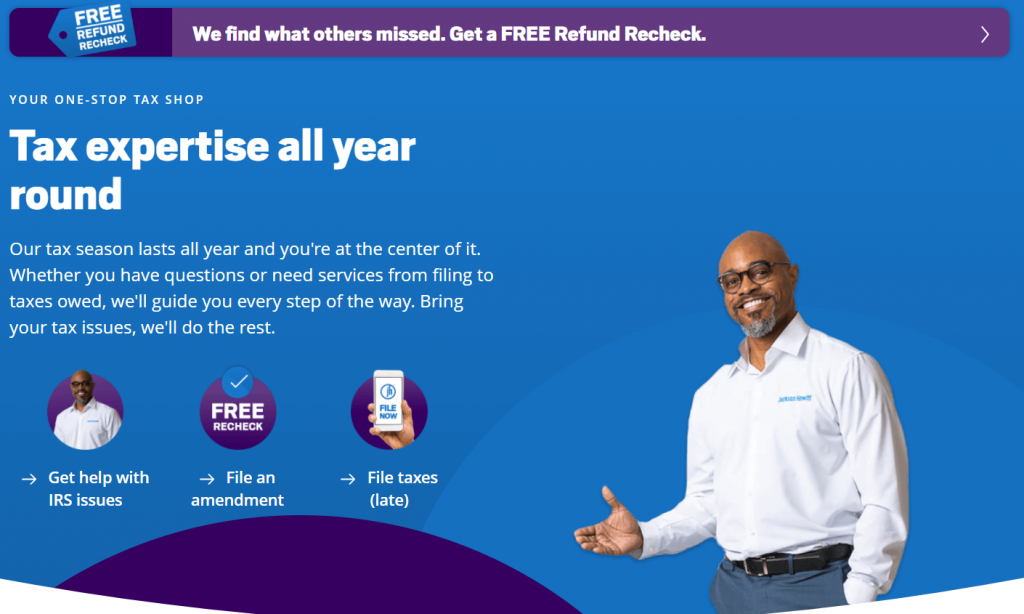 Pros
There is an online support system through priority live chats, which is active 24*7 to help out the taxpayers.
All your tasks related to the filings are completely handled by field professionals who also helps in getting a maximum refund.
They also offer a 100 percent accuracy guarantee to the clients with their worry-free guarantee plan.
Cons
Does not offer free options for free tax situations.
Self-employed filers with multiple types of income may not find as much personalized guidance.
Tax Filing price starts at $25
Simple, clean user interface
LibertyTax is a tool that is working with the motto of making the process of online income tax filing simple. Some of its distinguishing features are:-

Pros
It makes the process of filing very easy for the customers and fast also.
They are working with professional tax experts who cross-check every filing to decrease the chances of any errors.
360-degree support is provided by the company through online and in-person contact at their 3000+ office locations.
Cons
Expensive
Little context-sensitive help
Basic $44.95
Deluxe $44.95
Premium $44.95
Best software for a small to medium-sized firm
The ProSeries tool is known to be the most effective fortax filing software for small and mid-sized firms. The tax return filings is made very easy with this tool, along with tracking the report status throuh phone. There is a feature of a build-in worksheet that helps in the management of the events that one has to go through in one tax return journey.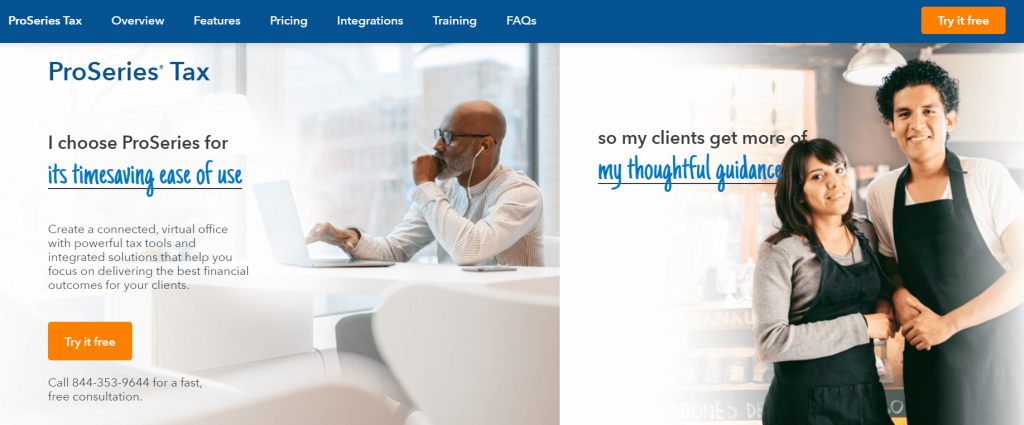 Pros
Easy to use and does its job accurately.
simple to dset up a network and do an e-filing.
Fit for beginners.
Cons
Occasional extended loading times on interface.
Hard to get create reports.
ProSeries Basic starts at $499
ProSeries Professional starts at $369
Great program for processing tax returns
Those taxes firms who are having their clients must use this powerful tax software. The time consumed by this software to file the tax report is much less than the other softwares. Moreover, there is an advanced error diagnostic system in this software that will help out a person file their tax without any issue due to the accounting experts sitting on the other end which can process the standard deductions within seconds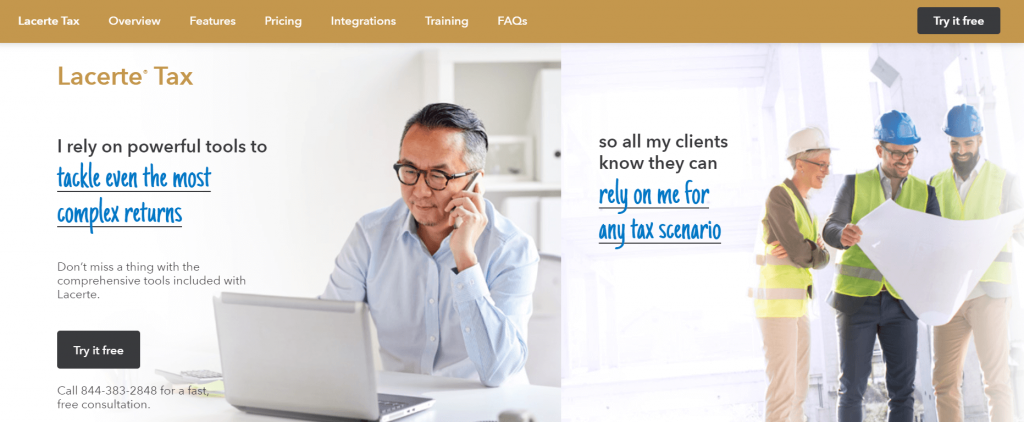 Pros
Accurate and updated calculations.
Quick customer support.
Intuitive and the learning curve is quick.
Cons
Is not compatible on Mac.
May be confusing for beginners.
Check out our lists for the following: POS Software, Database Software, Encryption Software, Project Management Software, Accounting Software
What Is Online Tax Software?
The tax software raising manifolds in recent times is a cloud-based system connected to the federal tax collecting agencies. Through this software, a person can pay their tax easily and smoothly without handling the formalities of the federation and paperwork. Some of the potential benefits that a taxpayer will enjoy if they are looking forward to using a tool for it are discussed below.
A person can file the tax from their home comfort and safety, which makes it a very convenient option.
The software links your information and helps you out in knowing the deadlines of your taxes so that you don't have to pay extra charges.
The process of tax refunds for which a person is eligible is also made easy through this user-friendly interface.
Insurance claiming is made easier with these taxpaying software.
But now there is a new issue that has arisen in front of the taxpayers that which software is best for them. In this competitive era, there are many software types on the list that are offering best-in-class features. That is why to help out you people, we have compiled a list of the top 10 best free tax software that one can choose out for handling all their tax-related chores.
Do check out also our best project management software which can be beneficial for the growth of the company resources.
F.A.Qs
What are the ability of the tax software?
Some of the tasks that are performed by the tax softwares are filing the income tax-related forms, recording the income of an individual through audits, step-wise filing tax, tax advice, and collecting refunds from the government through personal computers and mobile phone. Also it keeps a record of previous tax returns. 
What is the price of tax software?
Most of the tax software that is available in the market is free of cost. But at that cost, a person can only process a simple tax return. In case a person is looking for some income management and other services also then they can buy the premium plan of these tools, which can cost from $80 to $255 which have some premium tax plans for their customers.
Is this software different from accounting software?
If we talk of the tasks then the place where the task of accounting software ends, from the same place task of tax software starts. After all the accounts of the company are prepared, the task of filing tax software starts.
What if a deadline for the tax is missed by me?
In the case of the missed deadline, if you owe a refund to the government, then no charges will be leveraged; otherwise, a person has to file the taxes along with the penalty charges set by the government.
Conclusion
These are the top software that is available in the market that can help out a person in making their online tax filing process easy. One can read the simple guidelines mentioned on the platform, which a person needs to follow for getting their simple tax returns filed. Now you should select that which is the tool you want according to your requirements which one can access in their laptops and mobile phones also.