No matter what business we are talking about, it is essential for every owner to choose proper methods of marketing. This will not only increase the sales and leads but also help in promoting the business to more audiences. Moreover, marketing techniques are used for enhancing customer satisfaction and retention simultaneously. Several methods of marketing are there. But, amongst them, it is email marketing that has become most popular.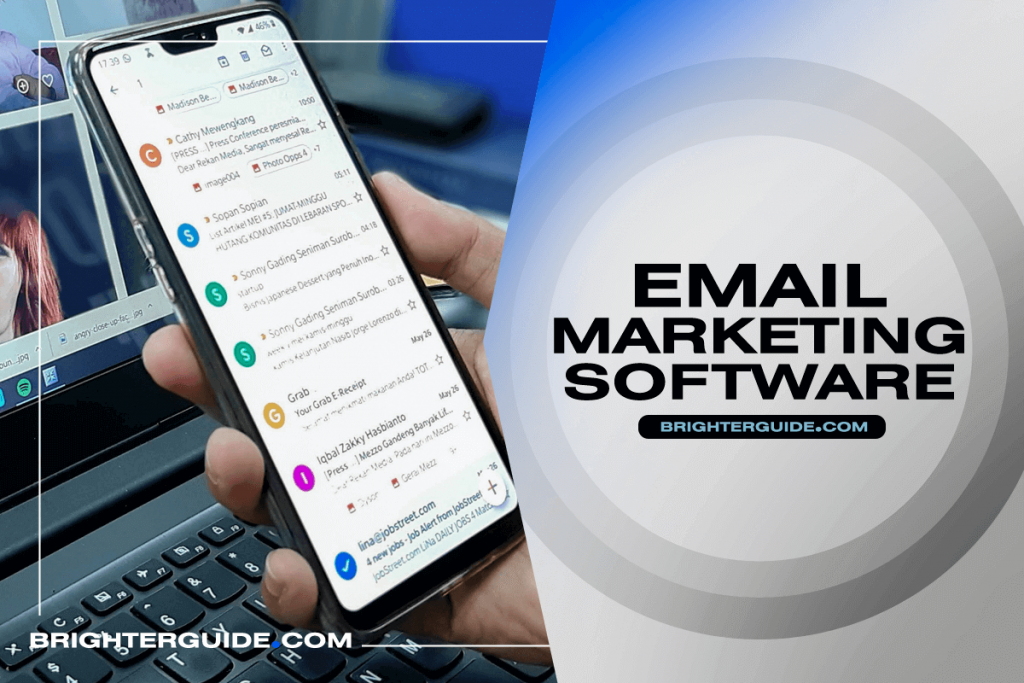 Going by the brick and mortar definition, email marketing is termed to be both a direct and digital marketing strategy using which businesses can promote their services, new launches, latest news and events, and other happenings to their customers. Links and other information pieces are sent via mail to every email IDs recorded in the business database.
Apart from this, email marketing can also be used for lead generation, customer engagement and retention, spreading brand awareness, building new relationships, and others. over the years, with several email marketing tools, it has become possible for businesses to let the customers know of every event, be it the campaigns, product launches, business changes, or anything related to the company.
We also have articles about other software like Firewall Software, Presentation Software, File Recovery Software, Inventory Management Software
Best Email Marketing Software 2021– Our Top Picks
To make it easier for you to choose which software to use, we have detailed here the features, pros and cons, and prices of our top 10 email marketing software followed by a list of other software worth trying.
"Powerful Software, Sophisticated, but Not Complex"
If you are looking for a marketing tool that will provide you all the advanced features in one single platform, no other software will be as effective as Hubspot. It is one of the leading platforms and is being used by most of the business giants all around the world. This is why if you are looking for a start, this is the software which you need at the earliest.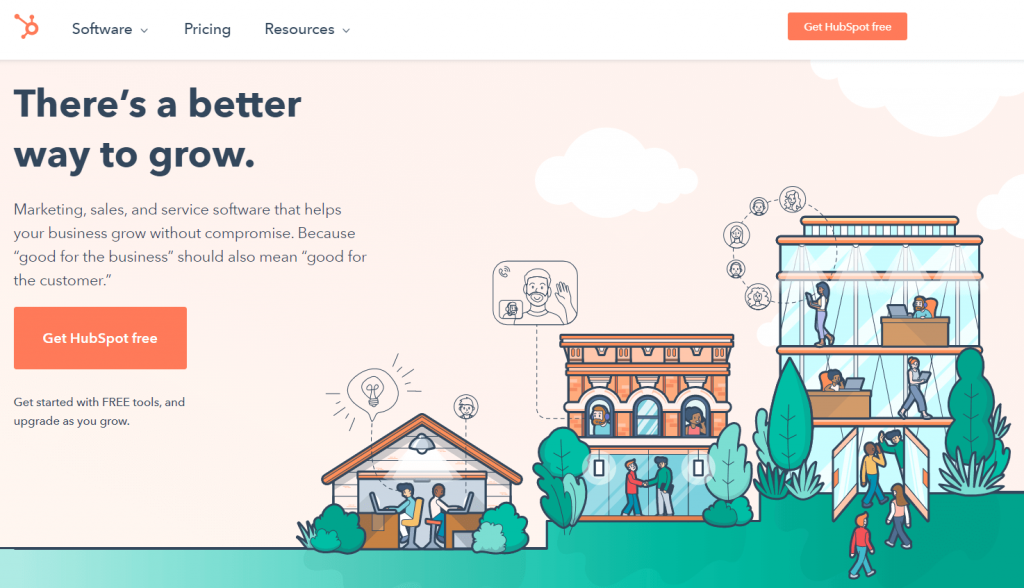 Pros
Has a workable free version.
An intuitive user interface makes it easy to get up and running.
Outstanding email integration features.
Cons
Pricing can add up once premium functions are added
Starter $45/mo
Professional $800/mo
Enterprise $3,200/mo
"User Friendly and Great Interface"
Omnisend is practically a new player in the market. But, it has included some of the latest and more advanced features which will most certainly help your business to grow. It is specifically designed for helping out the various e-commerce business, starting from the start-ups to the bigger market giants. Since this is a comparatively new name, knowing the features of the platform will help you further to understand whether it's perfect for your business or not.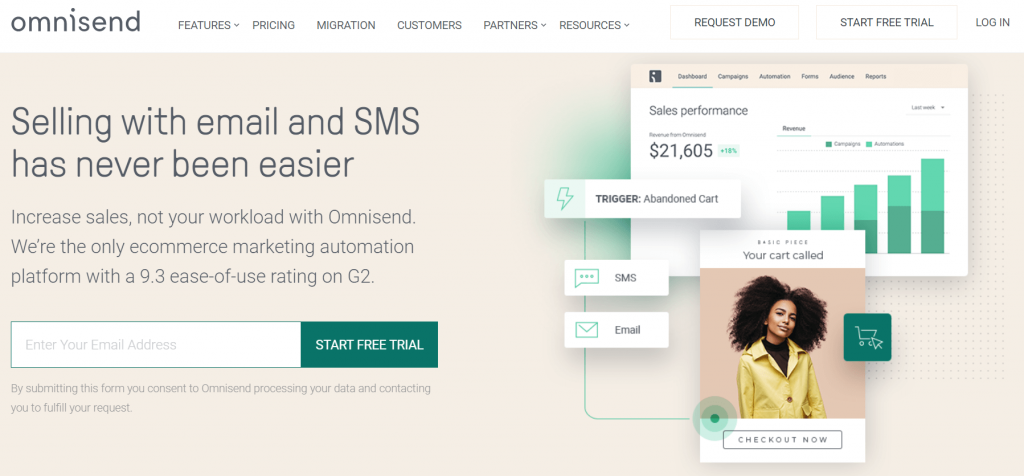 Pros
Easy to set up and use.
The templates which you will find on this platform are quite innovative and appealing.
Can be integrated with several third-party applications like WhatsApp, Messenger, and others.
Cons
Not as intuitive as it should be.
You have to pay for the SMS feature.
STANDARD $16/mo
PRO $99/mo
"Robust Platform for Email Automations and User-friendly"
Over the years, ActiveCampaign has gained a lot of popularity, thanks to the easy usability and affordability range of the packages. Currently, it has over ninety thousand subscribers which are all small-scale businesses. They have built this impressive email marketing tool which has a wonderful landing page interface and several advanced features which will definitely help you in generating more revenues and leads.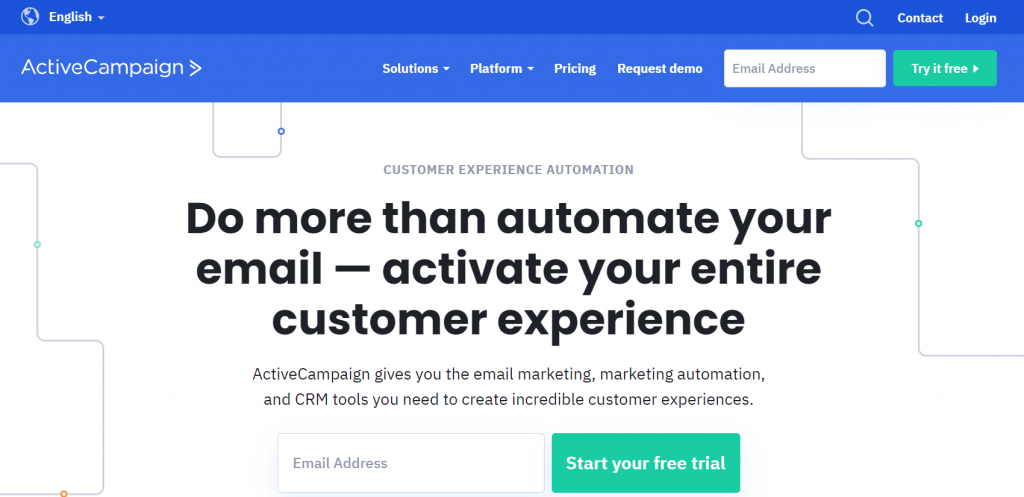 Pros
Has a visual automation tool that will help you to build the entire email content with enhanced appealing factor.
Has automatic messaging feature which will help you to trigger an SMS as soon as the mails will be delivered.
It is possible to run the A/B split automation testing on the leads, which will further help you to get the results without the involvement of any manual help.
Cons
Can be slow and laggy.
It takes long to get customer service.
Lite $9/mo
Plus $49/mo
Professional $129/mo
Enterprise $229/mo
"Great and user-friendly marketing automation platform"
If you are looking for a pro email marketing tool, no other tool can be as helpful as AutoPilot. The automation tool of this software is out of the world. In fact, it is due to the automation which will help you to reduce the manual efforts and schedule the mailing properly. As soon as a new product will be launched, you will be able to automatically send the newsletters to all your subscribed customers, thereby gaining their attention. The analytical dashboard is marvelous as it will help you to draw the leads and generate the reports for better business understanding. You will be able to ensure that your business loopholes get covered so that you can increase customer satisfaction.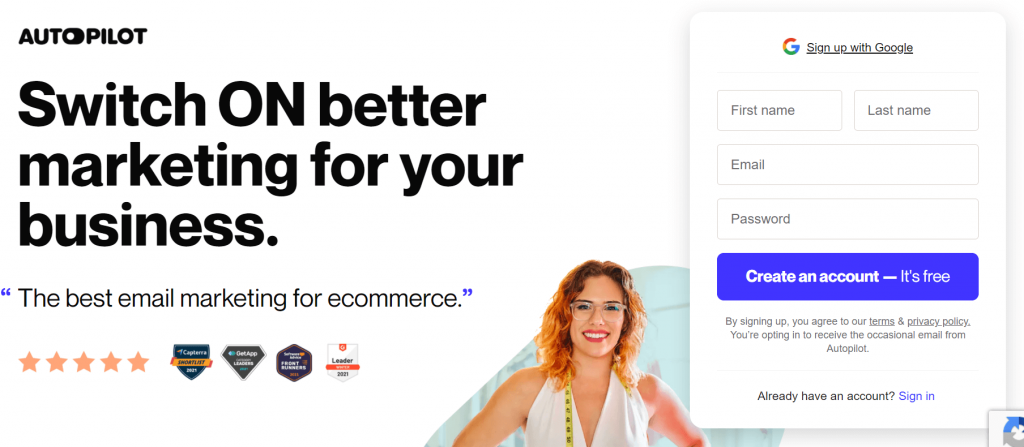 Pros
It has a digital landing page which makes working on the emails and the leads much easier.
Featured with advanced-level properties which will help you to gain more and more leads and increase your customer base for enhanced revenue.
You will be able to form appealing content, thanks to the drag-and-drop editor present in this particular platform.
Cons
UI can appear a bit clunky on the dashboard.
Building and updating a single email is straightforward, but handling a large list can be challenging.
Campaign $29/month
Pro $99/month
Business $299/month
"Straightforward Email and Marketing Tool, With Improving Features!"
Be it for arranging an email marketing campaign or maintaining your contact list, this is the best email marketing software for small to medium-sized businesses. Here, you will be able to send unlimited emails per month, thereby helping your business to grow and retain customers in the best possible manner. Bulk email marketing is possible with Constant Contact along with setting automated mails which will help in grabbing the best opportunities to increase your revenues by a lot. Another amazing feature of this tool is the in-built templates. They are of high-quality designs that will allow you to match them with the subject of the email perfectly. It has different subscription packages which will allow you to choose the perfect one for your business. You can draw a budget and as per the requirement, you will be able to take the best package.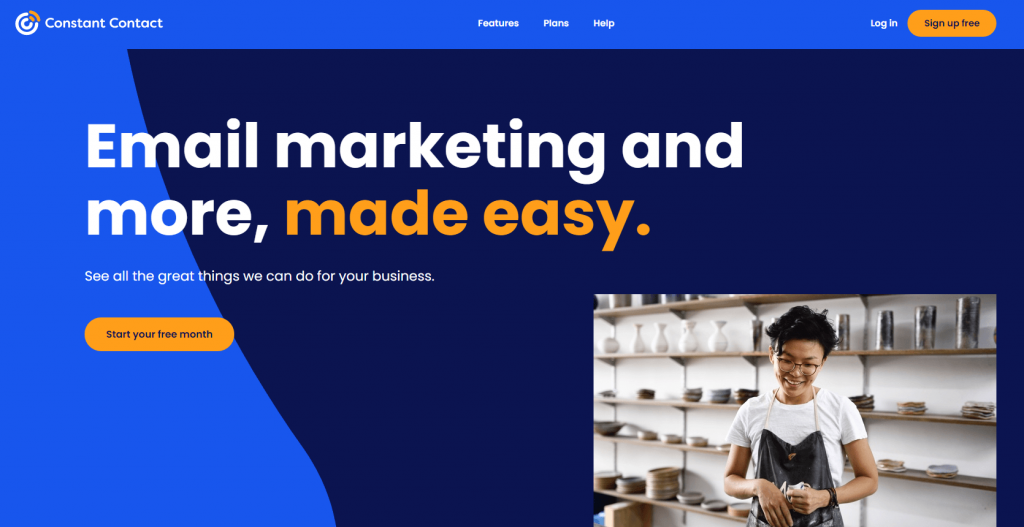 Pros
Customer Service is quick to answer.
Has an easy-to-use builder tool that lets you create emails easily and save templates.
Excels in handling various groups/lists and large numbers of contacts.
Cons
Limitations with integrations directly to other platforms/databases.
Templates offer limited scope for customization.
Email $20/month
Email Plus $45/month
"Good Platform With Very Good Customer Service."
If you are looking for an application providing email marketing service on both desktops and mobiles, Sendinblue is the ideal choice. It provides an easy-to-use marketing automation platform using which you can manage transactional emails, recurring emails, and even the user segmentation procedure. Its deliverability is standard, allowing you to send almost three hundred emails per day.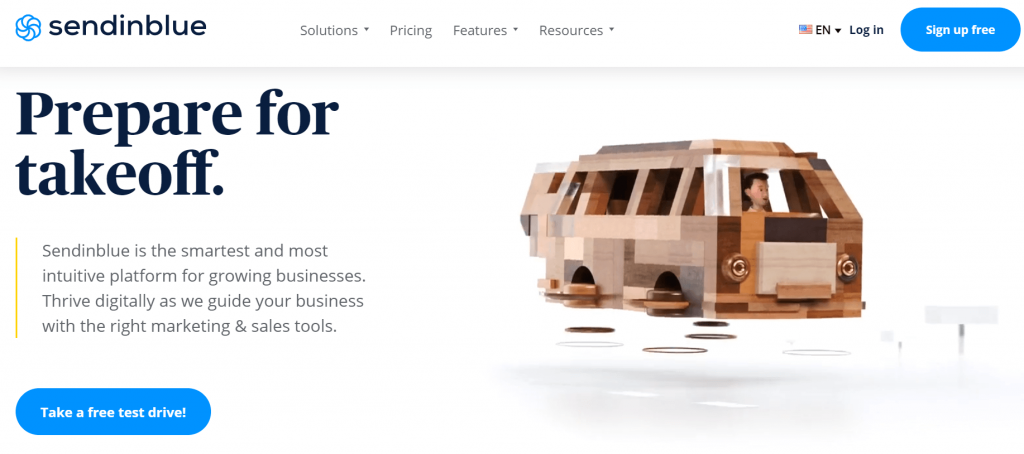 Pros
Features basic CRM functionality.
Impressive range of automation.
Easy to use, easy to scale, and affordably priced.
Cons
Initial account setup can be tedious
Basic templates could use improvement.
Lite $25/month
Premium $65/month
"Amazing Email Marketing Tool for Ecommerce Business"
Most marketing service providers prefer to use the Drip software, thanks to the popularity and flexible usability of the application. Managing contacts, making launch plans, sending automated emails to the dedicated person, managing e-commerce mails are some of the major features of this Drip email marketing software. In fact, you can even arrange several effective email campaigns using the Drip software.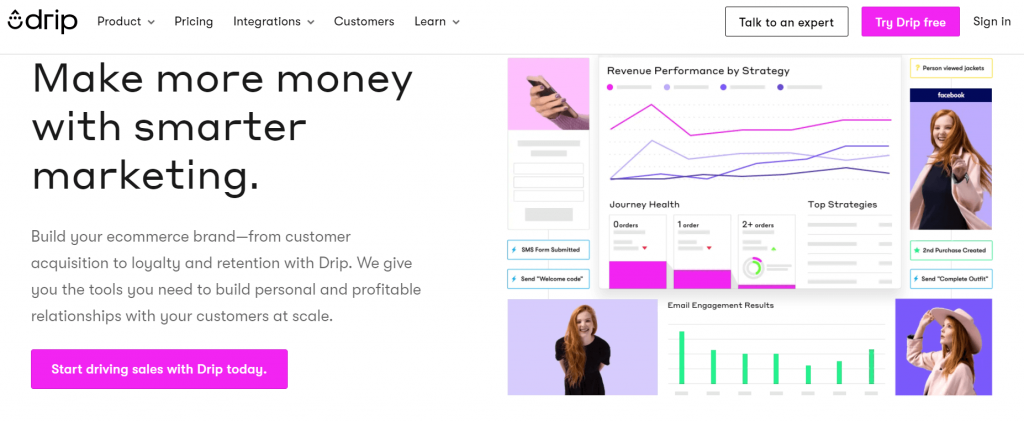 Pros
Creates unique responsive HTML email templates using their Drag and Drop features
Simple UX and can be easily taught to anyone.
Has amazing functionalities.
Cons
New features are slow to roll out.
Has a longer learning curve to master.
"ConvertKit Makes Automating Email Campaigns So Easy"
Amongst all the email marketing platforms, AWeber is the oldest one and hence it's global repute is marvelous and worth considering. Some of the main features of this particular software are a/ testing, email tracking, generating detailed report insights, managing the contact lists, and customizing the email templates. Using this AWeber software, you can integrate your business with several communication channels.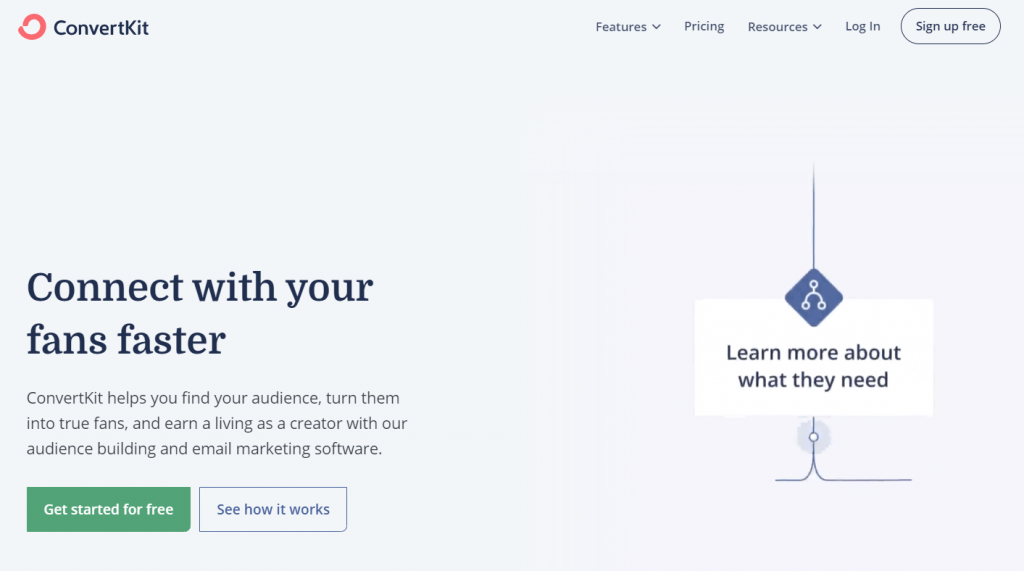 Pros
Offers all the marketing automation services required for small businesses in an affordable way.
ConvertKit is easy to use and has some nice integrations to WordPress, WooCommerce, and other applications making targeting and segmenting your customers and prospects easily.
Easy to use.
Cons
Some coding involved to customize templates.
Has a small learning curve.
A bit pricey.
Creator starts at $29/month
Creator Pro starts at $59/month
"Best Email Marketing Service for Cost & Volume"
Amongst all the email marketing platforms, AWeber is the oldest one and hence its global repute is marvelous and worth considering. Some of the main features of this particular software are a/ testing, email tracking, generating detailed report insights, managing the contact lists, and customizing the email templates. Using this AWeber software, you can integrate your business with several communication channels.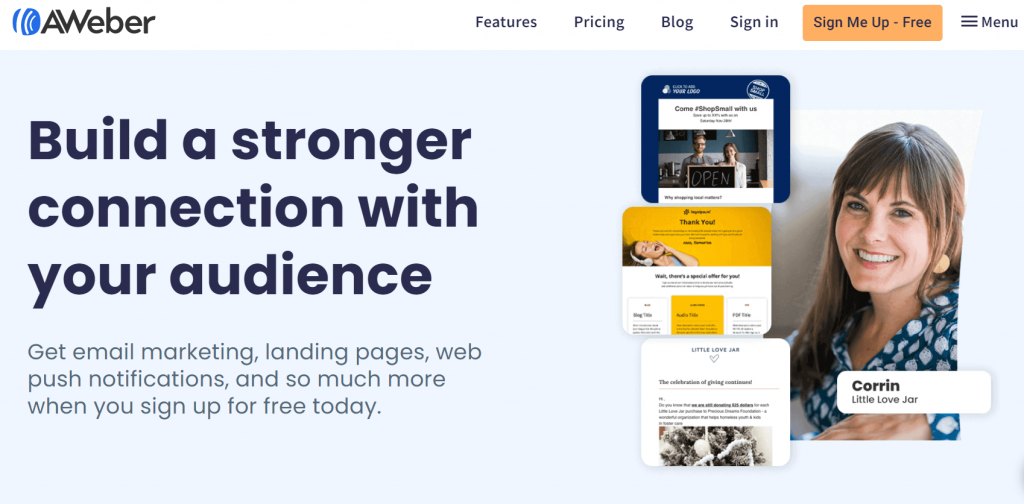 Pros
User-friendly and very intuitive.
Offers many features, such as image gallery, integration with different platforms and applications.
Easy to set-up.
Cons
Sometimes limits the number of contacts you can upload at the same time.
Limited email templates.
"Cutting-Edge Without the High Price Tag"
GetResponse comes with the best email marketing plan where you will be able to send a series of emails belonging to different categories like notification emails, reminder and confirmation emails, subscription emails, welcome mails, and others. All you need to do is upload the list of subscribers and using the segmentation tool, you will be able to send the emails to specific contacts.
Pros
Expanded features like SMS and email chat
Powerful auto-responder options
Easy email marketing features
Improved e-commerce integration
Cons
Analytics are underwhelming
Lacks 24/7 phone support
BASIC $15/mo
PLUS $49/mo
PROFESSIONAL $99/mo
11. MailChimp
If you are looking for software with an easy-to-use drag and drop feature, this is the best one that you have got. Not only you will be able to design your own email template but also the content can be framed in a way where you will be able to showcase your business and the purpose of the email. Several advanced features are present in the application which makes it one of the best email marketing applications in the industry
12. Moosend
Moosend is one of the most popular email marketing platforms that will help you in fulfilling every activity related to mailing business channels. You can set business goals and automate the feature so that your customers can also know about your achievements. This is the best platform for advertising your business, be it in sending newsletters or campaign notifications.
13. Mailerlite
For small-scale businesses, Mailerlite is like a book to them. With this software, you will have access to an easy user interface where well-designed templates and email editors are present. Maintaining the list of the subscriber actions to native integration with other applications, Mailerlite has truly mastered the art of retaining potential customers for increased revenues and brand awareness
14. Pabbly
Pabbly Email marketing is the ideal software with which you will be able to arrange email campaigns and send bulk emails without any limitation. It is, in fact, the best campaign monitor in the marker which will allow you to automate follow-up emails, segment users for personalized emails, maintain the subscriber list, and even integrate your emails with third parties.
15. Stripo
Stripo is one awesome email marketing software. Over 600 email templates are available in Stripo. Users can get a free demo of how to get HTML email templates with the Stripo.email website. Along with email templates, one can edit them directly online with this tool. Make professional and creative emails for email marketing with Stripo.
Other Email Marketing Softwares
16. Gist
If you are looking for advanced email marketing software, Gist will be an ideal option. Thanks to its automation features, chatbots, and other communication methods, you can engage your contacts in seamless conversions and increase business sales. This email platform will allow you to automate several business functionalities as per the need.
17. Automizy
Automizy is a popular email marketing platform with which users and marketers can reduce manual labor by automating business operations. This will include automatic recurring and follow-up emails, Report generation, analytical studies, notification, and reminder emails, and so on. This is indeed the perfect platform for eCommerce and retail businesses.
18. Mailgen
One of the most powerful email marketing platforms present in the market is that of Mailgen. It is a cloud-based software that will allow you to segment emails, automate email marketing, arrange campaigns and generate analytics, form preparation, customizing templates, arranging surveys, and so on. Here, you will get nine different blocks for content for making proper emails.
19. Benchmark
Out of several email service provider companies, Benchmark has gained a lot of popularity in recent years. Starting from sending automatic follow-up emails to the presence of the drag-and-drop email builders, this software will offer you some excellent features which will help you to automate your business and perform all the operations swiftly.
20. SendPulse
SendPulse is one of the best platforms for email automation, user segmentation, bulk email marketing, report generation, analytical studies, audience engagement, and many such operations which will surely increase your business revenues and make it more profitable. Based on the triggers preset, automatic notifications will be sent to the emails of the subscribers mentioned in your list.
21. Ontraport
Ontraport has some of the most powerful features which will help you to understand your business perfectly, bring in automation in the operations, send bulk emails to the subscribers, welcome the new and prospective audiences, and others. It is one of the most amazing analytics tools which will help you to understand the business statistics and study the various marketing leads for the betterment of the same.
22. Mailjet
Mailjet is the best email software available in the market which has the ability to bring in more revenues for your business. Be it by sending notifications to the new users or reminding the already present subscribers about the events, this particular software will definitely help you to overcome several challenges in your business.
23. Campaign Monitor
The last email marketing software that we will discuss here is the Campaign Monitor. This will help you in dealing with bulk marketing emails, along with several automation features for the swift functioning of the business.
One of the most powerful email marketing platforms present in the market is that of Mailgen. It is a cloud-based software that will allow you to segment emails, automate email marketing, arrange campaigns and generate analytics, form preparation, customizing templates, arranging surveys, and so on. Here, you will get nine different blocks for content for making proper emails.
Check out our lists about Music Production Software, Remote Desktop Software, Hard Drive Recovery Software, POS Software, Database Software
What Is Email Marketing Software?
An email marketing solution is one of the many business tools which will act as a campaign monitor and provide you with the opportunity of establishing an effective email marketing strategy. Using this platform, you will be able to maintain the mailing lists and plan the entire deliverability of the emails. Bulk emails can be sent through this particular platform type.
These applications also come with marketing automation tools that will help you to proceed with the campaigns with the least effort. You can schedule the emails, manage the features, and even make plans for upcoming email deliverability without any hassle.
How to Choose the Best Email Marketing Software
The success of your business will depend on the email marketing platform you have chosen for yourself. One wrong decision and you will end up losing your customers and decreasing business leads and revenues. This is why you should know the ways in which one can get the best email marketing solution.
Drag and drop built platform
One of the main email marketing features that you should be concerned about is the proper creation of the mail content. It should be unique, compelling, and engaging. This is why you need to choose a platform that comes with a drag-and-drop editor. This will help you to not only increase the email deliverability rate but also ineffective eCommerce email marketing or any other business marketing.
In-built templates
Many applications provide ready-made templates to the users. With this, you won't have to worry about having a separate landing page builder. These templates will allow you to focus on simple email marketing and hence, there will be no hassles from your end. Also, with these templates, you will be able to strengthen customer relationship management easily.
Easy integration with other apps
Most marketing techniques work best when there's an easy way to integrate other popular apps with your current platform. Let's say your business uses the Amazon or Shopify platform for increasing leads. Under such conditions, you will have to choose the tools which will offer your seamless third-party integration for having more email recipients.
Personalization
With the concerned tool, you should be able to create personalized content so that the email campaigns can get successful. Most companies usually target tool features that will allow them to create engaging and dynamic content so that they can drive more leads to their websites.
Report generation
Email analytics is very important for the growth of the enterprise. make sure that the tool you have chosen will have a proper report generation and analytical study interface. Without these two features, you will never be able to understand the actions of the customers, and the rates for conversions will drop dramatically.
Subscription package
Lastly, you will have to get subscriptions for using the email marketing tools. Always make sure to choose such software which will provide you with a trial period such that you can decide which one will be compatible with your business. Also, choose the per month plans which will be within your budget.
F.A.Qs
Should I be concerned about the security of the email marketing platform?
No, you don't have to be concerned about the security and safety of the email marketing tools. These platforms come with high level of authentication features which will help you to manage the emails easily.
Are there any limitations on the number of delivered emails per month?
Most email marketing services usually don't put any bandwidth limitation on the campaigns. However, if you are truly concerned about the deliverability rates, you can easily look at the packages to know whether limitations are there or not.
How shall I choose the best email marketing provider?
There are several ways of choosing the best email marketing provider. First you need to look for a tool with an intuitive interface and advanced features like subscription forms, segmentation, and so on. Also, check the monthly subscription package and decide whether it will be compatible with your budget or not.
Is email marketing software really beneficial for a small-scale business?
To be very honest, yes, most small-scale marketers have been able to increase their business leads and gain more customer loyalty with the help of email marketing tools.