The best webinar software is exactly what we need to produce a successful webinar. There are many webinar software available online. Some are free, others with charge. In this article, Brighterguide will discuss the 16 best webinar software this 2023.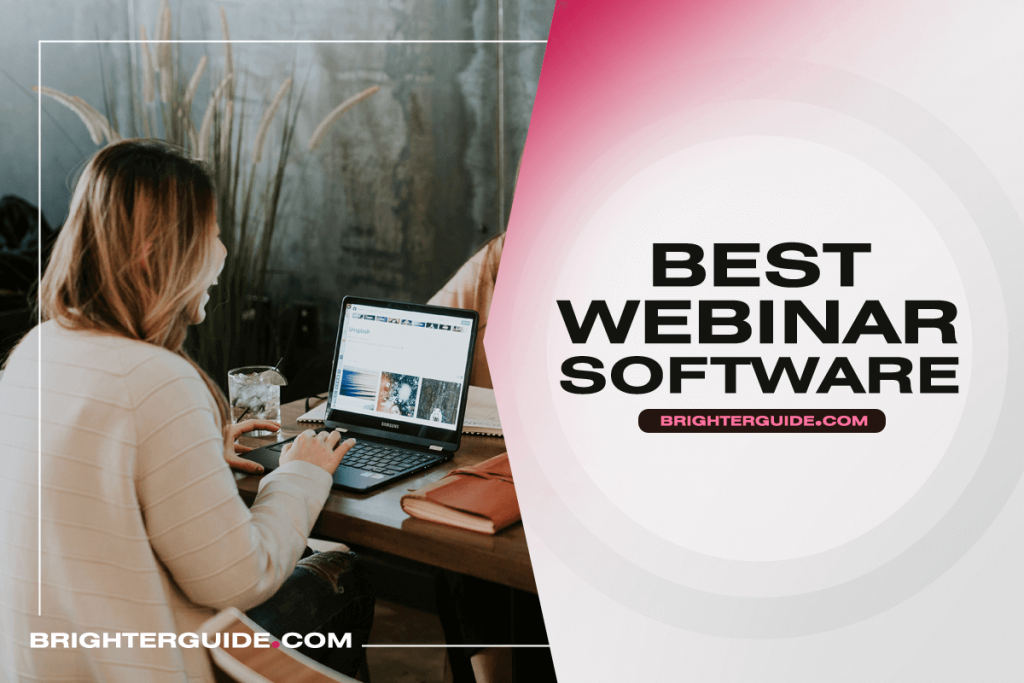 Best Webinar Software List 2023
We picked top-rated webinar software platforms for you. Check out the following table for a quick look at the 5 best software platforms to use in 2023.
| | | | |
| --- | --- | --- | --- |
| | | | |
| | | | |
| | | | |
| | | | |
| | | Connects with Google Calendar | |
| | | | |
Now you have laid out your plan for an event that will be through a webinar, it is time to look at the best webinar software below:
Before moving on with the list, you can check out our other pages about Antivirus Software, Remote Desktop Software, Music Production Software, Hard Drive Recovery Software, POS Software
Webinar Software List – Our Top Picks
Here are out top picks for webinar software.
High-quality, next-generation webinar platform!
Here is another webinar software that comes free for those who want to save money on webinar hosting. You would enjoy the live webinar interaction between the host and the participants.

The free webinar package includes unlimited webinars, unlimited meetings, unlimited on-demand webinars (10 registrant limits, 20 minutes limit, 4 participants per meeting, and one meeting room). If you want more advanced options, you can opt for the premium package that they offer for $99 per month.
Pros
The ability to send emails before and after the webinar.
The ability to invite a non-subscriber co-host
It is very simple to add more sessions to an existing webinar.
The registration pages are spotless.
Duplicating an existing webinar is a breeze.
Cons
It is not easy to get a webinar started.
The ability to change which screen is being shared without pausing the screen share.
The recorded webinars are no longer available for viewing.
A free plan.
$99/month, Billed annually
Contact sales for Enterprise plan (Starting at 5+ hosts)
Best for scaling marketing and customer education through live video.
With Demio, you can have: unlimited sessions, unlimited registrations, storage for 100 recordings, 24/7 chat and email support, advanced event set up, share any media or upload slides, customize registration options, room engagement tools, detailed insights, event localization, native integration & Zapier, and many others. It's like they have everything you are looking for in webinar software.

Pros
Easily invite people to the live webinar
students can access recordings after sessions
Cool features that make sense
wonderful designs that look professional
creating webinars is made simple.
share handouts for download within the webinar chatbox
regular roadmap updates and dissemination
Cons
Once a live event is accidentally closed, it cannot be reopened
No discount for non-profit organizations
No way to customize email reminders and follow-ups
Starter $34/mo
Growth $69/mo
Business $163/mo
Talk to sales for Premium (1,000-Attendee Room)
Whatever your goal, this is the ideal way to connect.
WebinarJam is specially designed for small enterprises like digital marketers and online sellers. With this software, you can host a webinar for up to two hours per session and you can include up to 500 participants.

It is not for free so the basic package starts at $499 per year. Now, this price is actually much cheaper compared to others and the money is worth it. In addition, there is a money-back guarantee given on a 30-day timeframe.
With the basic WebinarJam package, you get to have unlimited webinars. With this, you are allowed to have two presenters.
Pros
It is compatible with Infusionsoft.
It can accommodate a large number of people.
The Everwebinar extension/option is fantastic.
The number of options available in the webinar is impressive.
Cons
Overall, the customization options are appealing, but access to all areas for editing would be preferable.
Basic $499/yr (500 Attendees)
Professional $699/yr (2000 Attendees)
Enterprise $999/yr (5000 Attendees)
The most popular webinar software right now
Zoom is probably the most popular meeting place for live webinars. Many people use it even for personal use.
This is a very user-friendly tool that is why even those who are not computer savvy get comfortable with it. One good feature of Zoom is that you can connect it with Microsoft Outlook and Google calendar so you can remind your participants of the incoming webinar.

They come at a reasonable price at $14.99 for those who want to include 100 participants plus many other features just right for a business meeting. However, many people use the free plan for personal meetings.
Pros
Zoom is a very user-friendly application that enables users to hold meetings at any time and from any location because it facilitates remote working.
Screen Sharing is one of the most useful features for allowing users to communicate while sharing screens.
Cons
The mobile application lacks some of the features found on the desktop version, and it should be integrated with Dropbox or other similar applications to allow for complete data backup.
Another disadvantage is voice distortion.
Pro $149.90 /year/license
Business $199.90 /year/license
Enterprise $240 /year/license
Change the way you interact with your audience.
Adobe is a household name to those who are always in front of their computers and doing stuff online. If you need help in hosting a webinar, Adobe Connect is perfect for you.
Starting at $130 per month, you can have unlimited events at 100 seats each. You can start with a 30-day free trial where you can host up to 25 attendees.

Pros
A high level of customizability is available.
Educators can benefit from curriculum design elements.
Can control the screen layout for viewers.
Video feeds are limitless.
Cons
The learning curve is steep.
There are no dial-in numbers other than third-party options.
When compared to other options, it is pricey.
Meetings $50/mo./host
Webinars & Learning $130/mo./host
Adobe Connect Learning $370/mo./host
Teach and train entirely online.
ClickMeeting has the motto of helping people stay connected. This webinar software is good for individual marketers who don't have that much budget for webinars. ClickMeeting also has webinar recordings, audience participation options, payment integrations, and screen sharing.
They have a free trial for seven days that include webinars for up to 25 participants, 5 audio feeds, and 4 video feeds. After seven days, the price starts at $60 per month as billed yearly with more added features.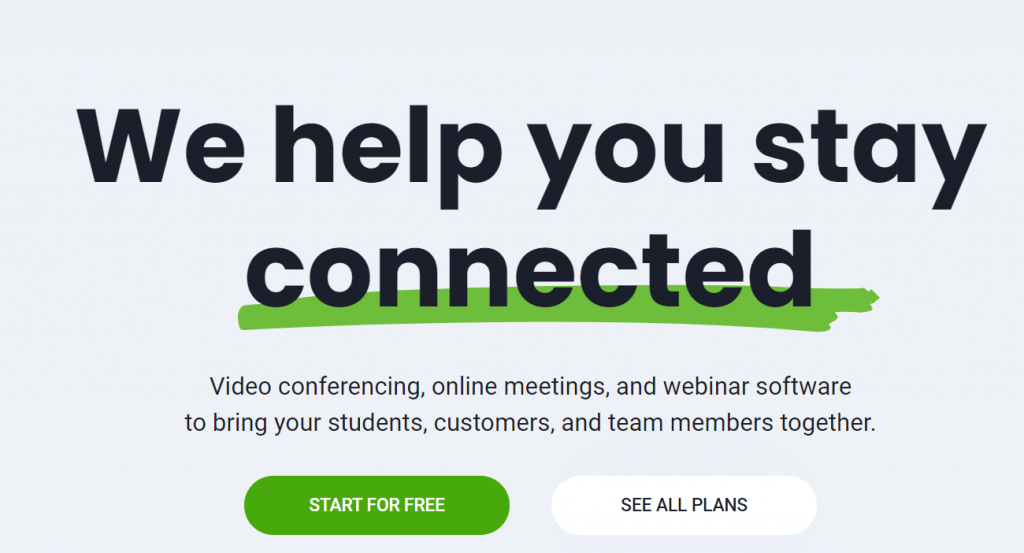 Pros
The interface is simple to use. ClickMeeting is now easier to use than ever before thanks to a new design.
The options provided by ClickMeeting are practical, but they allow your video or webinar to reach new heights. YouTube, whiteboard, and screen sharing integrations make the user experience more engaging and interactive.
Cons
When you upload PowerPoints to the software, ClickMeeting will often automatically adjust the formatting. Fonts may have been changed, shapes or images may have moved, or sizing issues may have occurred.
The recording trim tool does not appear to have the same level of functionality as the rest of ClickMeeting. Trimming a few seconds from a video can take longer than expected. Furthermore, playing the recording after a trim appears to be more difficult than simply pressing play.
Live $25/month
Automated $40/month
Everything you need for successful webinars
GoToWebinar has more than fifty thousand clients making them one of the most popular webinar software providers. It provides all the common webinar features. What's more, this platform is also very easy to use for beginners.
This software includes recordings, tool free connectivity, payment integrations, analytic, VOIP, and a lot more. There is no free trial but the price starts at &89 per month.

Pros
Registration page templates/page creation, as well as attendee registration management, are essential for event management.
Data association—attendee information is linked to poll, question, and survey responses, allowing for easier follow-up.
The interest rating score is a good indicator of how engaged your participants were.
It is compatible with all platforms and browsers.
Cons
There will be no digital backgrounds, which many presenters would like to use.
Presenters cannot see the polls when they are shown to the audience, and they cannot see the results share unless they have "audience view" enabled.
Other flaws appear and disappear, making it difficult to rely on the tool's performance.
There are no breakout rooms, which limits the use to a one-and-done session.
Starter $83.78/organizer /month, billed annually
Pro $193.07/organizer /month, billed annually
Plus $387.35/organizer /month, billed annually
Inbound marketing solutions for what you need
With GetResponse, all packages come with free 30-day trials. This software is considered one of the best since it offers the top of line marketing automation and email features.
The package starts at $12.30 per month. It comes with email marketing, auto-responders, unlimited landing pages, unlimited automation templates, sales funnel, unlimited lead funnels, FaceBook ads, and sell e-products.

Pros
It has a very detailed and accurate statistics system.
The interface is elegant and simple to use.
Cons
Another area where GetResponse could improve is in the products with which it integrates. They have been working to expand the list, but we believe that more work is needed in this area.
Basic $15/mo
Plus $49/mo
Professional $99/mo
BigMarker ranks first in customer satisfaction on all major software review sites.
Try BigMarker. Why? Because giant companies like Google and Mcdonald's do. This software works well with Facebook, Youtube, and other platforms where people can go on streaming.
You can avail of it for as low as $79 per month for the starter plan. With the starter plan, you will have live webinars, on-demand webinars, recurring webinars, Facebook and Youtube live, MeetingSpace, 24/7 webinars, and automated webinars.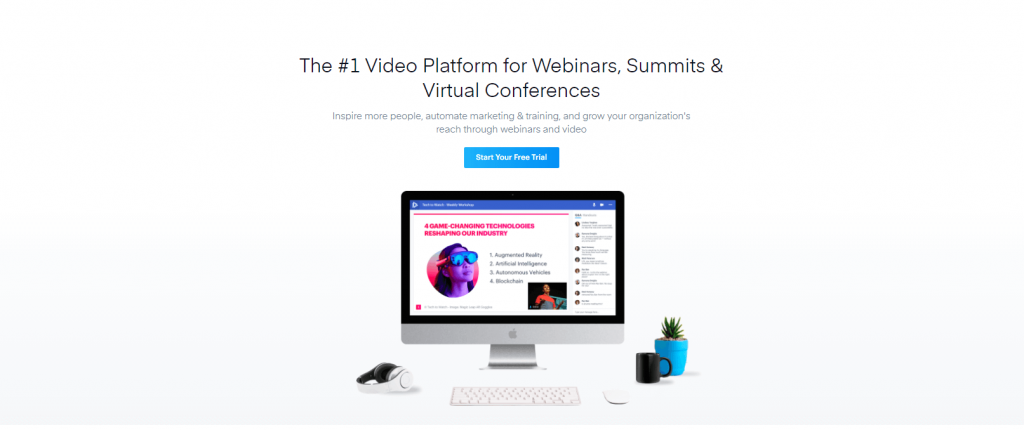 Pros
Events that are being streamed live
Marketing and Automated Webinars in the Style of a Webinar
Digital event ticketing and training
Cons
Text options for generated emails are more flexible.
Starter $79/mo
Elite $159/mo
Premier $299/mo
Earn More Without Putting in More Work
If you want to engage your customers one on one, if you want them to get excited about your product, or if you want to make an irresistible offer, then you should use EverWebinar. You can try the 14-day trial access at $1.
This software comes with:
Live chat simulator
Clickable offers
Urgency and scarcity
Hybrid webinars
Just-in-time webinars
Page Builder
Polls and surveys
Seamless integration
Flexible scheduling
Email and SMS system
Dynamic Attendee Display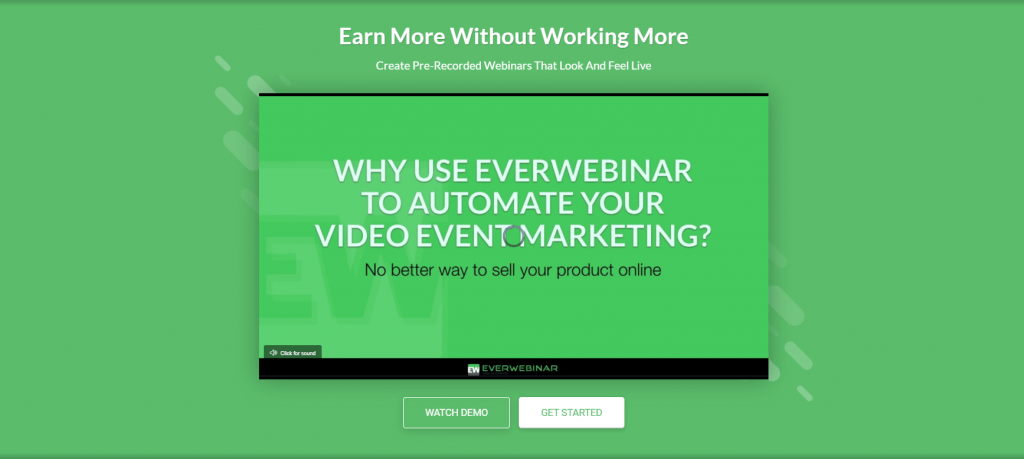 Cons
Choppy screen share and annotation
Poor customer service
Inadequate server capacity to handle large crowds
it doesn't seem like they upkeep this product
Installment Plan $199 x 3 Yearly
Annual Plan $499 Yearly
11. Cisco Webex
Wouldn't it be nice to hear your audience say, "Wow!"? This is what Cisco Webex can actually give you.

Cisco Webex is made for those who want to have simultaneous features and options to hold a live interactive event. With this software, you can enjoy HD video streaming, webinar recordings, live polls, A&A, screen sharing, and a lot more. With $13.5 per month, you can start inviting up to 50 attendees.
12. DaCast
This webinar is proud of its feature that makes it available for all types of devices with unlimited viewers. DaCast also goes live streaming on Facebook and Youtube. You can record your webinar and save it as an on-demand webinar for your audiences.

The starter pack of $19 per month allows you to have a bandwidth of 100 GB, 300 viewers per hour, a storage of 20GB. To sum it, the price per GB is only $0.19
13. WebinarsOnAir
If you want to discover the best webinar software for your business WebinarsOnAir is the simple and affordable software for you. You can do personalized brandings and redirect your participants to your website. That is one sure way to increase traffic.

The price of the basic plan is $19.97 per month. With this plan, you can accommodate 25 participants.
14. EasyWebinar
EasyWebinar allows you to test their features first with its 14-day free trial. If you get to like it, you will come face to face with $78 per month, but it's worth the price. The Standard Plan can give you the following benefits:

100 live attendees
Unlimited automated webinars with up to 100 simultaneous attendees per webinar
Unlimited live attendees using YOutube Live Integration
Elite Webinar Mastery Foundation Course
Instant on boarding call
EasyCast Facebook and Youtube Live streaming tool
Chat support.
They also offer higher plans. They have the Pro Plan at $129 per month, and the Enterprise Plan at $499 per month.
15. WebinarNinja
If you are looking for easy-to-navigate software with a modern interface feature, then you should avail of Webinar Ninja.

All their plans include:
Unlimited registration
Unlimited webinars
Paid and free webinars
Multiple presenters
Webinar Finder
Fast and friendly support
Auto recording and live and archiving
Auto email no notification
Instant chat with emojis
Integration with 1000 apps
Add to calendar feature
Stats & analytic
Upload presentation slides
Social sharing
Insert pre-recorded videos
Clone webinars
Q&A polls
Instant or timed offers
Full training and tutorials
Registration page templates
Thank you page templates
Access to a referral program
Free updates and more
16. LiveStream

Count on Live Stream for a successful webinar. This software has unlimited storage and automatic video recordings on the cloud. It is good for you if your target audience is people from different parts of the world.
For $75 per month you can receive a lot of engagement features like Q&A, multimedia sharing, live polls, and lead generations too.
You might be interested in the following list of software, CRM Software, Tax Software, Video Editing Software, Project Management Software, Backup Software
Purpose of Webinar
The main objective of the best webinar software is to involve many audiences who are interested in a relevant topic as presented by the host. Many webinar hosts teach while there are those who sell products and services. At the end of the day, both participants and hosts benefit from each other.
Benefits of Webinar Software
Generate leads instantly through your attendees.
Build a reputation which means your products or services would generate higher value.
Save money and get your return on investment sooner than you think.
Have an opportunity to talk and discuss with people from different walks of life.
Factors to Consider in Choosing the Best Webinar Software
Your goal– Do you want to teach? Do you want to introduce yourself or your product? Do you want to generate more leads? So, you need to ask yourself what you really want to achieve so you can look for the best webinar software that fits your requirements.
Number of participants– When preparing for your webinar, you should have an estimated number of participants.You would not want to get a webinar that can only accommodate 50 people when you have 100 expected attendees, would you?
You and your participants' security– Of course we would not want our information to leak unto the hands of scammers and online thieves. So, you need to choose a trusted webinar software.
Audience participation– Look for a webinar software that helps you get your participants involved. Why? With audience participation, you can ensure generations of new leads and closing of sales.
Recording on webinar software– Repeating your lecture over and over again can be tiring. If you record your webinar, then you don't have to go through that tedious process. Some webinar software do not allow you to record your webinar so make sure you choose one which allows you to.
Sharing Screen– This feature is very helpful because it gives you that classroom feeling. There is interaction and you can show your audience exactly what you want to share.
Your finances– Do you think you have the money to pay for a paid webinar software? Would you be charging your participants to cover up for your expenses? Like in any other business, it is important to consider the money involved.
Terms to Remember in Webinars
Webinar – An online activity wherein there is a host and audience. The purpose can be to educate, to connect, to sell, or to inform.
Webcast – This is when a live activity or webinar is broadcasted on different platforms.
Studio – This is the space where the hosts and presenters can take care of the slides, the polls, and the overall presentation.
Audio – The volume and sound of the webinar. This is important because having bad audio is equal to misunderstanding.
Live – a webcast seen in real-time on a certain time and date.
Manage event – This is the layout of the webinar. Before you host a webinar, you need to know the steps you need to take to avoid problems with the event itself.
Monitor the event -It is important to have somebody to work with, just like an assistant. The one who monitors will be responsible for checking the audio, the video, the number of attendees, and the presentation itself. He makes sure that everything is going on smoothly.
On Demand – This is when one webinar is recorded so the audience can go back to it right then and there.
Media – the tools used in the presentation
Streaming – the accumulation of data as sent by the provider usually used in songs, movies, and now on live broadcasts such as webinars.
Broadcasting – the dissemination of content as shown on TV, radio, and the Internet
Aspect Ratio – the size of the screen used on webinars
Template – a pattern of how the materials will be presented
Registration Page – This is the page where participants need to fill out a few questions and do the necessary steps to register for a specific webinar
Additional Terms to Remember
Auditorium – the page or the link where participants need to go to attend the webinar
Splash – Images and audio being flashed on screen usually to give the audience an idea of the topic before the main event is held
Referrer Tag – this allows different pages' links on the registration page for the purpose of marketing and promoting products, services, and events.
Integration – This is linking your webinar to other tools like registration, sales, and lead generation.
Reporting – This is the data showing the number of participants and speakers.
Channels – the sites where you can broadcast and promote your webinar
Moderator – The person who has control of the program. In real life, he is the master of the ceremony.
Speakers/Presenters – The lecturer. This person is considered the authority when it comes to the topic of the webinar.
Resources – Photos, videos, websites, links that will help you with your presentation to achieve credibility.
Polls – Questionnaire given to the audience for feedback. It can be broadcasted or kept confidential.
Firewall – A security on your computer that filters any site that might harm your computer.
VPN – Virtual Private Network. This is the sharing of data through a private network.
F.A.Qs
Can I hold a webinar for free?
Yes you can but there are other webinars that are charged. You have to consider the pros and cons of a free webinar.
What do I need when I want to host a webinar?
You can either use a desktop, a laptop, or a tablet. Make sure you are in a quiet room and check if your internet connection is stable.
Where are webinars held?
Anywhere. No need to go to different places to attend or conduct a webinar. As long as you have the right devices and as long as you are connected to the internet, then you are good to go.
How do I get participants in a webinar?
You simply need to promote your webinar via different platforms like Facebook, YouTube, Instagram and many other social networking sites. If you have leads, you can also send invitations through email.
How do participants get to ask questions during a webinar?
Every webinar software has a chat box so everyone can freely type. There is also some software where there is an option of raising your hand so the speaker would recognize you and give you the chance to speak.
How much participation is required from the audience?
It depends on the audience. Some audiences are silent while others are active. Whenever I host a webinar, I feel happy whenever the audience gets involved. That means I am sparkling their interests. 
What is the cost to host a webinar?
There are webinars software that is free while there are those that come with a monthly cost.
How do participants register and pay for a webinar?
They can go to the registration page and select the button stating their willingness to attend then follow the instruction.
Conclusion
In this article, we talked about the things to consider when choosing the best webinar software. We also talked about the 16 best webinar software that matched your webinar needs.
Have you ever conducted a webinar? Or, do you have any plans of hosting one? Webinars are cool. They allow you to learn and connect with different people. Perhaps you might want to share one fantastic webinar experience with us. Maybe you can give more tips and opinions about webinar software. We would love to hear from you. Don't forget to write your suggestions in the comments section below.