The coronavirus has spread over the world furiously in the year 2020, due to which the normal working mode of the companies has affected a lot. Most of the companies have to shut their ground operations to maintain the policies that governments form. Due to this, the productivity of the companies has affected manifolds. People have to stay in their homes and have to work remotely. Still, companies can maintain their working during the time period of lockdowns due to remote desktop software.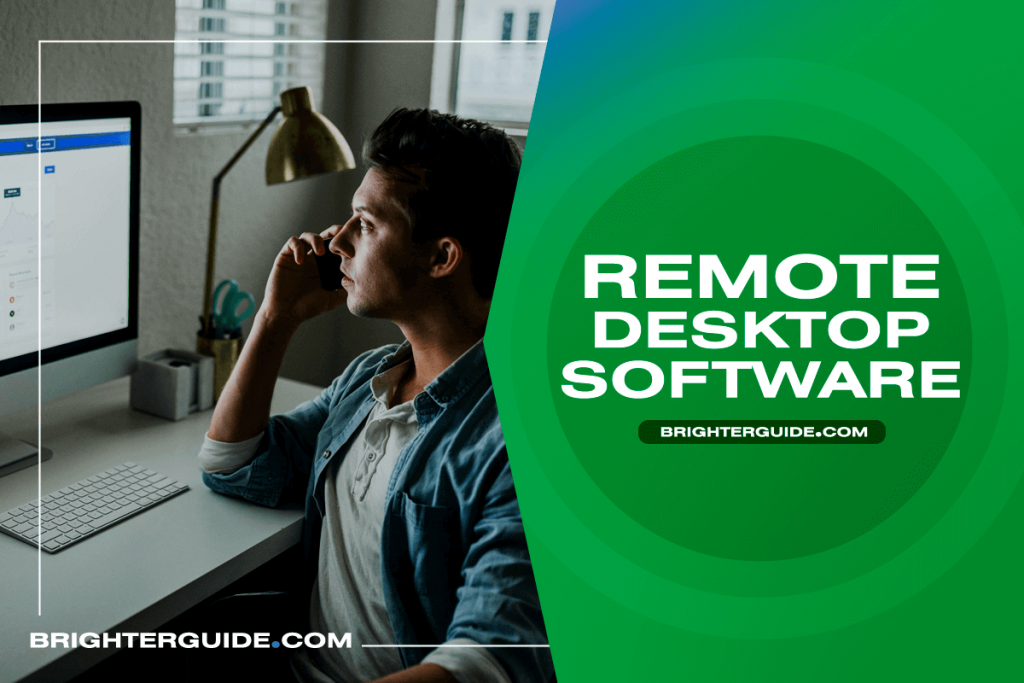 The market is flooded with different remote desktop software that businesses can opt out of. Still, before actually jumping to the list of the software, one needs to know in detail what is remote desktop software and the tasks performed by this software?
Before continuing with the list, you may want to check out our lists about Hard Drive Recovery Software, POS Software, Database Software, Scheduling Software, Screen Sharing Software
Best Remote Desktop Software 2021 – Our Top Picks
To help you decide better, we have added details like the features, pros, and cons, as well as the prices of our top 10 remote desktop software followed by other software worth trying.
Tried and tested to be good by many users
RemotePC is one of the best and adopted software for remote desktop access made, especially for business customers. Due to the best-in-class service and 256- bit security encryption.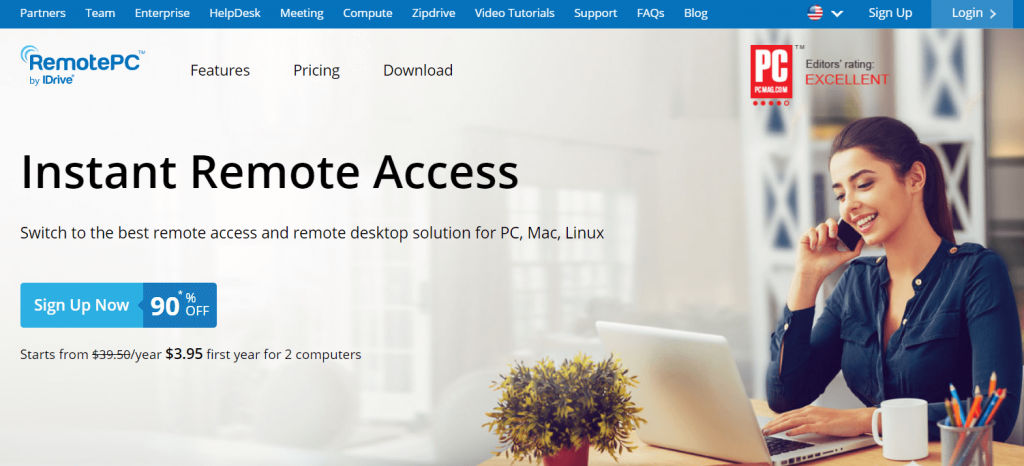 Pros
Excellent performance with minimal impact on system resources.
Good pricing with scalable plans that can be customized.
Cons
Mobile apps could use some work.
Save your time and money, and connect remotely
Zoho Assist is again an all-rounder tool that gives you access to your office machine, which has various specifications.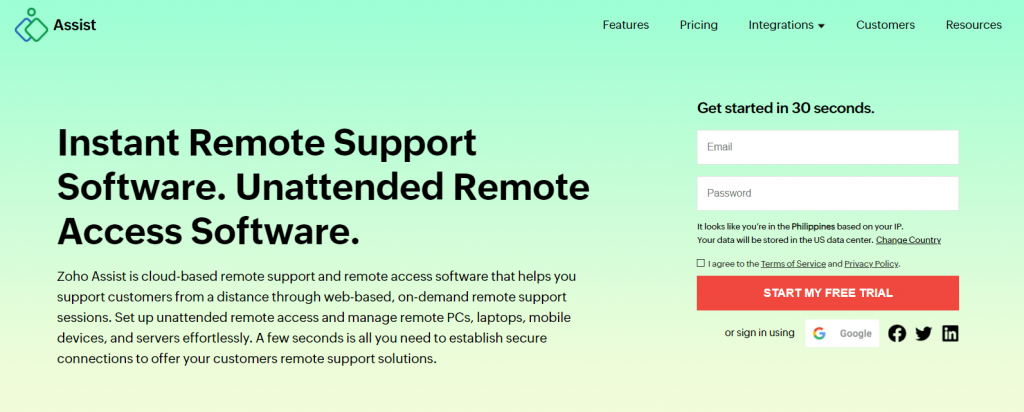 Pros
Add unattended access plant to any plan.
Troubleshooting support for your clients.
Massive educational materials and helpful customer support.
Cons
Large file transfers are difficult because of a limit of about 2GB per file transfer.
concurrent session limit
Zoho Assist lacks an easily accessible live chat feature.
STANDARD $10 (1 technician/month billed annually)
PROFESSIONAL $15 (1 technician/month billed annually)
ENTERPRISE $24 1 technician/month billed annually
A bang-for-your-buck remote software
Splashtop is one of the powerful Remote desktop tools ruling in the industry with a unique session recording feature.

Pros
Large file transfers are difficult because this software has a limit of about 2GB per file transfer.
concurrent session limit
Zoho Assist lacks an easily accessible live chat feature.
Cons
The whiteboard feature is only available on the iPad or Android.
In our testing, we encountered a few unusual connection issues.
Installs a nefarious audio extension on the Mac.
BUSINESS ACCESS SOLO $5/ month
BUSINESS ACCESS PRO $8.25/ month / user
BUSINESS ACCESS PROVOLUME LICENSES $6.19 / month / user
Favored by users of all professions
Parallels access tool is also used for accessing the personal computer in mobile devices.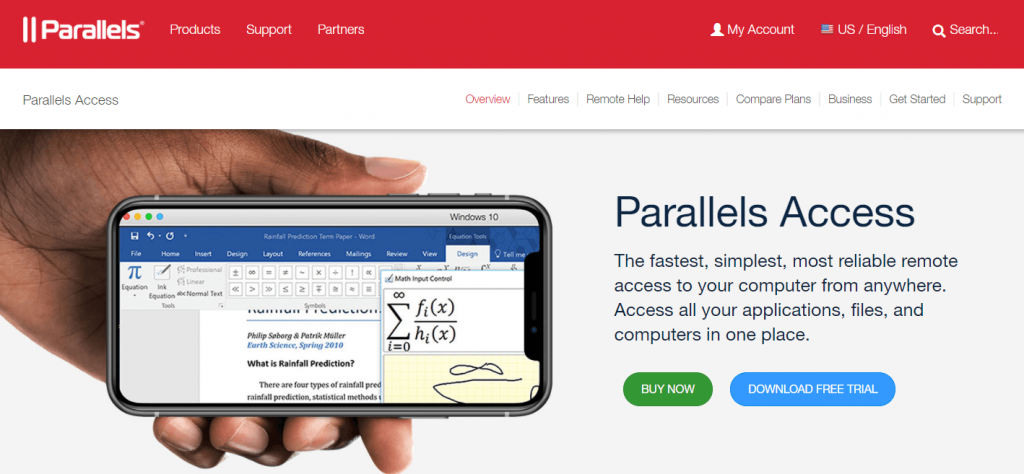 Pros
An excellent mobile device
Also known as "Makefile."
File and application access 24/7
Allow you to connect to your computer from anywhere
Pull files to your iOS devices
Native iOS support
Cons
The Starter plan does not support multiple user accounts.
1-Year Plan $19.99
2-Year Plan $34.99
Business 1-Year Plan $49.99
Business 2-Year Plan $89.99
Straight to the point and works for all users
If you want proper cross-platform compatibility, then you should choose TeamViewer as your Remote Access Software.

Pros
TeamViewer is extremely simple to use.
Most users are familiar with TeamViewer and can rely on it.
TeamViewer Quick Connect client works well for users who do not already have TeamViewer installed. Clipboard integration and screen sharing are very seamless.
Cons
The TeamViewer Corporate edition lacks simple permissions and assignments. Each group is set up manually
TeamViewer doesn't have a deployment tool, third-party tools, or GPOs are required.
Connecting to the endpoint would be convenient for such things as installing software and launching scripts. Other tools are required.
Single User $27.84/mo
Multi-User $53.42/mo
For Teams $107.07/mo
Control with next-gen secure remote access and support
The remote access of this software is unique and advanced, which gives unattended access to the business entities.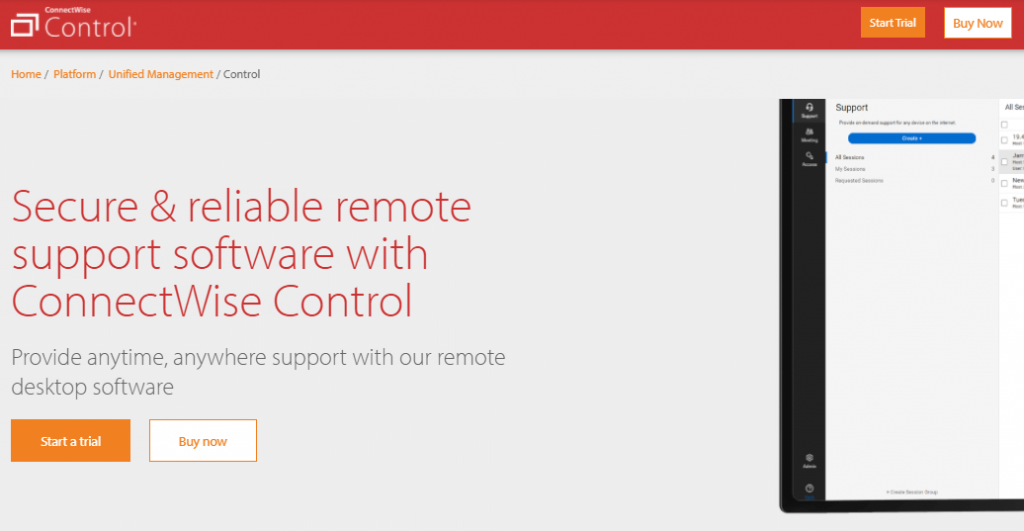 Pros
It is power-packed with some tools which are very easy to deploy.
Extension marketplace is easily catered with the help of ConnectWise Control.
This is also a cross-platform tool that allows sharing of files with each other that are linked.
Cons
A bit expensive
Performance can be an issue
Starts at $30/month (billed annually)
You must also check out the best webinar software.
Access your work at any place and any time
Those are operating large businesses and have numerous numbers of employees can choose this platform.

Pros
Along with file transfers, this tool also allows a person to store their file with 1TB of storage they are providing.
One can perform remote action of printing with this tool.
The security encryption of this tool is 256-bit AES.
Have a range of tools for enterprises that are strong and reliable.
Cons
Built-in video conferencing is not available
Latency and resource-use need fixing
INDIVIDUALS $30/mo
POWER USERS $70/mo
SMALL BUSINESSES $129/mo
Affordable and favored by many users
It is one of the best affordable remote desktop software which are providing the following features.

Pros
Supports an active directory option which can be upgraded and shared also.
It is a special software designed for the Windows platform.
File transferring, video sharing and recording options, and different file-transfer features are also available in the tool.
Cons
Can only connect to Windows devices
Prohibits you from connecting to cloud accounts
A solid, robust VNC service
The VNC Connect software is a remote desktop access tool. It has the following features.

Pros
There is an option of extensive platform support VNC Connect that is ready to help every time.
The process of deployment is straightforward, and one can easily contact the company in case of any issue.
The dashboard is straightforward to use, which makes it more effective for dealing with one employee with another.
VNC Connect is a high-security platform which is having high-class features.
Cons
Mobile app is clunky and unintuitive.
Slow response times.
Professional $3.39/mo
Enterprise $4.59/mo
Works best for large network computer systems
If you are a large network of computers that only needs remote access can use this Remote Access Software.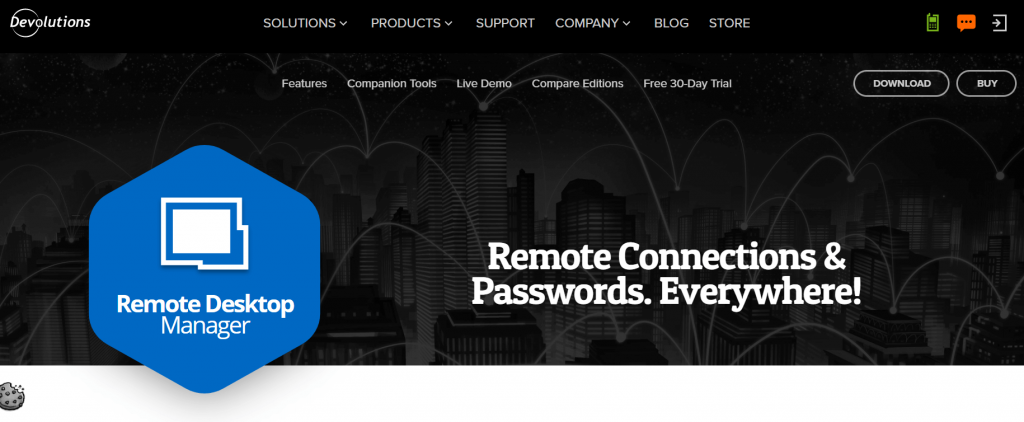 Pros
Along with remote desktop accessing, this tool also provides you with a password management tool.
The impressive security features of this tool are imposing, giving the options of account brokering also.
Accounts audit can also be performed with the help of this power-packed tool.
Cons
Pricey for simple helpdesk apps
More features than most small businesses will need
Pricing Starts at $199.99
11. AnyDesk
AnyDesk is a German tool that is used by over 300 million people worldwide. Some of its features are:
This tool uses a proprietary codec that helps in unattended access of your desktop interface smoothly from any place in the world without going to the office building.
Helps in the task of file transferring and remote printing.
The security of the tool is well taken care of.
Setting a password is necessary for this tool which is important for security.
Price: The price of this tool is $10.99 per month, which is the entry-level pricing.
12. Chrome Remote Desktop
Chrome is one of the best platforms for remote PC access if you are looking for free software.
This remote program is available for Mac, Linux, iOS, and Android devices. This platform also provides a feature of cross-platform compatibility. Any platform in which one can access Google Chrome can also use this software.
Price: Free
13. BeyondTrust Remote Support
It is renowned for the overall features and support that it provides to enterprises around the world, along with safety. Some of its features are:-
Helps in proper maintenance of the brand image with customization options.
The terms and permissions of this software are powerful.
Price: Its collaboration features help in integrating with several other tools like CRM, ITSM, and SEIM for the overall management of business under one roof.
The price one needs to bear for this tool is $35 for one PC, and if one wants a hardware appliance along then, they have to pay $10,235.
14. GoToMyPC Desktop Software
If you want to buy this remote desktop tool, then the features you will enjoy are mentioned below.
There is a feature of in-session chat that is very fruitful for meetings and sessions.
You can transfer files from one PC to another in the cloud system formed with the help of integrated APIs.
You can navigate your personal office laptop through multiple monitors.
Price: The price of GoToMyPC Desktop Software is $69, which is the starting cost for which the company also offers a free trial version.
15. Governlan Reach
Governance Reach is software that is helping out businesses to manage their business along with eliminating the downtime of the servers. Some of the features of this remote desktop tool are discussed below.
Provides file sharing and real-time chat options, which is important in an enterprise.
The screen can be shared while video calls, and also, the session can be recorded for future reference.
Diagnostic tools are very smooth, which can assist in figuring the issues easily.
Price: Governance Reach tool price is $29 per month for normal purposes and $129 for the enterprise model, before which one can avail 14-day free trial.
You may also want to check out our pages about Encryption Software, Best Password Software, Project Management Software, 3D Modeling Software, Accounting Software
Other Remote Desktop Software
16. FixMe.IT
When you are thinking of using your session for multi-session handling, then you must opt for this tool. Features that are included with this tool are:-
Software is easy to use and is best for small to large businesses.
Desktop screen sharing has next-level smoothness, which is also offering real-time chatting options.
Price: The price they are charging from a business is only $30 per month, which includes a free trial also.
17. ISL Online
It is a web-based solution that helps you access personal computers and control them. Some of the amazing features of this tool are:-
ISL Online has various It management features like controlling access and compliance management.
Remote access and controlling of ISL Online is also perfect.
Manages the emails for the users, which makes it easy for them to manage their chores.
Price: ISL Online is issuing licenses that can cost around $139 for one license to one year.
18. Workstation Player
If you want to operate a different and isolated PC in your normal PC, this Workstation player can help you out. Some of the features of this tool are:-
The virtualization of this tool is very simple but is also powerful.
All the normal options of file sharing, conferencing, and communications options are also provided by this tool.
Price: The price of this tool is free if you are using it for non-commercial personal uses.
19. SolarWinds DameWare Mini Remote Control
SolarWinds Dameware Remote Support has features that attract customers.
SolarWinds Dameware Remote Support is a simple and one of the affordable options, which include IT support with a remote desktop tool.
You can access a Mac device into Windows and vice versa also through SolarWinds Dameware Remote Support.
SolarWinds Dameware Remote Support provides over internet connection services also.
Price: For an unlimited version of SolarWinds Dameware Remote Supportmult, a person needs to pay around $290, which is offering unlimited access to the users with a 14-day free trial.
20. Glance Networks
The Glance Networks is an engagement remote desktop software which is offering you some impressive features.
Provides complete mobile access to the person to operate their device.
Webcasting can be done on the demand of users.
There are plenty of presentation remote tools available on the platform.
One gets the choice of real-time chatting with the sharing of the screen.
Price: To use this software, you have to pay around $45 per month per user.
21. Syncro
Syncro tool has the following offerings for your business.
It provides some enterprise-level services like sales training to agents on-screen and humanizes the brand.
Helps in better management of your money-making resources and gives you the option of remotely control them for making money.
Price: The cost of this tool is $99 for one tool per month. This offer is valid if you buy annual subscriptions.
22. Apple Remote Desktop
If you have an Apple Mac device in your office setup and are looking for some remote work, then this tool will be the best for you. Its specifications include.
Have an automation mode activated once you activate your remote PC, which saves your time every time you start working.
The need for house calls is ended now due to this tool.
They also take the responsibilities of the reporting completely, which helps the IT administrators to resolve the issues as soon as possible.
Price: The pricing of Apple Remote Desktop is around $79.99, which is pretty reasonable in front of their offerings.
23. MSP360 Remote Desktop
MSP360 tool is not just a remote desktop access application but also has a backup system. Some of its impressive features are:-
The deployment of the remote desktops can be done within seconds providing unattended access.
The connection from one device to another is encrypted, which means that there are no chances of data loss.
The transferring of the file is made easy with a text and video conferencing app.
Price: The price of this tool for Windows Desktop is $49.99 and $10 for its annual maintenance, before which you should avail 30-day free trial.
24. Rocket BlueZone Terminal Emulation
The flexible licensing of the Rocket BlueZone has become the biggest reason why this tool is present in this list. Some of its features are mentioned below.
The emulator attached with remote desktops tool always provides more security to a person.
There are options of both subscription-based buying or buying the tool on a subscription base.
Management is also made very easy by this software.
25. Citrix Virtual Apps and Desktops
This software is helping in empowering employees with virtual desktops. Its features are mentioned below.
Provides assistance in the deployment and scaling of the remote desktops in the least time.
The migration of your files through the cloud system is made very simple.
Creates an intelligent workspace for employees on the cloud system.
Price: The Citrix workspace premium tool costs $25 for one month, allowing access to one user.
What Is Remote Desktop Software?
The remote desktop software is the platform that helps an employee of the company to share their Windows screens with their other colleagues through the internet. It creates a window environment through a server. For this task, they created a remote desktop protocol that helps in connecting different computers that are related to a company and requires for the smooth working of the company.
Now during the covid times when the companies have to shut down immediately, they were not provided options to take their set-ups. In this situation, the working started getting affected, but with the help of the RDS software, the employees can access their office setup at their personal computers. It creates the same environment among the hardware that is connected. The tasks that are performed with the help of this remote desktop software are mentioned below.
The very first task that is performed by the RDS software is the management of the remote devices and add them to the server environment.
They handle access to all the employees to their native desktop.
Provides an interactive communication channel that helps in company meetings and sessions.
Remote desktops also provide some enhanced reporting features to the admin who is the head of handling the remote operations from time to time.
These are the tasks performed by the RDS software that make it a very important part of the business during a tough time. Now when a business goes to select the software for their company, then they get plenty of options in front of them, which makes their task difficult. That is why we have made a list of the best Remote Access Software that you can find according to your requirement.
You must also check out the list of best project management list, which can help you in better management of your businesses at BrighterGuide.
F.A.Qs
How the implementation of Remote Desktop Software is done?
Two different ways of implementation are used by remote desktop software. The first one is common operating systems-based solutions in which the tool will integrate with the operating system directly like Windows or Mac. The other one is third-party integration which needs a special tool entering which they will enter a new desktop environment.
What to keep in mind while buying remote desktop software for our business?
While buying the software, the factors that you must always have in the back of your mind are the team size they want to cater to, the money they want to invest in, and the software's competitive features. For that, one may also need to make a comparison list and start comparing the tools.
What are the requirements for the remote desktop software?
There is no such requirement of any hardware if you are looking to buy remote desktop software, but there is a requirement of a team if you want the functioning of this tool smooth. Every business should at least have IT technicians who know how to deal with the software issues and also tackle the team.
What is the average cost of remote desktop software?
The cost of the tool is not a fixed value. Every tool has a different pricing chart and charges money from the businesses according to features they are availing. Still, if you are looking for an average value, then it may range from around $20-100 for a small-scale business to around $5000-8000 for a large-scale multinational company.
How many setups can be connected in the cloud of remote desktop software?
The answer to this question will vary greatly from tool to tool. There are some tools in the market that are only focusing on the small businesses who need less device attachment requirement in their cloud technology, and some companies may also require a connection of thousands of devices through one server for which also many tools are available.
Conclusion
This is a detailed overview of the top 25 remote desktop software that is available around the world. Now it is your choice and the requirement of your business which tool will suit your requirements the most. For that, you should be prepared in advance with your list of requirements from this series of software.