If you are a business person and are running a booming business, then you must be very well known to the fact that the management of inventory is critical no matter you have an offline or an online business. When a person is at the initial phases of business, then this management of the inventory is straightforward, but with substantial business growth, the management gets tough. For easing this task of the enterprise owners, there is software available online.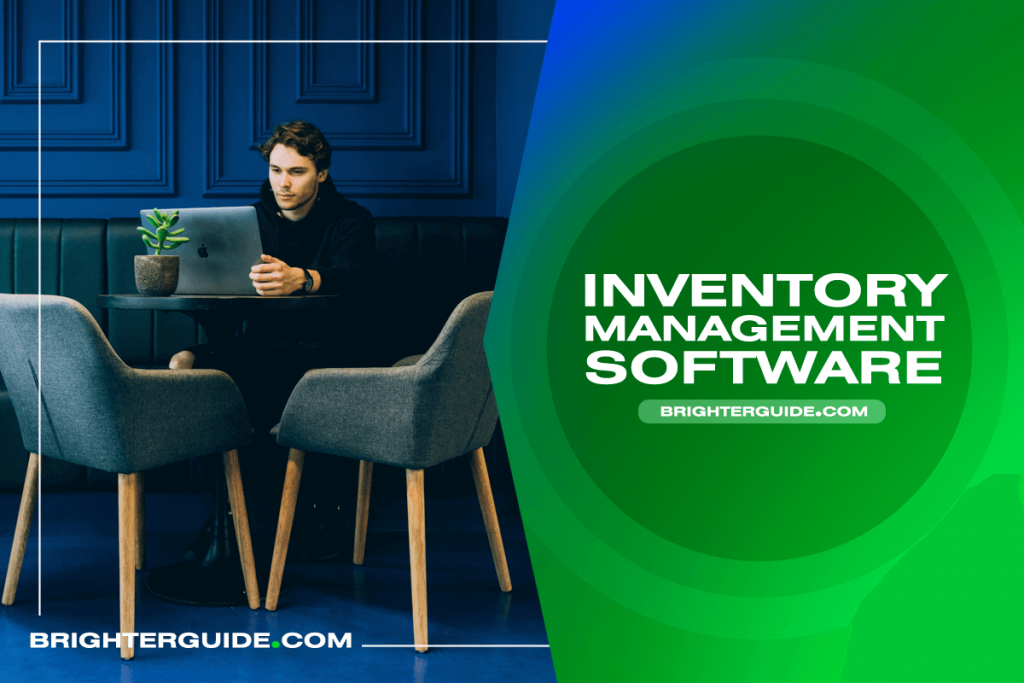 So, if you want to buy one of the inventory management software, then before buying them, you need to have proper knowledge regarding the platform. You should know what are inventory management software, and what are the tasks that they perform? Amid gaining this knowledge, a person can make purchasing decisions.
Before you continue reading, you may also want to check out our lists about Music Production Software, Remote Desktop Software, Hard Drive Recovery Software, POS Software, Database Software
Best Inventory Management Software List 2021– Our Top Picks
To help you decide better, we give you a breakdown of the features, pros & cons, and prices of our top 10 inventory management software followed by other software you may want to explore.
An ERP software that covers all your needs
Most of the large-scale enterprises running around the world are opting for this tool due to its innovative design and easy supply chain functions.
Acumatica helps out in controlling the inventory that is present in your warehouses easily without actually visiting them with inventory management techniques.
It is smart software that always uses a powerful replenishment system in case the system receives an automated order. Also, it has barcode scanning capabilities.
Like a businessman simplifies the warehouse by the arrangement of products, in the same way, this tool also simplifies the management with proper arrangement.
Help in the management of physically wide located locations with their efficient sight.
Help with better customer satisfaction by optimizing the inventory from time to time.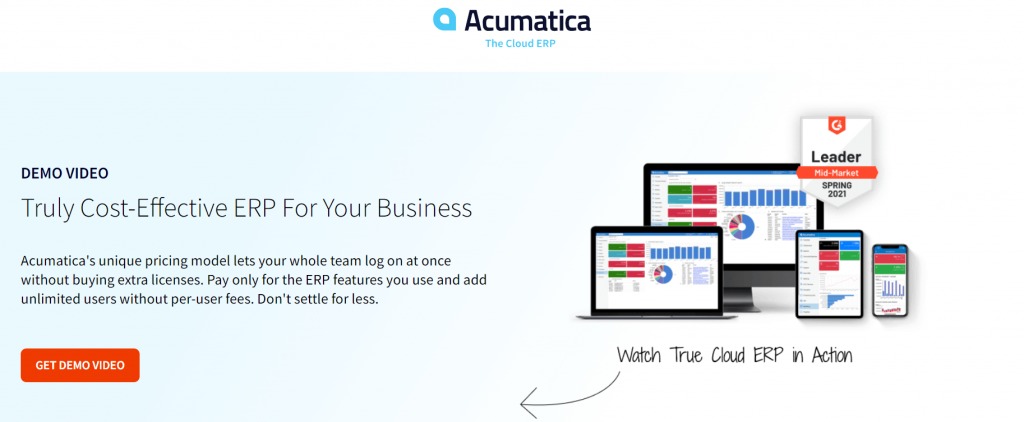 Pros
Deployment on-premises or in the cloud.
A large number of costing methods are available.
It is compatible with a wide range of databases.
Excellent reporting.
Non-user-based pricing accommodates expanding businesses.
A browser-based app simplifies the use of mobile devices.
The navigation is simple.
Cons
It can be difficult to estimate licensing costs.
Standard report filters may need to be tweaked.
If you are implementing ERP for a company that is not in the manufacturing/distribution vertical, you will need to rely on third-party add-ons.
Pricing structure that is out of the ordinary.
One of the best-selling cloud software in the market
This oracle software is a cloud-based warehouse and inventory management software that will help out in easing the task of the manager. This software can be easily expanded, which will help in meeting the needs of business easily.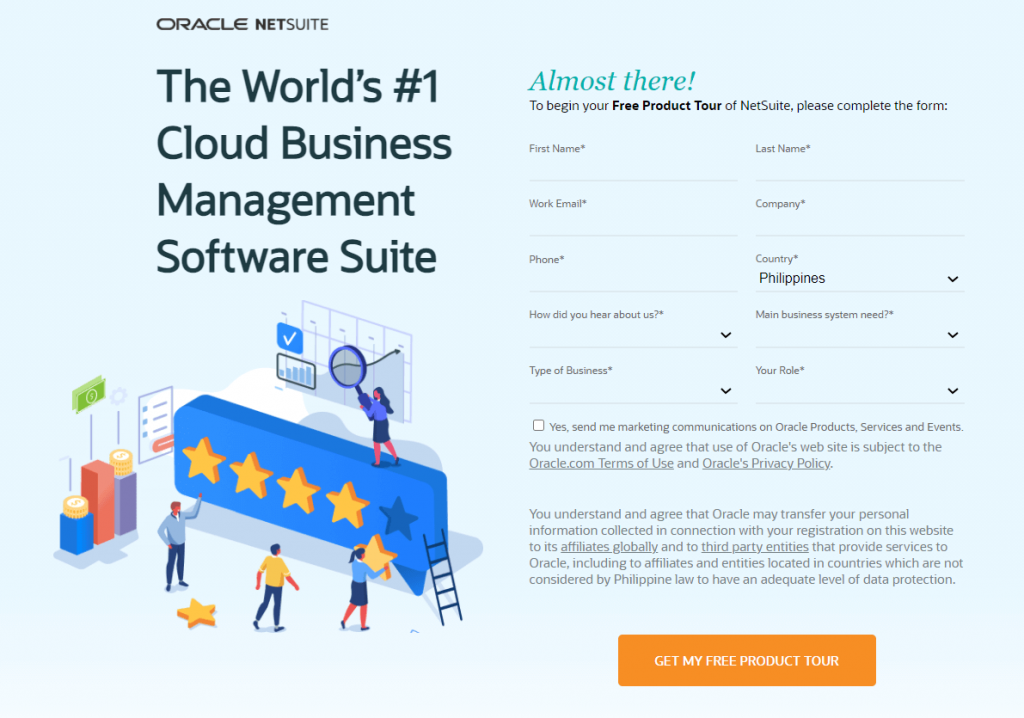 Pros
Excellent customer relationship management capabilities.
A wide range of businesses can benefit from broad enterprise resource planning features.
Excellent drill-down capabilities from multiple system perspectives.
Reporting is straightforward.
Workflows for custom processes.
Dashboards that are easily navigable and hierarchical.
Cons
A befuddling help system.
Configuring the system for specific roles is difficult.
The feature set is extensive but complex.
Initial payment of $999 for the license and $99/month from then on.
Ideal tool for all levels of expertise
For all the supply businesses that are currently at their initial levels and want a strong tool for their enterprise resource planning, then this tool is the best for them.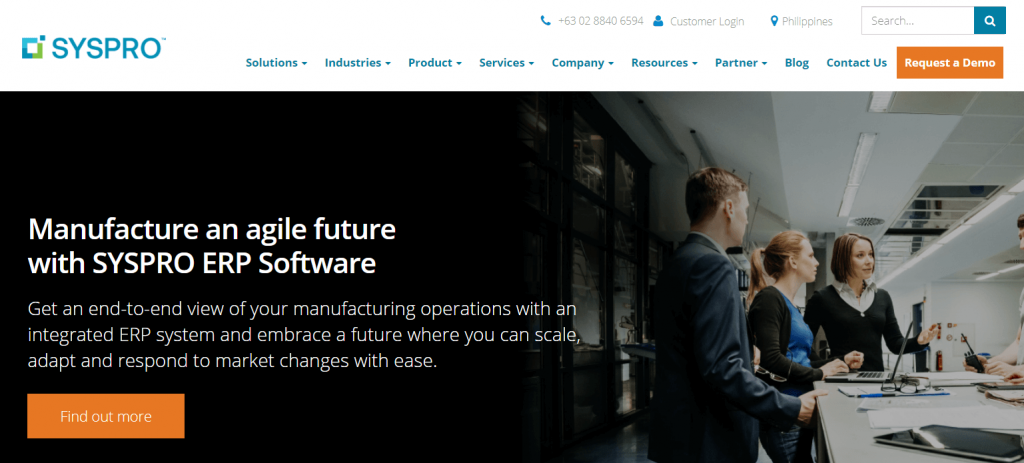 Pros
Excellent capabilities for manufacturing, distribution, warehousing, and retail operations.
Syspro's own Point of Sale and Demand/Forecasting engines are used.
Comprehensive but simple to use.
A large number of modules are available.
Cons
There are no modules for payroll or human resources (HR).
For some smaller businesses, this may appear to be overwhelming.
Pricing is around $199/user/month
Manage all your financing necessities with this program
The AccountMate software is a financial and Enterprise resource planning software that keeps accounting records along with inventory management. The tool is very well known for the configurable features that are offered by them.

Pros
There are numerous report export options.
Excellent transactional drill down.
Online training and assistance are extensive.
Strong audit trail reporting capability
Cons
ERP implementations do not include HR or POS modules.
Graphics and charting are limited.
Task shortcuts must be set up.
There are no true dashboards.
There is no process flowchart navigation.
The tool will cost you a one time payment of $4000
The ideal management tool for those who want the best
Denali is one of the best Business management software and visibility tools, which have many expansion modules aiming mainly at a variety of businesses.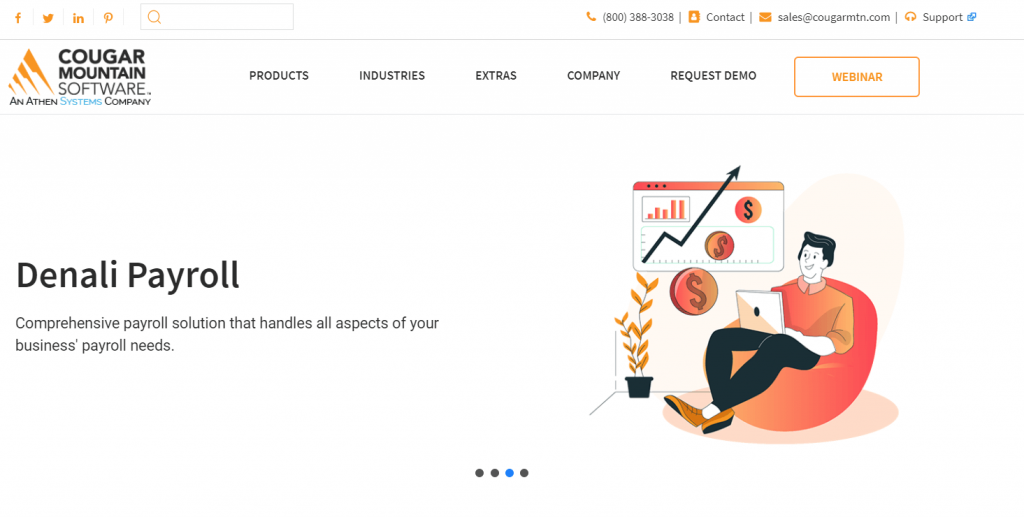 Pros
Simple to use navigation.
Crystal Reports is included in two of the three bundles.
Available as a one-time purchase or in monthly installments.
Purchases can be made directly or through a reseller channel.
The Fund Accounting edition is now available.
Cons
Even the most basic bundle includes a $495 charge for Crystal Reports.
The report filters and data entry screens are not particularly user-friendly.
Most modules do not have much charting or graphics capability.
Price starts at $999 (One-time payment) for Denali Funds
One of the oldest leading inventory management software
Open System is one of the oldest software related to inventory management which is providing best-in-class services to date.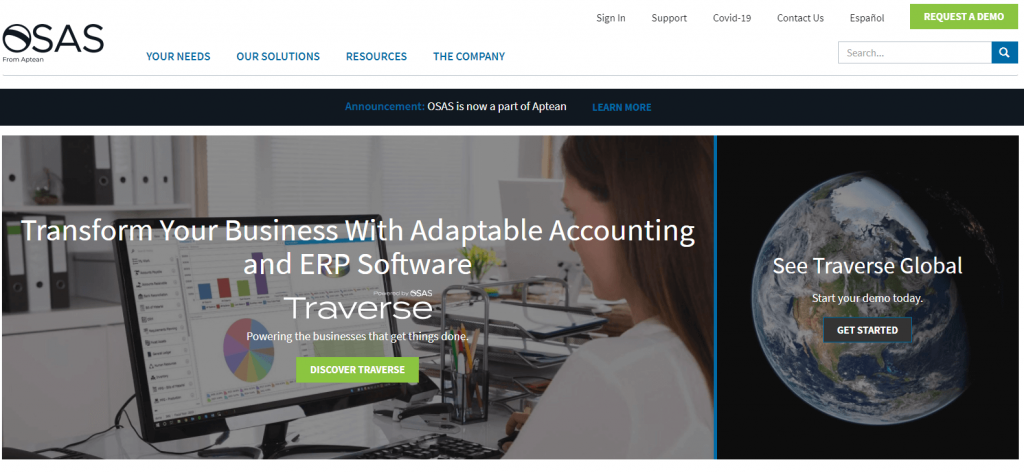 Pros
Great documentation and Help screens.

Available in both in-house or hosted.
Offers Working Trial Balance report.
Offers customization ofScreen, forms, and reports
Cons
No available Flowchart/Process navigation.
Making data entry and reports is somewhat hard.
Starts at $100/user/month
Designed for business and professional work
The SAP Business One tool is designed especially for that business that is in its growth phase by keeping its price very low and competitive.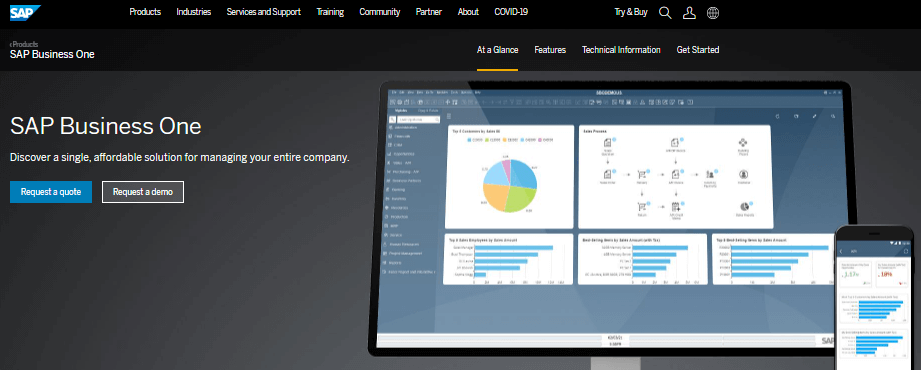 Pros
Helps out in proper financial and inventory management, which covers all the sales channels of yours.
Purchasing and procuring process is seen by this tool effectively by noticing the current inventory.
The reporting is done very efficiently, which helps out the business take some action as soon as possible.
Cons
There are times when SAP Business loads slowly then crashes.
The licensing structure needs some reworking.
Starts at a payment of $1347 for the license, and $110/user/month from then on
If you want to organize a webinar, then you should check out the best webinar software and check out the best webinar platforms.
Favored and considered by many users of all professions
Quickbooks Enterprise is considered the best-integrated tools option that is available due to its standard accounting methods and entire supply chain handling techniques.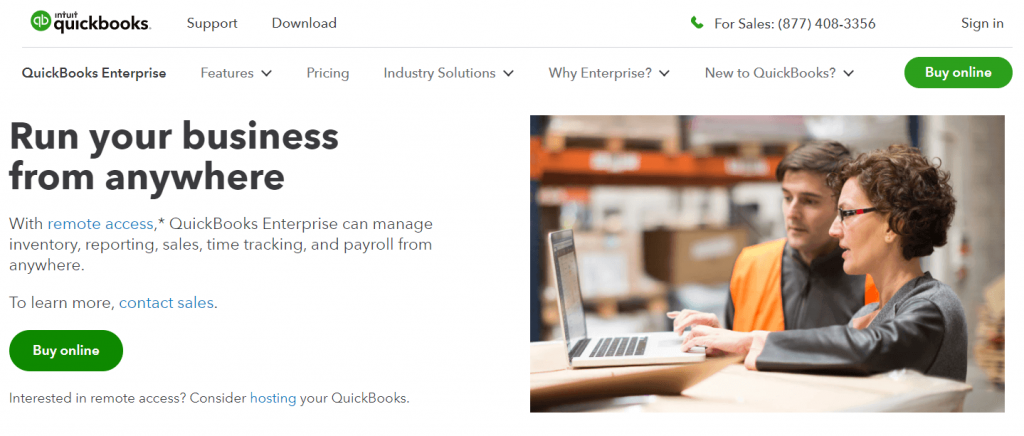 Pros
Quickbooks Enterprise keeps a proper record of the packages that have left the producer's end and provides time to time report for that.
Quickbooks Enterprise help in the maintenance of a proper cash flow of the business.
Help in invoicing for the product levels along with the payments.
Time tracking is one properly with time tracking in Quickbooks Enterprise.
Cons
Very pricey
Auto-categorization isn't always on point
Online support is still lacking even though it is implied to have improved
Gold $1489.50/yr
Platinum $1831.50/yr
Diamond $3618.50/yr
Best software for it's price
The Zoho Inventory tool is best known for its free tool offer, which has some basic options of advanced inventory management. If a person wants to upgrade, then they can opt for the paid versions, which are also cost-efficient.

Pros
There are sales and purchase order functionality in Zoho Inventory.
Zoho Inventory provides multi-location with warehouse support with easy mobile barcode scanning.
There are many shopping features also available in Zoho Inventory which has some great shipping time track options.
Zoho Inventory also supports bar codes, which makes it a very efficient tool for e-commerce.
Cons
Most of the shipping and e-commerce integrations include many countries other than the US.
Doesn't do forecasting.
Standard $59/month/organization
Professional $99/month/organization
Premium $159/month/organization
Elite $139/month/organization
Advanced inventory management for all users
The features that are supported by the Fishbowl warehouse Inventory management software are mentioned below.

Pros
Fishbowl warehouse helps out in multiple locations tracking of stock takes.
Businesses can also manage their inventory items easily through the Fishbowl warehouse.
Fishbowl warehouse track sales and provides detailed customer insights, sales reports and purchasing with precise data accuracy.
Fishbowl warehouse help in transferring products from one place to another smoothly.
Cons
Lack of readily-available information
UI looks outdated
Pricing is a one-time payment of $4395
You should also take a look at the property management software and customer relationship management software for better business performance.
11. Cin7
A wide variety of features that are related to this tool, along with standard accounting methods, are mentioned below.
Help in streamlining your business growth process and increase the chances of growth.
There are more than 550 options of integration in this tool which have helped them get the best user ratings.
The tool is designed in a way that is singularly flexible for a person.
Helps in the tracking of actual costs, landed, and also the managed cost of the stock, which helps the business to control costs.
Price: The cost of this tool may range from around $395-$695 on the basis of the features you select.
12. Unicommerce
Unicommerce is a tool that is specially designed for sellers who are running their e-commerce business. Some of its features are:-
The tool is an integrated solution for both the online and offline sale that is made by a brand.
Helps in reduction of workforce cost by providing efficient warehouse stock takes.
Operating costs of a business are keenly monitored and decreased with the help of this tool.
Price: The price to be paid for taking the benefits of this tool is $29 per user, which is a one-time payment.
13. InFlow Inventory
This tool is one of the best for wholesalers who are running an item-based business in bulk. Some of its features are:-
Gives you a notification regarding any change that happens in the in-stock.
Provides a complete mobile management system having enhanced shipping features that help in tracking the shipping providers.
Helps out in reporting of the business and supply chain activities and managing them that is better if one wants to track order status.
Price: The price that a person needs to pay for this tool is $71.00 for one month, which allows 2 users.
14. Magento Commerce
If an eCommerce business is looking for their business activities management, then they can opt for this tool. Its wide variety of features are mentioned below.
Helps in complete management of catalogs, materials, and marketing of the eCommerce business with flexibility without any issue of business type.
Forecasts the inventory for you, which can make you prepared.
Helps in the SEO of your eCommerce business and its management for increasing visibility.
Price: The actual costs of this tool are $1988, which provides you with complete access to this tool.
15. EZOfficeInventory
If you are an established business having branches all around the country, then you should opt for EZOfficeInventory software. The features they are offering are mentioned below.
Help in accessing and managing your inventory through its optimized managing options.
There are some procurement-related features also that help in the process.
Have proper scanning options for barcode scanners, shipping labels, and RFID tags as it automatically updates your product levels for better external visibility.
Price: Pricing of this tool is kept at $35 for one month for the basic essential version and $50 for enterprise options.
You might also want to visit our other pages about Scheduling Software, Screen Sharing Software, Encryption Software, Best Password Manager, Best Anti-Virus Software
Other Inventory Management Software
16. O2Vend
If you are looking for a tool that can be your partner in your warehousing business and shipping of various locations, then you should opt for this option. Some of its amazing features are.
Helps in the optimization of your asset properly along with manufacturing and shipping. It has some amazing shipping integration options, which provide a proper shipping time.
Have proper product identification tools and control costs of those products with barcode scanners or shipping labels.
Have a tool that provides you real-time tracking of inventory available in the warehouse and one lying with the suppliers.
Price: For these features, a person has to pay $9.57, before which you can avail a 30 days free trial.
17. Freshservice
The fresh service is known as one of the most intelligent solutions for an inventory management strategy that also helps in inventory write-offs. Some features that are included in this tool are:-
It helps in improving the productivity of the tasks with its supply chain automation features.
It has various integrated tools which are suitable for midsize businesses and modern enterprises also.
Helps in dealing with the shipping providers with their special shipping features.
Price: The price of this tool starts from around $19 per month for one agent, which can also cost more if you add agents or upgrade your plan.
18. Xero
Here are features bundled along with Xero software.
It will always help a business to get maximum numbers through its real-time tracking.
Will give stock alerts as they find that the inventory is below the required level.
It is also one of the best accounting platforms.
Price: This tool's price starts from $12.50 per month, which may have some additional costs added according to business type.
19. Asset Panda
Asset Panda is cloud-based software that will help out in proper tracking of the inventory with your mobile devices. Some of its interesting features are:-
It is a simple and secure software that helps in tracking and managing your entire warehouse inventory with this inventory software.
Many customized options are available for various types of businesses.
A complete support system is ready for 24*7 customer support, which can help you track order status.
Price: The price of this software is $1499 per year, which has unlimited people's access. Before buying the paid version, a person can also try the free version.
20. CommerceBlitz OMNI Warehouse
CommerceBlitz is a cloud-based warehouse management platform that helps in the proper management of custom inventory along with the employees. It also provides the business owner to track sales that are made across all the platforms. They also give stock alerts that have a special shipping integration.
What Is Inventory Management Software?
There is always a smart supply chain present behind a successful business with the help of which the product made at the end of the producer reaches the consumer efficiently. In this supply chain logistics, there are a number of elements available, and the product inventory of a business owner has to go through all of these elements to reach the final customer. Now it is important for the businessman to keep track of the inventory for smooth management and future planning. The tool that helps out such people in business in performing all these tasks is Inventory management systems.
Some of the tasks that are performed by this software are:-
It will help out in automating the sales channels that are going to help out in improving the productivity and efficiency of the business.
The inventory management software will take care of the fact that the stock available neither ends up nor gets accumulated in plenty.
Helps out in the proper management of the ultimate inventory that is available with the business and makes every task easier.
The profitability of the business is increased manifold with the help of this software as the wastage of inventory, and chances of manual error have decreased.
Helps in the execution of proper and planned supply chain functions.
Helps in the tracking of the inventory mistakes and lost inventory of eCommerce retailers.
Gives a time-to-time report of the inventory to the person, which also makes it one of the best visibility tools.
Maintain a proper equilibrium between the demand and supply of the product for the better supply chain management.
These are a range of supply chain logistics and inventory management tasks that are performed by the inventory management software, due to which many retail business handlers are attracted toward this software. But at the first step of buying software, they face a hurdle. They come in touch with so many inventory managers that they cannot figure out which software is best for them. That is why in this article, we are listing out the best 20 inventory management software that has some best and advanced inventory features are.
F.A.Qs
What is the need for the inventory management system?
There are plenty of chores related to the business that a person has to handle, and in that handling, if the task of inventory levels management also gets up then, it will be difficult for a person to manage their business. That is why to improve sales activities management; it is important for them to buy an inventory management system.
What are the questions that I should ask from the software retailers?
Before you buy software, you must keep in mind some of your requirements like integration with other software, clients a person can manage through their inventory management strategy, and the access can be provided to how many people. Also, they can confirm the level of support that is offered to the clients. Also, ask them regarding the user ratings they have received.inc
Is there any special hardware I require for managing the inventory software?
There is no requirement for special hardware for operating the inventory management software. People need to have a compatible computer or tablet device, a scanner, and an active internet connection for using this software's complete inventory management.
What should I choose the open-source tool or a paid one?
The answer to this question totally depends on the choices and type of your business. If you are a startup business and want some basic features and task to be performed by your tool, then you can opt for the free tool, but when you grow and the task you have to handle with the help of these tools increases, then you have to buy a paid one. The reason behind this is the wide range of features that they are offering.
On what factors the selection of my software will depend upon?
The selection of the software depends on plenty of factors, out of which the most important fact is size, retailers to be managed, and nature of your business. If you are a packaging and delivery company, then your requirement from inventory management systems will be different, and on the other hand, the demand for an e-commerce business will be different. That is why you should consider all of these factors while you buy the software.
Conclusion
Have you got the software that you need for managing your inventory levels? If still, your answer is NO, then you should figure out in your mind that what all are the requirement of your business, and then according to that, you must go through the features of the software again. You will surely get the one which is most appropriate for your business which will boost your management system and sales activities for sure.