Security of the device is becoming a major concern of many people around the globe. The reason behind it is the data and information that our device carries. It is a fact that no one knows a person better than their own device.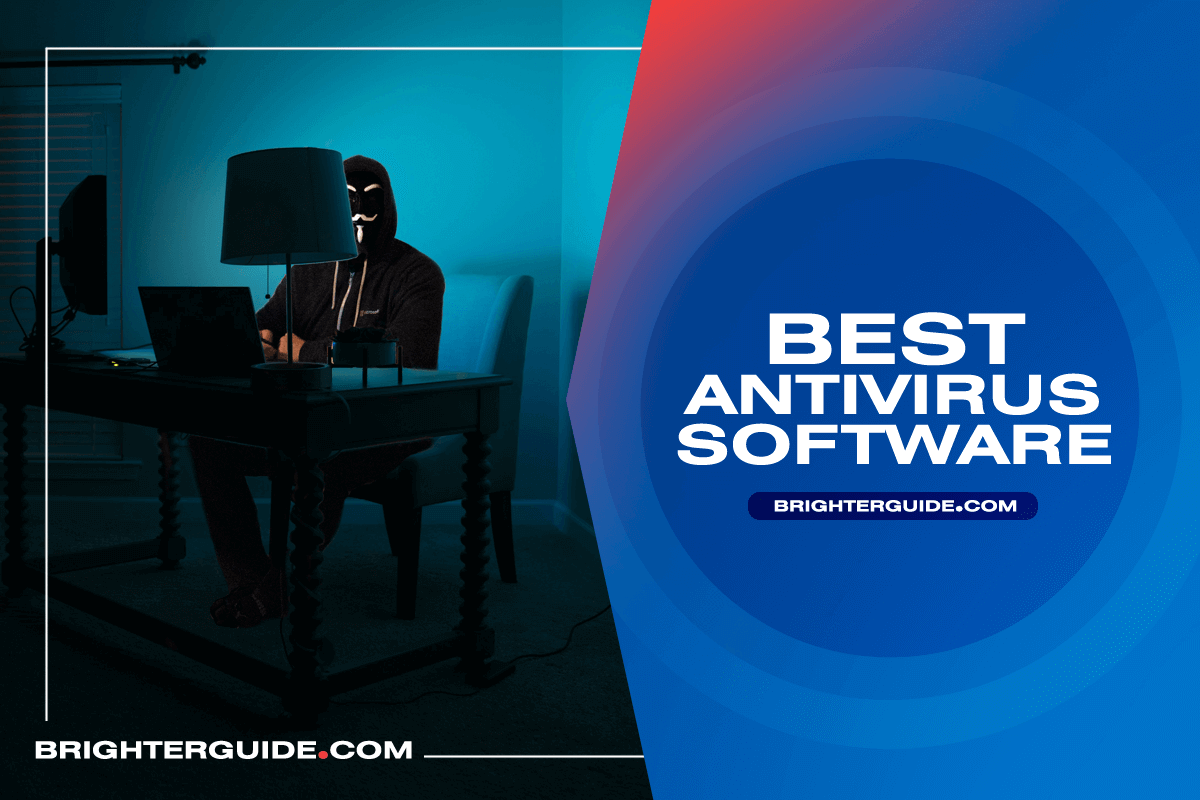 Hackers around the world are keeping keen eyes on the devices. So that they find a loophole spot and attack the system of a person to procure some important bunch of information. This attack is done through various ways like malware, suspicious phishing sites, and emails, virus files, worms, Trojans, spyware, etc. Due to which people start running towards the best antivirus software which can save them.
Best Antivirus Software for 2021
Have a look at this table. We picked the best five for you. You can try them and let us know what's your take on these protection tools.
| | | | |
| --- | --- | --- | --- |
| | | | |
| | | | |
| | | | |
| | | | |
| | | | |
| | | Vast configuration options | |
If you are after efficiency, then don't stop with just antivirus software for work. Try other tools like accounting software, 3D modeling software, project management software, best antivirus software, best password manager
Best Antivirus Software List – Our Top Picks
Here are the top 5 plus 10 more best antivirus software to use in 2021. Get their features, pros, cons, and pricing here. Check them out here,
The best antivirus at a reasonable price
McAfee Total Protection is both free as well as a premium tool that is available for almost every operating system out there which is famous. It is one of the best antiviruses that are available around in the list. The Pros and Cons that are offered by this premium tool are:-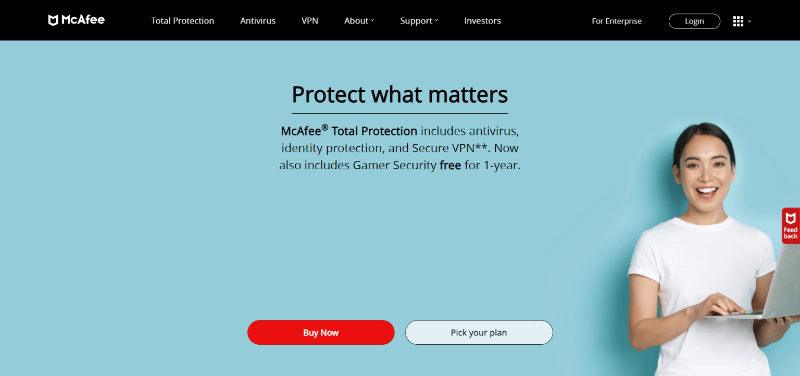 Pros
There is an option of unlimited VPN available in McAfee which helps you surf through the locked pages of the internet.
File encryption services are also provided to customers in McAfee.
The developers have created McAfee as the most lightweight tool that is very easy to use as well.
There is a multi-faceted privacy protection policy of McAfee that provides identity theft protection.
There is a password protection wallet that helps you out in saving your time of remembering the passwords which one needs McAfee ID Theft Protection Essentials level of security.
Cons
A bit expensive.
Complex software especially for beginners.
Slows down the computer during the scan.
Single Device $34.99
Individual/Couples $39.99
Family $44.99
Ultimate $69.99
The best option for online transactions
Being an antivirus with golden history of around 2 decades, Bitdefender Total Security has gained the place of the second-best antivirus provider having more than half a billion users. Features that have helped this antivirus package perform so well in the market are:-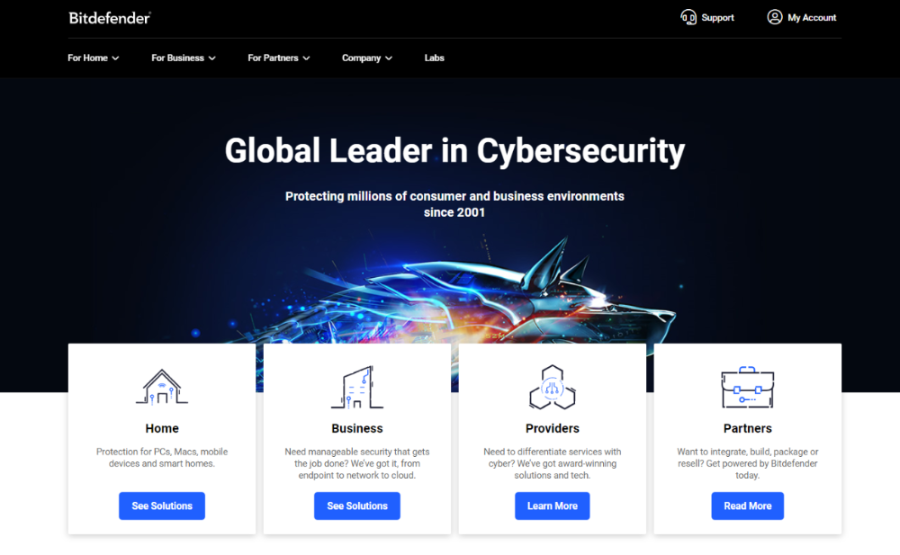 Pros
The security patches of Bitdefender will start protecting your surfing, banking, and other important online activities at an auto mode. These all will be provided if you activate the service but you don't have to worry. If you have forgotten to activate the service and are performing these tasks then it will inform you.
Another feature of Bitdefender is file shredder which helps in differentiating your important and sensitive files from a normal file which requires solid protection against ransomware attacks.
Sometimes the webcam gets hacked which makes a space for your privacy leaking but with Bitdefender you are safe.
A standalone Bitdefender VPN solution is also available.
Cons
The installation process is time-consuming
The password manager in a digital wallet is not so great
Total Security $32.90
Family Pack $43.59
Premium Security $68.89
Most popular when it comes to backup
It is often said that modern problem requires modern solutions and Norton 360 is packed with that modern solution for new age virus attacks. It comes in a range of plans which varies with the features your select and the device you own. This antivirus includes intelligent features described below.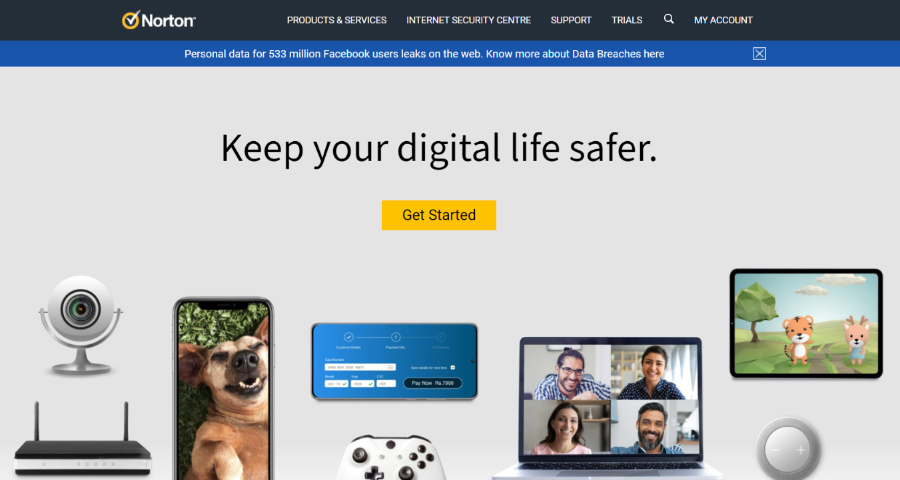 Pros
The firewall and anti-phishing protection offered by Norton 360 is smart and activates when one is working on the internet.
There is an extra 2 GB online storage provided for backup of some important data which will be password protected.
PC maintenance utilities are also provided with the antivirus package.
Browsing protection is very impressive which keeps filtering virus every second.
Cons
No computer protection in Peer to peer network
Uses more RAM
Norton Antivirus Plus $6.73
Norton 360 Standard $10.78
Norton 360 Deluxe 3 Devices $13.47
Norton 360 Deluxe $40.45
Perfect score for Malware Attack detection
In the list of anti-virus products, the name of Kaspersky Total Security is very famous. The possible reasons are the perfect malware attack detection score that is attained by this antivirus software. this software will be running in the background without bothering your work and will pop up as soon as it notices any malware or issue with your device.
The antivirus solution is available for every device ranging from Windows to macOS and from Android Phone to iPhone. The features that are bundled with this antivirus are:-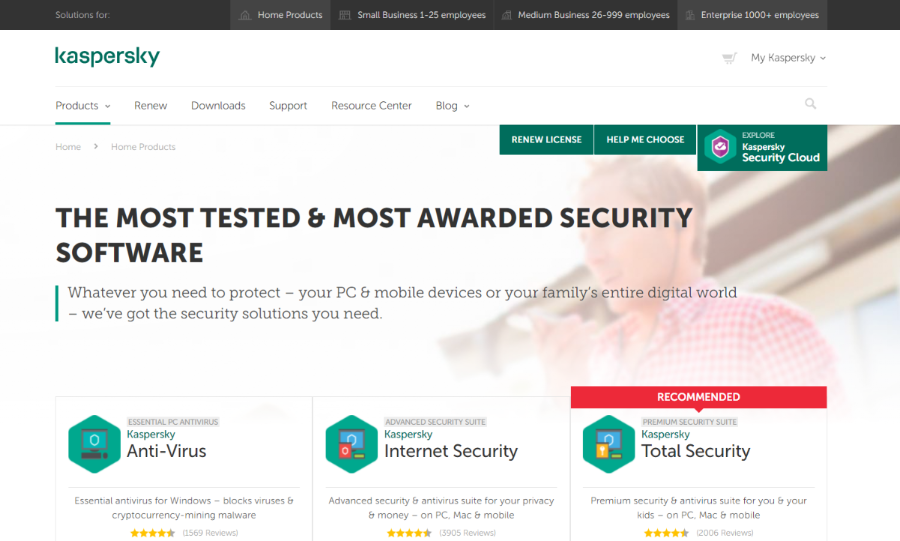 Pros
Kaspersky will block all the threats and virus attacks on your device through another device to provide proper internet security.
Kaspersky starts running in the background when making a payment.
Parental controlling options are very advanced in Kaspersky.
Webcam protection can detect the spies and get them blocked which is important for providing advanced threat protection.
Proper encryption of data you are sending or receiving with Kaspersky secure browser options.
Cons
Complicated iOS integration
Too much CPU consumption, especially during full-scan
Anti-virus starts at $39.99
Internet Security starts at $59.99
Total Security starts at $79.99
Best for tech-savvy people
The ESET antivirus operating system is available for windows operating system that is bundled along with some best in class features. Some of them are discussed below in detail.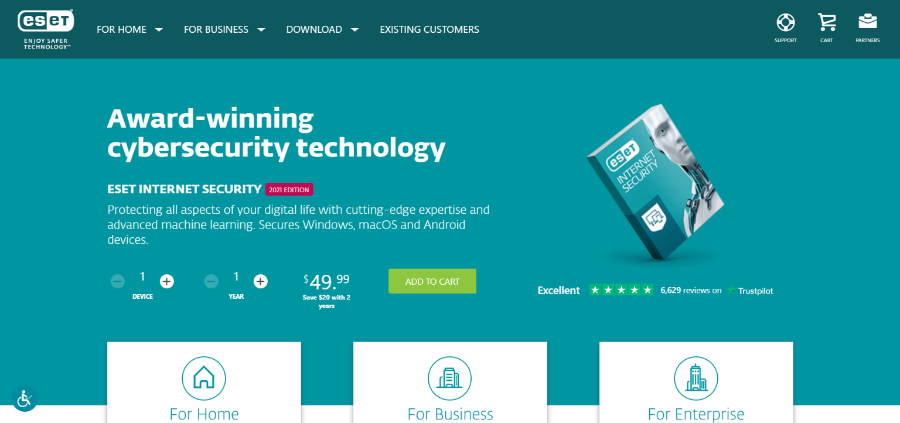 Pros
Advanced Ransomware Protection shield is present in this antivirus which is very important for modern days virus elimination with Email protection options to block virus entry.
There is a UEFI scanner that is required for protecting the device from incoming viruses through the internet.
There are tons of configurable options available in front of a person having webcam protection feature also.
Cons
Full scan or one-by-one directory scan takes a lot of steps and time
The User Interface could be better
$39.99 for Essential Protection
$49.99 for Advanced Protection
$59.99 for Premium Protection
As we are proceeding towards more antivirus software, you can check out some advanced project management software. They are best for managing your team remotely. If you are in the music production field and looking for the best tools then here is the best music production software list. Check out the list of best tax software in the industry. File your taxes online with tax software in 2021.
Bets for multiple devices
Sophos Home is a program that is available for 10 multiple devices which need to be Windows or macOS. The advanced level features like password manager that they are offering helped them to make up to number 6th in the list. A glance at the features is:-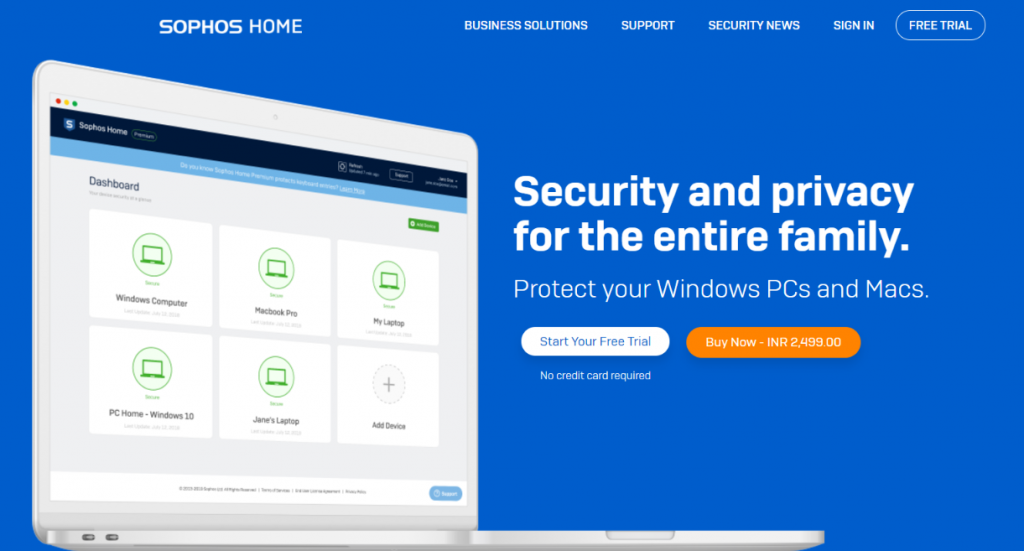 Pros
This antivirus search engine is very capable and compatible with normal users.
Helps you protect your system from zero-day attacks and multi-layer ransomware protection which have the main motive of destroying your files.
They help in providing more advanced security to the people when they are shopping especially when they are making a payment. For this, a person has to apply for Browser Extension.
Cons
Test scores are bit shady
Needs expert techie to handle some of the features
Expensive compared to services it offers.
1 year $50.10
2 years $83.51
3 years $116.91
Free download for PC is available
The biggest benefit of the Avast Antivirus is that it is available for all the famous operating systems available around. Also with one premium account, a person can provide access to 10 devices and protect them. Extra features that are available with this product are:-

Pros
There is a ransomware shield which is the biggest used feature of this tool.
There are many hackers who use real-time protection for hijacking the system for which protection is given by this advanced tool.
Wi-Fi inspector is also available which helps the system to detect the malware that is coming through Wi-Fi.
One can have high control over the installation process of the software which helps them keep it up to date.
Cons
Some features are not available like fingerprint lock in mobile app
Important features like VPN needs to purchase separately.
Avast is a bit expensive compared to other similar products.
Premium Security $16.17
Ultimate $31.01
You should also check out the best webinar software.
A lightweight antivirus and anti-malware tool.
Above that, the developers have made this software very lightweight which can be a reason for its popularity. Some additional features choices that are helping this software standing out of the list are:-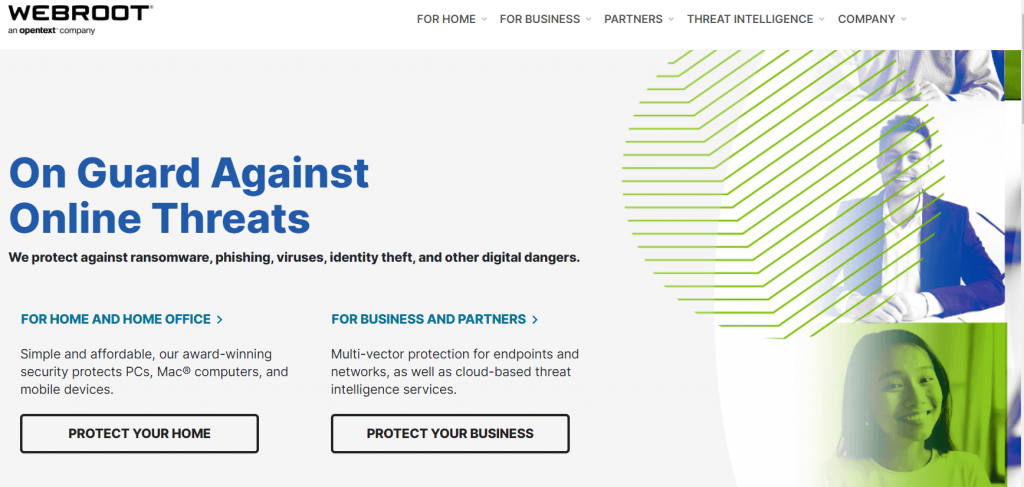 Pros
The security provided by this software is always on behind the scenes which means that the device stays safe no matter what you are doing.
These advanced tools provide identity theft protection that you have uploaded everywhere on the internet and your device also. it assures that no one misuses it.
Save the system from phishing messages by blocking them directly.
The virus scans have a superfast speed.
Cons
Missed one unique hand-modified ransomware sample in testing.
Really good-performing AV product that is at the top of its game.
Available for every platform, the Avira software is very much famous due to the pricing range that they have set and the devices they are allowing with one software brought. One can connect around 100 devices. Some other interesting lists of features are.

Pros
The ransomware protection available in Avira antivirus products is very active which makes it the best to block entry of any malware.
Avira provides full web protection to the device you are using.
Anti-phishing programs of this software are working very well on Avira.
Configuration of Avira can be done according to requirements.
Cons
A lot of pop-ups/ads when running the software.
Avira Prime $6.99 for 1 month
Internet Security $3.99 for 1 month
A good entry-level position.
The trend micro antivirus is a one-stop solution for people who are looking for an antivirus solution that is required to be brought once only and then forget. Available for Windows, Android Phone, Apple macOS, and iOS, the range of features of this tool are:-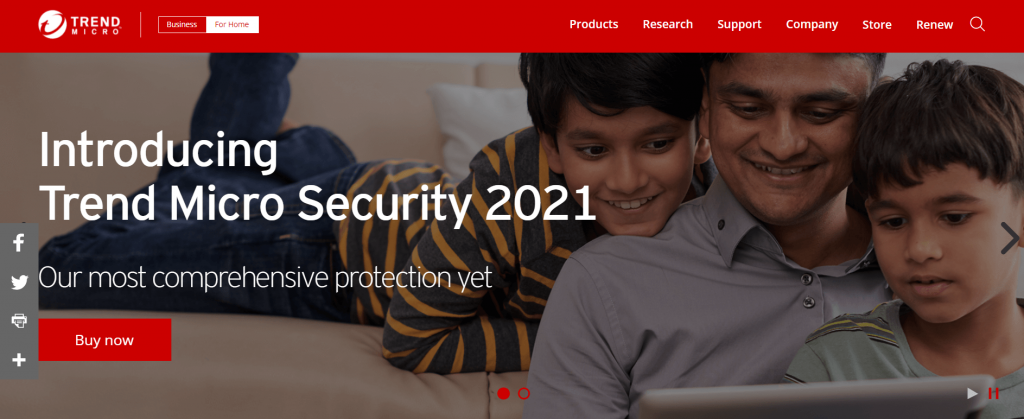 Pros
Trend Micro is offering a strong antivirus engine which is an overall protected search engine.
The banking system you are using is very well guarded and taken care of by trend micro.
The URL blocking is very effective which helps in blocking pop-up emails.
Trend Micro has one of the top phishing message blockers.
Cons
Social network link protection choices dated.
No multi-device volume licensing.
Maximum Security $21.22/1 device/year
Antivirus+ Security – Protection for 1 PC

$9.10
11. Intego MacOS internet Security X9
This software is only available for the macOS platform which has a VirusBarrier X9 packed with it. Also, there is a NetBarrierX9 fireball that provides protection against malware. Some of the features packed along are:-
Protection of the system is done from time to time in the background of every activity.
The scanning is fast which doesn't impact the performance of the system.
The firewall installed is intelligent.
There is a protection against Hotspot networks also.
Price
The price of this MacOS software is $39.99 and for adding another device one needs to pay 10 dollars extra.
12. Malwarebytes
First released in the month of January 2006, Malwarebytes is an antivirus that protects your device from malicious sites. It works on Windows, macOS, iOS, Android, and Chrome OS as well. The features that are included in the premium version are:-
PUP detection option is available which is very less available in the software.
Cleaning of the infected devices is done in very little time.
Various tools are available for the protection of the system.
Tool manager is centralized.
Price
Malware bytes is a free tool but if someone is looking for some best and premium features then they can also take the premium at $4 per month
13. BullGuard
The BullGuard is known for the premium features that it caters to gamers. Nowadays many people have started attacking the gaming identities of a person through which they retrieve payments and their important information.
That is why this software helps out a person while they are busy playing the game in providing safety from any hacker and removes all the malicious element that enters the computer through a game. It acts as a good game booster.
14. TotalAV
TotalAV is an antivirus company known for its excellent protection services and features against spam entry. A snippet of them is mentioned below.
Protects the system through phishing attempts.
There is a password manager also provided to you which will help you save your time.
It helps out in optimization of the performance of system no matter you are using them on mobiles or personal computers.
Price
TotalAV is providing their premium services at the price range of $119 per year and if someone is looking to include an Adblocker then they have to pay $149 for a year.
15. Panda Dome
The benefit of TotalAV is the flexible offers it is providing that range according to services a person avail. A glimpse of it is benefits are:-
VPN services are provided from a few MBs to unlimited based on the package one decides.
There are add-on options of parental control also.
It provides more than 95% of malware detection rates and 100% in the case of ransomware through email.
Price
The prices of Panda Dome range from free to $35.39 for 12 months in which there are more add-ons options like a password manager and message filers.
While antivirus software is indeed an excellent tool for work, you could create even better outputs with encryption software, screen sharing software, scheduling software, database software, POS software
What is Antivirus Software?
Antivirus is basically a program that is used to protect our electronic devices by removing and prevent any kind of malicious material. They keep a keen eye on every activity that is happening in the device and also assures the security of all the information available on your device.
They check every activity of yours on the browser to provide proper internet security and along with that also check every file that is entering the device through some unknown source or internet service provider.
Moreover, the need for this antivirus software is increasing at a very huge rate. The reason behind this is the detection of a huge amount of new malware every day. Which is ready to hack your systems and destroy your belongings or either steal them through various ways of email and internet service provider.
Now the biggest question that has started crawling into the mind of a person is which antivirus is perfect for them? Which one out of the stack of antivirus will suits their requirements the best and provides them safety.
The answer to all such questions is available in the list of 15 antivirus software that is the best ones out picked out especially for your requirement from the stack. So, let's get started but before that, you just also check out the best video editing software at Brighter Guide.
There are tons of other software on Brighter Guide that could prove useful to your work: hard drive recovery software, remote desktop software, music production software, inventory management software, email marketing software
F.A.Qs
Is there any need for Antivirus?
Online threats are increasing at very high rates. There is some built-in protection system in your devices but they have loopholes that are sufficient for a virus to enter your system and destroy your information. That is why it is very important that you own an antivirus. One can also avail of some deals on antivirus while buying online. Avira and Norton products are getting very famous around which one can consider.
Best antivirus for the protection of Windows 10
According to ratings, for Windows 10, Norton 360 is the best antivirus. The scores of the Independent Tests for Wi-Fi protection, phishing protection, firewall; VPN is the very advanced level which makes it a good fit for windows machines. One can also consider Kaspersky and Bitdefender Total Security 2020 as their option.
Which Antivirus should I buy for my MacOS?
According to the reviews for MacOS Intego is the best choice. It is performing very well in the past time with some good real-time protection features and customized firewall and various levels of protection. 
Bottom Line
Are you ready with your list of requirements and compare the best Antivirus security companies for yourself? If not yet then rush and make up a list of your requirements and start the task of comparing top Antivirus solutions to know the best one for your devices that can secure your device and email also. You must also check the Independent Test lab's in-depth scores while selecting and get the best deal. It would be best if you select a tool that protects both your phones and laptop devices.