Presentations are an indispensable part of the functioning of a corporate organization in the 21st century. From pitching to a client in a conference to provide a graphic and comprehensive progress report to the stakeholders of the company, every step requires innovative and catchy presentations. Hence, if climbing the corporate ladder is what you aim for, make sure that you are completely in touch with the latest trends and design options in making presentations.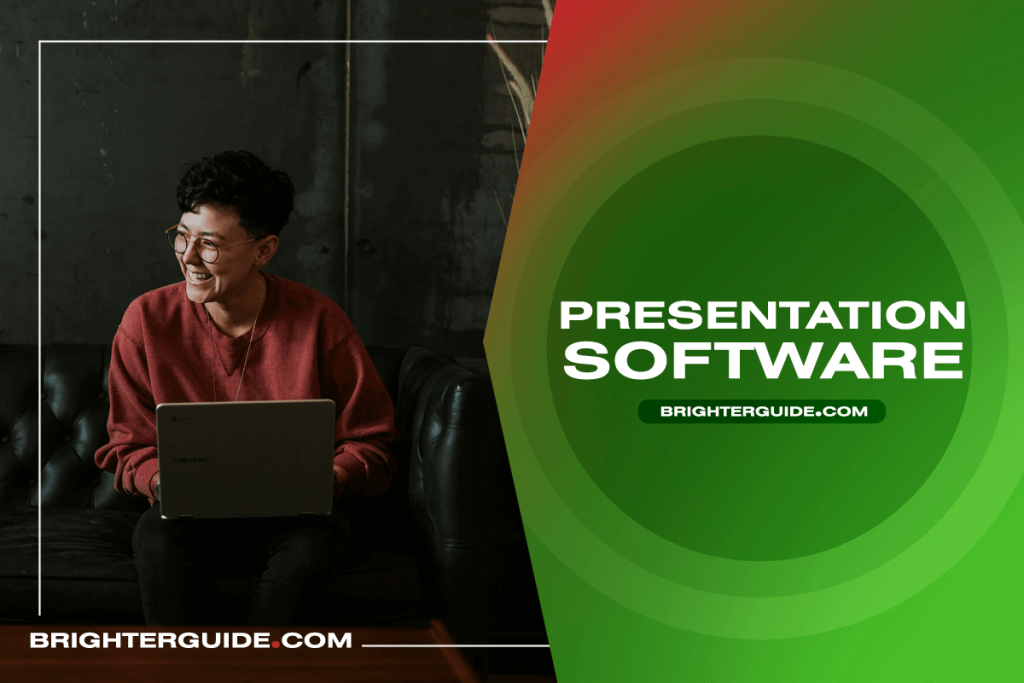 Initially, Microsoft PowerPoint was the industry leader in presentation software. In many ways, it was the only option available, setting lofty standards in user-friendliness and versatility. However, with the evolution of the IT industry over the last few decades, we have seen more advanced options come into the market. Although these newer systems were initially modeled on the PowerPoint mainframe, enterprising developer teams made sure that they had something extra on the plate. Be it innovative graphics, or a wider range of aesthetic design templates, these alternative software systems add that extra edge to your work. In today's corporate microcosm, that's what separates the wolves from the sheep. Here we go with the top PowerPoint alternatives that have found widespread popularity among business professionals in the last few years.
You might also be interested in our pages about Music Production Software, Remote Desktop Software, Hard Drive Recovery Software, POS Software, Database Software
Best Presentation Software List 2021 – Our Top Picks
To make it easier for you to decide on which software to use, we have here the features, pros and cons, and prices of our top 10 presentation software followed by other software worth trying.
"An Awesome Platform for Content Creators."
Want to make the client feel like they have just discovered the next best solution to their problem? Visme is there to make it happen. With futuristic templates, drag-and-drop mechanisms, and easy-to-edit slide designs, you will never have to worry about your boss getting disappointed in your work. Making a world-class presentation on Visme is efficient in time and effort, as you can put all the elements in, and let the Artificial Intelligence Designer, decide the ideal layout for you. The range of diverse graphic illustrations and infographics is something that will always amaze you, as you can get exactly what you want, on any topic under the sun.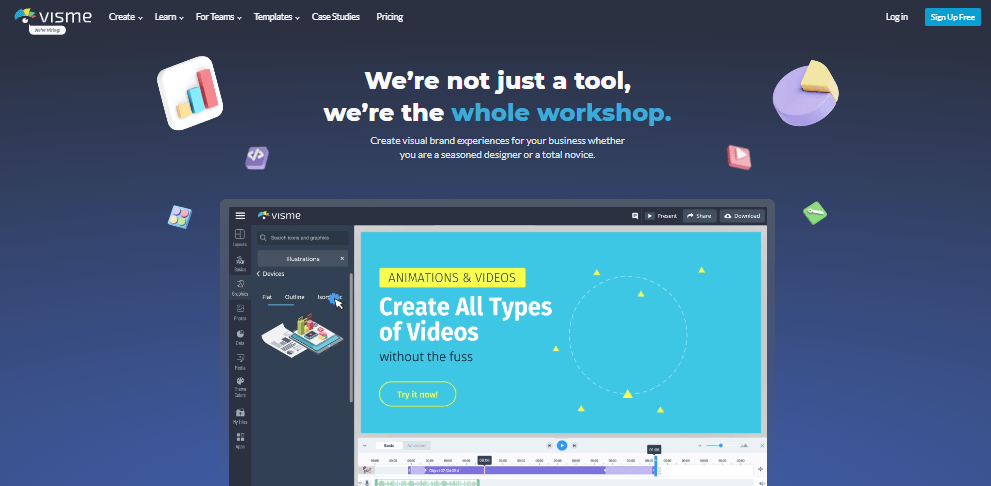 Pros
Numerous templates for slideshows and marketing materials.
Has versatile and useful tools.
Easy to use.
Cons
Expensive
Lower-priced plans are too restrictive.
Guest collaborators are not supported.
Standard $15/month, billed yearly
Business $29/user/month, billed yearly
"Excellent Video Presentation Tool"
Prezi is another popular alternative to PowerPoint, in the market for reliable presentation software. What makes it so revolutionary is its non-linear transition style that moves beyond the traditional slide-to-slide format. This opens up more vibrant doors in aesthetic design, and lets you tell a story through your presentation. The impact of your illustrations is heightened by a vast array of banners, vectors, infographics, and stylized fonts. In addition, you get a colossal and diverse array of innovative templates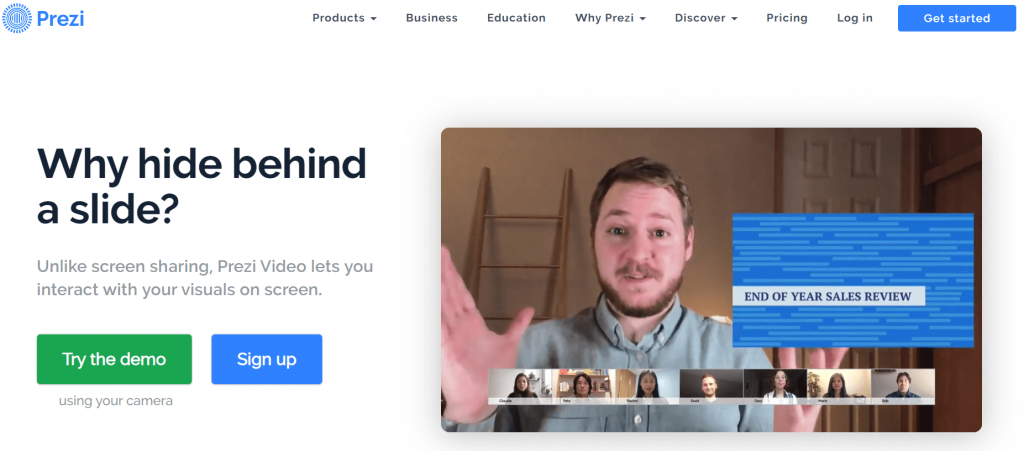 Pros
Being a cloud-based tool, Prezi makes sure that you can access your presentation remotely from anywhere in the world.
It allows you to share your presentation with your teammates and colleagues online.
Includes image editing tools and maintains high security.
Cons
Plans and pricing are confusing.
Some tools lack precision.
No chat for collaborators.
Standard $3/mo
Plus $7/mo
Premium $9/mo
"Let's You Make Better Presentations From Creation, Presenting, to Sharing Slides."
Slides is a highly user-friendly presentation software with a custom CSS editor to create your own theme. In addition, it has 10 default templates from which you can choose as per your requirement. With thousands of infographics, GIF's, and images from Unsplash, you have practically everything you need to make a beautiful presentation. If you are still facing creative block, you can refer to other layouts and slides published by users across the world. These slide designs can be the template for your next presentation. Slides also lets you write mathematical equations, for which students, and researchers find it to be the perfect tool for their day-to-day activities. Overall, it is a versatile software that establishes itself as a worthy alternative to PowerPoint.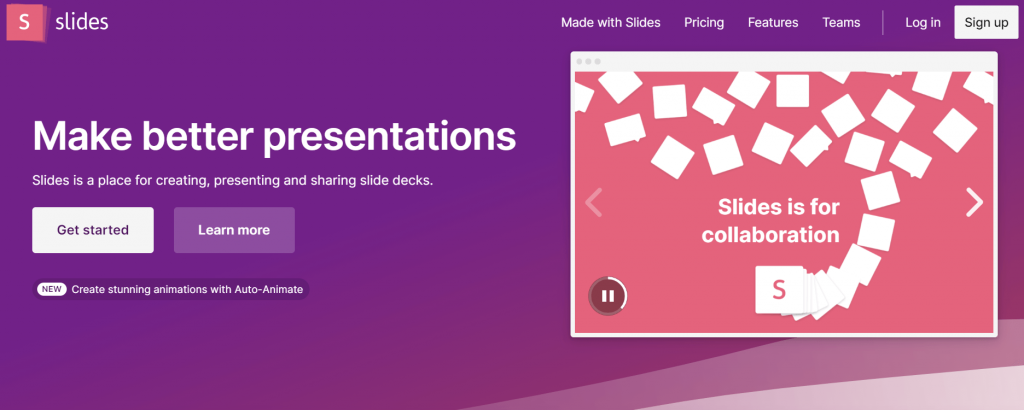 Pros
Several things can be done at the same time.
Automatically saves your changes and is accessible from any computer with internet access.
Easy to use.
Cons
Not as many pre-created templates as others
Some features of PowerPoint are missing in Slides.
Lite $5/mo
Pro $10/mo
Team $20/mo
"Useful in Creating Awesome, Eye Catching Business or Academic Presentation."
If you are working on a tight deadline, and do not have the time needed to design your slides minutely, Slidebean should be your first choice. The developers have taken great care to recreate professional and sophisticated presentations from top start-ups and companies in the corporate world. These design elements are available to you as templates to work on. With a wide variety of themes, colour combinations, and aesthetic accents of different tastes, you are guaranteed to find something that fits like a glove.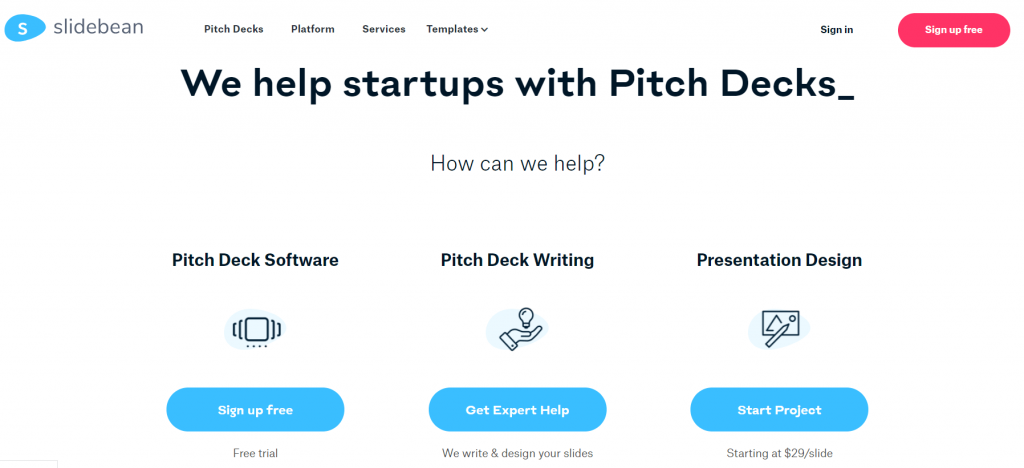 Pros
Easy to use.
Has beautiful graphic design elements.
Analytics can be viewed.
Cons
Expensive
unable to share and present my presentations without upgrading plan.
Starter $8/mo
Premium $19/mo
Founder's Edition $149/mo
"A Good Alternative to MS Powerpoint."
Zoho Show is presentation software that comes packaged in the Workplace Bundle. It is a cloud-based alternative to PowerPoint, that boasts several revolutionary features. The most popular among them is the fact that it allows you to attach different types of video graphics content from YouTube, alongside live tweets and images from Flickr. The ability to work together on a single project from different devices connected to the internet is what makes this software the perfect choice for your sales team. Moreover, the platform allows you to export your business presentations in a wide range of formats like .pptx, .ppsx, .sxi, .odp, .ppt etc.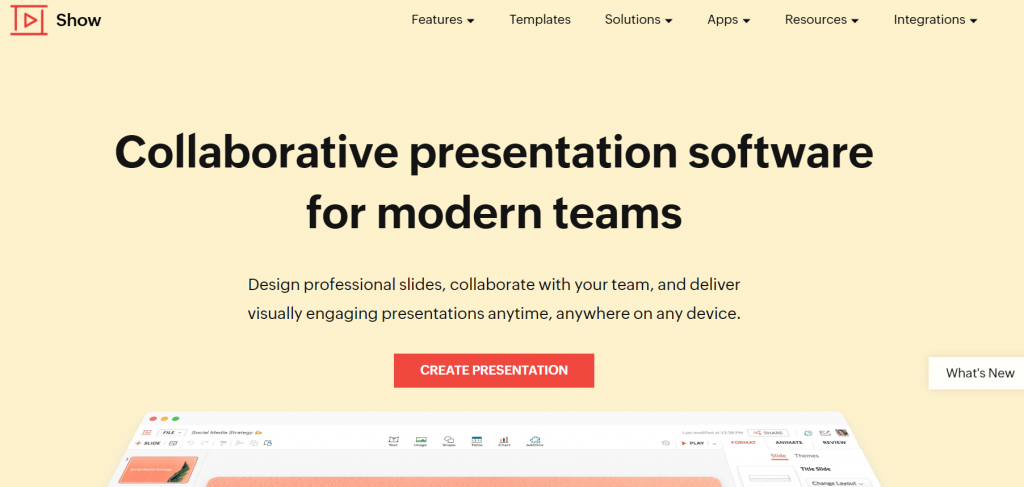 Pros
Friendly and well-organized user interface.
Can share and edit others' presentations.
Beautiful templates.
Cons
The Mobile version is not well polished and is unstable.
Text styles are limited.
BASIC $5.83/user/month billed annually
STANDARD $8.33/user/month billed annually
PROFESSIONAL $12.5/user/month billed annually
ENTERPRISE $16.66/user/month billed annually
"User-Friendly Design Software for Individuals and Small Businesses"
Canva is presentation software that is available for users on both Windows and Android platforms. There is a vast diversity in the range of layouts available for your slides, with possibly every color combination under the Sun. Once you have made your choice, it becomes easy as clockwork. You just need to replace the components in there, with the information you want to convey. In this, you will definitely find that the huge variety of fonts is a godsend, as it will allow you to maintain the aestheticism of your presentation, while narrating a story to your client, through words and images. Canva can be operated on both desktops and Android devices, making its simple interface incredibly versatile.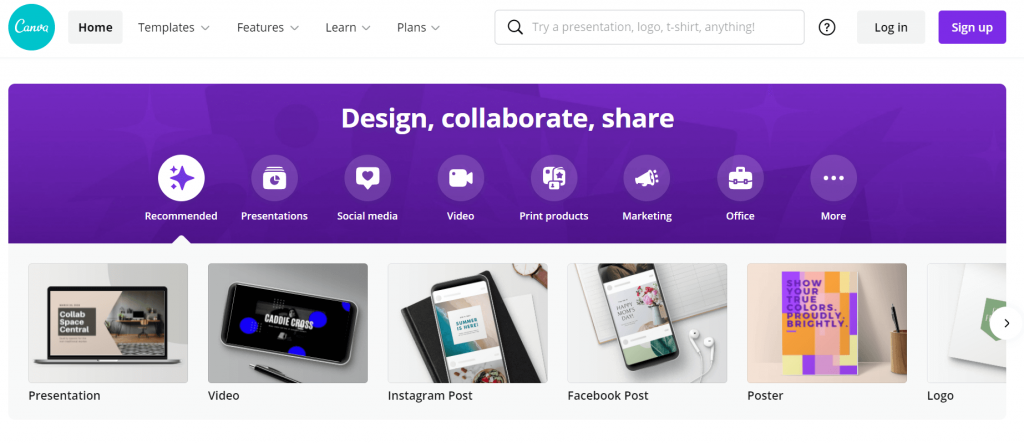 Pros
Affordable and easy to use.
Offers a ton of design content for free.
Great for designing simple social banners or marketing materials quickly.
Cons
Has limited photo editing functions and a lot of features like resizing images are locked in the premium version.
Pro $10.37/mo
Enterprise $30.94/mo
"Beautiful Slide Deck Requires Less Effort Than PowerPoint."
A beautiful presentation requires time and effort to craft. Moreover, certain key factors need to be kept in mind to enhance the aesthetic look of your slides. Often due to hectic deadlines or artistic block, it becomes exceedingly difficult to pull a good design out of thin air. This is where Beautiful.ai comes in. The alternative presentation software just requires you to drop your subject data on the slide. After that, Artificial Intelligence gives you a range of aesthetic designs to choose from. Apart from this, there are a large number of infographics and vector icons that you can insert on your slides. Overall, it is a versatile and user-friendly software solution for the polished presentations you will need in a corporate environment.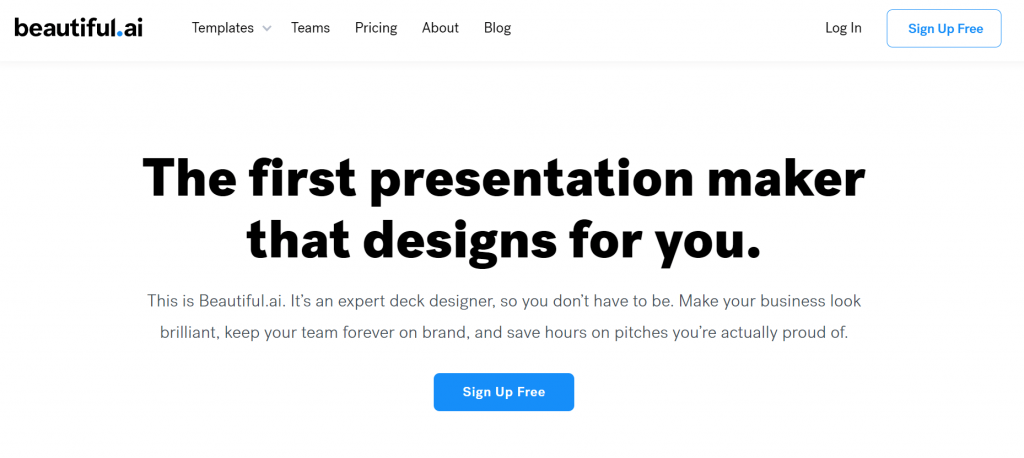 Pros
Templates make it easy to create great-looking slides with a touch of animation.
Clean design and the auto formating.
It's easy to create impactful stunning presentations without having to fiddle with alignment, resizing, animations of individual elements.
Cons
Slight learning curve.
Does not work very well on iPhone or Android.
"Post More Effective With Creations Almost Instantly."
Among cloud-based tools that assist you in making world-class sales presentations, DesignCap has earned itself the title of being a household name among marketing teams and industries. Be it for educators, or commercial presentations, the software has you covered with its diverse range of professional designs and layouts. Stylized fonts and elegant infographics are the name of the game, allowing you to convey your ideas and concerns to the customers efficiently. The dynamic array of charts in your arsenal ensures that your visual presentation is lucid and clear, with maximum impact delivered in an envelope of aestheticism.

Pros
Great icons and elements.
Great Features.
It is extremely fast to load the elements one inserts.
Cons
Image bank is limited.
Geared specifically towards flyers.
BASIC $4.99/mo
PLUS $5.99/mo
"Ideal templates for presentations"
Looking for professional presentation software? Emaze might be your answer. With revolutionary collaboration tools, Emaze allows you to share your slides with your colleagues, and work together on the slides in real-time. Moreover, being a cloud-based software, it lets you present your slide setup from anywhere in the world. Moreover, the innovative layouts let you tell an interactive story through your slides. The large collection of 2D and 3D designs, along with different images and vector icons takes your presentation to the next level.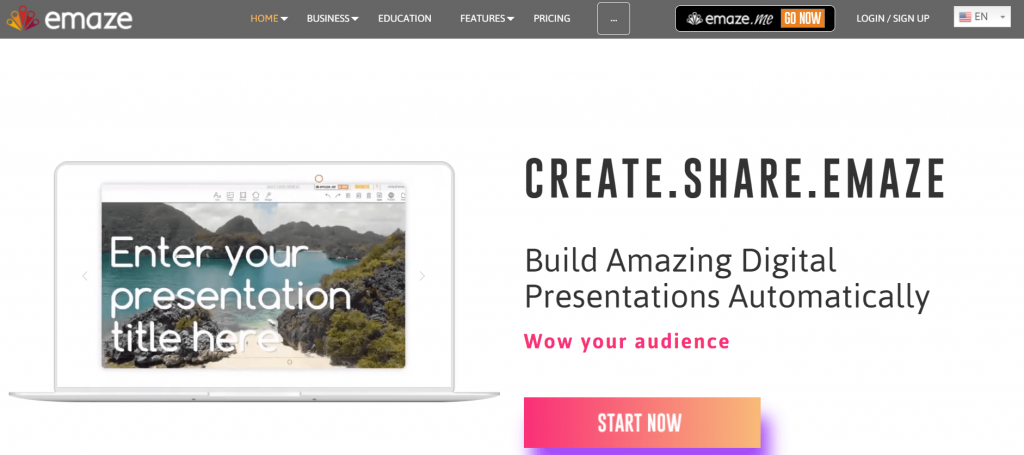 Pros
Provides several tools that allow one to capture in presentations.
User-friendly templates
Allows one to create attractive and engaging presentation slides.
Cons
No themes for school subjects.
High ram usage
PRO PLAN $13/mo
EXECUTIVE PLAN $40/mo
BUSINESS PLAN $125/mo
"An Animation Program for Beginners & Advanced Users!"
If you want to put a captivating visual element into your presentation, Powtoon should your go-to option. The interactive software allows you to animate your slides, and record voiceovers that help you in conveying a clear, lucid image to the customer. A stunning variety of innovative design layouts and aesthetic infographics ensures that you can tell a story from one slide to the next. This is a revolutionary innovation that has taken the presentation software industry by storm. The essential human element in your pitch deck is an indispensable component, with most commercial clients looking for a natural and emotional feel to the products and services they purchase.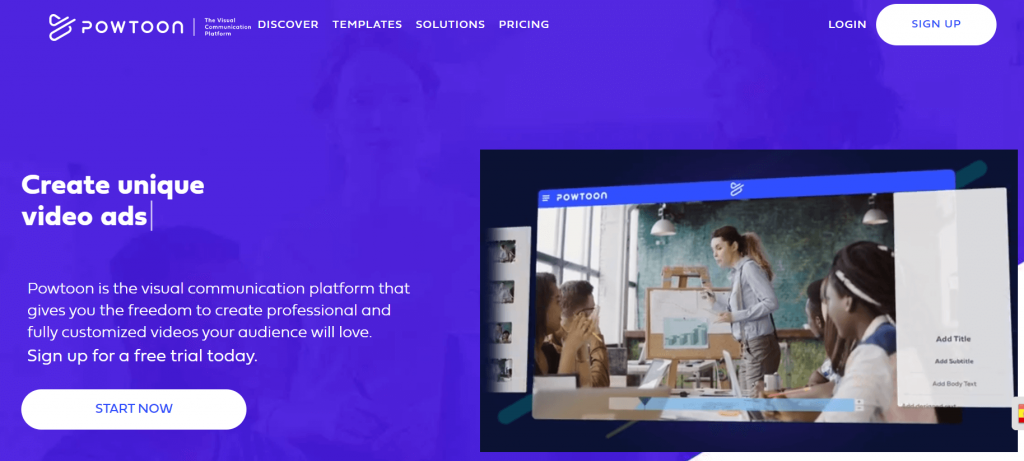 Pros
Has a character creator.
Easy to learn and easy to use.
Has a lot of free features.
Cons
Doesn't have many templates.
Slows as you add many slides or videos.
PRO $19/mo
PRO+ $59/mo
AGENCY $99/mo
11. Vyond
Adding videos to your presentation makes it more interactive and informative. Moreover, it helps your customers grasp the idea of the product or the service more vividly. Dynamic graphic solutions and powerful infographics give your slides an elegant alluring edge. Vyond does all this and more, allowing you to convey your ideas in a crystal-clear message of subtle sophistication, packaged in a mantle of multifarious aesthetics. If compelling stories and enchanting narratives are your jam, Vyond will make it happen for you. Among the many advanced features that a stunning sales presentation must-have, one of the indispensable requirements is for tools that will help the client visualize the subject as lucid as day.
Price: Vyond has its basic subscription packages starting from around $25 per head every month.
12. FlowVella
FlowVella is the ideal presentation software for creating informative and interactive pitch decks on the go. While most presentation software systems require you to be online, FlowVella allows you to work offline as well, letting you create custom URLs to share your slides later on. Moreover, the software works on mobile handsets, ensuring that you can still meet the deadline when you are on the go. As for key advanced features, FlowVella lets you use videos, images, and PDF documents on your slides. The color schemes and layouts range between a wide variety of themed accents. Sleek and elegant, or expressive and artistic, they have got you covered to the tiniest of details. If informative and professional presentations are your jam, FlowVella will be the perfect fit for your daily needs.
Price: The premium packages of FlowVella come at a starting price of $10 per head, every month.
13. Glisser
The typical PowerPoint alternative software gives you tools to design and produce an elegant presentation that is the best fit for your needs. However, Glisser goes one step further. This amazing software provides you with analytics modules that let you know how your presentation was received by the clientele. It lets the audience interact with your pitch decks, giving you an upfront view of reactions from the customer. Moreover, this versatile platform lets you share your slide between different devices in a jiffy.
Among the myriad advanced features that the developers have introduced, what makes this application ideal for businesses worldwide, is the capability to communicate with the viewer through real-time question-answer sessions, and dynamic conversations. As for the quality of slide design assets and styles, it holds its own among the different competitors in its field, letting you create the most beautiful presentation with aesthetic professionalism reflected in each and every slide. Overall, it is a must-have for entrepreneurs and marketing specialists in the corporate world.
Price: Starting with a free trial, Glisser charges you a one-time payment of $1500 to use its services permanently.
14. Microsoft Sway
Sway is Microsoft's very own cloud-based alternative to PowerPoint. It includes all the features that PowerPoint lacks in its mainframe. Moving ahead of the traditional methodologies of PowerPoint, Sway incorporates radically new features that make it more versatile and user-friendly than the pre-established models. The layout library is diverse and vast, with every theme and color combination you could have ever dreamed of. The Remix option lets you try out automatically generated designs with the objects you have input on the slide. Moreover, the design of the presentation moves far beyond traditional slide format, with more resemblance to a website or newsletter format. You can use videos from YouTube or Vimeo to amplify your impact.
Pricing: The software comes free of cost with your Microsoft Account.
15. Google Slides
When you create a Gmail account, Google Slides comes packaged within the suite, completely free of cost. This makes it the most popularly used alternative to PowerPoint. The Slide Library is practically endless, with any color scheme that you can possibly imagine. Apart from that, Google Slides has possibly the most extensive set of vectors and graphic icons that help you to make your slideshow presentation prompt and expressive. What's more, PowerPoint slides can be opened and edited in Google Slides.
Pricing: It is completely free for anyone who has a Gmail Account.
Check out our other pages before continuing: Scheduling Software, Screen Sharing Software, Encryption Software, Best Password Manager, Best Antivirus Software
Other Presentation Software
It is important to note that there are plenty of options and sources at an affordable price range if you are looking for the ideal presentation software. The most prominent ones beyond this list include:
16. Keynote
Keynote is Apple's contribution to the market for presentation software solutions. Subtly sophisticated and elegant graphics are the name of the game. Moreover, the vast variety of fonts and infographics makes it perfect for students, entrepreneurs, and companies worldwide. Some of its key features include the ability to make interactive and animated vectors, vibrant picture frames, and beautiful transitions. Using the Apple Pencil makes it easier to work on. Like most others in the industry, it is a cloud-based tool, allowing you to access your presentation remotely from anywhere in the world.
17. Haiku Deck
An effective counterpart to Google Docs, Keynote presentations, and Microsoft Powerpoint, Haiku Deck allows you to make inspiring presentations with minimal design experience, or coding capabilities.
18. Ludus One
A highly developed presentation tool for creative slide decks. Making marketing presentations that the client can relate to, has never been this easy.
19. Genially
An exhaustive design library with stunning visual features that help you to narrate the most aesthetic character-driven stories. Compelling videos add that extra zing to the palate.
20. Libre Office
Versatile, power-packed, multi-purpose features that are perfect for larger teams in your sales department. Dynamic video with a vast dashboard for enhancing video styles makes it the most lucrative option in your arsenal.
21. Renderforest
If you want to start your slide with a lively animated story, Renderforest will be the best tool you can have. However, apart from phenomenal animation features, it also allows you to incorporate video clips in each and every slide.
22. WPS Office
Outperforms a PowerPoint presentation in almost every respect with a vast diversity of layouts and templates produced by design experts in the industry. Should be a break from the monotonous bland design, and minimal features that most generic platforms provide.
23. Open Office Impress
A viable alternative to the generic basic presentation software in the olden days. Be it design, or ease-of-use, it never fails to impress.
24. CustomShow
When it comes to richly designed slide decks that are a treat to the eyes, the Custom show has raised the standard for presentations to the highest levels. Do use it, if you want fast and efficient enterprise presentation software.
25. Clearslide
Integration of different aspects of a sales operation is what this ground-breaking software excels at. Moreover, it allows you to access your slides on mobile devices and appliances.
26. SlideDog
Using animated features and the power of video can be what keeps you from making the ideal presentation for a ground-shattering deal. All those extra media videos from the design team. Feed them to SlideDog, and watch as it serves up the perfect presentation model for your clients.
27. Adobe Persuasion
If every Vyond Team had a software platform to learn the ropes on, it would be Adobe Persuasion. But don't be afraid of being outdated due to unclear icons. Old is still gold.
28. Corel Presentations
Helps you to draw up the Basic plan for your presentation ROI, in a professionally stylish shell of aestheticism.
29. ActivePresentation
With video selection and a much-needed zoom feature during the presentation, you can rely on this tool, without a shred of worry or regret.
30. Nodeppt
A flexible, versatile web-based multimedia presentation tool, Nodeppt provides you a ton of customization options to prepare the perfectly spiced Presentation creation for your company. Hundreds of Presentation designs and customizable templates add icing to the cake.
31. Gitpitch
Technical and educational presentations are now easier to make due to the familiar interface features provided by Gitpitch. Enables you to use Markdown for your editing capabilities.
32. Mdp
Converts coded frameworks to make the one single presentation that can send your company surging to the stratosphere of success. No clunky presentation will ever again be produced. With a rather inexperienced team, you will be freed of worries. Minimal design skills are needed to handle drag-and-drop editing features that make your simple slide presentation incredibly alluring and trendy.
33. Big
For computer geeks and busy professionals, Big provides a tool to make the perfect dynamic presentation for the most powerful sales pitch of your career. Millions of icons, video incorporation, and GIF export capabilities make it incredibly easy to make captivating presentations efficiently.
34. Pandoc
Making a Powerful Presentation is now infinitely easier with this presentation program that helps you to make a presentation in minutes from your Markup backend. If you are looking for easy to use, and versatile presentation platforms, Pandoc is your jam.
35. Showoff
Those lively interactive slide templates that you see on your competitor's pitch decks. Yep, they are born and brought up here.
36. Presenta Lib
Javascript can be used in this tool to design complex features in presentation content, that might be just what you need for building presentations that propel your company to the heights of success.
37. Vue Slides
This incredibly interactive tool has an uncluttered interface that makes it amazingly easy to make the best presentations across devices. Moreover, it provides you with Vue, an amazing platform to showcase your interactive presentations
38. Tslide
An efficient dark horse in the market for Presentation tools. All types of presentations can be crafted with the utmost aesthetic flavor using Markdown.
39. Presa
When it comes to Presentation Software Space, Presa is your go-to option. Glamorous presentations crafted with React, fueled by unique stylish components.
40. Animationmaker
Introduces life in your presentations by allowing you to spice things up with animation. Maybe a little liveliness is what your sales team needs, to impress the client with Powerful Pitch Decks.
41. Beamerpresenter
Presents a new take on presentation design by designing PDF files and presentations side by side in a dual-screen configuration. If educational presentations are your thing, Beamerpresenter will be your jam.
42. Miniseminar
A versatile software that helps you to convert backend coded frameworks into visually aesthetic presentations. These presentations can be directly inserted or improved upon for your front-end applications.
We also have lists for the following software: Project Management Software, 3D Modeling Software, 3d Printing Software, Accounting Software, Data Recovery Software
F.A.Qs
What is Presentation Software? 
Presentation software is one that helps you create the perfect slides for your deck. It can be device-oriented, or cloud-based, allowing the user to convey an idea to the audience via a series of multimedia tools, like captivating visuals, interactive components, and audio voiceovers. 
What Makes a Great Presentation Software? 
Of the several factors that make a stunning presentation program stand out in the market, the notable points are listed below. 
– Accessibility and Versatility in Sharing the slide deck over different platforms like Google Drive or iCloud. 
– The range of designs available in Slide layouts and templates. 
– Whether the software provides you good infographics, icons, and chart elements to convey numerical statistics to the viewers. 
– The level of interaction it allows between you and your client 
– The aestheticism of the visuals that are provided for your captivating slide presentations. 
– The ease of use in making a professional presentation on the go 
– The level of access and assistance provided by the software in designing your slide deck on your laptop or Android device. 
– Whether it has an intuitive interface with multi-purpose functionality that helps you in conveying the perfect outline of your concept. 
– It is important to note that all software systems keep evolving over time. Since presentation apps are not exempt from this law, the criteria for choosing a good contender will keep changing in the coming decades.
Who uses Presentation Software? 
In the 21st century, rich presentations are used for cracking a strategic deal at almost every step of the corporate ladder, from creating pitch decks for the client to giving a progress report to your seniors, to listing down the top 10 reasons why you should get that raise in your salary during appraisal week. 
Apart from the commercial sphere, students, research scholars, speakers, and educators find a presentation program to be the ideal tool for conveying ideas en masse. Using multimedia presentation templates with beautiful designs to describe educational projects, or present the results and reports of a survey is very commonplace in today's world.