Password managers are the most useful thing today. Our generation is completely based on the digital world today. It is obvious that maintaining a handful of digital accounts is not easy. From bank accounts to social media accounts, every average user of the internet has multiple digital accounts. Password managers are digital lockers that save all your passwords including sensitive files, banking details, and whatnot.
Internet hackers can easily get through your accounts if your password strength is weak or if you use the same password for all your accounts. Developers make awesome managers that allow auto-filling passwords. So that you don't have to remember complicated passwords. There are dozen password managers available. This article helps you decide the best password manager for 2023.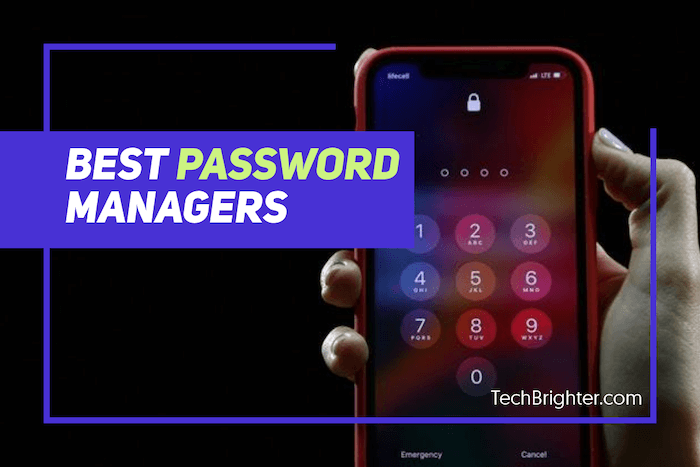 If you are a person who has several accounts across different Android apps, websites, and email clients, this page might be useful. This is because having only a single password for all your accounts is not the smartest idea, especially if those accounts involve your sensitive personal information and financial assets. It is recommended to have multiple strong passwords for different online accounts.
It is hard to remember hundreds of complicated passwords and that's when the password managers play their pivotal role. When choosing the best password manager solution, you will get thousands of such tools. Some may have a 14-day free trial plan or some may offer a 30-day free trial, it is up to you which one to pick. I have tried some of them and picked them up for my readers. Check out the list of password managers in 2023.
Before we proceed with our list, here is a list of other software to try: remote desktop software, hard drive recovery software, POS software, database software, scheduling software.
Best Password Managers for 2023
With the advancement of technology, cyber crimes like account hacking, credit card fraud, and other cyber scams are growing too. The reason behind this is easy access to millions of accounts. Many people set common and easy-to-remember passwords for their multiple accounts. It eases the chaotic situation of remembering multiple passwords.
But this method leads to the problem of hacking. Hackers find a way to access all your accounts easily by detecting your common password. The password manager tool then comes to the picture. You can set up any complicated and multiple passwords for your accounts. Password Manager Software Solution will take care of every password. You don't need to remember them always.
To help you choose the best password manager, we have already conducted a survey. We tested and reviewed some of the known brands and narrowed them down to five. And this is where we start telling you why these five password managers should be your top options. Here are the five best password managers for 2023.
"Powerful tool for sharing and storing sensitive login/password information across an organization"
The Dashlane is easily one of the best mobile apps. It has the most versatile functionalities as a password manager app. The app has so many awesome tools that you will never have to consider similar software again once you tried this software.
Dashlane is a complete tool for everything that you will need to secure your accounts online. It supports most of the popular operating systems and platforms like Windows 10 and Mac OS.
It can even integrate into Google Chrome browser, Apple Safari, Internet Explorer, Mozilla Firefox, and the Microsoft Edge browser, which is why it is included in this list of best password managers.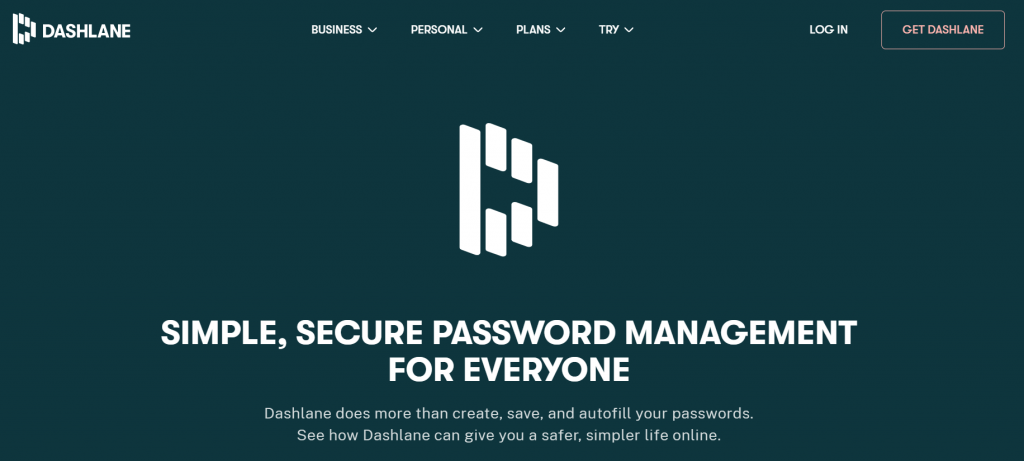 Pros:
Password syncing between all of your Windows, macOS, Android, and iOS devices.
Provides all necessary and advanced password management features.
Unlimited password storage.
VPN protection is included.
Dark Web monitoring for compromised accounts.
Cons:
Expensive
The Dashlane free version does not support multi-device sync.
Some multipage logins are problematic.
Inadequate cloud storage that cannot be upgraded
ESSENTIALS $2.49/mo
PREMIUM $3.99/mo
FAMILY $5.99/mo
"Safe, secure, and easy to use."
LastPass is one of the best password managers that can compete for head to head with Dashlane. Although some additional features are not available from the latter, the LastPass software is more of the best value-for-money service type.
It possesses all the basics and necessary features, and for most individual users, that is all that really matters. Others are just add-ons and extra features, according to a popular tech review site.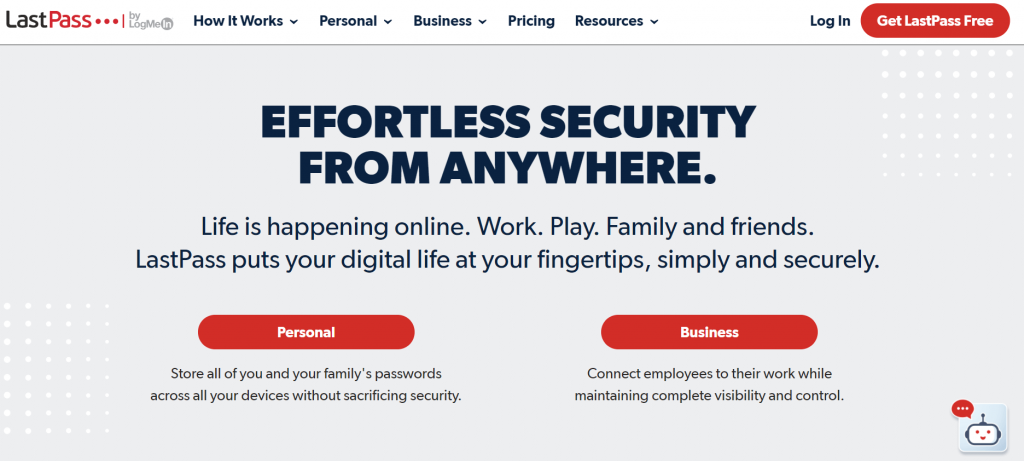 Pros:
Many platforms and browsers are supported.
Dark web monitoring tool and reporting on password security and strength
Password inheritance and secure sharing
Offers multiple recovery options and master password hint
Authentication with two factors
Cons:
Limitations on syncing for free users
Some personal data types cannot be used for form filling, and there is no U2F support.
Some components include options that are no longer available.
Premium $3*/month
Families $4*/month
Teams $4/user/month*
Business $6/user/month*
"A user-friendly password manager"
Enpass password manager is probably the most generous on this list. They offer their desktop version for free. You can use it as much as you want with as many desktop devices that you own. The fee comes when you want to use it on a mobile device like a mobile version app.
If the mobile iOS and Android app fees have taken you back, that's alright. But from a businessman's perspective, this is a superb offer. If a business uses multiple desktops, the Enpass delivers its services for free for life.
The Mac OS, Windows, and Linux-based desktops are the three major platforms that can enjoy the free lifetime service of Enpass. And if your business revolves around those platforms, you are lucky because you won't have to spend a dime for any of it. No restriction will apply, and you can even have email support. Enpass's secure password-sharing system requires sharing a master password for the password vault you'd like to share, and it requires a third-party service for syncing between devices.
And if you are thinking about losing the online synchronization through a cloud backup because it is free, you're wrong. You will have cloud support in not just one but up to five cloud services. Choose from the following cloud servers: Dropbox, GoogleDrive, One Drive, iCloud, and OwnCloud. So if you are a Google user or a Mac user, you can easily sync all your data conveniently.
Here is the list of helpful features of Enpass that makes it one of the best password managers today. Make sure to read them carefully so you can make the right decisions when you finally decide to choose your best password manager.

Pros:
Desktop users can use it for free.
Syncing across devices and multiple platforms
Plenty of options for secure sharing
Automatic password capture
Serves as an authenticator
Strong password generator.
Cons:
Syncing necessitates the use of third-party secure cloud storage.
There are no traditional two-factor authentication options.
There are no sharing permissions, but there is an option for unsecured sharing.
On mobile platforms, there are restrictions on the free tier.
Individual Plan $2/mo
Family Plan $3/mo
One-time $79.99
"1Password is a very safe, very secure, and very easy-to-use password manager."
1password is another decent password manager I have picked. It is apt for iOS and Mac. For Windows and Android users, 1password will not be the first choice for sure. On the other hand, the 1password extension works smoothly for many browsers. Edge, Chrome, Firefox, Brave, Safari, and some other browsers have 1password extension. Despite having an outdated version of the user interface and mobile and desktop app, 1password works smoothly with web browsers. Instead of the app, using its extension would be a wise idea for Android and Windows users of 1password.
Some unique features like fantastic two-factor authentication can remove sensitive data from the device, making it more popular. The deleted data can be retrieved later.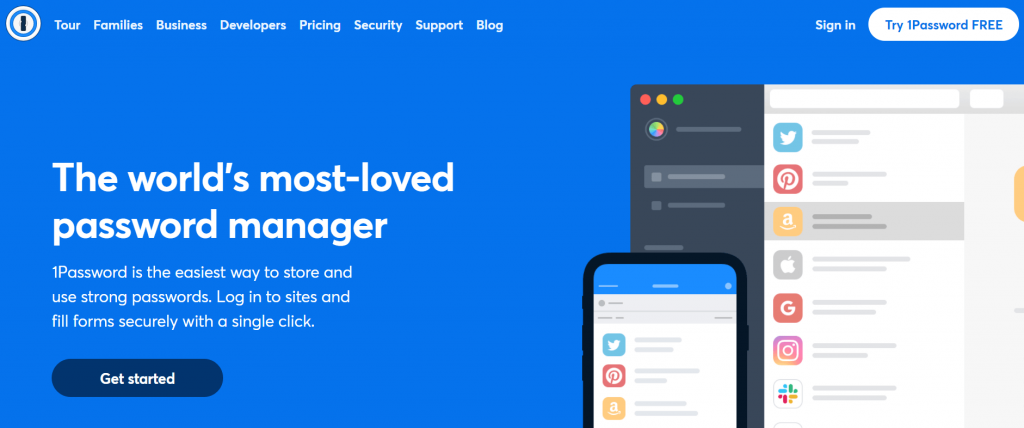 Pros:
Apps for Windows, macOS, Android, iOS, and popular browsers are available.
Intuitive password management tasks
For adding new devices, a secure yet simple authentication method is used.
Authentication with two factors
Cons:
The browser extension system is perplexing
Password import options are limited.
Sharing is restricted to family plans.
There is no password-inheritance feature.
1Password $2.99/mo
1Password Families $4.99/family of five/mo
Business $7.99/user/mo
"Bitwarden is a great password manager!"
Bitwarden is a free password manager, having almost similar features as 1password. However, it does not have premium features like encrypted 1GB storage, security key support, and password check-ups. Otherwise, this app works extremely smoothly. Like 1password, the Bitwarden extension also works in Chrome, Safari, Firefox, and Opera web browser. Bitwarden password manager supports operating systems like macOS, iOS, Android, and Windows. This is a free version and provides almost premium features. The best part about Bitwarden is the extension does not require the desktop app to work. Bitwarden Free has unlimited passwords, sticky notes, credit card storage, 2FA, and local data storage. Most of them can also store other sensitive information, such as bank accounts, credit card details, or secure notes.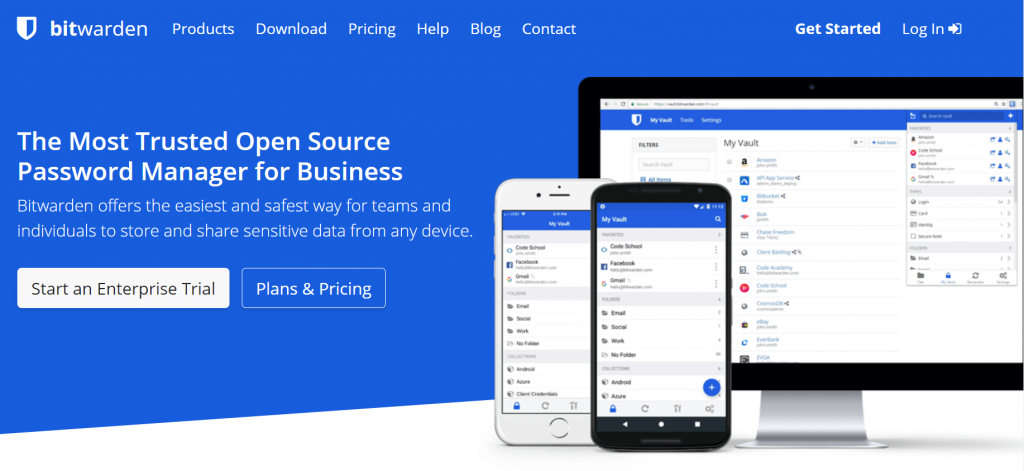 Pros:
Apps for Windows, macOS, Android, iOS, and popular browsers are available.
Password management that is intuitive
For adding new devices, a secure yet simple authentication method is used.
Authentication with two factors
Cons:
The browser extension system is perplexing.
Import options are limited.
Sharing is restricted to family plans.
There is no password-inheritance feature.
Teams Organization $3/month
Enterprise Organization $5/month
Premium Account Less than $1/month
Family Organization $3.33/month
Note: A password manager should make it easy to transition from using browser-based password autofill and set up all the apps and browser extensions required. But password managers go above and beyond a good one, alert you to reused and weak passwords, let you know when you should change a password because a service you use has been hacked, and allows for sharing passwords and other information between family members and friends. Many spam companies and sites online can steal your privacy, which is why you need a good secure password manager and a dedicated password manager for your password storage.
Password managers are beneficial for those who have multiple accounts to maintain. Social media accounts, emails, websites, and many other profiles need login credentials. It is humanly impossible to remember every single account detail. Password managers help you to remember everything you need when it comes to login into your social accounts.
Further Thoughts on Password Managers
There are several factors to consider when choosing the best password manager for your needs. You'll want to make sure that the software will protect your passwords. This will prevent hackers from stealing your passwords. Luckily, there are several options to choose from, including browser extensions. Here are some of the most common password managers available today. Read on to find out how they can help you protect your online account. After reading these tips, you'll be able to choose the best password manager for your needs.
Whichever are the best password managers for any mobile device, you are in good hands. The mentioned above are some of the popular password manager apps where you can set unlimited passwords. All of them offer great functionality and a positive reputation to boot. So if you're in the market for this type of service, start with these five favorite password manager apps to save your passwords.
The Dashlane, LastPass, and Enpass are offering free services to save passwords. So you can always go for the free option first and decide later for premium service after you experience every one of them, especially for advanced users. Some also feature online storage and an encrypted, secure vault for storing documents with secure storage.
Other features like advanced password management, secure password manager services, favorite password managers for dozens of passwords, cloud-based password manager, browser password managers with two-factor authentication options/optional two-factor authentication for secure file storage, password synchronization, managing complex passwords or simple passwords in major browsers and other advanced features. So many alternatives that you can choose from.
The best password manager has several advantages. First, it will remember your passwords for you. Using one of these programs will simplify access to accounts that require logins, such as banking, online shopping, and social media. You can use a master password that is harder to guess or remember than multiple ones. This feature is essential in protecting your online accounts, but it comes with a few disadvantages. Learn more about the benefits of password managers.
Check the list of best password managers on this page. In this article, you can check their features and if they are well-fitted for your needs. Password manager tools are the best ways to manage all your online passwords safely.
Don't stop at just password software for business efficiency. Look into screen sharing software, encryption software, best password manager, best antivirus software, project management software as well.
Conclusion
Password managers are the best thing to handle all your accounts. Some of the managers have a built-in password generator as well. You don't need to think every time to get a unique password, your competent password manager will do the task for you. Check out the above-listed futuristic password managers. These customizable password managers and their extra security features will help you manage all your passwords, especially for business users.
Which one do you think sounds great or is the best password manager for your passwords? Which one will you actually try first? Please tell us what you think. We would love to know which password manager gets the most vote.