Passwords are difficult to remember sometimes. And for most people, it happens most of the time. That's why there are many reported issues online about their devices or accounts being inaccessible due to a forgotten password or failed authentication system. This article helps you decide the best password manager for 2021.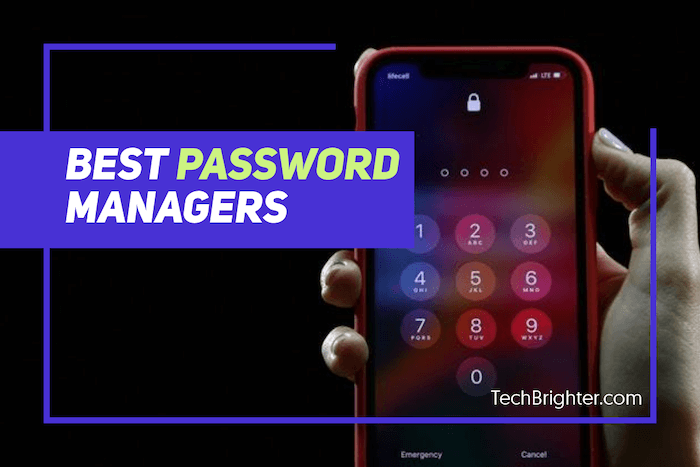 If you are a person that has several accounts across different Android apps, websites, and emails clients, you should consider today's topic. This is because having only a single password for all your accounts is not the smartest idea ever. It is most true, especially if those accounts involve your sensitive personal information and financial assets. It is recommended to have multiple strong passwords for different online accounts.
This best password manager for the 2021 list is not just about those that can deliver on their promises. This is about the comparison of the best in this industry and is widely known for reliability and security.
Must Check – Best Webinar Software Platforms to Use.
Best Password Managers for 2021
The growing issues of accounts being hacked are due mainly because there are cases where having multiple accounts becomes chaos. And certain people end up using simple and basic character combinations to keep up.
Yes, such a method makes it easier to remember passwords but also easy to hack. And that's what the password manager is up to fix. This software solution will secure all your accounts no matter how many they are and still make it simple for you.
To help you choose the best password manager, we have already conducted a survey. We tested and reviewed some of the known brands and narrowed them down to five. And this is where we start telling you why these five password managers should be your top options. Here are the five best password managers for 2021.
The Dashlane is easily one of the best, if not yet, the number one on this list. It has the most versatile functionalities as a password manager app. The app has so many awesome tools that you will never have to consider similar software again once you tried this software.
Dashlane is a complete tool for everything that you will need to secure your accounts online. It supports most of the popular operating systems and platforms like Windows 10 and Mac OS.
It can even integrate into Google Chrome browser, Apple Safari, Internet Explorer, Mozilla Firefox, and recently, the Microsoft Edge browser, which is why it is included in this list of best password managers.
Pros:
Syncs data between all of your Windows, macOS, Android, and iOS devices.
Provides all necessary and advanced password management features
VPN protection is included.
Looks for compromised accounts on the Dark Web
Cons:
Expensive
The free version does not sync between devices.
Some multipage logins are problematic.
Inadequate cloud storage that cannot be upgraded
Pricing: The only thing that might put you on pause before getting their services is the subscription price. The Dashlane premium account costs $40 a year. That means around $3.33 per month.
While you can always go for the free account, which gives you an unlimited number of passwords, but it will be only available for a single device. And you will be missing out on its many tempting features.
Overall, the Dashlane is top-notched and beats all other password managers in terms of features. But with the $40 tag price annually, that may put some users on hold. But if your concern for your account security is of utmost importance, what's $40 after all?
The LastPass is one of the only best password managers that can actually compete for head to head with Dashlane. Although some features are not available from the latter, the LastPass software is more of the best value-for-money service type.
It possesses all the basics and necessary features, and for most people, that is all that really matters. Others are just add-ons and extra toppings, according to a popular tech review site.
Pros:
Many platforms and browsers are supported.
Tools for monitoring the dark web and reporting on password strength
Password inheritance and secure sharing
Authentication with two factors
Cons:
Limitations on syncing for free users
Some personal data types cannot be used for form filling, and there is no U2F support.
Some components include options that are no longer available.
Pricing: While the app's premium version is a solid choice, the free version is enough for most people. It offers to sync to more than one device, which usually is included only in the freemium services paid version.
Well, we agree with them. If you are on a tight budget, you got to choose LastPass as your password manager. It delivers what it promises and does not break your bank. And rest assured that you are protected from hacks and malicious attacks.
While we chose Dashlane as the number one choice overall, we still prefer LastPass' approach. For one, it is cheaper. And if you want to try it out first, you can go for free and still be satisfied with what you can do with it.
It is not perfect and lacks some features from the number one spot, but it is considered enough. You can even consider not getting the premium version and still feel secure and protected. That is what LastPass can deliver and why it is more popular with most users.
The Enpass password manager is probably the most generous on this list. They offer their desktop version for free. You can use it as much as you want with as many desktop devices that you own. The fee comes when you want to use it on a mobile device as an app.
If the mobile iOS and Android app fees have taken you back, that's alright. But from a businessman's perspective, this is a superb offer. If a business uses multiple desktops, the Enpass delivers its services for free for life.
The Mac OS, Windows, and Linux-based desktops are the three major platforms that can enjoy the free lifetime service of Enpass. And if your business revolves in those platforms, you are lucky because you won't have to spend a dime for any of it. No restriction will apply, and you can even have email support. Enpass's password-sharing system requires sharing a master password for the vault you'd like to share, and it requires a third-party service for syncing between devices.
And if you are thinking about losing the online synchronization through a cloud because it is free, you're wrong. You will have cloud support in not just one but up to five cloud services. Choose from Dropbox, GoogleDrive, One Drive, iCloud, and OwnCloud. So if you are a Google user or a Mac user, you can easily sync all your data conveniently.
Here is the list of features of Enpass that makes it one of the best password managers today. Make sure to read them carefully so you can make the right decisions when you finally decide to choose your best password manager.
Pros:
Desktop users can use it for free.
Syncs across multiple platforms
Option for secure sharing
Password capture that is automatic
Serves as an authenticator
Strong passwords are generated.
Cons:
Syncing necessitates the use of third-party cloud storage.
There are no traditional two-factor authentication options.
There are no sharing permissions, but there is an option for unsecured sharing.
On mobile platforms, there are restrictions on the free tier.
If your workspace includes only desktop platforms, then Enpass might be the perfect choice for you. But if you need the Android and iOS app versions, you might want to reconsider the fee. But if you ask us, the Enpass is worth every penny since it is only a one-time fee package deal.
The personalized approach is also something that can attract a lot of users. The fact that you are free to choose your cloud service and edit items regarding your data is very much a welcome feature.
1password is another password manager I have picked. It is apt for iOS and Mac. For the Windows and Android users, 1password will not be a first choice for sure. On the other hand, the 1password extension works smoothly for many browsers. Edge, Chrome, Firefox, Brave, Safari, and some other browsers have 1password extension. Despite having an outdated version of the user interface and mobile and desktop app, 1password works smoothly with web browsers. Instead of the app, using its extension would be a wise idea for the Android and Windows users of 1password.
Some unique features like fantastic two-factor authentication can remove sensitive data from the device, making it more popular. The deleted data can be retrieved later.
Pros:
Apps for Windows, macOS, Android, iOS, and popular browsers are available.
Password management that is intuitive
For adding new devices, a secure yet simple authentication method is used.
Authentication with two factors
Cons:
Browser extension system is perplexing.
Import options are limited.
Sharing is restricted to family plans.
There is no password-inheritance feature.
Pricing: New users can pay $36 yearly charges for the cloud subscription. For Mac users, the price is a little higher at $65.
Bitwarden is a free password manager, having almost similar features as 1password. However, it does not premium features like encrypted 1GB storage, security key-support, and password check-ups. Otherwise, this app works extremely smoothly. Like 1password, the Bitwarden extension also works in Chrome, Safari, Firefox, and Opera web browser. Bitwarden password manager supports operating systems like macOS, iOS, Android, and Windows. This is a free version and provides almost premium features. The best part about Bitwarden is the extension does not require the desktop app to work. Bitwarden Free has unlimited passwords, notes, credit card storage, 2FA, and local data storage. Most of them can also store other sensitive information, such as credit card details or secure notes.
Pros:
Apps for Windows, macOS, Android, iOS, and popular browsers are available.
Password management that is intuitive
For adding new devices, a secure yet simple authentication method is used.
Authentication with two factors
Cons:
Browser extension system is perplexing.
Import options are limited.
Sharing is restricted to family plans.
There is no password-inheritance feature.
Note: A password manager should make it easy to transition from using browser-based password autofill and set up all the apps and browser extensions required. But password managers go above and beyond a good one, alert you to weak and reused passwords, lets you know when you should change a password because a service you use has been hacked, and allows for the sharing of passwords and other information between family members and friends. There are so many spam companies and sites online that can steal your privacy, which is why you need a good secure password manager and a dedicated password manager for your password storage.
Further Thoughts on Password Managers
Whichever are the best password managers for any mobile device, you are in good hands. The mentioned above are some of the popular password manager apps where you can set unlimited passwords. All of them offer great functionality and a positive reputation to boot with. So if you're in the market for this type of service, start with these five password managers to save your passwords.
The Dashlane, LastPass, and Enpass are offering free services to save passwords. So you can always go for the free option first and decide later after you experience every one of them. Some also feature online storage and an encrypted vault for storing documents with secure storage. And other features like advanced password management, password manager services, favorite password managers for dozens of passwords, cloud-based password manager, browser-based password managers with two-factor authentication options/optional two-factor authentication for secure file storage, password synchronization, managing complex passwords or simple passwords in major browsers and other extra features. So many alternatives that you can choose from.
Conclusion
In today's question, which one do you think sounds great or the best password manager for you for your passwords? Which one will you actually try first? Please tell us what you think. We would love to know which password manager gets the most vote.
For your questions and suggestions, you may leave your comments down below about the contents above. We will try to respond to them as soon as possible. And don't forget to share this article if this has helped you in some ways. We appreciate the effort.