If you look at the traditional meaning of the POS or point of sale, you will know that it only means the cash register. In simple words, we can say that the point of sale is that point of a store that will help out a customer in purchasing the goods. But the meaning of this POS has changed much over time as businesses are continuously shifting online. The POS is also shifting online, which means that the same business contact point where the sale is made is now shifted online.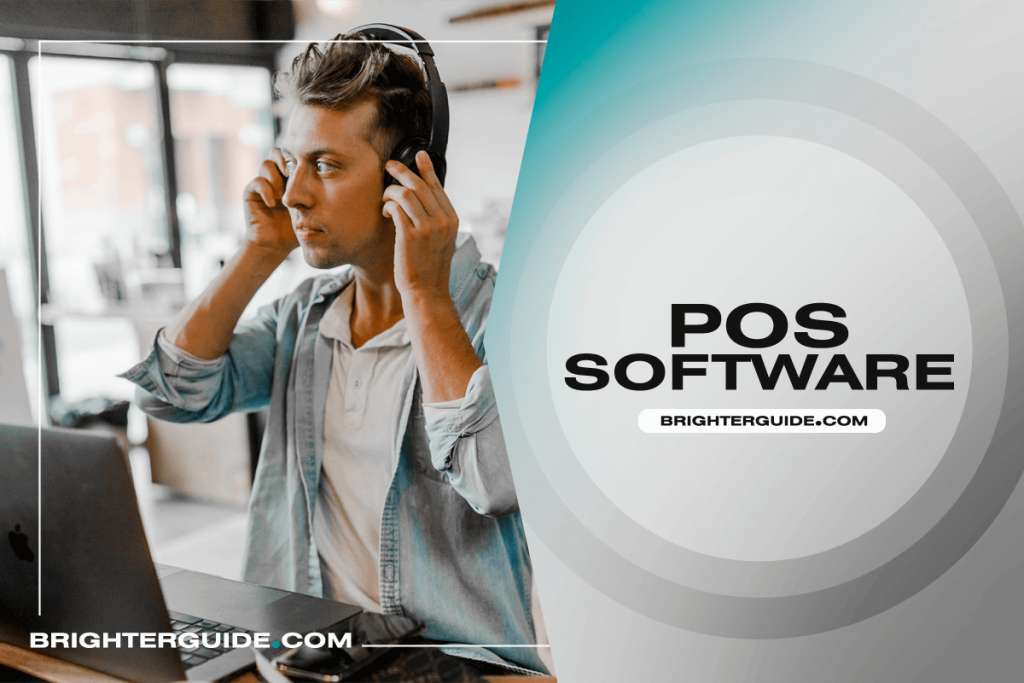 Now to manage the online point of sales, a business person needs software, as, without efficient software, it will be a hard task for a person to handle the online sales points. Moreover, it will also help out a person in managing their offline sales points also. So if you are also looking for POS management software, you should learn in detail what these POS software are and the activities performed by this software?
You might want to check these other software lists out before continuing: database software, scheduling software, screen sharing software, encryption software, best password manager
Best POS Software List 2021 – Our Top Picks
To help you better decide which POS software to use, we have here details of the features, pros and cons, and prices of our top 10 POS software along with other software brands that may want to try.
"Square is a Quick and Convenient Way to Take Payments for Your Business"
Square Point of Sale is rated as one of the best software by most businesses and is recommended by industry specialists. It is a simple and powerful tool that is proven to be a great choice for new businesses. Some of the amazing features of this tool are mentioned below.
There are different types of credit card payments available on the POS platform to ease their payment processes.
The transaction fee that is charged by the square point of sale is genuine and transparent. There are no hidden costs in this tool.
This tool will send you a detailed analysis of invoices and employment shifts which can maintain your hold on your business.
If the sales made by the business is more than $250,000, then they get eligible for customized features and pricing plans.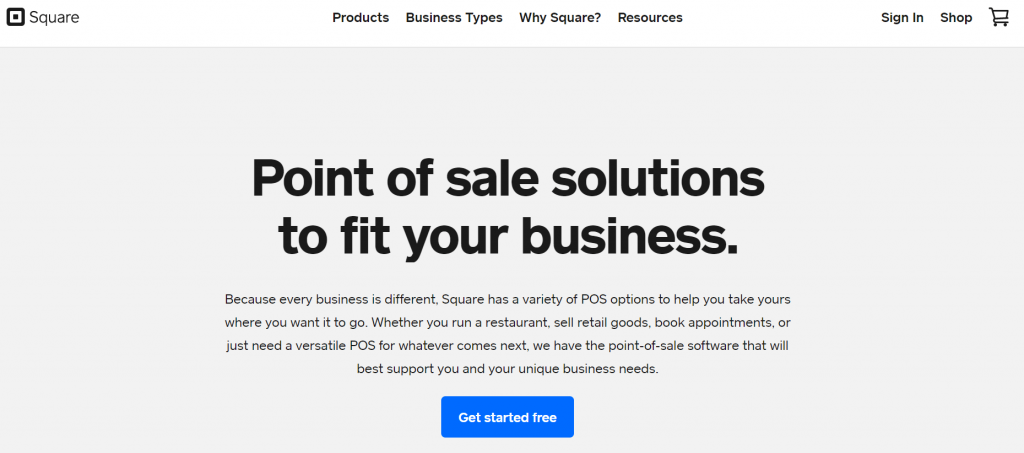 Pros
Simple pricing.
There are numerous customer service channels available.
Outstanding hardware options.Android and iOS compatibility
Can be used in offline mode.
Cons
Due to the appearance of fraudulent activity, account freezes may occur in rapidly growing businesses.
Modules for reporting and inventory management are missing.
Larger organizations may be required to pay higher fees.
Square Invoices card transactions 2.9% + 30¢
Card-not-present transactions 3.5% + 15¢
Square Virtual Terminal transactions 3.5% + 15¢
Card on File transactions 3.5% + 15¢
eCommerce transactions 2.9% + 30¢
ACH Bank Transfers 1% with a $1 minimum
"A Very Efficient, Comprehensive and Effective Software"
If you are too much into online businesses, then you must have heard of Shopify. It is the dropshipping store that has helped many businesses grow, but it is also POS software that is considered the best for online retail businesses. The brand's name in the e-commerce market has made it the best tool that offers the following advanced features.
The inventory management options available in this tool are advanced and considered the best in the range.
It helps out in unified reporting, which means that this tool has perfectly mixed the sales and store reports with the general business analysis.
The tool also helps manage the staff by distributing them the responsibilities and motivating them from time to time.
The possibilities of customizations are endless, which means that you can attract your audience by setting the platform according to their requirements.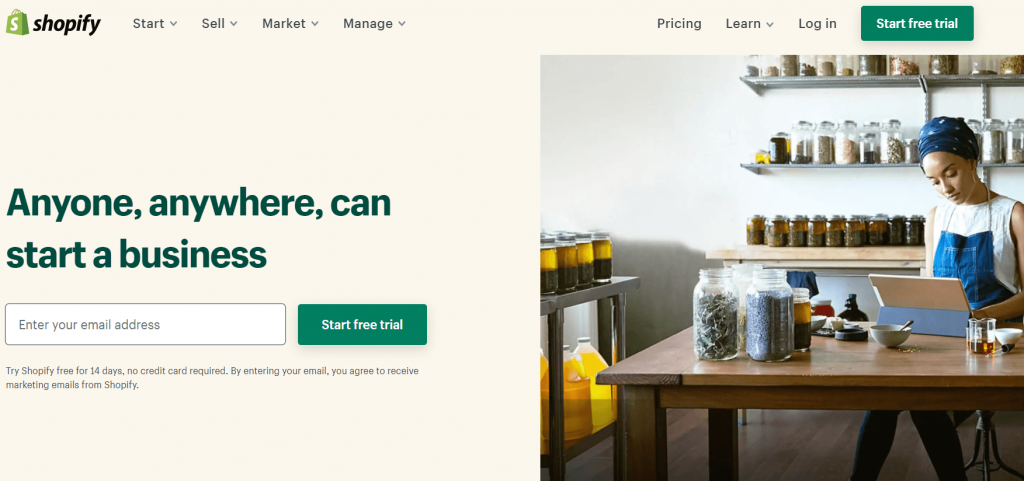 Pros
This is ideal for small businesses or online merchants who want to establish an on-site presence.
14-day risk-free trial.
It is simple to set up.
Excellent customer service.
App store run by a third party.
Cons
Advanced features are only available on higher tiers.
Advanced plans are costly.
It does not provide advanced analytics or automated discounts.
Basic Shopify $29/mo
Shopify $79/mo
Advanced Shopify $229/mo
"Exceptional POS Platform With Superior Customer Service"
The Revel system is a customer relationship and point of sales tool that have helped businesses in closing many clients for a lifetime. The main niche services for which this software is targeted in bars, restaurants, coffee shops, etc. Some of the advanced features that are related to this tool are mentioned below.
Revel systems provide a platform for the customers where they can enter and order the product online, which also provides full control to the merchant for maintaining their customer experience.
Help in management of delivering of the order placed by the customers.
Employee and customer relationship management go side by side in Revel systems.
Helps in streamlining the kitchen processes and manage the table for your customers.
Manages the cash for you and receives online payments also.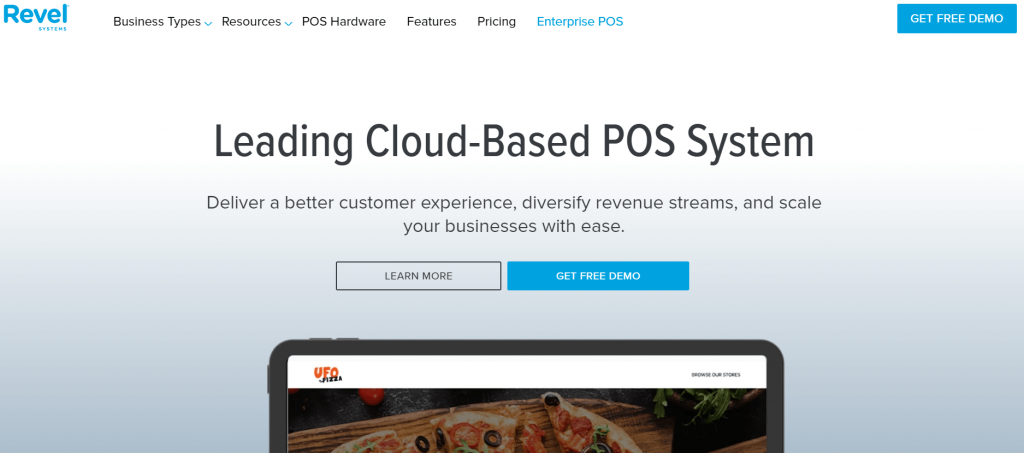 Pros
The register user interface is simple and easy to use (UI).
The register provides a number of back-office tools.
Some intriguing features include the Fast Cash button.
Phone support is available 24 hours a day, seven days a week
Cons
The prices are not clearly stated on the website.
Expensive in comparison to comparable products.
An additional fee is required for open API access.
In some places, the interface is confusing.
There is no free trial period for evaluations.
POS SOFTWARE COSTS: Starting at $99/monthly fee per Terminal
PROCESSING: Flat fee
IMPLEMENTATION: Onboarding starting at: $674
"Great POS System for Small Business"
If you want a point of sales system that is also the best accounting software, then you should have a look at QuickBooks Point of Sale. One can run a small to a large level of business effortlessly with the help of this software. The list of features of this tool are:-
There is a well-managed dashboard Intuit QuickBooks Point of Sale that can help manage the business activities.
There is a physical inventory scanner system available in the Intuit QuickBooks Point of Sale tool.
The tool also helps to access customer information.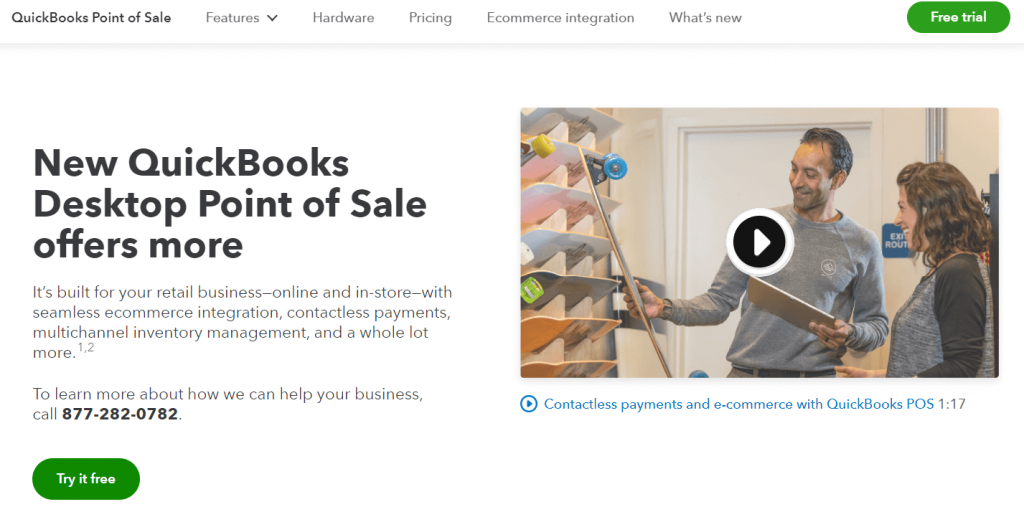 Pros
It works well with the QuickBook ecosystem.
Instead of a monthly subscription, it charges a one-time fee.
Trial period of 30 days.
There are numerous payment options.
Cons
Email campaigns are unable to be created.
There is no customer-facing user interface.
There are no mobile options.
POS Basic $960
POS Pro $1,360
POS Multi-Store $1,520
"A Complete Mobile POS System for Your Restaurant With This Great Tool."
Toast is an ultimate POS system that is specially made for Food / Beverage Businesses. Some of its features are:
It will manage the menu for the business and also take care of the tasks of the staff with thousands of transactions.
It also monitors the time after the order is placed through its back-office functions.
Notifies every time a new order is received and delivered.
Accept payment of all types from cash to credit card payments.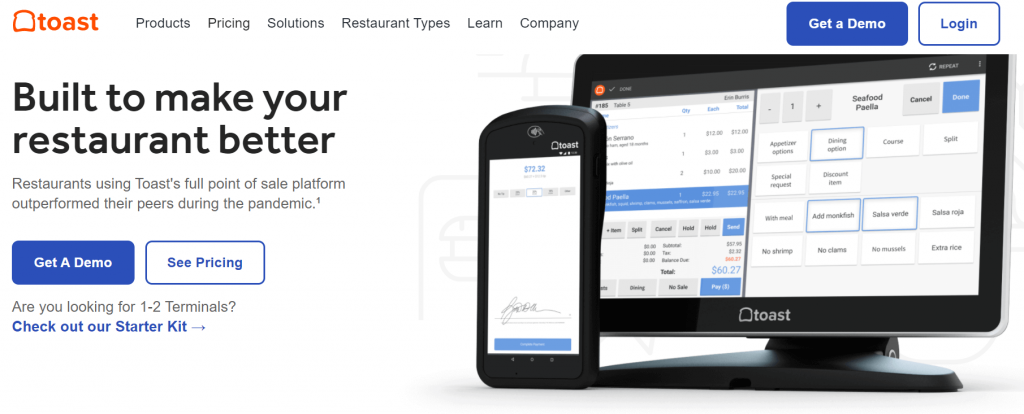 Pros
User-friendly and easy to work in.
Easy configuration and management.
Intuitive system.
Cons
Slow customer service.
Servers tend to shut down sometimes.
Essentials $165/mo
Growth $272 /mo
"Slick, Powerful & User-friendly in a Small Package"
If you want to increase your sales, then you should approach TouchBistro for your POS tasks. The features provided by this tool are:
A person can manage their staff efficiently and assign them tasks with the scheduling option.
Helps the business in case of any issue with their 24*7 support.
There is a self-ordering kiosk in the software which helps a person when they visit a bar or restaurant.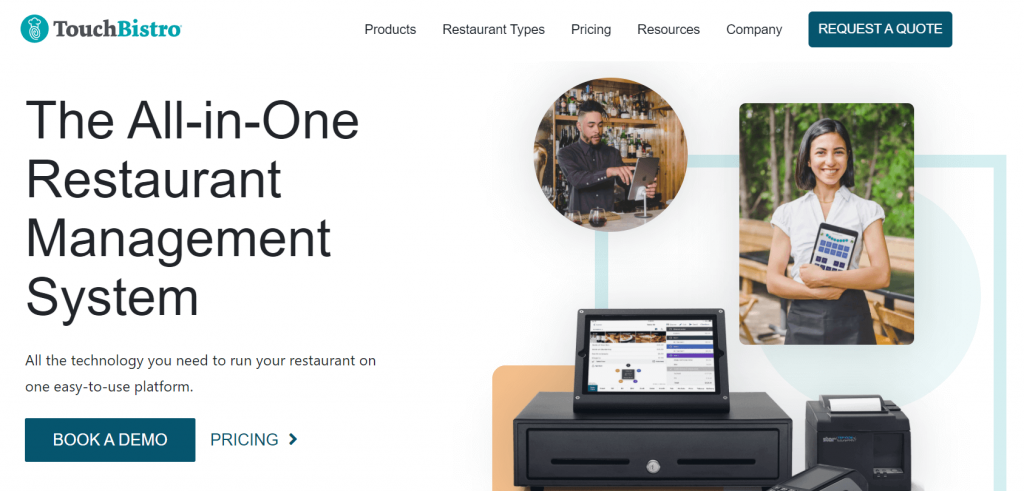 Pros
Incredibly intuitive and has an extremely high level of functionality.
Simple user interface.
Allows to control all card payments.
Cons
Inflexible partnership.
Slow customer support.
Reservations $229/mo.
Online Ordering $50/mo.
Gift Cards $25/mo.
Loyalty $99/mo.
Self-Serve Kiosk $69/mo.
Digital Menu Board $20/mo.
"Great Scheduling Software and Extremely Easy to Use"
The Vagaro tool is specially designed for Salon and SPA businesses, or we can say the wellness service category businesses. The features of this tool include:
There are many special COVID features that are ensuring the safety of the customers visiting.
There is a calendar that can help you mark your appointment time which will be notified to the service provider.
Pay Desk is also available, which helps in the better formation of sales analysis reports.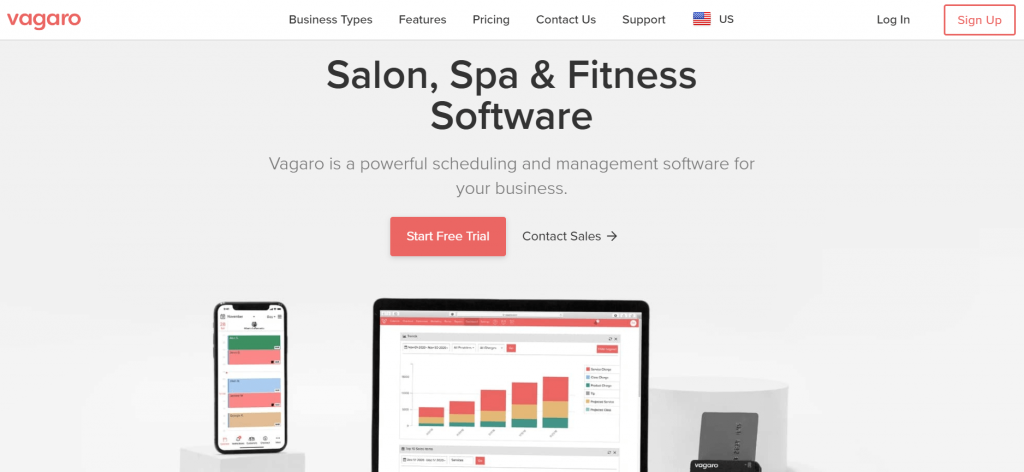 Pros
Easy to make appointments for your clients.
User-friendly
Easy to use.
Cons
Sometimes a bit glitchy and laggy.
Online version for clients is confusing.
1 employee $25/mo
2 employees $35/mo
3 employees $45/mo
4 employees $55/mo
5 employees $65/mo
6 employees $75/mo
7+ employees $85/mo
"Great Interface and Super Simple"
The feature that is provided to a business, along with the MindBody tool, is mentioned below.
There is virtual training provided to the business partners to learn the platform better.
Helps in better client management with the help of scheduling systems available on the system.
An online shopping cart management option is also provided.
Pros
Great for individuals who attend multiple gyms, facilities, spas, etc.
Scheduling class as a customer is easy and viewing available classes is simple.
Has both mobile app and desktop site.
Cons
Low to no customer service.
Confusing interface for clients.
POLE FITNESS $27.95
YOGA $15.00
WEIGHT TRAINING $15.00
OTHER $22.00
"The Best OPOS System I Have Ever Tried"
If you are thinking of buying a POS tool for a mixed using environment, you should go with UniCenta. The features of this tool are mentioned below.
You are provided with a unique feature of barcode scanning with this software.
Helps in the management of all the customer accounts through its accounting software integration.
An electronic signature option is available for increasing safety.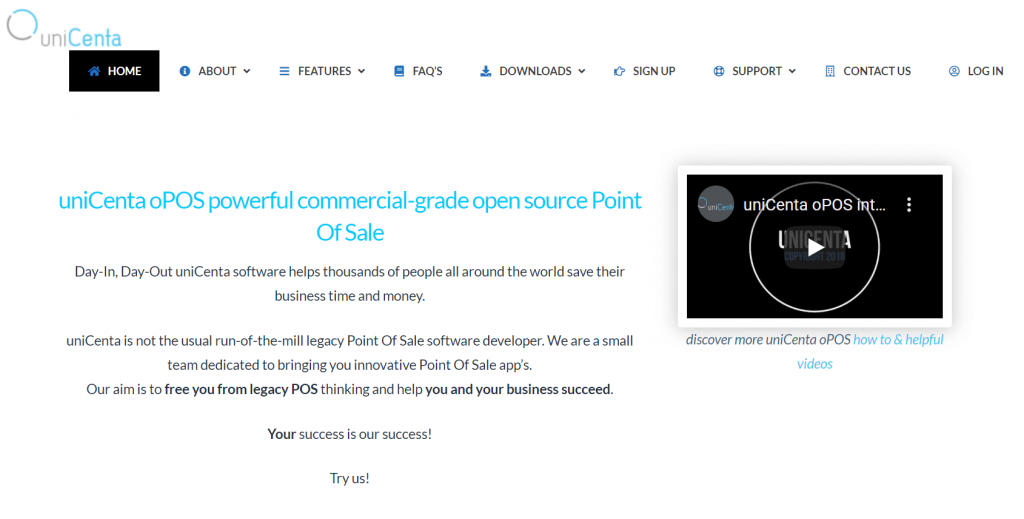 Pros
Has a very user friendly interface.
No license fees.
No vendor lock-in.
Cons
Not a plug-and-play software.
"Stripe is a GO-TO Payment Processor for SMBs"
Stripe is popularly known as the payment accepting platform, but very few people know that it is the point of sale platform also. Some of its features are:-
Help you scale your international business by accepting major credits and debit cards with a minimum percentage,
Helps in the execution of the business models, no matter how complex it is.
Disputes are resolved within seconds if any payment is struck in the mid.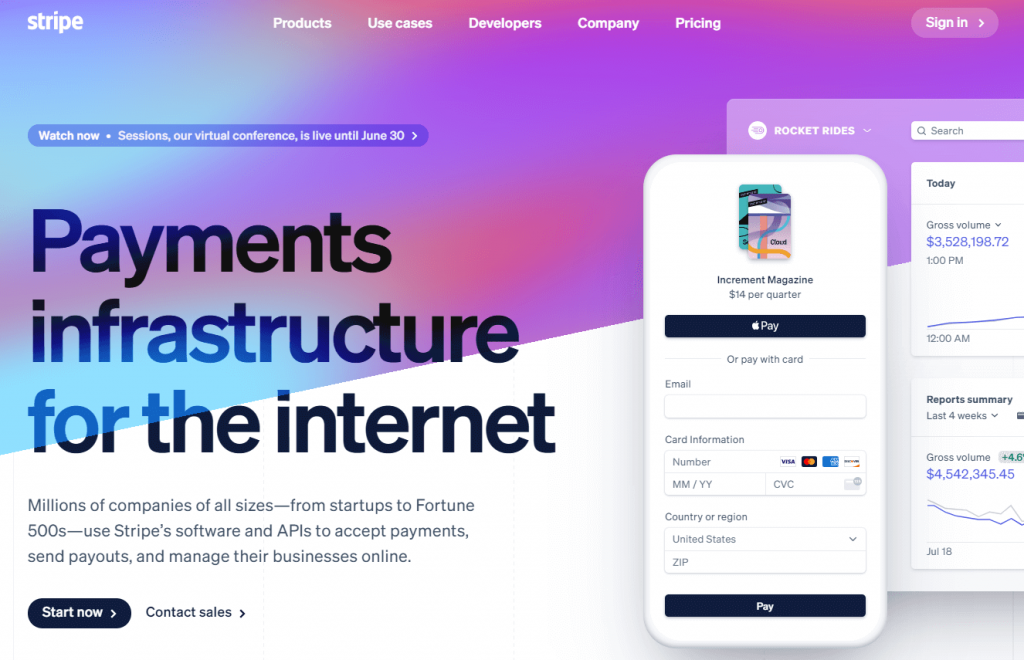 Pros
Payment processing rates are fair and instant payout options are huge for businesses that are just starting out.
Responsive customer service.
Easy to deploy and has various integrations available.
Cons
Mobile app is outdated.
The documents needed for accounting are somewhat difficult to find and print.
INTEGRATED: 2.9% + 30¢ per successful card charge
11. ShopKeep
If you are looking for a point of sales system for managing your inventory, then you should choose the ShopKeep software, which provides you with intuitive design and a better user experience with various inventory tools. Some of the common features that are included with the ShopKeep tool are mentioned below.
There is a world-class facility of real-time reporting, which keeps the business person updated with every activity happening in their online store.
The task of management of the inventory is made very simple with this tool.
There is a report of the sales trend formed automatically by the platform.
If you are an eCommerce business, then you can also expect some support from experts.
Price: The ShopKeep tool's cost starts from $69 for the basic plan to around $179 for the advanced but expensive plans. Above that, they also charge a transaction fee of 2.5% with 10 cents.
12. Bindo

If you are looking for the best iOS POS solution, then you should opt for Bindo. Time Saving Features of the tool that is compatible with all sizes of business is:
Have various retail store management options like management of commission, employee, and mail order management.
There is a special loyalty program in this software for the customers.
Provides a timely business and sales analysis report to the owners having both online and offline data.
Price: The price for this tool is free for the initial stages with a standard payment commission of around 2.5%.
13. OSPOS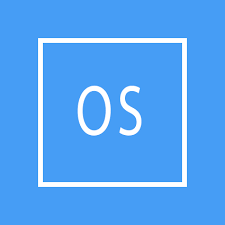 The tool's full form is Open Source Point Of Sale, which clears that it is free software. The features of this tool are mentioned below in detail.
It is a web-based tool that is providing the best customization options for businesses.
The reports are made with extra care to provide 100% accuracy to the businesses.
Give you the notification of every transaction that your customer makes at your system.
14. PayPal Here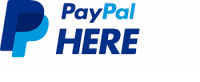 PayPal is again a transaction wallet with the best POS facilities round. They help every kind of business in managing their clients and receive payments. Some of the features offered b PayPal here are:-
They are providing very competitive transaction prices that attract retail operations.
One can monitor the fraud activities happening around easily.
The technology wire used in the back-office functions is very advanced.
Price: For setting your business in a growth phase, you have to pay 2.7% of the transaction charges.
15. Google Pay

Google pay, which is launched as a normal payments app, has recently launched its Google Pay for business, a competitive POS option for accepting payments around. Some of its features are:-
The business will get the payments directly in their bank accounts instantly.
With just a single touch, the business person can look for overpayments and sales insights.
There are some fixed rewards provided by google pay if one accepts whopping amounts of payments.
Price: The biggest benefit of Google Pay POS is that it is a free, stand-alone version that charges zero transaction fees, which can be considered one of the additional features.
Also check out our lists about best antivirus software, project management software, 3D modeling software, accounting software, data recovery software
Other POS Software
16. Apple Pay

Apple has launched this fantastic POS service in competition, with Google having the following features.
Helps you accept payment types like debit cards, credit cards, and UPI also.
Helps in attracting new customers as the name of Apple will be attached to your business.
Makes the connection with your customers easier with the help of Apple apps integrations.
Price: A transaction fee is charged by Apple Pay which may vary from business to business and transaction to transaction.
17. Heartland Retail

Some features that are offered by Heartland Retail POS systems are:-
There is an option of credit card payment, and a barcode scanning option is also provided.
Many hardware can be integrated with this solution.
The tool provides a receipt to every customer who visits the business through this POS receipt printer.
Price: This tool's price is $99 for the starter pack and $139 for its professionally expensive plans.
18. Tessitura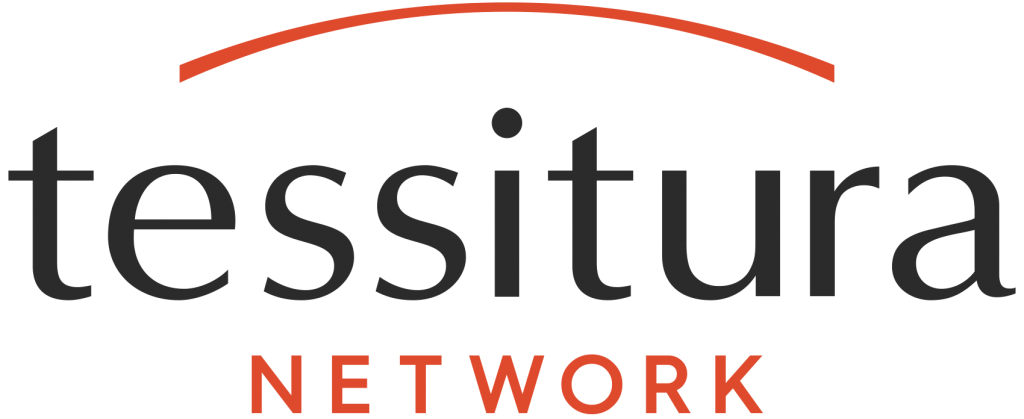 Tessitura is one of the best systems which is providing every facility to a business. Some of its amazing functions are:-
The customer relationship management options of this tool are pretty much unified.
Sometimes, it also helps a business in the task of fundraising.
Marketing and handling of incoming customers are also done effectively by this tool.
Price: The price one needs to pay for these features is $8000 thousand, which gives them CRM, accounting, and POS tools.
19. NCR Aloha POS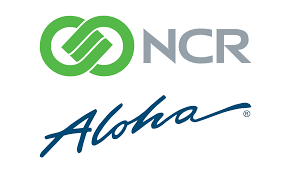 Attractive Features of this special Enterprise POS system are provided below:-
Assists properly in every electronic transaction for 100% accuracy.
Businesses can access them through any hardware like mobile devices or tablets.
There are many third-party integration options which makes it more beneficial for businesses.
Price: The competitive prices of NCR Aloha POS and sale tools are around $895, before which a business can also take a trial version.
20. POSist Restaurant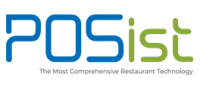 The software is specially designed for full-service restaurants and food /beverage businesses having the following function sets.
There are a kitchen and staff management option which is the most important in the case of this tool.
All the operations run through a cloud system which makes your business more efficient.
It is a great option for your customer to order on the go and then pick the order.
Price: The price to be paid by this tool depends on the transaction method that is used by the customer.
21. Helcim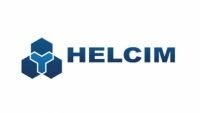 The in-built feature of the Helcim software is mentioned below in detail.
Helps in the management of proper commerce solutions for online store operations.
There is an option of subscription service management that will send alerts to both businesses and customers.
Have some strong security measures taken in it, which prevents online frauds.
Price: The price set for this tool is meager, i.e., $20 per month, with minimal sales transactions charges.
22. ProphetLine Software

This system is working with the motive of eliminating the issues that are caused by credit cards payments and make them simpler for the business laid by ProphetLine internet communications. Moreover, they provide some advanced security system which makes it a favorable tool for making payments and managing the customers. The transaction charges of these software providers are around 2.49%.
23. Vend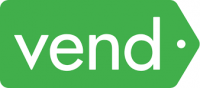 The features of this Vend POS system are:-
Handles your e-commerce tasks properly by creating effective POS.
Provides hardware that can help you manage the source tools properly.
Payment options are very well managed by the tool.
Price: The cost of Vend POS can be $99 to $159 per month according to your plan.
24. Lightspeed

If you are looking for the strongest tool for POS and management for your jewelry stores, then Lightspeed can be your choice. Here are its features.
Manages your inventory, catalogs optimization, orders from vendors and customers, and much more.
Provide you with an integrated report with the accounting done automatically in the software.
Price: One has to pay $69 as the monthly price above, which they also take a transaction charge of 2.6 %.
25. Epos Now

Some of its competitive features are mentioned below.
Gives up an in-depth analysis report which has better data visibility.
There is an option for inventory management also, along with managing the point of sales.
Manages the customers and orders placed by them.
Price: The complete version of this system is available at $749, in which a tablet register is also included.
You should also check out the best webinar software.
What Is a Point of Sales Software?
The software through which a person can conduct sales and stay in contact with their customers is known as point of sales software. The point of sales is considered a cash register earlier, but now your mobile devices or some other electronic device is considered the point of sales through which you can operate your store and make sales. The main task that is performed by the POS software is doing the tally of the cost of the product that is selected by the customer and then helps them in conducting the transaction to buy the product. The detailing of the tasks that are performed by the point of sales tool is:
The first task of this software is to help out the business in billing, and with that, it processes the order if the payment is successful.
They also work as perfect sales monitoring software, which means that at the end of a fixed period of time, maybe it's a day, a week, or a month, there is a report generated by this tool which will help you monitor the sales.
POS software also helps out in managing the inventory that is left behind after successful sales automatically.
The software also helps out a business in better customer management in an automation mode. It will help you out in ensuring the smooth efficiency of the customer buying process.
Gives various options through which you can also manage your employees at some stage of the business.
All these tasks performed by the POS software have attracted businesses towards themselves. But there is confusion in the mind of every business person seeing the options of tools available in the market. That is why, in this article, we will be discussing the best POS tools that are currently ruling the industry. So, lets us get started with our software directory.
F.A.Qs
What is the hardware requirement for managing the POS software and stay updated?
The very first key questions that most of the business personalities have in mind are regarding the hardware that is required. There are many software tools like accounting tools, which need specialized hardware if you are looking to operate that software. But the POS solution doesn't need any specialized hardware. A person can easily manage the tool with their android devices or touchscreen tablets also.
What is the payment mode that can be accepted through the POS systems?
This is one of the common questions that if you are buying a POS system, then they will provide you with complete freedom to you and your customers to make a payment. According to the convince factor of the customers, the tool has provided an option of paying through cards and other RFID payment source solutions when they buy a product through the POS software.
Are there reporting features available in the tool?
The best part about the POS tools is their reporting system. You will find out that the tool is very efficient in generating a sales report that will give you detailed information of who your customer was, the product they have brought through retail businesses, and how much payment they have made?
Do I need a large-sized business to own POS software?
This is a misconception that is running in many people's minds. The answer to this obvious question is NO. A small business may also require proper management with a POS system, and for that, they can opt for the tools, which are open source systems or charging fewer amounts and providing the features required for their business point of sale. There are many companies offering support services for example I found QuickBooks Point of Sale support from a quick google search.
Conclusion
If you have not made a mind until now that your requirements are from the POS tool, you should first do that task and then start taking software decisions. All they need to do is start comparing their requirements with the tool's features and benefits, and they will land the tool that can fulfil all their demands that too at an unbelievable price.