OCR (Optical Character Reader/Recognition) is a kind of software that lets you convert characters in image files to printed text flawlessly. Although different OCR software platforms come with various features, the basic functionality remains the same.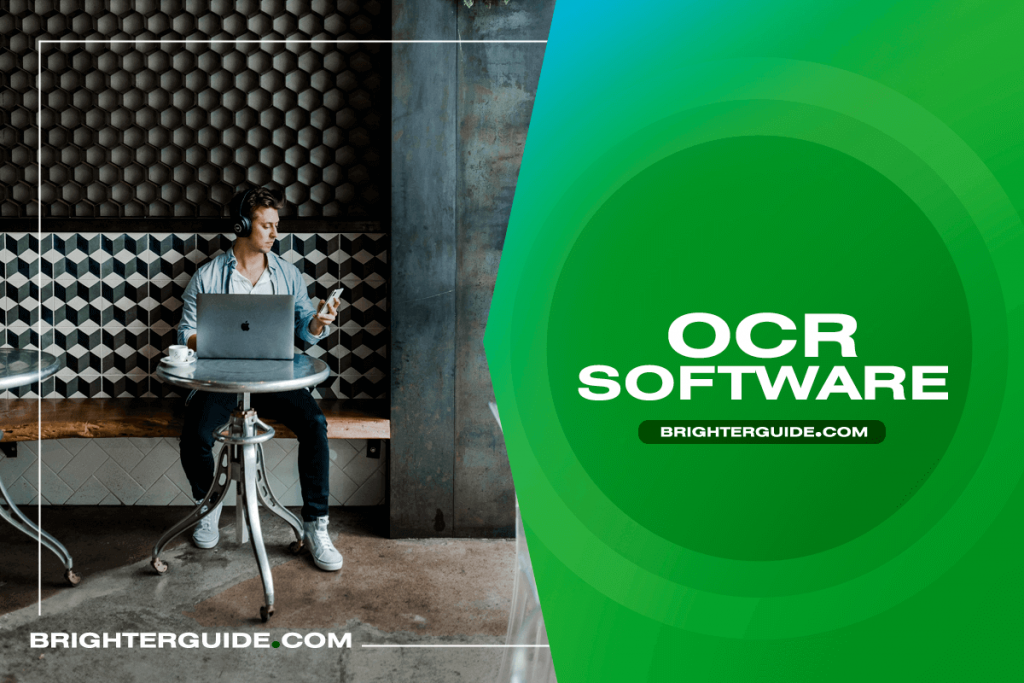 OCR software has a wide variety of possible uses, especially for students, educators, and scholars. In this article, we will enumerate the top 25 free/paid OCR Software options available in 2021.
Before you explore our top OCR software list, consider other software to make your work even more efficient: screen sharing software, encryption software, best password manager, best antivirus software, project management software.
Best OCR Software 2021 – Our Top Picks
To help you decide which OCR Software to use, we have here the features, pros and cons, and prices of our top 10 OCR Software plus a list of other brands that are worth trying.
A simple yet powerful PDF editing app
Adobe has made a huge impact on the market for OCR software platforms with its flagship product, Acrobat. It is amazingly proficient at taking pdf files or scanned images and providing printed text for the characters in the same. It is a versatile tool, as this text can be edited and copied to your clipboard. You can insert it into any document and convert it into a new PDF file. While this allows for a plethora of possibilities, the software is completely free of cost. Adobe Acrobat remains the global standard when it comes to designing new OCR software.
Adobe can analyze image files as they are scanned in. This is especially helpful in digitalizing forms and handwritten applications.
You can also convert pre-existing image pdfs, images and other files.
It is oriented more for business usage than academic utilization.
You can also copy, paste and edit the analyzed text for any and all purposes that you might require.
Pros
Virtual signatures aided in recruitment by making it easier to fill out forms that were previously difficult to fill out and required the use of a printout.
It has consistently been the best PDF reader.
Cons
Sometimes a little sluggish
A little pricey
Keep it simple, as it was in the past.
After a free week-long trial, the cost will satart at $14.99/mo.
Convert Image to Text Efficiently
One of the most popular OCR software available in the market, OnlineOCR is reputedly reliable in using the latest Optical character recognition technology. It can convert 15 or more images in an hour, with an allowance for 46 global languages. What makes this tool a worthy alternative to Adobe is its ground-breaking versatility in handling BMP, PNG, JPEG, and even the Zip file format, alongside many more. There are provisions for editing and using the generated text for myriad purposes, as the documents to PDF functionality and the generation of editable documents in the form of a word or excel sheet. The software also supports the integration of the text into your website.
Helps convert images and texts from scanned PDF files into editable documents and word processing formats
OnlineOCR has a guest mode that is free of cost. In this mode, you can convert 15 files every hour.
It also has features like the automatic rotation of scanned images, conversion of coloured and grayscale images into black and white shades, alongside the retention of non-text areas so that the edited text can be easily inserted into the source document.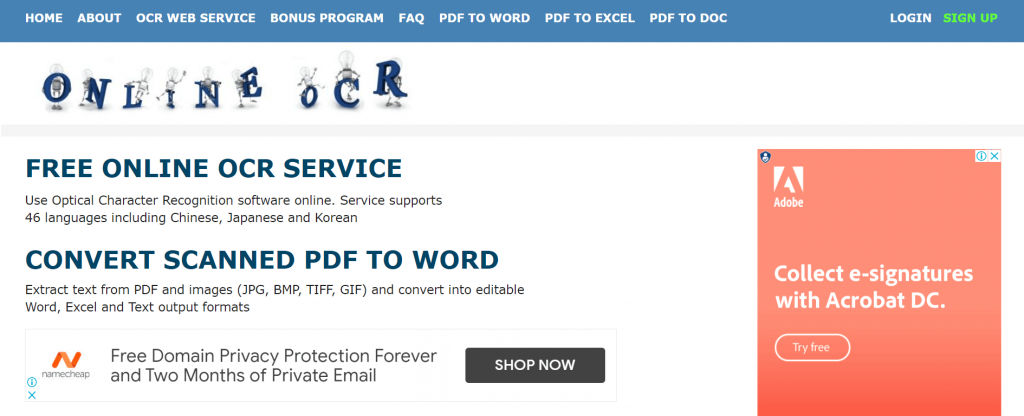 Pros
Online OCR is one of the best tools for quickly converting images/PDFs to editable text. It enables you to drag and drop a file or image into a specified area and boom. The tool is capable of working with multiple formats and converting them quickly and easily.
Cons
Can't provide 100 percent accurate results There is a possibility of errors and omissions, which is why proofreading is required after conversion.
Good results with only little effort
Suppose there is an online platform that excels at converting paper documents to a digital format. It would undoubtedly be Nanonet. This OCR tool provides a host of advanced features like a digital workplace with numerous customized fonts and an online converter tool that transforms paper documents into editable text files. Batch conversion is an additional blessing when dealing with a large volume of documents. The accuracy in conversion, and the list of options for editing, make NanoNet Technologies a perfect replacement for Adobe Acrobat DC Pro and its myriad versions like Adobe Acrobat Pro DC 2 and Adobe Acrobat Pro DC 4.
The starter model has several powerful features that come totally free. However, if you need the pro or enterprise versions, the subscriptions start from $499 per model, per month.
The pro version allows the integration of team members in a collaborative framework.
The Enterprise version can be ordered in the specific custom design for your business. The available features include client onboarding, and multiple software models with unique licenses that can suit your needs perfectly.
Pros
The ease of use
The ability to accept large volumes of documents
The reasonable price point
Cons
Because table annotation (list items) has opaque column headers, you must zoom in and readjust the table size if the column headers happen to be floating over a valid (legible) data row.
Free=100 pages,
$499= 10,000 pages
An extremely valuable tool in fostering automation for my small-sized accounting firm
This is a revolutionary new tool that integrates OCR technology and scalable cloud software in one compact package. Kudos to ABBYY Software House for hitting the ball straight out of the park, as ABBYY Cloud Reader, provides for the generation of text integrated into all kinds of documents and editable text formats. Be it searchable documents or editable PDF documents; the quality is significantly enhanced by the exhaustive database of custom fonts. Overall, it is an efficient virtual machine.
In addition to manual documents, ABBYY's AI-based OCR technology can also recognize business cards and invoice receipts. Supplemented by recognition for dozens of languages, this is a valuable functionality for the everyday user to be integrated into any device in the domestic or office space.
Can be used for AI-powered recognition of barcodes, handwritten and printed text, and optical marks (OMR & OBR) using Web API software tools.
Its framework is powerful and customizable, to allow for the conversion of the scanned document arrays into easily editable platforms that can be made into PDF files.
You can use the REST API to get access to the OCR software from all across the world, using GET and HTTPS POST requests. The results are generated in JSON or XML configurations.
Pros
OCR editor with a keyboard interface for manual corrections.
The interface is exceptionally clear.
Exports to a variety of formats.
A one-of-a-kind document-compare feature.
Cons
There is no full-text indexing for quick searches.
$199 Standard version
$299 Corporate version
Best platform for hosting, virtual machine and satisfy most requirements
The list would be grossly inconclusive without incorporating Google Cloud, a versatile API software with built-in OCR technology, in addition to numerous features that outshine Adobe by miles. The level of quality and accuracy is phenomenal, with powerful features like AI-powered invoice data extraction and deciphering any image PDF file. The capability of recognizing Multi-languages belies the rich framework that supports its AI-run Technology & Cognition LAB. The Cloud-based Order Management Platform allows for conversion routines and diverse workflow options to handle and optimize manual documents from any possible source.
The first 1000 units scanned and analyzed are free-of-cost. However, after that, you need to pay for each and every feature that you use. This makes each application separately priced so that you can mix and match the available features.
From customizable cropping, face detection, landmark detection, company logo identification, the features are practically endless.
Google CLoud Vision API uses the company's standard encryption protocols that help to keep your data secure and sound.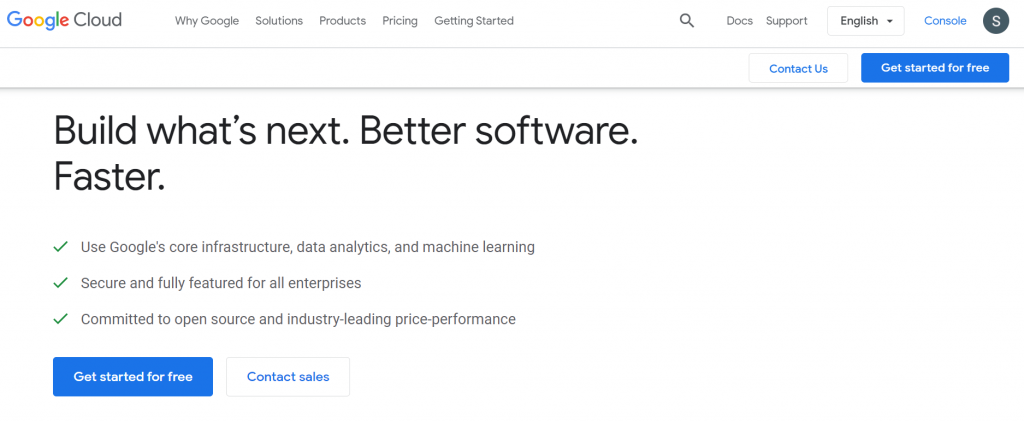 Pros
A powerful platform with excellent Windows and Linux support.
A large number of global private networks equates to speed and ease of connectivity.
A fantastic collection of AI and data analysis apps.
Cons
It is more expensive than AWS.
Integrating with non-Google products can be difficult.
A Consumer-favorite Free OCR
A truly reliable cloud platform with capabilities for business card scanning, AI-powered, cloud-based invoice data capture solution, recognition of additional languages, and handling digitized documents.
Pros
Helps to convert scanned images and image PDFs into easily editable formats.
It also allows you to compress and merge PDF files, which is a tool that finds high value in regular business operations.
Allows you to convert any and all file formats into PDF frameworks.
Cons
Large files may cause large loading time.
A Convenient Online OCR For Quick Conversions
A specialized tool for all kinds of file formats. It helps you convert a simple image into digital documents with additional invoice processing capabilities. The output options are vast and numerous, enabling and strengthening the concept of a paperless office.
The standard model is free, while the Pro platform starts at a monthly subscription of $30 per month.
The free version generates PDF files with watermarks, while this can be removed in the paid versions.
The rate of units processed starts at 500 per day for the free version and can go up to a maximum of 6000 per hour in the paid versions.

Pros
Convenient and accessible for everybody
Cons
Limited compared to its competitors
High-Quality Conversion Powered by Google's OCR Engine
A commonly used platform that employs non-standard fonts in a wide range of output formats that is supplemented by recognition capabilities for several additional languages
Pros
Runs smoothly on both Windows and Apple (Mac) Devices
Cons
Quite expensive for its limited features/offers
Lifetime – $15
Half Yearly – $29
Yearly – $49
Works Like Wonders Despite How Simple It Is
This remarkable yet simple software is a tool for scanning image PDFs and converting them into bundles of documents that are editable and accessible on the cloud.
Pros
Offers multiple scanning and converting services
Simple and smooth service
Cons
Only accessible through Windows
Contact Symphony OCR for your price
A Pioneer in Android and iOS Scanning
Among popular scanning software options, Finescanner deserves special mention due to its remarkable document scanning accuracy and conversion efficiency. It can easily take image PDFs and convert them into digital document files.
Pros
Very powerful and precise text recognition features.
Cons
Better used for text analysis only.
Limited features for other scanning tasks.
11. Textfairy
The similarity between the source material, and the generated output, makes this online converter tool highly reliable. A large number of editable text formats add icing to the cake.
12. Softworks OCR
The versatile applications of machine learning power are easily noticeable in this popular OCR platform that excels in Natural language processing, alongside providing a versatile PDF tool.
13. Scanbot SDK
It is an OCR platform with multiple document processing modules that improve Adobe's standard document management strategy.
14. Text Scanner [OCR]
Handling digital documents is a specialty of this software, allowing for scanning invoices and business cards. It can be used as desktop software or a portable Android program.
15. OneNote
An on-the-go PDF generation and handling tool that reduces office labor by significant levels. Its AI-powered OCR equipment checks characters in scanned images before converting them to the closest alphabet analogs.
Other Viable OCR Software Options
16. PDF
Scan invoices and business cards with this versatile tool if you want to remove a considerable portion of your everyday office labor.
17. Amazon Textract
Amazon's product Textract uses machine learning power for Natural language processing that makes the transformation of source material into digitized text files highly accurate and flawless. Handling large batches of documents in its cloud document storage removes the need for purchasing the services of third-party document storage providers.
18. ChronoScan
A diverse variety in template format, accompanied by limited conversion capacity, makes it a very balanced OCR tool for casual users.
19. Readiris
If you are looking to get your image files converted into editable PDF documents, then Readiris is a scalable cloud software option that would be perfect for your needs.
20. Evernote Scannable
A newer entrant to this list, Evernote Scannable has all the features and properties that allow you to handle different kinds of documents with a versatile PDF tool.
21. Infrrd
Innovative and brand-new functions and properties allow for transforming source material into desired formats using a highly efficient and reliable PDF tool.
22. OCR Text Scanner
A simple-to-use and popular OCR platform for domestic usage.
23. SimpleOCR
A freeware alternative that outperforms many established OCR software options available in the industry.
24. Rossum
Cutting down on your manual data entry requirements is now possible due to an OCR tool that is as reliable as Rossum. Turning a batch of unstructured documents into an organized cloud storage folder is their forte.
25. VueScan
A worthy and proven alternative to most commercial OCR platforms available in the market.
These are our top 25 picks for good OCR platforms that have found rising popularity among free-home users, casual users, and businesses worldwide. Their diverse and numerous features make them suitable cloud platform software alternatives to Adobe and its product range.
Of course, an OCR would not be the only software you'll need. You may also need 3D modeling software, accounting software, data recovery software, ERP software, payroll software for your work.
F.A.Qs
How to edit scanned documents?
OCR Software convert scanned documents to text files, which you can edit, print, and optimize as per your requirements. This applies to any physical document that has been scanned, including image PDFs, banners, posters, scanned books, etc. Besides, good OCR platforms support a variety of fonts and languages, which makes the process even more convenient.
What Is OCR and How Does It Work in Kofax Software?
OCR software platforms are essentially tools that convert printed characters on scanned images or PDF documents into editable text files that can be edited and put together once again. Recognizing patterns and converting them to the closest fit alphabet is what an OCR software excels at.
The functioning is straightforward and comprehensible, as the scanned image is just to be dragged and dropped into the software, and correcting the minute flaws in the transcribed writing.
Is OCR software accurate?
With features that support a wide variety of fonts and languages, most modern OCR software platforms are proficient in character recognition and transcription. What works at the core is the software's algorithm to look for and recognize visual patterns among pixels of different colours. Avoid old and outdated software, as old OCR algorithms were mostly non-effective