Are you bored with Skype or are you having issues while making video calls with Skype? And maybe you need a better alternative with more packed features like it, which you can utilize and renew your monotonous virtual lifestyle. If yes, then check this list of best 6 Skype alternative Massaging (both free and paid) apps.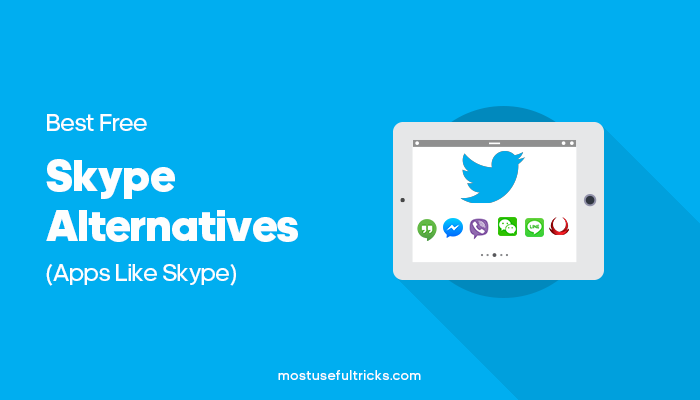 We all love chatting with our friends, aren't we? With evolving technology we can now do video chatting, decorating our texts with gifs and emoticons, sharing videos, images, documents, etc. Skype is a very powerful platform for this, and it could be used for personal as well as professional works. As it includes features like instant messaging with your colleague or employees, make voic calls, screen sharing, making video calls, video conference ( personal and group as well) and other tools you can use. To make it more convenient, you can also download the mobile app for both android and iphone. And with corona virus (Covid) , people are connecting virtually, attending online webinars and online meetings.
But as different people have different choices, some people are not very happy with Skype and consider using its alternatives. So In this article, I will tell you about the best six Skype Alternatives.
It is an application just like Skype. It also provides you with instant message services like Skype. You can call or text anyone in the world. Just like Skype, Google Hangouts lets you video call or call your other Google Hangout friends for free but will cost you some money if you want to call someone around the world who is not on Google Hangout. You can even use this video conferencing platform to meet people virtually and conduct online meeting in hd video quality and dates with friends. You can also check out online platforms and games like Words With Friends Cheat » Get Help, Cheat & Win in Games! Go play!
It has so many users as most people use google account and almost all the users of Google take advantage of this application too. You can call in USA and Canada using Google Voice with no charge applicable. You can even do a group call with a maximum of 10 people. The quality of calls and video calls are of excellent quality.
You know about Facebook, right? I'm kidding everyone knows Facebook. Well, have you ever used the Facebook messenger? Facebook Messenger lets you chat with your Facebook friends, and recently Facebook added video calling to its Messenger. So now, you can do Audio Call and Video Chat with the Facebook messenger. The quality of the conversation will be great.
Moreover, the most remarkable thing is – The Facebook Messenger is completely free. You can download Facebook Messenger for your Android or iOS device from below, or if you want to chat with your friend on your PC, you can use the Messenger.com.
It is another great substitute of Skype and just like skype it let you call any other VOXOX user for free, and VOXOX will cost you some charges when you call a landline number or mobile number from VOXOX. It is most suitable for Business people. It also ensures a great quality of voice as well as video calling.
For small business people, it is a very dedicated application as it offers cloud-based phone calling system which is a unique feature of it to small business people with affordable charges and dedicates numbers.
Viber was launched as a direct competitor to Skype back in 2010. This video conferencing app earlier was limited to VoIP calls only in between the Viber users, but now it allows you to make calls to landlines with anyone around the world or mobile number at an absolutely low price.
It has a very intuitive interface, and also it maintains a good quality of audio and video calls. Also, the best thing about Viber is that it is absolutely ad free that means you won't be annoyed by the additional ads anymore.
WeChat is developed for China(as every Google and Facebook service is blocked there) and comes second in the race of instant messaging application after WhatsApp. It is a very popular app as it offers excellent quality of voice as well as video calling even in a very weak internet connection.
It makes the best use of the internet. It is considered a combined application of Facebook, Instagram, Twitter and Skype into one single app. You can share photos, texts, videos with other WeChat users for absolutely free.
WeChat has a unique feature called Shake which allows you to shake your phone to find nearby WeChat users. Also, it has another unique feature called Drift Bottle which let your message float until someone actually finds it. It allows to play in-built games and also post pictures and upload statuses on your profile just like you do it on Facebook. It also allows you to do group chat and WeChat is absolutely free to download.
Line is a great app to use as Skype Alternative. Just like Skype it allows you to call or text or share photos, videos, texts etc. with other Line users for free and cost you money either on a monthly subscription or call credit system. It has some unique stickers which are only limited to Line (like Taylor Swift stickers). The Line messenger promises the great quality of calls with the superior codec. It also lets you play games, create a custom profile, etc. Line is suitable for business people.
ZOOM
Zoom is another great app for you where you can video chat with a lot of people, organize webinars, classes, businesses and seminars. You can make unlimited video conferences here and it's available for free download. Companies hold meetings through zoom because it is convenient. The video calling feature is easy to use and is among the best video chat apps or software today with screen sharing features. With additional features, you can also send messages , file sharing , conversations and make communications through Zoom. You can also share screens and business users can also present presentations and projects. Make a room and share link to start the video conferencing service. If you have issues with screen, you can contact the customer service or change settings. Your privacy is also protected. You can connect with people from different countries and start calling for hours to minutes. There are so many business applications/business apps with business tools and for business communications. And Zoom is one of them. If you have privacy concerns, you can always change it from the privacy settings. With so many functionalities and capabilities, individuals can enjoy this great video conferencing app.There are different versions of video calling apps like skype. But Zoom is also another great app among all platforms where you can use on both your mobile phone and laptop.