Having WiFi coverage in your home or office is crucial nowadays, but we encounter many uninvited leechers in our Wi-Fi network. Having too many active wifi devices connected to your router may slow your internet down or make your router misbehave. In this article, Brighter Guide will tell you the best ways to kick unwanted people off your WiFi.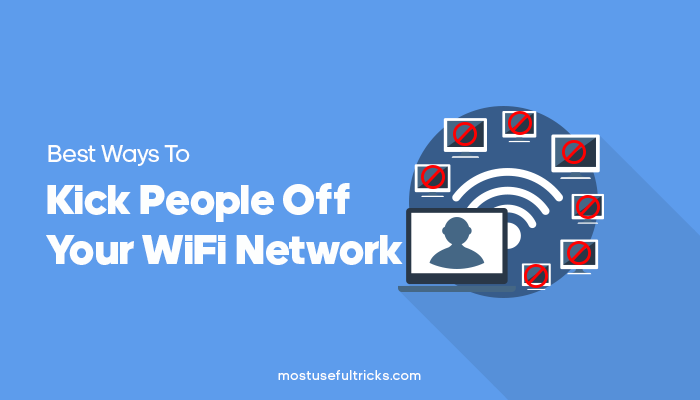 If you purchased WiFi routers and pay for the connection, you deserve smooth and uninterrupted internet access. But having a router without any precautions and security can be a real pain. Please read this article completely because we will add a bonus method to kick everyone else with access to a public Wi-Fi network.
There are several ways to stop access from unauthorized devices to your WiFi, but most of these create a mess for your alias too. So, we will cover every possible and efficient method to make sure that no foreign devices remain connected (or connect) to your Wi-Fi network. So let's get started.
Best Ways to Kick People Off Your WiFi
Changing Password – This is the most traditional way to remove unwanted users from your WiFi. This also restricts people who don't know the new password from connecting to your Wi-Fi network in the future. Changing the passwords method actually works great. You need to access your routers' admin panel at 192.168.1.1 and set new passwords.
Changing Your WiFi Name – From time to time, we enter the passwords on a visitor's device but don't tell them the passwords. But what happens is, the device gets connected to the Wi-Fi as soon as the device comes in the network range. This can be a real pain because you just temporarily wanted to allow that device on your Wi-Fi network. You can change your Wi-Fi network's name in this scenario, and those devices won't connect to your Wi-Fi network again because the name and passwords won't match.
Blocking Mac Address – You can use this method – If you find any unrecognized device connected to your WiFi or you want to ban someone from your network particularly. To do this, you need to login into your router's admin panel and navigate to the connections manager. Once you block that mac, the router will kick that device off your Wi-Fi and won't let it connect to the Wi-Fi again.
Allowing Only Specific Mac Addresses – Most of the routers can allow only specific devices using their Mac address or addresses. You need to enter those sets of mac address in your Wi-Fi router's admin panel.
Allowing Limited No Of Devices – You are also given the option to limit the list of devices to connect with your Wi-Fi network at a time. It will eliminate any extra load on the Wi-Fi and enhance the WiFi speed.
Calling for Support – You can also call your ISP for support and let them know that someone uses your network. Follow the instructions which the support executive suggests.
Bonus Method – Kick Everyone Off From a Public WiFi
Public WiFi becomes too slow when too many persons are connected with it. You can cut everyone's connection so that you are the only one using the network and access the internet through it. This makes sure that you are getting the maximum possible internet speed by eliminating all other network users. This makes sure that you are getting the maximum possible speed by eliminating all other users of it.
In this method, we will be using an application called WiFiKill Pro, which is available on Google Play Store. Follow this simple instruction on how to do so.
Install the application and follow the on-screen instructions.
Now open WiFiKill Pro and tap on Scan. This will scan the Wi-Fi network for all other connected devices. It will also show details of the router and its mac address.
Now just with a single tap, you can disconnect up to 254 connected devices.
Wrapping Up
No one wants unwanted users connected to personal Wi-Fi. We hope that this guide will help you eliminate your problems. We built this guide by doing wide research and made sure that it's easy to understand and execute. Ask us about unauthorized users or unauthorized access that enter the network without permission, guest networks, network encryption, private network, Router settings, Router reboots, router configuration, Wireless device, Gateway IP Address, User interface, address Filtering, Wi-fi security, Wi-Fi Connections, Advanced Router Security, Address Settings, Automatic IP Addresses, Advanced tool/software tools, Wifi analysis tool, Wifi security features, separate access network, security settings, network resources, network properties, static IP address, unwanted connections unencrypted WiFi connection, configuration settings or anything from the article above.
However, you are free to use the comments section if you are facing any difficulties. Your thoughts and experiences while implementing these processes are always welcome. Please share with us.