If you are new to WhatsApp and want to find out a way to add people , a family member or a contact to your circle using the app from your phone contacts, we have what you need. We assure you that the instruction will be easy that you won't have to read the entire page again twice.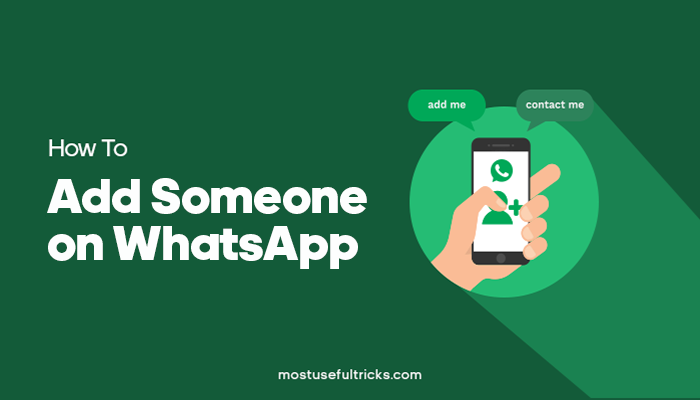 So if you are finding us through a laptop or PC, we suggest that you ready your phone or android with the WhatsApp application and the follow the steps. It will be best if you do this step-by-step guide while reading it from this page.
Learning how to add someone on WhatsApp is straightforward. But for the sake of learning, we will be guiding you through the steps. There are a couple of ways to add a contact on WhatsApp. So we will be giving you all of the famous and common ways on how to do it. Rest assured that you will not leave this webpage empty-handed.
Adding Someone on WhatsApp
Adding someone on WhatsApp is like adding a number on your phone. In fact, you and your phone will be integrated and synchronize the moment you open the WhatsApp app. To make you better understand this method, we will go through the tutorials. And we will start to the easiest one and to a little more complicated method.
Method 1: Using a Phone App and Contacts App
As we have mentioned earlier, the moment you open the WhatsApp app on your mobile phone or android, it will integrate immediately with your smartphone's contact app or android. Read the steps below to find out how it works.
Assuming you have installed the WhatsApp, open it.
Now leave it running in the background.
Go to your Contacts App to choose a contact number or a group of numbers to send an invite.
Add a contact number as you used to when you are trying to add a new number to your phonebook by tapping the New Contact or accessing the dial pad.
Save the number you typed in and go back to the WhatsApp messenger
Now on the app, tap on the mail icon that indicates a new message
After you tap the New Message, you should see a list of contacts (if there are any). Scroll up and down to find the a contact that you want to message
That's it.
Read more on Brighter Guide:
Method 2: Within the App
Read the steps below:
Within the WhatsApp app, just tap on the new message icon (the mail-looking one at the bottom right).
You should see a list of contacts. Since we will be teaching you how to add new contacts on WhatsApp, you should choose or tap the New Contact button.
Assuming that this is your first time, you will be asked which Gmail account you want to use to save the new contact. If you have multiple Gmail accounts on your phone or android, you will have to choose the one where you keep all your personal contacts.
Next is to type the name of a contact that you want to save.
Below that, type number of a contact person.
You may add as many details that you want. When you are done, tap on Save or Done, whichever is on display.
Click back and when you are back to the list of contacts or a new contact, tap on the three dots located on the top right corner of the screen.
Tap Refresh and a prompt will shortly appear that says Contacts List Has Been Updated.
Now scroll up and down and look for the new contact name or just use the Search icon next to the three dots you just used to refresh the list.
Click on the name of the new contact once you see it. Type your message and send it.
That's it.
You can also read a trick on How to Know If Someone Blocked You on WhatsApp and another trick on WhatsApp Text Formatting: How to Type Bold, Italics & Strikethrough in WhatsApp.
Method 3: Add Contact on Group Message
This is only applicable if you have a chat group on WhatsApp. If you want to add them, there are two ways to do that. Here is how.
For Existing Contacts:
On the WhatsApp messenger, tap on the group chats you want to add the new contact number.
Once in, tap on the three dots on the top right corner of the screen.
Tap on the Group Info.
On the new page, scroll down and look for the Add Participant.
Tap on it to show the contact list inside your phone.
Scroll through the contact list until you find the contact name that you want to add to the group.
Tap on the name, and it will automatically be added to the group chat.
NOTE: Know that whatsApp QR Codes can be used to save a contact or start a conversation. You can even add someone to a group by scanning a QR Code.To do that, you can open WhatsApp web on your smartphone tap settings > select WhatsApp Web. Next, point your smartphone camera to scan the QR Code to open conversations Make use of WhatsApp QR Codes to place an order, book a class, or even arrange a pick-up by directly initiating a WhatsApp conversation. In business and marketers, even though WhatsApp QR Codes are kind of advanced for the users it still makes the process easier for your customers to get in touch with you.
Incase your smartphone camera does not support QR Code scanning, you can download any third party QR Code scanning app to scan your WhatsApp QR Code.
For New Contacts:
On the WhatsApp messenger, tap on the group chats you want to add the new contact number.
Once in, tap on the three dots on the top right corner of the screen.
Tap on the Group Info.
On the new page, scroll down and look for the Invite to Group via Link.
Tap on it to create a link. You can take a reference from the picture.
You may copy the link and share it with your friends so they may add anyone to the group.
Or you can tap on the link, and a list of social media application installed on your phone will appear.
Choose which social media or app you want the link to be shared and just paste it there.
Anyone with the link can now join the group chat you are in. Enjoy!
NOTE: You can connect Whatsapp with email addresses or social media accounts, you can use tools such as the Facebook SDK and Twitter Kit for a business account. Make sure your email address and phone number is authentic.
Conclusion
As you have found, they are pretty easy to follow and remember. I bet you can do it now on your own just reading this article once. So we hope that this little tutorial about whatsapp has been of great help.
In today's question, what is the best thing about Whatsapp messenger? What makes it better than the other messaging app available presently? The choice is yours. Tell us what you think in the comment section below because we love to know your opinion. Who knows, your other favorite app on any devices will be the next one that we will feature. Millions of people across the country use this app to access information, video chat and entertainment. Active users can share video , give direct message , receive incoming messages, save chat window, voice recording and view status profiles of your entire contact on whatsapp to worldwide users.
And please feel free to leave all your questions and other suggestions down below. We will appreciate every comments you make. Thank you.