Being blocked by someone on WhatsApp is somewhat offensive. No matter if it is someone you care about a lot or someone you recently met. There will still be some ounces of a sad feeling when they do. But the more unfortunate part is not knowing when you are actually put on a blocklist. So in this article, we will teach you some WhatsApp tricks on knowing if someone blocked you on WhatsApp.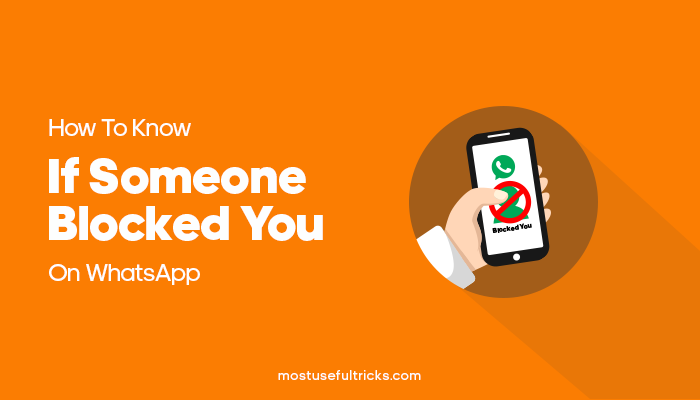 If you are curious about a particular individual, if he or she is ignoring you or entirely blocked you on WhatsApp, these methods are of great help. Although these tips may be accurate most of the time, the best way to know if they blocked you is to ask them directly.
Yes, it is not that easy to ask and confront people, especially if it is not in your nature to engage people, especially when you are uncertain of the outcome. So if asking directly is not an option, these tips are the next best thing to do to find out for yourself. So continue reading and find out if someone blocked you on WhatsApp. Recommended Read: 4 Ways to Message Someone Who Has Blocked You on WhatsApp.
Checking If Someone Blocked You On WhatsApp
Check Ticks
The first and easy way to find out if someone put you on his or her blocklist is to see the check ticks on your WhatsApp messages. If you have been using WhatsApp for a reasonable amount of time, you are already familiar with the check ticks that appear on your messages.
For those that are not yet familiar, here is how it works. For the past few days, they have two check ticks and one the color blue for messages you sent and read for the past few days. While for the sent and received messages but not yet read, there will only be two checks but not in the color blue.
Lastly, we will have one check for those messages on WhatsApp that you sent but not received or read. It means that the app is unable to deliver the message to the recipient. So that is one indication that you are on a blocklist. But that alone is not for sure because if the recipient's phone is off, this can also happen. Download YouTube Vanced on your Android phone to watch YouTube videos without ads.
Also, if you are on a person's blocklist, you will not see under that person's name if he or she is online or not. So if you want to find out more, go to the second method. Finally, play the Amazon Quiz contest on your Amazon mobile App and win daily prizes and cash.
Check Profile Picture
If the first method raises your suspicion, this one will put another nail on your instinct. So the next thing that you should be doing is to check that person's profile picture/profile photo.
If that person has blocked you, you are not supposed to be seeing his or her picture at all. But of course, you could be wrong with your assumption. First of all, the missing profile picture sometimes happens when you have a slow internet connection. So perhaps you should wait a little longer or try again later if it will appear or not.
The second thing is that it could be possible that the person removed his or her profile picture earlier. Although that is very unlikely, it could still be possible. You may try to ask a friend close to you to check a person's profile picture. If his or her profile/profile photo has photos on another person's WhatsApp profile, then you are really on the blocklist.
Make an Audio/Video Call
Here is another way to check if you have been blocked on WhatsApp. Try calling the WhatsApp profile of that person or that contact. This could also fall along the lines of the first method. Being that the phone and app were offline or out of coverage area. But it can still help with your investigation.
If the recipient's phone is not off, but you still can't connect to the person's WhatsApp profile or that contact, that means you are on the blocklist from his or her account.
Add Profile to Group
The first three methods might have some loopholes, but this last one will seal any doubt that you are on someone's WhatsApp blocklist. What you should do is create a group on WhatsApp. Add some friends that are okay with you creating a group with them.
If everything functions normally and you can quickly add or contact the group, nothing is wrong with the connection or bug with the app. Now try the person that you suspect has blocked you. If an error message says that you do not have any authority to add that person, you are blocklisted or blocked.
To be sure, try adding other people or contact the group again on WhatsApp. This is to see that it is not a bug in the app. If it pushes through, then the app and its function to add to the group are alright.
Try adding the subject person again or contact. And this time, if it still shows an error about some authorization issue, then you are unquestionably and 100% blocked on that person's WhatsApp account.
Check other articles from our blog on How to Use Dual WhatsApp Accounts on One Android Phone, 4 Ways to Text Someone Who Blocked You on WhatsApp, How to Lock WhatsApp With Fingerprint & Password on Android/iPhone.
Conclusion
If you confirmed that a contact/person had blocked you on WhatsApp, try to be open-minded. It isn't very kind at some level, but still, you should try to be calm as much as possible. If you are not upset, you may try to talk to that person. Ask him or her what's up. There should be a good reason why he or she blocked you on Whatsapp. You won't see their status updates, and a checkmark will be just one single tick and not double checkmark / double ticks. You will not be able to see the person's online status in the chats and the user profile photo of the person/ default profile picture. You will also not be able to make calls/voice calls to them. These are all indicators that you are blocked.
If you have more ideas on finding out and know if someone blocked you on WhatsApp, you may tell us in the comment section. We would love to know more. For questions and suggestions, feel free to leave your message in the comment section as well. We will try to answer them all as soon as we can. Ask about checkmark/blue checkmarks, gray checkmarks, blocked contacts, simple network error, participant error,  person messages/person icon, contact details, checkmark icon, app feature, or anything from the article.