WhatsApp, this instant messaging application has always been innovative. Although its simplicity is the reason why it has managed to grab a huge amount of active users. After being sold to Facebook, WhatsApp has got some major tweaks which include voice, video calls, and some interesting WhatsApp text formatting updates.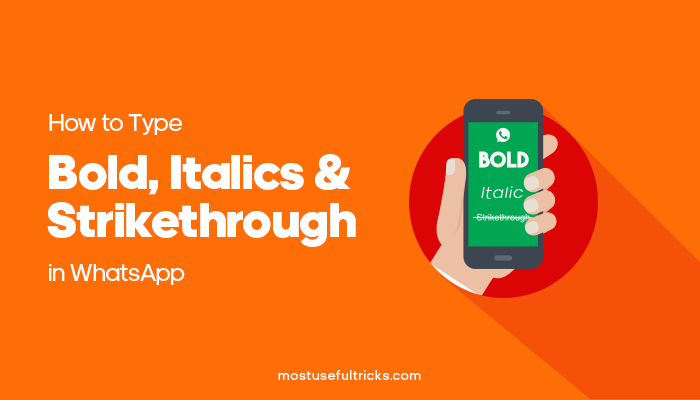 Other instant messaging applications have been continuously rolling out new features in their applications. So the WhatsApp text formatting was developed to maintain the edge over its competitors. Now you can type your replies in bold, italics, strikethrough and send it to your friends and family.
However, it was not immediately clear to most of the WhatsApp users about this update. WhatsApp was silent and didn't advertise these new features.
Many people still wonder how some people are able to format their messages. So as an aid to this, we will tell you how to type bold, italics and strikethrough in WhatsApp.
How to Use WhatsApp Text Formatting
WhatsApp text formatting is easy. You should find how you can manipulate text formats in this easy to remember tutorial. These WhatsApp text formatting will work on WhatsApp private message and WhatsApp group chats.
Bold

To make any letter or words bold, all you need is to put asterisk at the start and end of the word. It should look like this: *word*
Italics
For those of you who like to emphasize a slang or a foreign word on your message via WhatsApp text formatting, here's how you can italicize any word. Just place underlines before and after a word like this: _word_
Strikethrough
A strikethrough font is used when you want to show that a certain word is not included, crossed out, or should not be a part of a message. You can do this by adding tilde before and after a word like this: ~word~
Monospace
Monospaced words are typically used to create a a distraction in a sentence. It was originally designed to work for typewriters as its mechanical function relies only on the uniformed size of the letters horizontally. If you want this effect when you type using WhatsApp text formatting, you will need to place triple tick before and right after a word like this: "`word"`
Note: These methods work on both Android and iOS-based Smartphones.
Conclusion
I wouldn't be right if I state that you are one of the billion individuals utilizing WhatsApp consistently. It has been an essential method of communication for nearly everybody. The great thing about the WhatsApp is that the developers continue updating it with new highlights once in a while.
In case you don't know, WhatsApp has as of late included barely any progressively most required highlights. You would now be able to type Bold, Italics, and Strikethrough text messages from your iPhone or Android phone using WhatsApp. Like every single other element of the application, this also is very easy to utilize.
These methods should work for every user running Whatsapp on any operating system. However, if you face any difficulties while trying to use these Whatsapp text formatting then you might need to download the latest version from the app store. We love to hear from the community. Please drop down your thoughts and feedbacks in the comment section.