This little tutorial will teach you to delete a Gmail Account or a Google Account in just a few clicks. This is the latest 2018 guide about how you can delete a Gmail account and still use other Google services (If you want).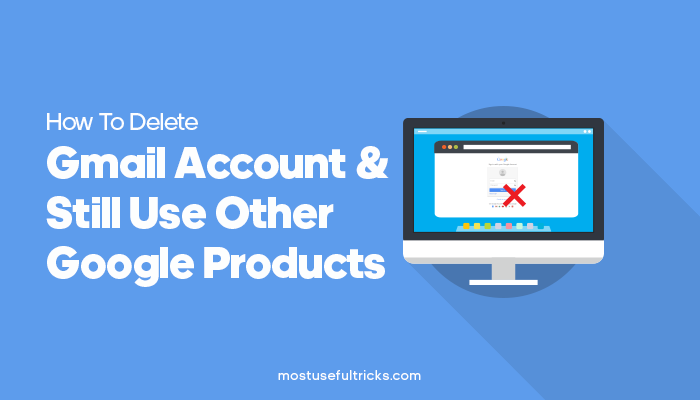 Gmail is Google's emails service which offers nearly everything for free which you would want from an email service. With 70% of the entire email user base, Gmail is clearly people's choice of email. Next to Gmail is Microsoft's Outlook with around 18.8% users using their service.
Gmail Account makes it easier for you to Google's services like YouTube, Android, Google Plus, etc. But don't' get confused you don't need a Gmail account to use these services. When you sign up for a Google account, you get a Gmail account with your very own username and password. Now you will be using it to log in to your various Google services but what if you don't need the email service, I mean your Gmail Account.
Maybe, you want to watch youtube videos but don't want to use email at all. For you there is a solution, you can just delete your Gmail account excluding other Google products. Doing this your other Google products will be safe and you can use them later (For instance you can still use your google play purchases). Now you may ask "How To Delete A Gmail Account?" Well, It's easy. Just follow the steps mentioned below.
Read more on Brighter Guide:
Steps To Delete your Gmail Account
Step 1: Open https://mail.google.com/ on any browser you prefer.
Step 2: Log in to your account with your login credentials.
Step 3: Now Open This Link, You will see something like this (See Screenshot)
Step 4: Next, click on Delete Products (You Will Need To Login Again). This will open a new popup message on the screen (check the screenshot below)
Step 5: If you want to still use the other Google products then just enter any other email ID (can't be a Gmail account) and verify that email. As you can see in the screenshot, they will send a verification message to this new email address. Gmail won't be deleted from your account until you've verified your new address by clicking the link in the verification message. After that, you can use that email address to log in to other Google services like Google Play, Docs, Calendar, etc.
If you follow all the steps mentioned above, your Gmail account will be successfully deleted. You may check what happens when you delete a Gmail account.
You or anyone else can't use that email ever again*.
All the emails of that account will be deleted.
However, Other Google Products such as the perches you have already made on google play and your search history won't be deleted.
* You can undelete your Gmail account by going to https://mail.google.com/ and login to your account using the login credentials. Source: https://support.google.com/accounts/answer/61177?hl=en