Do you want to know how you can maximize your Freecharge and Paytm? It is a lot easier if you start your finances online mode because the world is changing and everything has gone digitalized. It not only saves time but also makes transactions more convenient.
Paytm has a large network, and many retailers accept it as a payment method. There aren't many retailers in the freecharge case. How to Convert Freecharge Balance To Paytm Balance? Read on this article to know everything about it.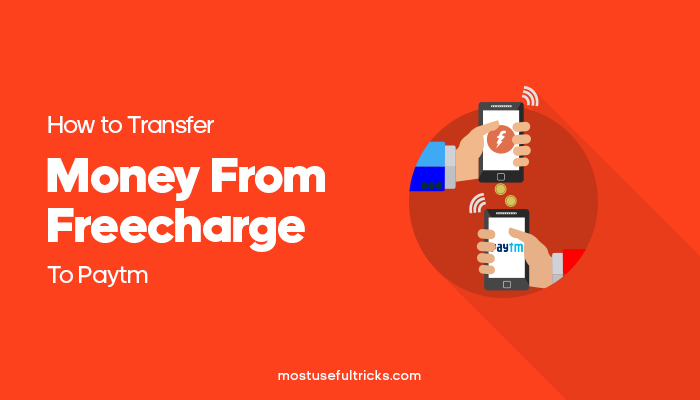 Freecharge and Paytm; these two are just some of the leading digital payment wallets in India. They are both useful and user-friendly. Freecharge was started with an amazing reception from users. But somehow, Freecharge failed to capture a strong customer base and ended up getting acquired by Snapdeal. Still, Freecharge is considered as a major online payment wallet and is trying hard to cope-up with the competitors.
On the other hand, Paytm (funded by Alibaba Group) successfully hit a hammer on the right moment which raised its customers and merchants in a marginal way. This was also the main drive why millions of users signed up to Paytm services. You can be a seller on Paytm mall and earn money.
You can find shops and banks accepting Paytm as a payment method in your area. But you would not find shops accepting Freecharge.
So, it may not be wise to carry Freecharge money and purchase products. Therefore, here's a way to convert Freecharge to Paytm credits the easy way.
How to Convert Freecharge Balance To Paytm Balance
So what if you still want to convert your balance on Freecharge to Paytm currency? There is still a working method, so let's jump straight into it.
Step 1: Login into your Freecharge account using the Freecharge application on your smartphone.
Step 2: You will find a window containing a button labeled "Withdraw to a bank." That is where you are going to put the amount that you want to be converted.
Step 3: Enter the account details. After that, click on Withdraw.
Step 4: Wait for the money to get credited in your bank account.
Step 5: Now open Paytm and click on Add money. Wait for it to load.
Step 6: Enter the amount you wish to add in Paytm. Any amount will do.
Step 7: Enter your card/net banking details and complete the transaction.
Congratulations! You have now converted your Freecharge to Paytm Balance.
You can also read more articles from our blog on: Download PayTM App for PC Laptop Windows 7/8/8.1 Computer , How to Delete Paytm Wallet Transaction History From Account Statement , How to Delete Your PayTM Account
Why You Need To Convert Your Freecharge Balance To Paytm Balance
Paytm has a huge network, you will find a lot of retailers accepting Paytm as a payment method. While in the freecharge case you won't find many retailers.
You can't withdraw freecharge balance to the bank account till 45 days of being added to the Freecharge balance.
Freecharge usage NEFT to transfer your balance to your bank account which is not instant and many other reasons.
Let's just accept the fact that Freecharge money has multiple online usages like bill payments, recharge, flight bookings, movie bookings, online shopping, etc. But what if somehow you want your Freecharge balance to be converted into Paytm balance?
There was a working method before which includes applying for a virtual debit card on your Freecharge account. And then use its card credentials to add money on Paytm.
But unfortunately Paytm doesn't accept Freecharge VCC anymore. However, you can follow the steps I have written above to transfer the balance from Freecharge to Paytm cash.
Note: Add cash to your Freecharge wallet by utilizing standard choices like a Debit or a Credit card, or even by utilizing Netbanking. For wallet to bank transfer, there is a constraint of Rs. 5000 for each exchange, Rs. 20,000 every day and Rs. 25,000 every month.
Conclusion
Online money transfers have now evolved into a means of avoiding any cash scarcity issues. Since money can be moved online through a digital wallet without any fuss, a full list of prerequisites and legal formalities is no longer required. We have introduced the new working method after the previous Freecharge VCC method stopped working. We also understand that the new process of transferring Freecharge to Paytm balance is a little too long and complicated. But it's completely tested and is working. Paytm is a platform where you can do instant money transfer or money to family or ask money from friends and so is your freecharge wallet balance which is a mainstream payment method that many users use. If you have questions about digital payment option, internet-based payment option, Online payment method, transaction option or other such questions, post them in the comment box below!
We took the utmost care to make sure that the guide is simple and informative. Still, if you face any difficulties then let us know. Which digital wallet you like more and why? Let us know in the comments.