You have to give something in order to get something. But sometimes, the best things in life come for free. Yes, here are some ways to get a free mobile recharge. Free mobile recharge allows you to connect with more people and experience life more fully. Here's an article that explains how to acquire a free mobile recharge.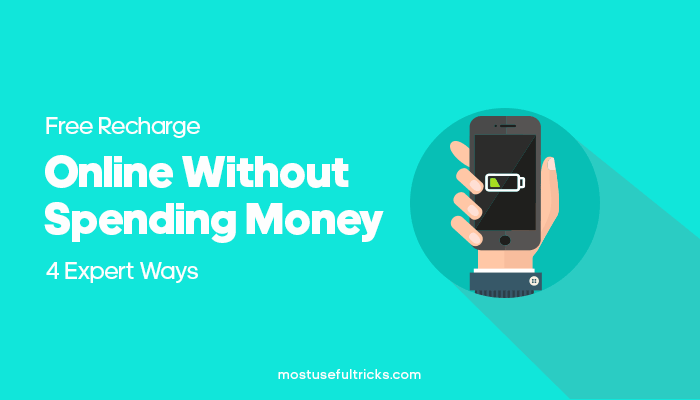 We will be giving you tips on how to get free recharge in simple ways that you probably never knew were possible. This will be quick, so please read this article carefully.
Today most of us recharge our mobile phones online. There was a time when we have to go out and recharge our phones from mobile shops and loading centers. But now everything can be done online through an app, services, or even kiosks.
The best part is, there are some of those apps and online services that offer free recharge when you do transactions with them. Take for example being an Amazon Prime member. They are offering Rs.50 free recharge to each of their customers.
These days, free mobile recharge sites like Paytm, Freecharge, and MobiKwik are very popular for their services and also their free recharge schemes. I know most of you are already using their services. Even with Freecharge – Mobile Recharge, you can pay shopping bills and buy Shopping gift cards. But not all of you know how to avail those free recharge. And that is what we will talk about here.
Check out another article on mCent Browser – Download to Get Free Recharge and Data Everyday
Free Mobile Recharge Without Money – What You Need to Know
Most of the free mobile recharge sites are very easy to use. And the good news is that nowadays, online recharge sites are giving free recharge or more than free recharge offers to the customers.
The reason for this trend is because of healthy competition among those companies. These companies are trying to gain more and more user-base (Users) in the market.
So in order to attract more users, they are giving awesome offers every other day. These offers are from online surveys, signup bonuses, and even cash back from shopping and paying bills.
And if you follow these companies and avail of their services then I'm quite sure that you will be able to get free mobile recharge once in a while. Sounds good, right?
I will suggest that you create accounts in all of these websites/apps that we will mention here. Sometimes these companies give away offers on the same date. So you should have an account on all of these websites which you think can offer free mobile recharge.
4 Ways to Get Free Recharge Online
Here are the sites and services that you need to check out right away. Please note that in order to get those freebies and free mobile recharge, you will have to make an effort. A small price to pay rather than going out of your way and do the heavy lifting. All you will need is to follow their requirements and get all the free recharge that you want.
PayTM Free Recharge Offers
Paytm offers financial services such as money transfer, mobile recharge, DTH recharge, and bills payment. If you do all of these transactions with Paytm, you will get bonus points and rewards. You can use all of those rewards as your mobile load and ergo free recharge. So create a Paytm account now to get started. It covers major network providers.
Check out more articles from our site: Transfer Money from Mobikwik to Paytm or Bank, Transfer Money from Paytm to Bank without Charges.
mCent Browser Trick
There are many free recharge android apps, the mCent browser is one such app. Here we will cover a number of those that are tried and tested so that you can enjoy the free recharge just like others. Let's dive in.
---
mCent Browser is not just a simple mobile browser. It gives you points for every successful referral that you make. And with those points, you can get free mobile recharge.
How hard can sending referral be? And here is a little trick I found on the web. Open this site on the mCent browser. The page will refresh every 3-seconds and it will give you continuous points. Giving you faster points generation on your account. Just let it run for a whole day and see for yourself. Don't forget to share this site on WhatsApp and Facebook, Help your friends earn more money as well ;).
Pay-Box
The Pay-box site offers Rs100 just be joining and the rest is available as points within their services. Go check them out and see enjoy free recharge as soon as possible.

Amulyam
Amulyam is a mobile recharge online service that gives you instant free recharge for every transaction that you make. That's right, instant smooth processing free mobile recharge. Why don't you create an account to Amulyam right away and start earning your free time plan recharge today?
I hope you find this quick blog post helpful, Do share your thoughts in the comment section. And if you have any idea for getting a free mobile recharge, please share that with us. If it's good, then I will add that to the post with your name. You can also collect mobile credit. But it differs from American Countries to African Countries. Get mobile credit for phone numbers on mobile recharge websites with offers like free calling minutes or airtime minutes.
Conclusion
It's been a long time now since traditional money transfers were the only option to support your loved ones before. But now you can recharge with digital credit, digital money, and online too. Online mobile recharges have become so popular and because of this, there are many online recharge options and online recharge plans. It is easy to make quick recharges. These days, you can recharge mobile online through Debit Card by entering card details. But make sure you are using a safe site. If you want to use some particular mobile recharge services, they have a list of plans like mobile plans, roaming plans, and top-up plans. There are so many other options for you where you can find a way to get free recharge.