The crisis is here again. The error sign that we all get and silently wait for it to stop flashing. Just a few days back, I started getting the "unfortunately android keyboard has stopped" message on my phone. It's quite a bummer you see. If you are facing the same and here for a solution, you are in the right place.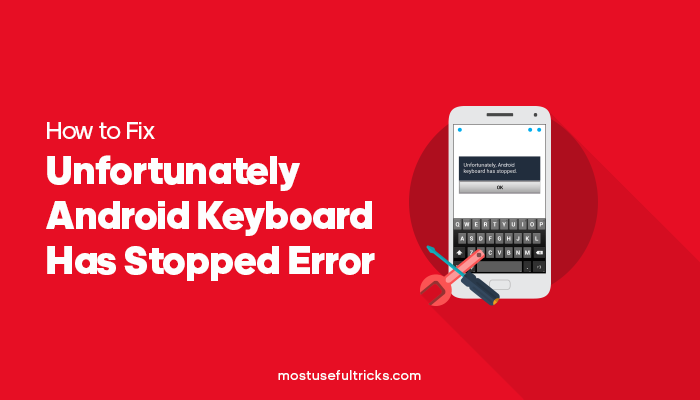 Most people these days use Android Smartphones, especially Samsung. I agree that Windows phones and iPhones have a pretty good market share, especially since the iPhone has a pretty significant user base in some countries. As we talk about android apps, YouTube Vanced is an incredible free app that helps you get rid of the ads. Now with the Vanced app, you can watch YouTube videos without ads.
But Samsung, or Android in general, is the current king of smartphone OS. Android's Samsung is a great OS, but you can face some errors with your Android phone/tablet from time to time. Most of these issues will be software-related, and only a few people will meet these, but unfortunately, I'm among those people.
Today, I will be discussing one of the most significant software issues on Samsung Android. A few days back, I was using one of my phones (Micromax Canvas Blaze MT500) when I get the error that says "unfortunately, the android keyboard has stopped." Because of this error, I was unable to use the Android keyboards of the phone.
Thus, I can't do anything (like browsing the web, chat with someone on WhatsApp, reply to emails, etc.) with the phone. It was a pretty irritating thing that happened to me last week. But after some tries, I get rid of the issue, and here I'm sharing my experience.
You can also check another article on 3 Ways to Fix This Copy of Windows is not Genuine Error from our blog!
How to Fix Android Keyboard Problem
If you are also facing this "Android Keyboard Error," then for you, I have shared the solution below. I have shared the exact steps you need to follow to fix the Samsung Android Keyboards Issue, especially on Samsung.
Go to Settings on your Android Phone
Open Apps.
Touch on option All.
Find "Android Keyboard."
Clear data.
Restart the Phone.
ALTERNATE SOLUTIONS
If you have tried all the common methods and solutions above on your Samsung device and it didn't work, you can follow these tips below as well, maybe for a permanent device solution or a temporary solution.
1. Reset Factory/Factory resetting
Perform Factory Reset if you cannot fix the "unfortunately Android keyboard has stopped" error after applying many solutions but consider the last options. If your keyboards don't work, consider resetting the device to factory settings from the keyboard settings menu works.
2. Phone Update Button/Update Option/Device Update
Forcing an app or phone update will ensure that you're running the latest version of Samsung, Android, or smartphone users and the latest version of your keyboard app if you even have keyboard apps. In case you have delayed a software update for a long time, then install the updates. This is another method you can follow as an alternate.
3. Software Update
You can try updating the Device Software because your device's software plays an important role in keeping all the phone users' apps running smoothly when you locate that software update. From the options, select update.
4. Delete Cache Files
While you are deleting the cache files, make sure not to delete any important information. You will lose your personal settings when you delete the cache data, temporary files, or unwanted files from any app. It is advisable to restart your device after clearing the keyboards' cache before trying to use those keyboards again. Try to follow these simple methods.
There might also be many apps that you have not installed from the Google Play Store, which means they are from another source and they do not support the keyboard settings of the device, which results in an error.
Conclusion
You can try the above-mentioned steps. These are all the steps. This should fix the issue. In case the issues do not get fixed, go to applications and find the dictionary provider app you have installed on your phone, Samsung, or iPhone doesn't matter, and clear that's data also and restart your phone. You can also try using third-party keyboard apps If your default keyboard has stopped every time you try to use it, you can try to change your keyboard and use third-party apps to replace it. Some apps have excellent feature perfect for Android device and make it your default keyboard app incase of keyboard failure or keyboard malfunction.
It will be working fine. I hope you find this post useful by the above-discussed methods. We will be glad to know your comments and suggestions. Ask us about power button, keyboard cache, safe mode, device reboot, alternative keyboard app, minor keyboard issue, keyboard language setting, keyboard application, software error, error message, phone restart, permanent solution, diagnostic mode, or any questions from the above-mentioned solution. Just leave a message in the comment box below, and we will respond as soon as possible!