A few days back I started getting the "unfortunately android keyboard has stopped" message on my phone. If you see a similar error, then read this post and learn how to get rid of this issue.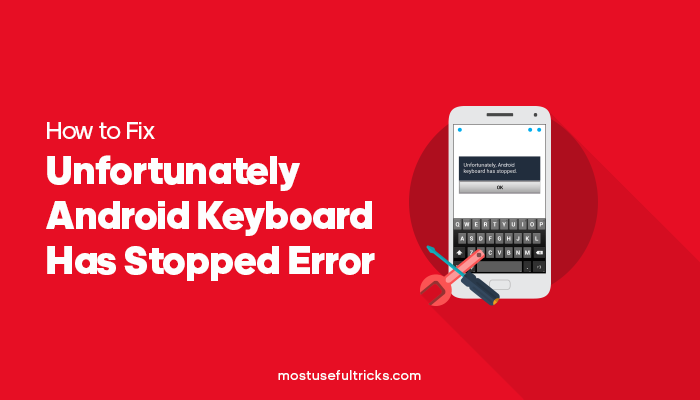 Most of the people these days use Android Smartphones. I agree that Windows Phones and iPhones have a pretty good market share, especially the iPhone has a pretty significant user base in some countries.
But Android is the current king of smartphone OS. Android is a great OS but from time to time you can face some errors with your Android phone/tablet. Most of these issues are going to be software related, and only a few people will meet these, but unfortunately, I'm among those people.
Today, I will be discussing one of the most significant software issues on Android. A few days back I was using one of my phones (Micromax Canvas Blaze MT500) when I get the error that says "unfortunately android keyboard has stopped." Because of this error, I was unable to use the Android keyboard of the phone.
Thus, I can't do anything (like browsing the web, chat with someone on WhatsApp, reply emails, etc.) with the phone. It was a pretty irritating thing that happened to me last week. But after some tries, I get rid of the issue, and here I'm sharing my experience.
How to Fix Android Keyboard Problem
If you are also facing this"Android Keyboard Error" thing then for you I have shared the solution below. I have shared the exact steps that you need to follow to fix this Android Keyboard Issue.
Go to Settings on your Android Phone
Open Apps.
Touch on option All.
Find "Android Keyboard".
Clear data.
Restart the Phone.
These are all the steps. This should fix the issue. In case, the problem did not get fixed then go to apps and find the dictionary provider app you have installed on your phone and clear that's data also and restart your phone.
It will be working fine. Hope you find this post useful. We will be glad to know your comments and suggestions. Just leave a message in the comment box below and we will respond as soon as we can.