As we all know, incognito mode is a shortcut to keep your browsing data out of the browsing history. It permits you to keep your perusing history hidden when utilizing a public PC, Android, or another person's device. All about privacy for personal reasons and keeping history private. The Incognito mode option is the answer and one of the alternative solutions for incognito browsing. This private mode in the browser on any android device or Pc, will give you protection for private browsing and protect your privacy. For some strange reason, some of you may want to remove the incognito mode feature of google chrome. Unfortunately, the latest version of Chrome doesn't offer a direct solution to turning off incognito mode. For the same reason, you will have to sneak into the software innards of the computer to perform the task.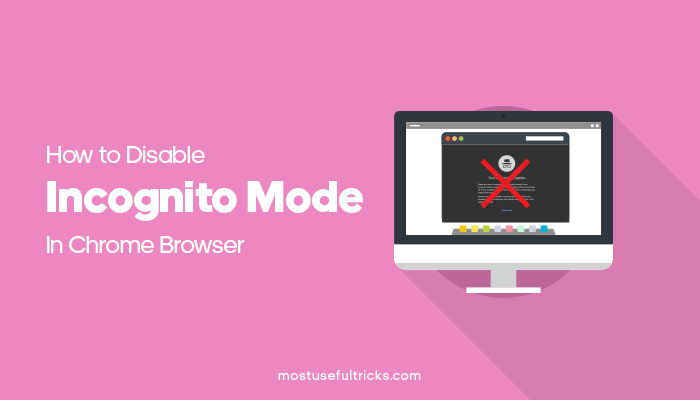 We have got two different methods to remove incognito mode from the Google Chrome browser on your computer. You can check both of them from below, read both of these carefully and follow the one you like the most.
In this post, we'll explore:
Method 1: Using Registry Editor
The system registry contains information about how a Windows computer runs, and the registry editor accounts for making changes in the same data. You can follow the steps given below to disable Google Chrome incognito mode using it.
Step 1: First, you have to simultaneously press Win key+ R to get the run dialogue box (alternatively, you can search for Run in the search field on the start menu).
Step 2: Once you get the box, you need to type Regedit into the field and hit enter. At this step, you may be asked to provide the process with admin privileges. Just hit enter to get the registry editor on the screen.
Step 3: Have a look at the left panel of the registry editor window. Then, follow HKEY_LOCAL_MACHINE > SOFTWARE > Policies > Google > Google Chrome.
Step 4: Here, what you should do is creating a new dword with the name IncognitoModeAvailability. Make sure you keep its value as 00000001. Don't forget to ensure that you created the new "dword" into the path given in the third step.
Step 5: Now, you have to restart the Google Chrome browser if you have it in the open state. Even if the incognito mode is visible after restarting the browser, just rebooting the computer will do the trick.
Method 2: Using Incognito Gone
Incognito Gone is a small utility you can use to remove private surfing modes from internet browsers. First, download the EXE file from the Incognito Gone webpage. Then, as you run the application, you will see the options to disable incognito on three different browsers (Google Chrome, Internet Explorer, and Mozilla Firefox). Choose the Disable button right next to Google Chrome, and you are done.
Incognito Gone is the best solution if you want to get rid of private browsing altogether from your computer. But you should know that users can still access the same in other lesser-known browsers like Opera, Safari, Maxthon, Vivaldi, etc.
Note:
You will see that the choice New Incognito Window isn't accessible any longer. So at the point when you open Google Chrome, you'll see there is no New Incognito Window choice.
Bonus Tip: Remove Chrome Incognito Mode from Mac
Are you a macOS user? Then, you won't find any of the above two methods useful for you. Don't worry we have a workaround for Mac users too. So, just follow the steps given below.
Step 1: Open the Finder and choose to Go>> Utilities.
Step 2: You can see the terminal there. Just open it up.
Step 3: To disable the private browsing mode on Chrome, you need to enter the following specific command into the terminal interface and hit enter. Defaults write com.google.chrome IncognitoModeAvailability -integer 1 Step 4: Finally, restart your Mac machine.
Check related articles from our blog on How to Block a Website » Chrome Desktop & Mobile, 9 Awesome Google Chrome Extensions For 2021, How to Enable Chrome Dark Mode for Android/Windows/Mac.
Wrapping Up
I hope you know how to disable Chrome incognito mode Windows and macOS now. Do you find this useful? Have you experienced any difficulties trying to follow the steps given above?  If you liked the contents, drop a comment below about cookies, non-necessary cookies, third-party cookies, IncognitoModeAvailability policy, settings menu, restrictions menu, private browsing feature, or anything from the article, and I will try to reply to your comment as soon as possible. Thanks for reading, Have a great day.