Internet Download Manager, aka IDM, is the most popular download manager software in the world. It has many awesome features that make it the best download manager software. However, you can face some problems with the IDM extension or on its main software. For instance, you may have noticed that not all types of files we download from internet support are resuming on IDM.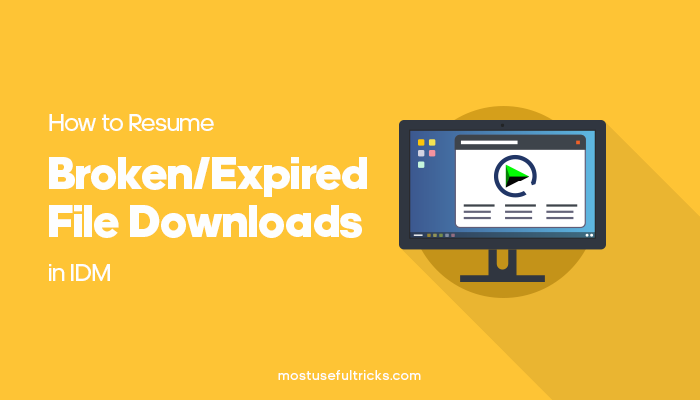 Actually, it's not the IDM's fault; some websites have time limitations for downloading any file, especially a file of size that is quite huge and could take up so much temporary file directory storage. This situation especially occurs when you try to download big file sizes from the internet. In such cases, if your internet connection is not that good, it's really a waste of time for you to try downloading a big file size that doesn't support your resume.
Because that means – even if a file downloading stops after 99.99% is done, it's useless as you can't download the rest. But, don't worry, here are some little tricks that will help you resume broken or corrupted file downloads on IDM, which don't support Resume. I'm sure you guys will find this trick very useful, check the trick below.
Resuming a Broken or Expired file Download in IDM, How to Continue Corrupted IDM Downloads.
Now for getting a better idea about this, let's presume that you were downloading a YouTube video from en.SaveFrom.net website, and your download has broken or stopped after some time, and here I will show you how to resume that original file download. You can check the entire step-by-step guide below. At the end of the post, I have described what we are doing here; you should also check that.
Copy the video URL and paste it into the URL box of SaveFrom.net.
Click on Download Link, and your file will start downloading.
As the time for downloading files from savefrom.net is limited (it's 12 hours). After 12 Hours, the file downloading will stop, and your download will become broken or expired.
Now for resuming the download, we will again go to Savefrom.net and Do Step 1.
This time we will copy the download link by right-clicking on the download link and copy the link. Then go to IDM and right-click on that file which you were downloading, and select Properties.
Select the Entire Old File Address and Paste the new File Address there.
Click on OK, and Start the download, and your download should resume now normally.
As you can see, we are changing the old download link with the new one, so that's all you need to do. Just change the old download link with the new link to resume any file download in IDM. For more info, you can check what we are doing here below.
What We Are Doing Here – Explained
We download files from an Address, the address is the location of that file on any web server (where everything is stored). We enter the address in the download URL box so the computer can download data from that specific location of the internet. So, in this Trick what we do is – charge the old File Address with the new one to start the download again.
So that was all about how you can resume any file download on IDM, Thanks for reading the post. Please comment below and share the post on social media if you think this can help people.