I have shared the only two working methods for downloading and installing Xender for PC Windows 7/10/8 Laptop. I have also shared the official download links on this page. Keep reading to know how to download and install Xender App on PC. For more related articles, you can also visit Brighter Guide.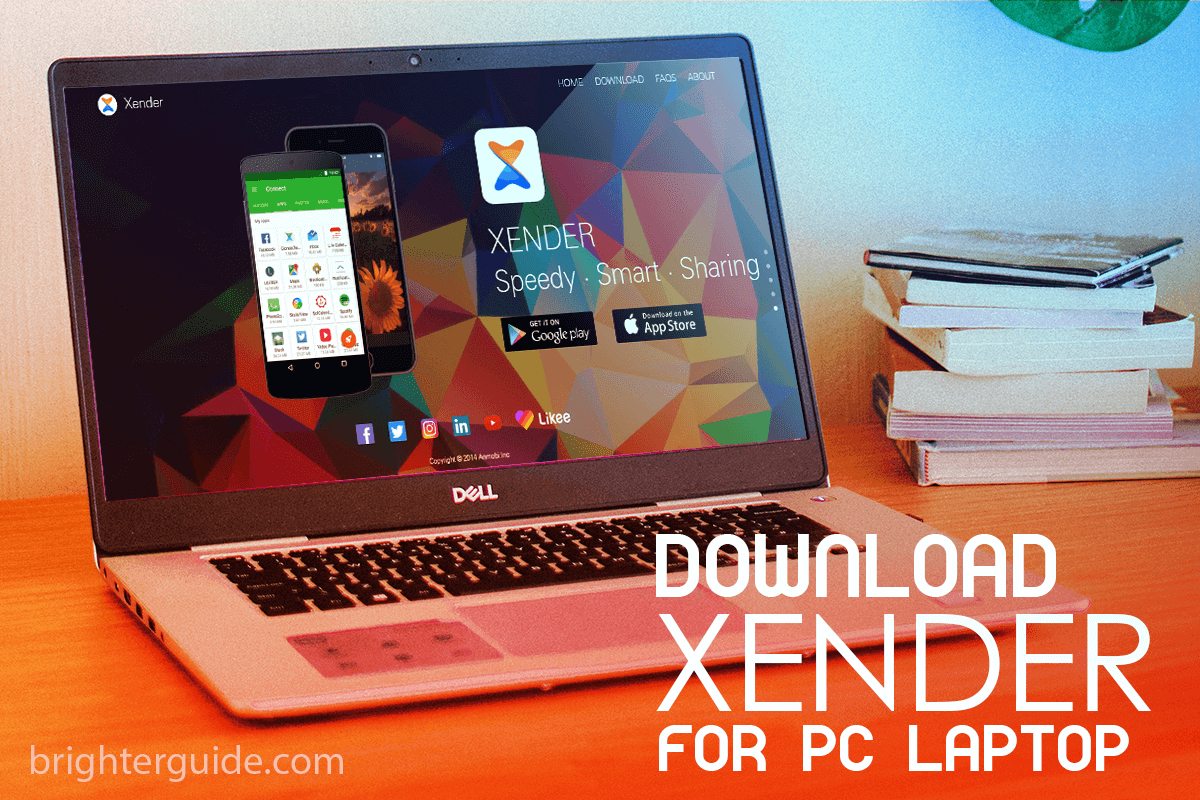 The Xender app uses WiFi to transfer files between two devices. Officially it's available for Android, iOS, and Windows Phone. However, some of you want to run this app on your computers. So here I'm writing this article. I hope you will like it. Let's get started.
You can share files between multiple (up to 4) devices simultaneously using the Xender app. All the devices need to be connected to the same WiFi network for Xender to work.
However, it uses your local wifi network so that no data charges will be applied. Xender can also create a temporary WiFi hotspot on your mobile to which you can connect your computer. And share files between your PC and phone using the Xender app (More on this later).
Must Check – Best Webinar Software Platforms to Use.
Download and Install Xender on PC Windows 7/8/10
Xender is one of the most popular Android apps available on the Play Store. But they still don't have any PC version available. ShareIt, a better alternative to Xender, has Shareit for PC, which is super popular. Most of the people I know have the Shareit app, and only some have Xender.
Now, It's totally your choice which app you want to use. But If you want to stick to Xender, then let me tell you that there is no official Xender for PC app available at this very moment. So, you can't download the "official Xender for PC app." But, there's no need to feel bad as there's a workaround to download and install the Xender App on your PC/Laptop (Basically on any Windows Computer.
Actually, there are two methods for using Xender App on PC. Below I have shared step by step guide for both. Previously, I showed you the steps in my previous blog posts like downloading Hotstar for PC Laptop and downloaded hike for PC Laptop.
How to Use Xender App on PC – The Steps
Step 1: As there is no Xender PC version available we have to install the Android version of Xender on the computer using a good android emulator. If you don't have a good android emulator installed on your PC then download one from below.
After downloading, install the software on your computer by following the on-screen instruction. Download BlueStacks / Download Andy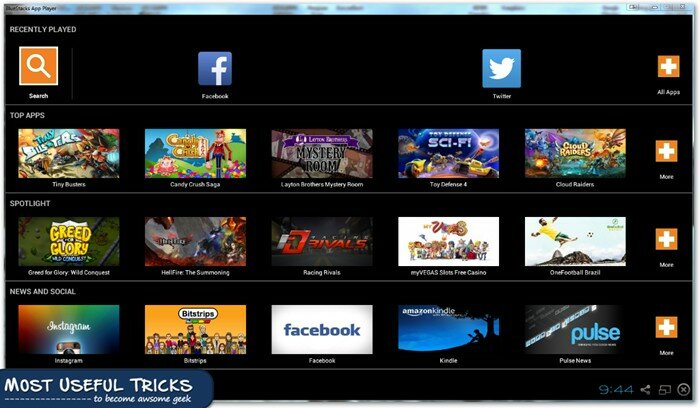 Step 2: Now all you need to do is download the Xender app from the link below. After downloading finishes move to the next step. This is an APK file that will be installed on your computer.
| | |
| --- | --- |
| Name | Xender v12.0.1.Prime |
| Size | 19.19 MB |
| Requirement | Android 4.0 or higher |
| Developer | Anmobi |
Step 3: After Xender Download Finishes, all you need to do is right-click on the file which you have just downloaded and open it using the Android Emulator software which you have previously installed on your computer.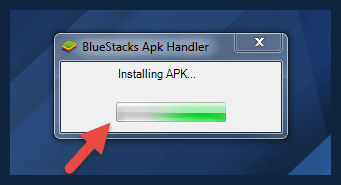 After a while, Xender App will be installed on your PC. Now You can use it by launching the app from the Android emulator's apps section. Please note that you need to connect your computer to your mobile's hotspot for using Xender for PC.
How to Use Xender On PC Without Downloading Any App
Sure one can follow the above steps and download Xender on their PC. However, if you don't want to download apps like Bluestacks, you can follow this guide.
Here you will learn about how you can use Xender on PC without downloading any app. We will be using the "Xender Web" for transferring files between Computer and phones with Xender. Start following the step-by-step guide below.
Step 1: First of all, connect both of your devices to the same wifi network. Also, please make sure you have the latest version of the Xender app installed on your phone. If you don't, make sure to download it from the link I have shared previously.
Step 2: Now open the Xender app and click on the green Send button. Afterward, you have to click on the "Connect to PC" button. You will see something like this on your phone's screen (see screenshot below).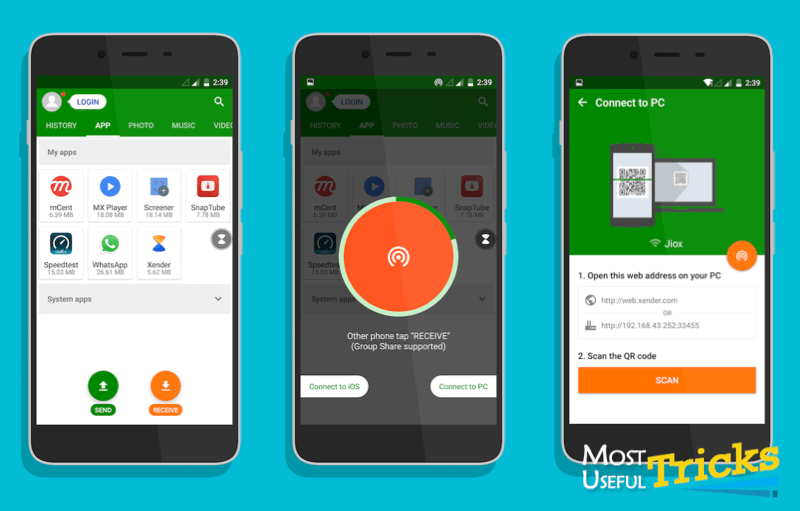 Step 3: Now connect your computer to the temporary hotspot that Xender has created. Next, open any web browser on your computer and type the IP Address you see there. Next, you have to accept the 'connection to your PC' on your phone.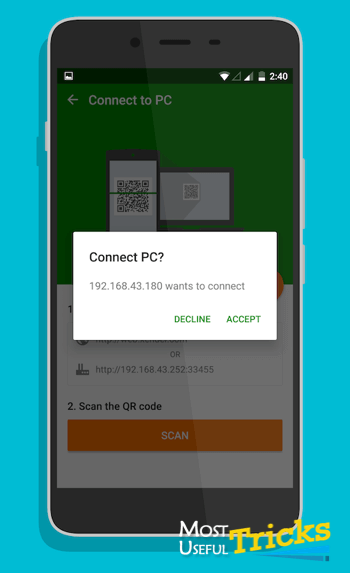 Step 4: Now you will see the Xender desktop interface. Browse through the tabs to download files from your phone to your computer and you can just drag and drop files to that browser window to transfer files on your phone.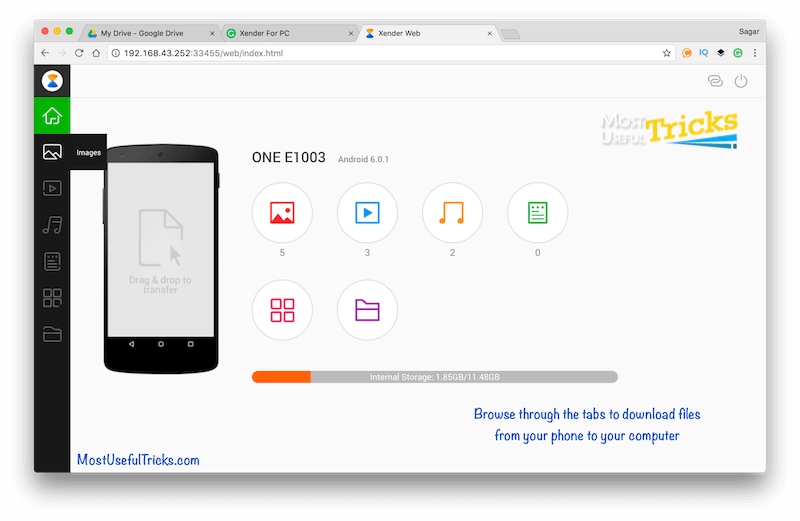 In Conclusion
On the no.1 spot as a famous file transfer app, but now that spot has been taken by Shareit. According to my, Shareit is a much better app than Xender. A great file sharing application/file transfer app for all android, smartphone devices, and other mobile devices. This file transfer application allows users to transfer files within sections, and this feature is why users rely on it. Transfer videos and music files to a friend without the internet or internet connections or USB cables with great speed and less time. And that too any quantity of files without any size limit. You can use the app on PC by using android emulators and start sharing files.
I would suggest all of you try Shareit both on Android and PC. Try Xender and Shareit to compare both. You will notice the difference. Mostly I love the UX of the Shareit app better than Xender. You can ask us about file manager, file share, file size, file format, video library, files between devices, product developer, trial software product, version guide, or other questions.
I hope you like this blog post about downloading Xender for PC Laptop Windows 7/8/10 Computer. Please share this post on social media with your friends and family if you find this useful. Moreover, if you have any questions or suggestions regarding this topic, please comment below in the comment section. And thanks for reading. Have a great day.