Do you hate the stock look of your Android ROM device? Then you know the best solution is installing a launcher app. But the biggest concern about any Android launcher app today is the amount of memory it drains.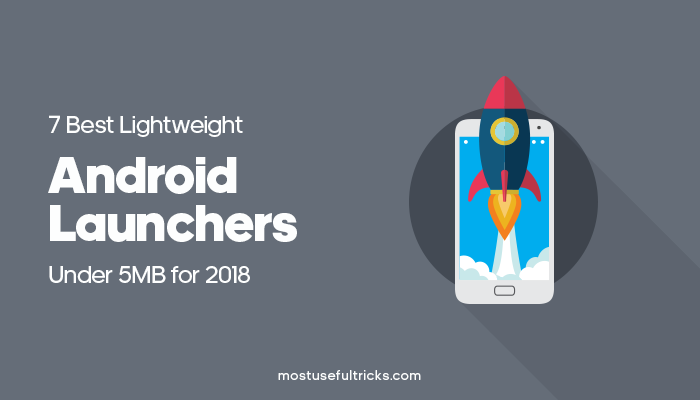 Unfortunately, the memory drain results in slower speed performance of the device. That's why from the last few days I was testing some Android launchers on my phones. Trying to find the best lightweight Android launcher app.
From now on, you can change the appearance of your phone without affecting the performance using these lightweight Android launchers. Here, I have handpicked seven lightweight launchers for Android that you can use on nearly any Android phone in the world. You can check the list below.
1. Holo Launcher
Don't confuse this with Hola Launcher because this is a different launcher. If you want a stock-Android-look based on Marshmallow, you should install this launcher as it would give you the same experience.
You can apply icon packs in this launcher as well. The launcher supports gestures and you can scroll through the icons placed on the dock. With a few bucks, you can buy Holo Launcher Plus and get additional features.
2. Smart Launcher 3
This app was first released as Smart Launcher. As the launcher got many positive feedbacks, the company updated it to Smart Launcher 2 and now to the third version. The size varies from device to device.
On my Zenfone 5, it showed the size of 3.69 MB so this should mean that the app is lightweight on system resources. Though the size isn't big, they have integrated an in-house lock screen, customization features and app security with the interface.
3. Mini Launcher
You won't need more than 3 MB of space to occupy this app on your smartphone. The extensive support for the Go Launcher themes makes this one customizable to the core.
Unlike two launchers I shared above, Mini Launcher provides you with a sidebar where you can spot weather info, recent apps, and contacts. Though the launcher has no app locking, you can hide them to protect from unauthorized access. Also, the gesture feature of Mini Launcher comes in handy.
4. ADW Launcher
Do you have a device with an old Android version? If you do, you might have disappointed to see those three above because most of them don't support Android version below 4.0. But ADW Launcher's broad range of support starts from Android 1.6!! There are tons of themes and the compatibility with third-party launcher themes. You can mix the icons, font style, folder and color schemes of different themes to come up with your very own interface.
5. Cheetah Launcher
As the name indicates, the launcher uses 50% less RAM than even your system UI. This launcher's size is slightly over 3 MB. Along with the themes, it offers tons of animations to revamp your home screen. The launcher finds your most used app and places the same on your desktop for the convenience. There is a unique feature that helps you add icons in bulk to the home screen. You can download Cheetah Launcher from below.
6. Mi Launcher
Are you a fan of MiUI of all the Xiaomi Phones? Do you think it's impossible to get such a launcher for other phones? Then, you are wrong! Mi Launcher gives you the exact MiUI experience on any phones with Android 4.1 and above. The theme looks exactly similar to Xiaomi phones. And, they included an app drawer as well. Well, the size is only 2 MB!
7. Hola Launcher
Being heavy among the lot (only 4.6 MB, though), Hola Launcher comes up with a bunch of useful features. When you swipe from the bottom, it displays your frequently used apps. And, if you do the same with two fingers, you will be able to get app hide feature. Hola Boost is a useful feature to free up memory whenever you face any technical glitch. Fell Free to Download Hola Launcher from the links mentioned below.