Did you ever experience clicking on a YouTube link and instead of watching that video, you get the "The uploader has not made this video available in your country" notification? How about "The video is not available in your country"? This article is to fix your YouTube not available in your country issue.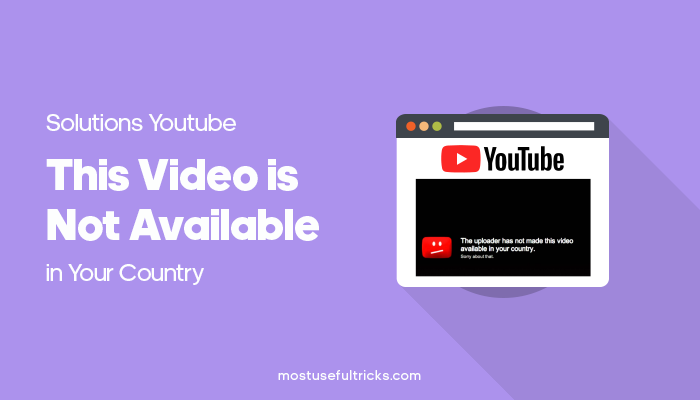 I used to watch "Last Week Tonight" on their YouTube channel. But recently they made the last episode of their show country restricted. So now I could not watch it on YouTube. So what do you do when you encounter YouTube not available in your country?
So my eagerness to watch that video made me write this article. Back then I was looking for some workarounds to watch that video.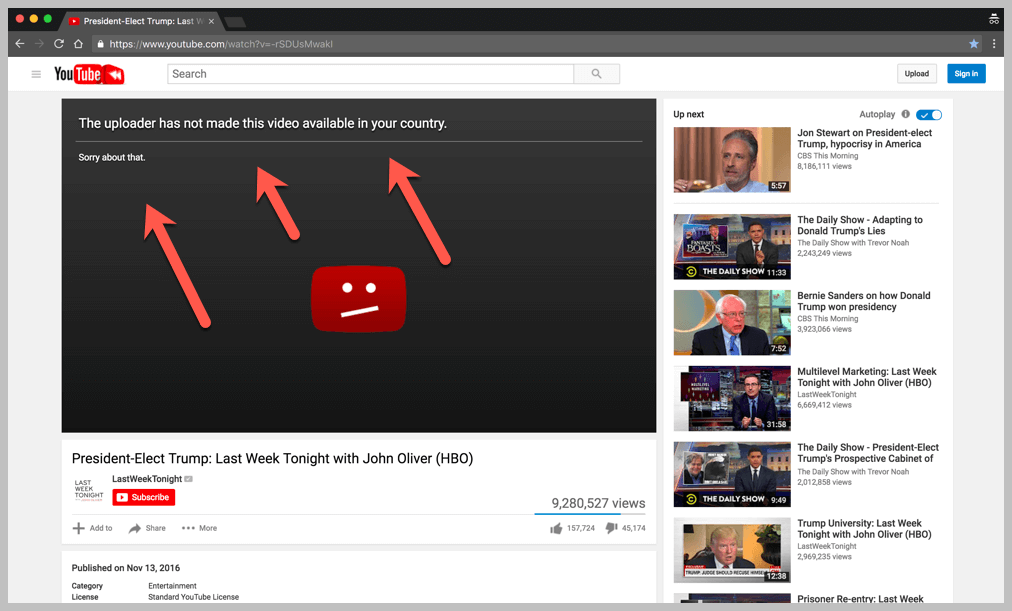 After some time I finally found the working methods. So, If you are someone who has found himself/herself in the same situation, then you will find this post useful. We have prepared different methods so you can choose which one works for you best to resolve the YouTube not available in your country error.
1. Download That YouTube Video To Watch It
This is by far the easiest and most less technical method for watching these type of YouTube videos.You can use online services like savefrom.net or keepvid.com to download YouTube videos on your phone or computer without using any software.
Though there are many apps available for doing similar tasks (like Tubemate for Android), I still recommend the web browser version. This is useful for occasional downloads on YouTube.
But if you are the type to download frequently from YouTube, go for the mobile app. It is on-the-go and comes wherever you go. You can watch the video below to learn how to download YouTube videos easily using one of the many online YouTube downloader websites (Don't forget to subscribe too).
After you download the video, it will be saved on your device's local storage. So, now you can watch it there anytime you want. If you don't like this method, then the next method must be your preferred way. Check it out.
2. Use Free VPN to Bypass YouTube's Country Restrictions
Another way to avoid getting the geo-restriction error message on YouTube is to use a VPN service. In this, you can watch the video without getting the YouTube not available in your country issue. Plus, you won't need to download anything.
A VPN is a secure proxy service. It works like the medium between your computer and YouTube.com. When you use a VPN the popular video streaming site will see a different country IP for your computer. So it will let you watch that video without any issue.
You can download a VPN App on your computer like Psiphon or you can use a simple chrome extension for this purpose. The later one is much easier that's why for this instance we will use an extension rather than an app.
There are many VPN extensions available on Chrome Web Store, but for this example, we will use "Zenmate VPN." You can download this from here (Chrome web store link).
After you install it on your browser, you will need to create a free zen mate account. After that open the YouTube video page. Now you will be able to watch country-restricted YouTube videos without the issue.
3. Visit EachNow
EachNow.com is a replica of YouTube.com. Or in a more accurate term, an unofficial mirror site of the YouTube.
This site has all the videos of YouTube. I was even surprised to see my own videos in here with my channel.
So all you have to do is type in the same title of the video that you want on the EachNow search bar and et voila! You can now watch your video without the YouTube not available in your country restriction.
4. Add "SS" before The "You" To Watch the Video
This is another simple way to download your video. All you have to do is add "ss" on the URL of any YouTube video. You can also "ss" before the "you" of the YouTube URL and press Enter. It should look like this:
http://youtube.com/watch?v=jqGuWasqyZs
http://ssyoutube.com/watch?v=jqGuWasqyZs
Your page will now be redirected to Savefrom.net site where from there you can download the video in a few selected formats like 720p, 480p, 360p, mp3, etc. Just hit the "Download" button next to the format that you want and it should start downloading your video. That's it. If you want to download the video in HQ, then check the first method.
5. Use Services Like Hola Free VPN & Others
There are some other methods for bypassing YouTube not available in your country warning. For instance, you can use browser extensions like Hola, which will work just like Zenmate. But Hola is completely free. You can download Hola from these links for your browser.Hola Free VPN Download For Chrome
Note: A Virtual Private Network (VPN) is an online tool that can help you trick YouTube into giving you access to otherwise blocked content. A proxy server works in a similar way to a VPN, as it routes your traffic through a server to make it appear as though you're in a different location or different geographical location. Unlike VPNs, most proxy servers don't encrypt your data , so the connection is not as secure. And if all you want to do is watch some region restricted YouTube videos or other streaming site, a proxy server is certainly an easy way to do this inorder to break video region restriction and unblock country restricted youtube video or region lock issue. In fact, using a proxy server to unblock YouTube is one of the most straightforward methods, although, as we've said, it's not the most secure. You can always have a prefered choice of location while using VPNS , popular Vpn server or another proxy server method. 
My Conclusion
We all love to use YouTube. But there are some things about YouTube, which makes us feel frustrated. I think country-restricted videos are one of those most hated things about this site.
You may have noticed that not all the videos uploaded on YouTube are accessible to everybody. Just like Google Play Store, YouTube also lets uploaders to enable Geo-Restriction on their videos.
Some individuals and many companies use this feature very often. And as a result, we miss some awesome videos.
But, you don't need to worry anymore if you want to watch any country restricted video on YouTube without waiting for the uploader to remove the restriction, just the follow any of those three workarounds. I am sure you will find this article useful. If you do, Then let me know your thoughts in the comment section. Have a great day.