We all love shopping online, and when we talk about online shopping, an Amazon account is the name that comes first. The company is promoting the Amazon app, which lets you shop faster and easier than ever before. You can also take part in an amazon quiz to win amazing prizes.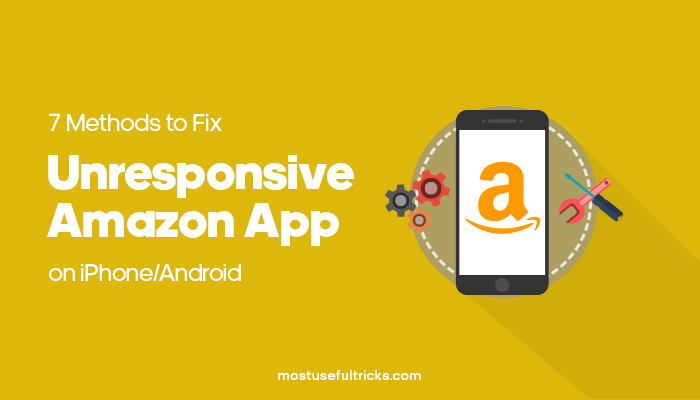 Being an application developed by the Amazon team, you can be sure that this application has minimal bugs. This application is highly optimized to run smoothly on your smartphone, irrespective of your Android version.
Amazon App gives you the ease of viewing products in the store whenever you want, read descriptions and reviews written by people who already purchased it, and buy your favorite products. With billions of products ready to be delivered to your doorstep, Amazon makes sure that each of its customers stays happy with its products. They also have very attractive programs like Amazon Prime. Amazon India app has daily amazon quiz contests for its users. Get all the Amazon quiz answers to win cash and thousands of prizes.
However, people report that they face unresponsive Amazon shopping app issues, which is now quite common among users. This is unexpected from such a huge brand's development team, but we are sure that they did their best to keep the app away from bugs. Anyway, we are here to solve 7+1 effective fixes for the unresponsive Amazon app on Android and iPhone. So let's get started.
Fix Amazon Unresponsive App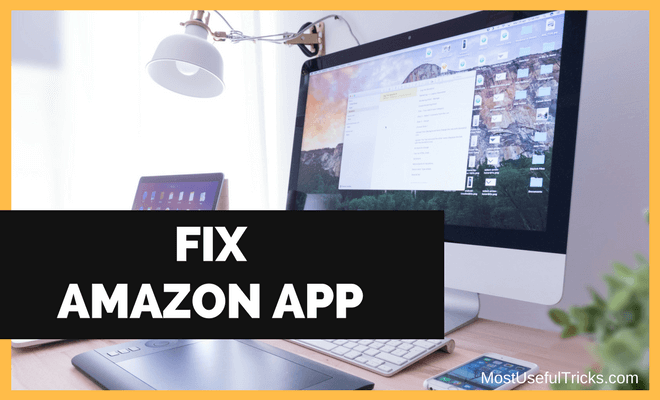 I was getting a CS1 Amazon App error on my iPhone; I noticed that I somehow disabled the mobile data for the amazon app from settings. I enabled it, and the app started working just fine. So, before you start following any of the methods mentioned below, make sure you have mobile data enabled for the amazon app.
This may solve your issue altogether. I think this article should have been titled 8 ways to fix the Amazon app, but this one bonus for you guys :).
1. Check for Updates
We highly recommend keeping all of your applications updated; non-updated applications may contain bugs that result in decreased performance. In our research, we found that most of the applications which are going unresponsive were not updated. So you might want to check the Google Play Store and see if you can update the Amazon application.
2. Restarting Your Phone
Processes that might have started along with other applications will end after the restart of your device. In this way, your device's clogged memory gets released, which results in smoother performance. To restart your phone, press and hold the power button and tap on restart or power off and restart.
3. Closing Background Running Applications
You can tap on the home button to return to the Home screen of your Android and then open minimized applications panel and clear all of them. This will close all other applications which were using big chunks of your RAM. Now you can re-launch the Amazon application and see if the problem has been solved. Close the entire application.
4. Internet Connection
Amazon is an application that mainly depends on your internet connection to function properly. Ensure that you are using a proper internet connection to avoid Amazon from being unresponsive to your commands. You can also close other applications using internet bandwidth to have a smoother experience with the Amazon app.
5. Clearing Cache And Data
An Android application that is extensively used for a longer period tends to pile up huge cache data, making it unresponsive. In this scenario, you need to clear its cache to work properly; here is what you need to follow.
Go to settings
Then navigate to All applications (or apps – depending on your device).
Select Amazon and tap on "clear cache."
Clearing cache helped many users to fix unresponsive amazon app issues or problems like "Amazon stopped working." If it still doesn't solve your problem, you might need to "clear data"; however, it is a more drastic method to remove your login details from the application. But the good part is – your cart, favorites, and all other details are saved in your Amazon account; you can log in again and use it as before.
6. Clear Out Some Space
Unresponsive app issue also if you don't have enough space available on your Android device. To clear out space, you can uninstall some applications which you no longer use. You can also take a backup of your photos and videos on a cloud and then delete them from your phone to make more room in your storage. Another easy way to reclaim and clear some space is to use apps like CCleaner, which is more efficient than manually clearing space.
7. Update Your Phone's Software
The best practice to make your Android phone and its applications run smoothly is to update it regularly. Most brands give regular software updates(Unless you happen to own OnePlus X, Like me!) to eliminate bugs and optimize the user experience. If you are facing unresponsiveness in other applications, you might need to update your phone's software. To update your Android software, you need to navigate to Settings > About Phone > Software update.
Check out other helpful articles from our blog: How To Fix Windows 10 Taskbar Not Working Problems, Mouse Not Working Windows 10: Most Effective Solutions
Wrapping Up
There will be times when the app crashes from enjoying its services to the customers. These solutions are effective, and they worked for many users, and hopefully, they will work for you. If you still face the same issue of the unresponsive app, we would highly recommend you report the issue to Amazon. Furthermore, you can let us know, and we will try our best to come up with a specific solution to your problem for any mobile devices or ios systems like iPhone 7 plus, iPhone 5s, etc. This article results from days of research; we would love it if you leave an appreciation note in the comments for the abovementioned solutions. Ask us about streaming issues, network connectivity issues, bad internet connection, default settings, current settings, previous solutions, invalid settings, stores application, app updates, advanced solutions, subsequent solutions, or anything from the article.