Wallpapers on our Windows devices are great but don't you wish that you can make it move like the ones from the Android devices? Android devices have live wallpapers. On the other hand, Windows, being the oldest and the most customizable operating system does not have that feature. Even Windows 10 does not have that feature. So in this article, we will be teaching you how to set video as wallpaper.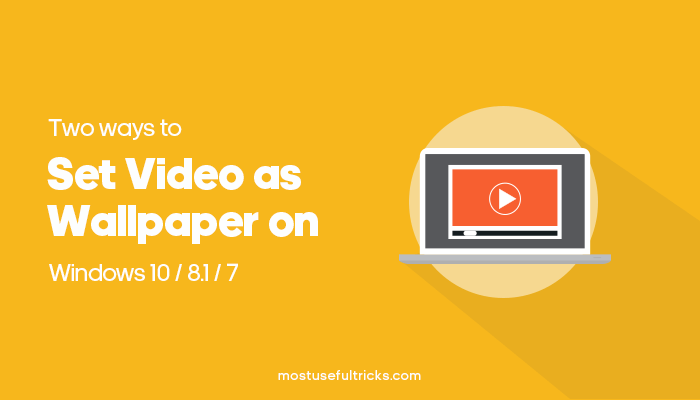 There are two ways that we know of to make this happen. The old and common way is to use VLC, and the other is by using the software called Wallpaper Engine. Trust me, both will definitely work whichever you choose, and you will not even need a high-end computer or laptop for this.
So if you are excited and eager, we will not get you through more talking. Here are the two ways in which you can set a video as the wallpaper on Windows 10/8.1/7(It works on all windows versions though). Recommended: Download SHAREit for PC.
Setting Video as Wallpaper on Windows
We will start with the most common ways and the widely known method to set video as the wallpaper on PC. To make this work, you will have to follow the instructions carefully. Don't worry. This will be so easy even your child can do this in one try. Let's begin.
Wallpaper Engine – The New Method
Between the two methods, this is much better. For one, the Wallpaper Engine (WE) uses a low CPU running around 0.5% to 1% and RAM resource running just from 8MB to 10MB.
And the best part about this software is when you use full-screen apps like games or just browsing, the app pauses everything it does. So you will never have to worry about it interfering with your online games or anything. It will instantly resume when you minimize or use the desktop again.
The first you will need to do is download the Wallpaper Engine installer from Steam.
After you downloaded the file, install it and wait for a few seconds.
After the installation, launch the Wallpaper Engine.
You should see some sample video wallpaper. Choose one and see which one works for you. You can download more on Steam if you prefer other video wallpaper. There are thousands available from Steam's library and community.
If you want your own video files to be the wallpaper, click the Open From File button at the bottom left corner of the WE window.

The Windows file explorer should appear, and that's when you go to the video file that you want to use as wallpaper.
Click on the video file and confirm. It will then be included in the WE library along with the sample video wallpapers that came pre-installed with the software.
Now choose the new video file and confirm by clicking on the OK button at the bottom right corner of the app's window.
Your video file is now your wallpaper. SEE ALSO: Download Windows Movie Maker.
Reminder
The Wallpaper Engine supports MP4. WebM, Avi, MOV, M4V, and WMV files. So before you choose and use your local video files as wallpaper, make sure that they are on those formats that are listed as supported.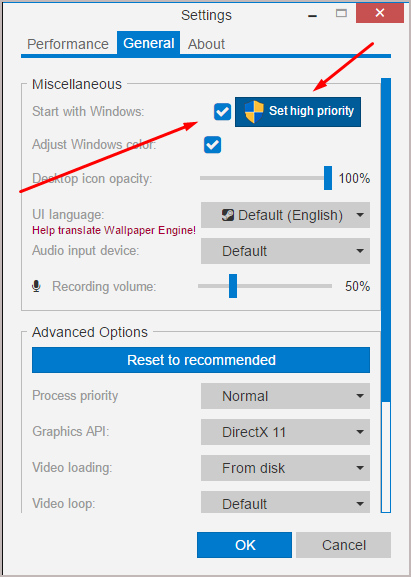 And also, on the WE Settings menu on the General tab, make sure to tick the Start with Windows and Set to High Priority. This will make sure that the app will run even after you restart the computer. The rest of the settings are up to you to play around with and modify to your own liking.
Get Wallpaper Engine for Free
If you can't afford Steam's $3.99 charge for Wallpaper Engine, you may choose this link that we found online. Since this is not from Steam, use this software at your own risk. We will not be responsible for any harm that it may cause to your Windows device.
VLC Media Player – The Free Method
First and foremost, you will need to have the VLC media player installed on your PC. And make sure that the VLC installed is at version 3.0 and later.
If you do not have VLC installed yet, download one from the internet or use this download link.
There will be two download buttons here for VLC. One is for 32bit, and the other one is for 64bit Windows OS. Choose the one that is suited for your device.
If you do not know how to find out the architecture of your Windows device, just download the 32bit version. It will work on both architecture types.
As soon as you download the VLC installer, you may immediately install it on your system.
When the installation finishes, open or launch the VLC player.
On the upper-right corner of the app, you will find the Media tab. You need that to find the video that you want to use as wallpaper.

Once you click the Media tab, the Windows file explorer should launch. Go to the folder where your video is located and click on it to start playing.
Now, while the VLC is running, go to the Video tab.

Click on it, and you will see the Set Wallpaper option.
Click on Set Wallpaper, and the borders will disappear, leaving only the video running in the background.
That's it. You now have video as wallpaper. Try to use MP4 and AVI video formats as they require lesser CPU and RAM resources.
In Conclusion
These methods are currently working for Windows 7 and later versions. I can vouch for those as I have tested these apps on those platforms. For the other Windows versions, you may try on your own accord.
The old and still wallpapers are good, but the moving wallpaper is still a far better choice. It also makes your screen more lively and with depth. For better results, you should choose undersea-themed video wallpapers. Or perhaps you can use your favorite movie if you love it so much.
You can rearrange your desktop icons and set your desired desktop wallpaper backgrounds from animated wallpapers to video wallpapers, interactive wallpapers, and push video wallpapers. Set custom video backgrounds to make your desktop even cooler. There are also many video wallpaper apps/video background apps you can download and set preferred background videos. Use a third-party tool to hack wallpapers as well. Adding as moving video as your background isn't as hard as it seems. You can easily follow these step-by-step guides given above. There are many guides and articles on this, but this article has many options for you to choose from.
Ask us about video wallpaper app, modified full-screen mode/full-screen view, desktop background/video desktop background, customization window, temporary video wallpaper, background video player, continuous video playback, video playback option, standard video playback, specialist video background, or anything from the article.
For more questions, just leave your message in the comment section. We will answer them as soon as we can.