Game Boy Advance (GBA) Emulators are pretty awesome, they let you play some popular games like Pokémon, Mario on your Device. Now, in this quick guide, I'm going to show you how you can download and install GBA Emulator on your iOS 8.1/8.2/8.3 Device. There are actually two ways how you can download and install the GBA emulator on your iOS device.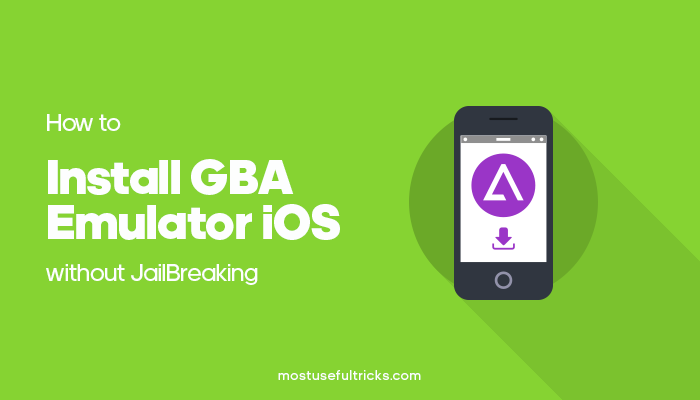 In this post, we'll explore:
First Method
By doing JailBreak on your device first and then installing the jailbreak Version of GBA Emulator on your iOS device. As an iOS user, I think you already know what jailbreak is.
But for those who are not familiar with the term jailbreak, you can read this article on Wikipedia. Basically, Jailbreak is a process of removing hardware and some software restrictions from your iOS device.
Note: All support may (warranty, etc.) ends when an iPhone (or any Apple device) is jail broken, so it's up to you if you want to do jailbreak or not. In case you are not that expert or a geek I would suggest that check the second method below, as its way safer for you.
Second Method
The second method allows you to install GBA on your device without jailbreaking it. Now it's not very hard to install GBA without jailbreaking. You can follow the guide below where I have shown you how to download and install GBA Emulator on your iOS Device.
How to Install GBA Emulator on iOS 8.2/8.3/8.4 Device using the Second Method
Step 1: Follow the Steps gradually to successfully install GBA Emulator on your device. First, Launch Safari on your device then go to this link: http://www.pgyer.com/GBA32
Step 2: As you land on the link given to you, you are required to enter a password. Just enter "agothro" in the password field.
Step 3: Now you will see the "Install app" option, click on that button and GBA Emulator. And it will start installing on your iOS Device without doing any jailbreaking.
Step 4: Now, depending on your internet speed the installation will be completed. Once it completed, enjoy playing your favorite Game Boy Advance games.