Internet Download Manager aka IDM is the best download manager app available for windows PC. I simply don't know any other better app which can download files as fast as IDM. When you install IDM on your PC, most of the times it automatically installs the IDM extension to your default web browser like Chrome. However, if you don't see IDM extension in chrome extensions page, Brighter Guide provides this tutorial you can follow to add IDM Chrome extension.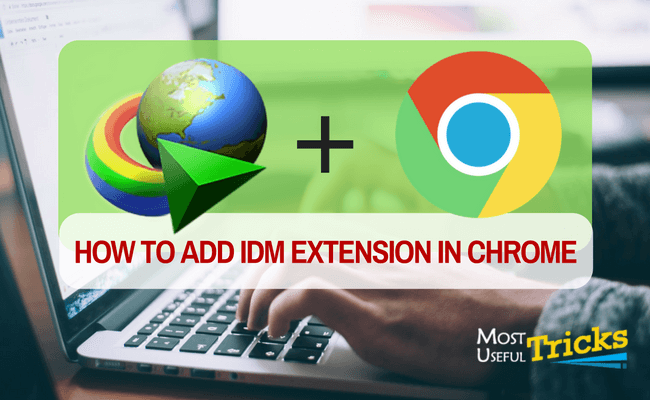 Some of you may be thinking can't I just go to chrome web store and download IDM extension from there? To those who have this question on their mind, My Answer will be: NO, you can't. See you will find some extensions named IDM on chrome web store if you search. However, ALL OF THOSE EXTENSIONS ARE FAKE.
So, please don't download IDM extension from chrome web store or anywhere else on the web. You already have the extension on your PC, you don't need to download it. Start reading the step by step guide below. Recommended Read: How to Resume Broken/Expired File Downloads in IDM.
Adding IDM Extension in Chrome
This is a step by step guide which you can follow very easily. I have tried to use as many screenshots as I can. After reading this tutorial, please drop a comment below with your thoughts about this article.
Step 1: Update IDM to the latest version on your Computer by using "IDM Help->Check for updates…" menu item on IDM window.
Step 2: Open "C:Program Files (x86)Internet Download Manager" on your computer. You can copy this address and paste it into windows explorer address bar or you can navigate to this location.
Step 3: Now on Chrome, Open Extensions Manager Page at "chrome://extensions/".
Step 4: Next you will have to Drag the file named "IDMGCExt.crx" or "IDMGCExt" to the Chrome Extensions Window. You will see a pop-up titled "Drop to Install" appear on chrome window.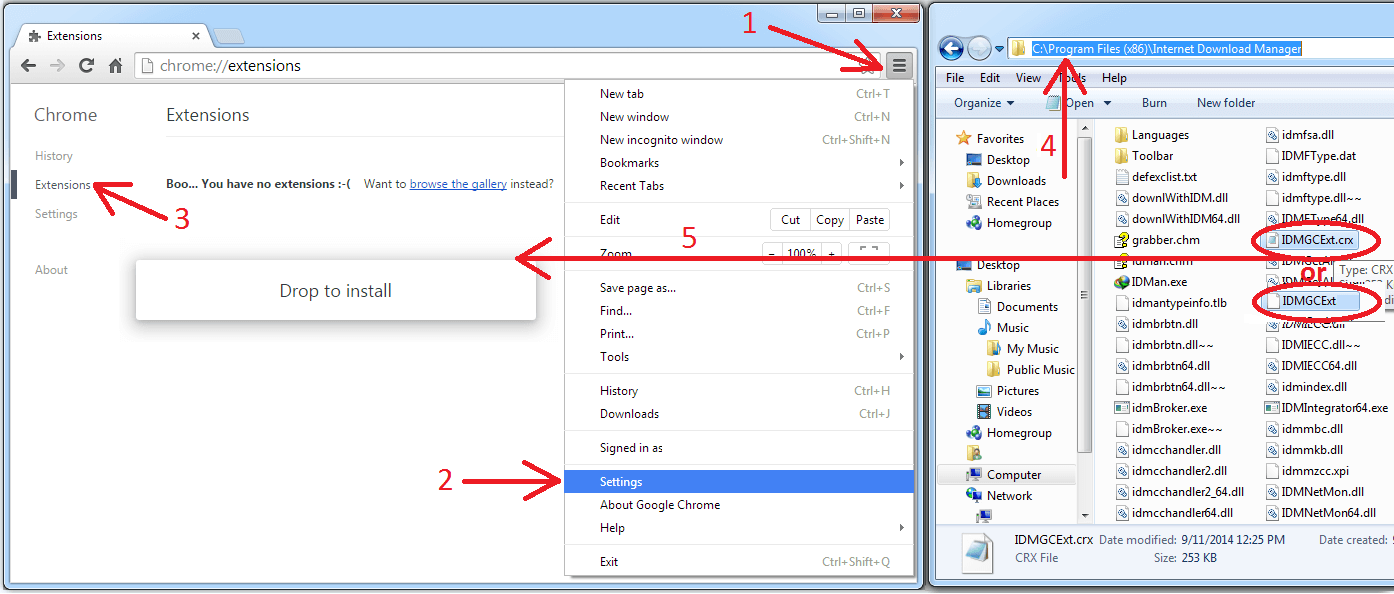 Step 5: Now you have successfully installed IDM extension in Chrome; however now you need to configure it properly. Just tick the "Allow in Incognito" and "Enable" check boxes to properly configure IDM extension on Chrome.

That's it, now you have successfully added IDM extension on chrome, you can start downloading Huge files from the Internet without any fear of downloads stopping after 99% is completed. Moreover, you will notice an increase in download speed as IDM is quite fast, you will notice the difference for sure.
What To Do If IDM Extension Stops Working on Chrome
If you found that IDM extension is installed on chrome but it's not working, then you need to uninstall the old extension and install the latest version. You follow the step guide mentioned below to tackle this issue.
Update IDM to the latest version.
Open Chrome and uninstall the old Extention from your browser.
Now install the latest IDM extension by following the steps I have shared above.
That's it, following these steps should fix this issue.
Without this extension, you would have to manually copy the download file link and paste it on IDM to download it using IDM. The Chrome extension solves this problem and makes your Internet browsing experience much better.
That's the reason I love this chrome extension. I forget to add this to my list of best chrome extensions, But I will try to update the list soon. I have a few other useful chrome extensions which I found recently. Anyhow, thanks for reading, have a great day.