Windows 10 is the latest and greatest Operating System from Microsoft. I have heard a lot about this from my friends, and that's why I thought I should give it a try.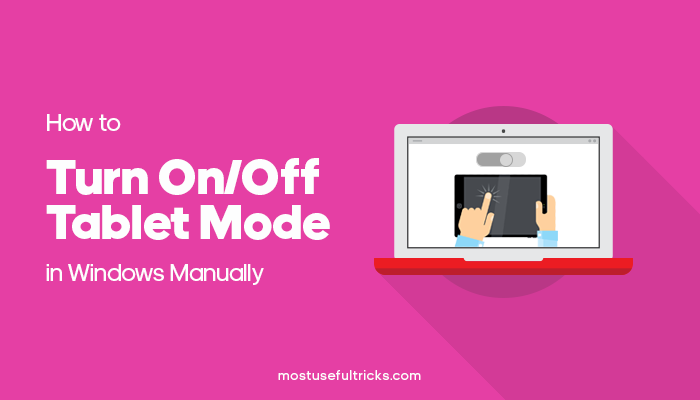 A few months back I finally downloaded and installed it on one of my desktop computers. For the first few days, everything was working smoothly (except I hate the Windows 10 update feature).
However, After a couple of months, I faced an error on my computer. The error was showing a message – "This App Has Been Blocked For Your Protection", Anyhow long story short I fixed that. (You can click on the link to learn how to fix that Windows 10 error).
At this moment of writing this article- I have used Windows 10 for quite a few months, and I will say "It's New and Different, You Should Try It." After using it for a few months, I think that there are some tricks and tips which you guys might like to know.
So one by one I will share as many useful Windows 10 tips and tricks as I can on this blog. Today I'm writing about a simple little guide on how to enable/disable tablet mode in your Windows 10 Computer.
Windows 10 by default has a build in tablet mode which you may accidentally activate it. This tablet mode helps the user on a small touch screen to take advantage of tablet UI. Day by day people are switching to hybrid computers. And that's why this feature of Windows 10 makes quite a sense.
Whats is Tablet mode?
If you have a touch screen PC and Windows 10 — like the Microsoft Surface Book 2 — you're most likely acquainted with tablet mode. Tablet mode is the point at which your PC cripples utilization of the console regularly. Because it has been collapsed over or detached. And it transforms itself into what is, practically, a tablet gadget.
Most PCs with this capacity give you a choice to have your PC automatically switch all through tablet mode when it detects itself being folded into tablet shape. Or will inquire as to whether you'd prefer to change. But for the individuals who don't utilize their PC's tablet mode by any stretch of the imagination. This capacity can be irritating and make it hard to use your PC.
In any case, if you need to switch among Tablet and Desktop modes physically, stay with Desktop mode even on a tablet or keep away from the incite and have it change to tablet mode. Consequently, you can change the settings. Also, if you need to utilize the on-screen console, look at this different guide. Configuring Tablet Mode includes three essential activities:
Go to the Tablet Mode tab under Settings>System.
Toggle the "make Windows more touch-friendly" alternative on or off.
Select whether the gadget switches modes automatically, prompts you, or never switches.
How to Turn On/Off Tablet Mode in Windows 10
Now, You may ask "We Understand it makes full sense, But How to Turn it Off, I have accidentally enabled it, and now can't find the off button." Well, in that case, to disable Windows 10 Tablet mode all you need to do is follow the two-step guide below. It's damn easy just check it out.
Step 1: Click on the notification icon on your Windows 10 Computer taskbar. You will see this button on the bottom-left side, see the screenshot below if you need.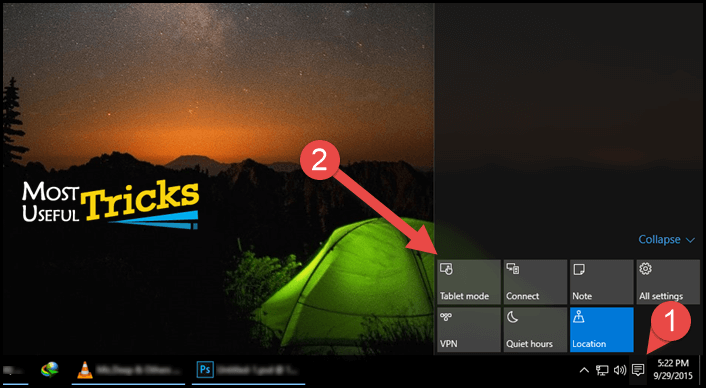 Step 2: Now click on the Tablet mode icon or tab to enable or disable the tablet mode in Windows 10. Yeah, it's that easy. Click Once to enable Windows 10 Tablet mode and Click for the second time to disable it.
Conclusion
Windows 10's Tablet Mode gives a more touch-accommodating experience by making all applications run at full screen. Giving you a Start screen rather than a Start Menu. If you have a 2-in-1 gadget, Windows 10 inquires as to whether you need to enter tablet mode each time you convert your notebook into a record.