You need to create an Apple ID because it is required to access all the features of any Apple device. You see services like iCloud, Apple Music won't work without it. You may not use any Apple's paid subscriptions but you still need one account.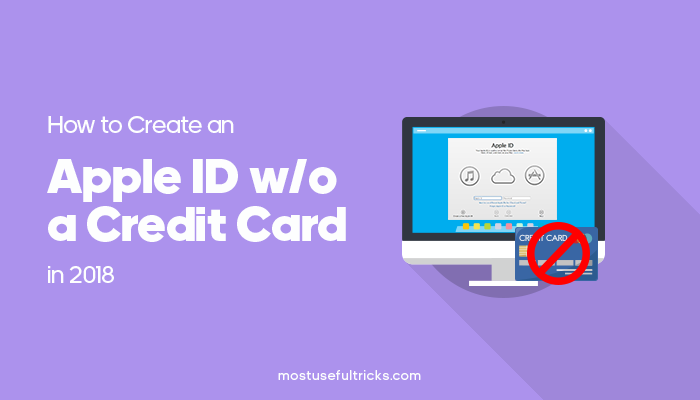 I tried to create an Apple account when I bought my first iPad, back then I didn't have any credit card so I was getting stuck on the "Provide a Payment Method" page. Finally, I had to use my father's card. But back then I was unaware of the fact that you can skip that and create an Apple ID without using a credit card or add any other payment method.
There is a workaround, which will help you to create your apple account without using a credit card. Back then I didn't know about this trick, I should have dug a little deeper for it. Anyhow, I'm glad that you find this article, keep reading to know more about this.
You see if you don't know about this little workaround and just try to Sign up on iTunes for your Apple Account, you will see "Provide a Payment Method" page in your signup process. There you have to enter your credit card details (See the screenshot below), no other option is available, and it's required.
So, some people may say that it's impossible to create an Apple ID without using a Credit Card. But it's not true there is a workaround to bypass this and you will learn it in the next part of this article. Let us check the workaround now.
How to Create Apple ID without Credit Card
Creating an Apple Account without a Credit card is very easy. All you need to do is follow these steps.
Open App Store on any of your Apple Device (iPhone, iPad, iMac, Macbook, etc.) and search for any free app like Facebook.
Then click on the "Get" button to download the app.
Now you will see a new pop-up window saying you need to login or signup. Click on the "Create New Apple ID" button.
On the first page, enter all the basic info like name and security questions and go to the next page.
Now here comes the main thing, this time in the provide payment info page you will see a new option called "None" (see the screenshot below).
6. Just choose that and process to create your Apple ID.
So basically all you have to do is create your account while downloading a free app on your iDevice. And you will bypass the required payment filed on account creation page. This is pretty easy and cool!
When You Will Find this Workaround Useful (My Story)
A few days back I found a free app which I wanted to download, but that app was geo-restricted. That means I could only download it if I have a US Apple ID. But there was only one problem. You see, to get one US Account I needed a US Credit card (Which I don't have!).
For Android, the geo-restriction of apps can be easily bypassed by directly downloading APK from Play Store. But in case of App Store, we can't do that. Also downloading apps from Shady marketplaces like Cydia are not something that I wanted to do. That's when I thought of using this method.
I signed out of my Indian account and changed my country to the US on iTunes. Then I tried downloading any free app. In that process, I created my free US Apple account (without using any payment method/credit card) and BOOM, I was able to download the app.
One thing to note is I had to use a Virtual Address while creating my US Apple Account. You can get a fake US account from Sites like fakeusaddress.com (Just an example, search for yourself on Google you will find many other sites which do the same job of providing fake address around the globe.)
So That was the full guide, I hope you will find this little tutorial helpful. Thanks for reading; have a great day.