Android game players! Here is an article for you. I am going to be sharing some of my top 10 lightweight Android games under 50 MB  that you can try. Especially if you care for your phone and would like to use software and apps that do not harm your phone. As a game lover, you must be stuck to your Android smartphone for hours every day.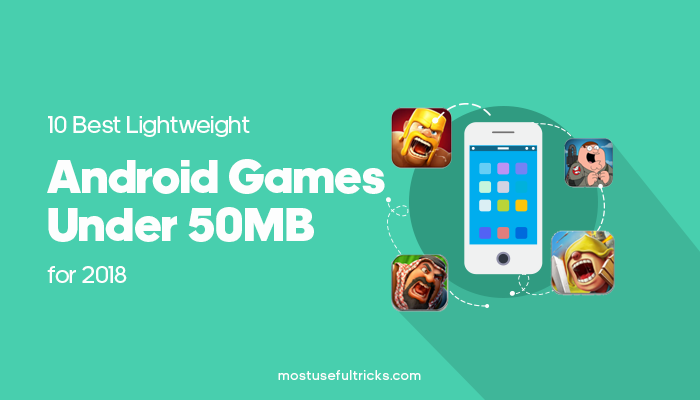 Most of the games that you play on Android are really big in size. Android games are pretty large in size. That's why in the Android gaming world we call 50MB a small size for games. If you also love to play games on your Android device like me, then I'm sure that you will love this list.
Here I have picked up 10 awesome and my favorite lightweight android games. So, hold your breath and check out this free awesome list now. You can download any game you want, most of these are free on Google Play.
1. Clash of Clans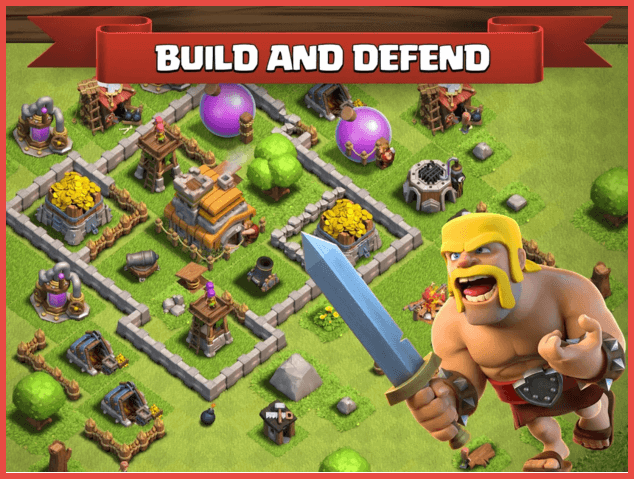 At first, this list was of top 5 games, then it became top 9 and now top 10. Anyhow the most awesome lightweight android game to have is Clash of Clans. Choose your team and weapons! Conquer your achievements.
It's a real-time strategy android game with really awesome graphics and anybody will love to play this on their Android devices. I have already written about How you can Run Clash of Clans on your PC in my previous blog post. You can use Clash of Clans game on your Android Device as well as your PC. You can download Clash of Clans for our Android device from here. Level up! Freedom and death!
2. Cut the Rope 2
You may have heard about Cut The Rope. Cut The Rope 2 is its next version which is available as free download in the Google Play store. The new version has some design changes which has made it more awesome. The game is all about cutting ropes and pieces using your tricks (using your brain) like a puzzle game and you have to feed the candy to frog and try to grab stars. Cut the rope 2 is of less than 30MB in size.
3. 3D Chess Game
We all know about chess, the game where you have to think a lot in order to win. Anyhow, there are tons of chess games available in the Play Store, but this is the best chess game for Android. It comes with different level modes. The size of the 3D Chess game is 6.9MB and you can download it for your android from here. Start to solve a series of this chess board with your friends. It comes with different level modes.
4. Call of Duty: Heroes
Call of Duty Heroes is an awesome game to have on your Android phone. Basically, it's an arcade type online game. Call of Duty Heroes is free to download from Google play but you need a working internet connection and internet speed for playing it. The game features many weapons you can choose from and even unlock as you hunt for your target.
But as today many of us have internet so it's not a problem at all. This is a war game where you will have your own base .there you can train your soldiers and you have to dominate your enemy in battles to win the game. It's only 44MB in size.
5. NinJump
NinJump is a cool Android game. In this game, you need to climb as high as you can and avoid the evil squirrels, dive-bombing birds, enemy ninjas, throwing stars, exploding bombs & more! You should try this game, it's pretty awesome. The game's size varies with different devices. You can download NinJump from here. Jump up the hills!
6. Temple Run 2
Temple 2 is nothing but an awesome endless running game. All you need to do is run, jump around, and other exciting things to save your character from the bigger monkey as you bypass tons of obstacles. This game is available as free download on the Google Play Store so that everybody can download it for free. The level mode also changes are you go higher and unleash the power ups of your avatar.
The main goal of this game is to run more and more and earn more points and unlock new powers and characters using it. Temple run 2 is only 44MB in size. I think that Temple Run 2 is worth to download due to its unique gaming experience.
7. Does not Commute
Does Not Commute is a motor racing game for your Android device. You have to drive many vehicles in this game and do some other things in order to win. You need to follow the info on the screen about your task and you need to complete that. The game is sized at 44MB, and you can check the official Google Play Store page for this game from here.
8. Dr. Driving
Dr. Driving is a pretty extraordinary track racing game, it is made for the driving lovers and game lovers. The entire game is about many different challenges. Drive around blocks and get into mad action!
Every time when you clear a challenge you level up and whenever you level up you gate some coins which can be used for buying new high speed vehicles. When it comes about the size of the game – it's only 10MB in size, which makes it superbly easy to download even in a slow internet connection. You can check the official Google Play store page for this game from here. You can change the game modes according to your preference.
9. ZigZag
ZigZag is a popular Android game. According to some people, it's among the top few android games. You will get some balls and you have to roll them in the zigzag ground and keep moving, It's pretty fun to play. The game has a size of 17MB. You can check the ZigZag game on Google Play.
10. Subway Surfers
Subway Surfer game doesn't need any introduction: this is very popular like the Temple Run 2. Subway Surfers is also a popular endless running game for Android devices.
The developers are updating the game according to the famous cities of the world. So the game is becoming more famous all over the world. The game is all about running as much as you can without getting caught by the officer, overcoming challenges and getting your score up. The Subway Surfers game is only 38MB in size.
My Conclusion
So those were 10 best (free) lightweight Android games which you much try. If you visit this blog frequently then you will see that I have updated this list a couple of times. This post was last updated on 08/16/18 with some cool, lightweight Android games. All the games above belong to different categories and it's a choice for you to make on which one to choose. These were some list of games that are light weight. Go start playing the missions and kill your enemies. Decent internet speed and slow time feature games for phones with challenging game levels. Ask us about mobile games, simulator games, vertical arcade game, range of games, shooting games, shadow art graphics, games for smartphones, action missions, 3D graphics, time trial modes, or lightweight games you like from the above article.
I will continue updating this list according to your expectations with some other awesome games whenever I will find something good I will add that. If you know about any other great game, please suggest about that in the comment. Hope you like the post, if then please share the post on social networks and have a good day.