Do you face any difficulty in getting search results on YouTube? I know how it falls badly on you given that you want to watch an urgent tutorial or something.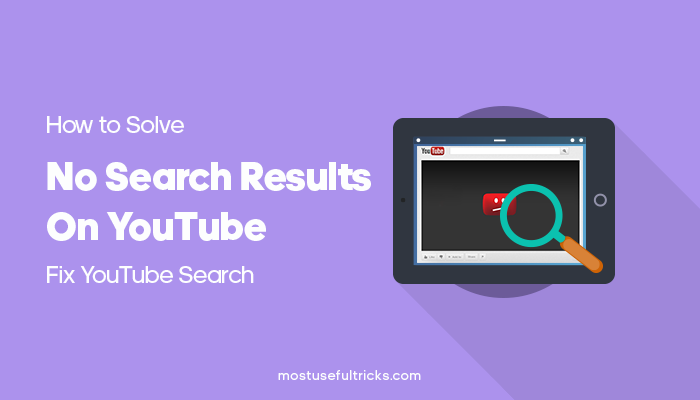 Don't worry! In this article, you are going to learn how to fix No Search Results YouTube error. Are you ready to get into the core of this article? If yes, then let's get started.
Before you read the following ways to fix this error I want all of you guys to check the date and time on your computer.

Sometimes this problem occurs due to wrong date and time settings of the computer. Make sure your PC is showing the right date and time and try doing a search on YouTube. If you see the problem is still there, then start following the methods from below.
How to Solve YouTube: an Error Occurred. Please Try Again. (No Search Results)?
You will get different solutions here. Just apply each one until the problem is solved.
Re-enable Javascript on The Browser
Sometimes, this error occurs due to problems in Javascript. You can try disabling and then re-enable javascript to resolve it. Follow the given methods for different browsers.
Firefox
Open Firefox and enter this address on firefox address bar "about: config". Now you will see a warning message, just click the button that says "I accept the risk!".
After this search for "javascript" on the search box, you will find the preference named "javascript.enabled". Right-click on javascript.enabled and select "Toggle." Now close Firefox and open it again. When you come back, follow the same procedure to re-enable the javascript.
Chrome
Open Chrome menu, click Settings and scroll down to the bottom to go with Advanced settings. You can now see the Content Settings button under Privacy. On selecting it, you will get two radio buttons under Javascript. Choose Do not allow any sites to run Javascript and hit Done. Repeat the same process to enable it back as you come back.
Clear Cache and Cookies
Cache indicates some static files websites stores on our computer so that next time you visit those sites, they can load faster than the initial time. Cookies are similar, but they are unique to each user.
Sometimes, these data creates the problem because they make our computer act in a predefined manner. So, how can you clear them?
You need to go through a series of steps. But if you install dedicated cleaning software, it will clean all the browsing data on every browser with a single click. My recommendation is CCleaner.
Using CCleaner, not only do you clear cookies and cache, but you can also delete temporary files and history. You can watch the video below to get some idea about how you can clear browser cache and cookies using Ccleaner.
Try a VPN
A Virtual Private Network aka VPN can come to your rescue sometimes. All you have to do is installing one, change the country, get back to your browser, and then surf YouTube.
A lot of VPNs are available out there for free. You can try them out. And, if you have the budget then you won't regret buying a paid VPN as well.
Reinstall Browser
I hope you know how to install a desktop application. There is nothing complicated with it. All you have to do is downloading the installer, opening it up, and going with the onscreen instructions. I have given the links to widely used browsers here.
Download Chrome Browser or Download Firefox Browser
Try Another Browser
If nothing given here works out for you, you can go on to another browser. YouTube works the best with Google Chrome. In case the error persists on Chrome, you should try Mozilla Firefox.
Even Microsoft Edge is a decent browser. You can try accessing YouTube from it.
Wrapping Up
You have got multiple solutions to solve "no video found on YouTube search" error. All these methods are applicable for any YouTube errors. So, you should follow each solution given here whenever you feel something problematic on YouTube.
Do you have any other fix? Don't forget to share it in the comment section provided below.