Do you want to uninstall OneDrive on Windows? Microsoft OneDrive is one of the best cloud storage services around, but not everyone is into it.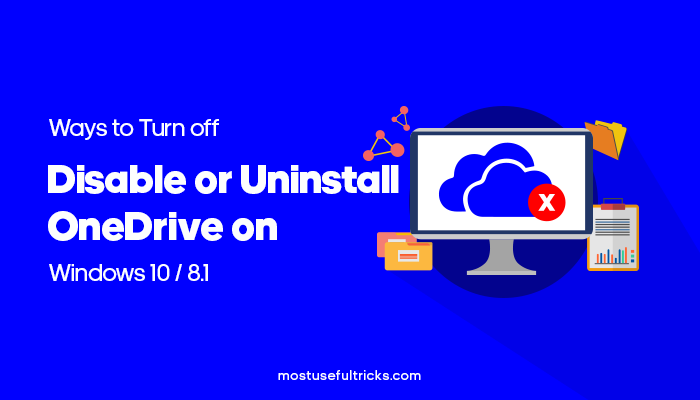 Some people use Google Drive, Amazon Cloud Storage, Dropbox, and many other alternatives. So if you have no use for Microsoft's cloud storage service but currently using a Windows device, this is how you can uninstall OneDrive.
This post will teach you how to remove, disable, or uninstall OneDrive from your computer. There are 3 methods which you can follow. First, check out each, and then you can go with the method you like the most. So let's get started.
How to Remove or Disable OneDrive from Windows
If you are on the latest Windows version (Windows 10), this step-by-step guide should be right for you. Microsoft has made it easier for its users to control some of its Windows' features. And this method should be comprehensive for you to understand how to uninstall OneDrive easily.
Method 1: Switch to Local Account
If you have no reason to use a Microsoft account on your Windows PC or laptop, I suggest that you use a local account. If you have already created and activated your PC with Microsoft account, we will teach you how to create a local account on your Windows machine.
Step 1: On your primary desktop, point your mouse to the Start menu icon on the leftmost bottom of your screen or the taskbar.
Step 2: On the Start icon, right-click to show a list of Windows services. Among those services, you will find the Control Panel. If it is not there, type on the Search service the "Control Panel."
Step 3: Click on the Control Panel to open the All Control Panel Items.
Step 4: Somewhere at the bottom, you will find the User Accounts. Click on it to go to the next window.
Step 5: Find the Manage Account button and click on it.
Step 6: Click on the Add, a new user in PC settings.
Step 7: On the PC Setting window, click on Add an Account.
Step 8: On the next window, click on the Sign-in without a Microsoft account.
Step 9: Then click on Local Account.
Step 10: Type a username, then click Next.
Step 11: Finally, click Finish to create the new local account.
Step 12: Close the PC Settings app and the Manage Accounts window.
Step 13: Now, press the Windows button on your keyboard.
Step 14: Click on the current account icon on the top right corner of the screen.
Step 15: Choose Sign Out.
Step 16: On the next screen, choose the username for the new local account.
That's it. Since it is a local account, the OneDrive will not work as it has no reason to synchronize any local file to the cloud. And yes, there will be no need to remove or uninstall OneDrive for local accounts.
Method 2: Unlink OneDrive
Step 1: From your primary desktop, go to the Notification area on your Windows 10 Taskbar.
Step 2: Click to see the active applications, and you should see the OneDrive icon there. If it is not there, then OneDrive is not anymore active on your Windows PC.
Step 3: Assuming that the OneDrive (cloud) icon is there, right-click on it to show a list of things you can do with OneDrive.
Step 4: Click on the Settings button.
Step 5: A Microsoft window will appear on your desktop. Click on the Account tab.
Step 6: Now click on the Unlink this PC button.
Step 7: A prompt window will ask you for confirmation. Just click Unlink Account.
Step 8: A new window will show up and ask you to enter a new email for OneDrive. Close that window, and you are done.
Method 3: Uninstall OneDrive
Step 1: Using your mouse, point it to the search service of the Windows system or right-click on the Start menu icon.
Step 2: Find Run or Search service.
Step 3: Type in Control Panel or Programs. You should see the Control Panel or Program Files service. You may choose whichever works. For Windows 8 and 8.1 users, the Control Panel should be right.
Step 4: Click Programs and Features.
Step 5: A list of installed programs will appear. Find the OneDrive.
Step 6: Right-click on the OneDrive and click Uninstall.
Step 7: Confirm, and after a few seconds, the app should be removed entirely from the system. Yes, that's how you uninstall OneDrive.
Reasons for Getting Rid of OneDrive
The following are 3 excellent reasons to disable, delete or turn off OneDrive on your PC. If you can relate to the situation given below, better follow stop using OneDrive.
1.There are other benefits as well when you uninstall OneDrive from your computer. The fact that the cloud service uses internet bandwidth in the background is one good reason. This matters, especially when you are on a limited or allocated data plan. Having unwanted and unnecessary service consuming your data is a hassle.
2.Another good reason to uninstall OneDrive is the fact that it also consumes system resources. When the app starts syncing files from your computer to the cloud, it uses some CPU power and RAM. So if you are in the middle of something like playing games, that extra power and performance could have helped a lot gain victory with your gameplay.
3.And speaking of system resources, OneDrive also runs at startup. That means your boot-up time could improve a little more if you uninstall OneDrive or disable it.
You can also check other useful articles from our blog: How to Get WhatsApp for PC App [Windows 10/8.1/7] in 2020 , How to Download All Images from Google Image Search at Once, Best Ways to Take Screenshots on Windows 10
In Conclusion
Those three methods should be easy enough for you to follow to uninstall OneDrive. If done right, you will not have to deal with OneDrive ever again.
You will have fewer apps to consume your limited bandwidth. You will have a bit more processing power for those crucial tasks. And then there go a second or couple fewer seconds of booting time.
If you ever get a change of heart and want to reinstall OneDrive, the procedure should be easy. Just go to this link and download a copy of the OneDrive installer. You might alsoi experience temporary software glitches and that's okay. You can always reset the software.
For those of you who want Microsoft's cloud service gone, what is your big reason for it? What makes you choose other cloud services than the OneDrive? Tell us what you think in the comment section. We would love to know what you think. Ask us about disable onedrive integration, built-in microsoft onedrive, desktop folder protection, file storage, cloud icon, or anything from the article.
If you have questions that you need to ask us, feel free to leave a comment with your query down below and we will sure to answer them as soon as possible.