Do you want to remove arrows from the shortcut on Windows 10 desktop icons? If yes then read this step-by-step guide on how to remove arrows from shortcuts on Windows 10/7/8.1/8.1 PC.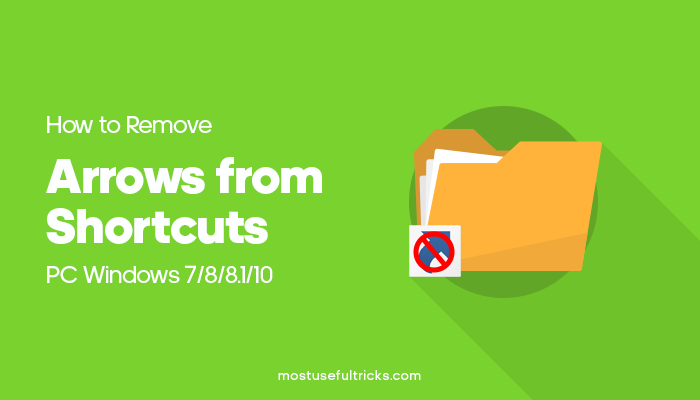 As you may have just seen, in contrast to different symbols, the accessible routes you put on your desktop consistently accompany a small arrow. It tends to be very irritating if you prefer a clean and simple desktop. So how might you remove the arrows?
In Windows OS computers, whenever you create a shortcut of any software or folder on your desktop a little arrow appears with the shortcut icon. It is an automatic feature on Windows.
This indicator is pretty useful. As one can easily recognize which one is a shortcut and which one is the file by just seeing the white arrow. But, there is an ugly part of this. It ruins and covers up parts of the icons' designs.
Some would say that it looks bad on the desktop wallpaper. So it's very likely that you will want to get rid of this arrow mark from your shortcut icons.
Ironically, there is a (little tricky) method available to remove arrows from shortcuts in any Windows computer (like Windows 7/8/8.1). The method goes through editing some settings in the RegEdit of Windows.
Don't worry it's not rocket science. Anyone can do this. Just follow the step-by-step guide below to learn how you can do this.
How to Remove Arrows from Windows 10 Shortcuts
Time needed: 2 minutes.
Launch "Run"

First of all press "Start+R" from the keyboard to open the RUN.

Open RegEdit

Now type "RegEdit" there and press Enter to open the RegEdit window.

Edit a key.

You will see on the left side, there will be some dropdowns. Browse and navigate to -"HKEY_LOCAL_MACHINE\SOFTWARE\Microsoft\Windows\CurrentVersion\Explore"

Create a value.

If you don't see any key called Shell Icons you have to create it by right-clicking on the Explorer> Key> New >Choose Key (Name the key "Shell Icons").

Enter new String value.

Now right-click on any space in the right pane of the Shell icons key for creating a new string value. You have to give that new string the name of 29.

Modify and confirm entry.

Next, double-click on the 29 entries to modify it. In the Value data box, enter – "C:WindowsSystem32shell32.dll,50" and click on OK.

Restart computer.

Now restart your computer to see the changes.
Note:
 To Change shortcut arrow overlay Icon in Registry Editor, you can press the Windows + R keys to open the Run dialog, type regedit and hit Enter. Another option to change short cut arrow overlay icon using a REG File. And if you want to restore the short cut arrow overlay, you can double-click on the "Restore Default Shortcut Arrow Overlay.reg" file.
In Conclusion
This tutorial on how to remove arrows from short cuts on Windows 10 is only applicable if you don't save files on your desktop. Otherwise, you might get confused about which is the short cut or the files. But that's probably just an issue when you are not that familiar with your icons. I hope you found the answer to your issue from the simple steps above.
If you have any questions or issue , feel free to leave a message in the comment section below. We will try to get back to you as soon as possible.