Downloading YouTube videos on your Android device is a pretty useful and cool thing to do. YouTube is among the Most Useful Websites. People from all over the world upload videos on YouTube, and you can enjoy watching them for free. You can also read about Youtube Vanced.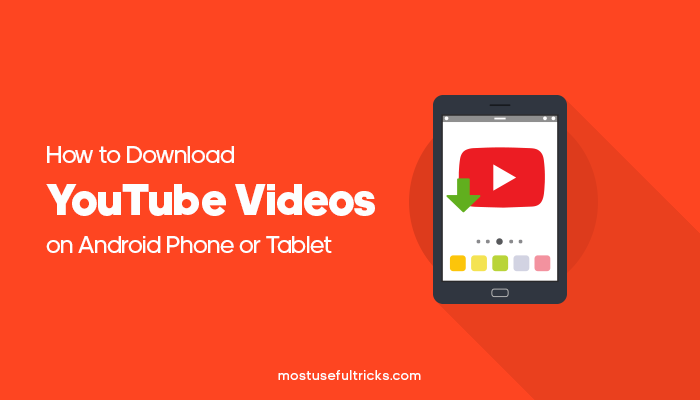 The Official YouTube app is easy to use and has some useful features. But, it doesn't allow you to download and save the videos on your Android device permanently.
Although youtube has recently announced an offline saving feature in India, this is not the same as downloading youtube videos. You have to open the app every time you want to watch any video.
This is especially irritating if you want to hear any song and leave your phone in your pocket. You can't do it for that; you have to download the song from youtube and use any music player android app.
So, now the question is, "How can I download YouTube Videos?". To learn that you need to read the rest of this post, find out how to download Youtube videos on Android from below.
In this post, we'll explore:
Downloading YouTube Videos on Android
Method 1: In the first method, we will use "Online YouTube Downloader Websites." These sites let you download videos from other popular sites in just a few clicks.
In this method, you have to open any browser on your phone, go to m.youtube.com, and open any video you would like to download. Next, you have to copy the video address and go to savefrom.net or keepvid.com and paste the URL there. Finally, click on the download button, and you will see the various video resolution to choose from.
This method works all the time. However, you can only download Youtube videos in 720p resolution using this method. If you want to download in higher resolution, check the second method below.
Method 2: If you want to download Youtube Videos on Android in full HD (1080p), then you should try apps like TubeMate or Snaptube. These apps let you download videos from many popular sites like Youtube, Facebook, etc. After installing, open the app and browse through the site to find an interesting video. Once you find one, you can start playing it, and you will see an option to download that video on your phone. You can choose the video resolution. You can also see the file size for various video resolutions from the app itself.
How to Download YouTube Videos on Android Using TubeMate
When it comes to downloading youtube videos, TubeMate is the best app for this job. It is very simple to use, and most importantly, it lets you download Youtube videos on your android device with just a few clicks.
Though you can download videos from many other sites using this app, It was exclusively created to download youtube videos only. You can watch the video below to learn how to download YouTube videos on all android devices using TubeMate.
Best Features of TubeMate
Easy to use interface.
Integration with YouTube App (you can open any videos on TubeMate for the youtube app itself).
Various formats of videos to download.
You can also stream youtube videos (and you may experience faster speed in a slow internet connection).
And many more.
TubeMate is not available on the Play Store; you can download the TubeMate app from here. Also, if you want, then you can use this app on your PC. You can check the video I have embedded in this post to learn how to download videos using TubeMate.
NOTE:
Download videos offline with YouTube Premium If you have a YouTube Premium membership, you'll appreciate different advantages, including the capacity to download offline videos to watch disconnected/video offline without outsider programming. You can download any quality options or video format you prefer and get them in the downloads folder. You should be endorsed into your record to watch downloaded videos, and you can't react to recordings with remarks or likes when watching them disconnected/offline. The download quality/video quality can be done as preferred.  This is how users save youtube videos/clips on the app itself with a Youtube premium subscription. You can also download the videos by copying the video URL and downloading the video file, music videos, and audio mp3 files straight from online video converters. 
Utilizing outsider applications or third-party apps, or third-party software to download YouTube recordings is against YouTube's terms of service, expressing that you are ready to transfer videos straightforwardly from its creators.
Conclusion
I think you will get a clear idea of what you need to do after reading this post, methods, and watching the video. But, if you have any doubt, then feel free to leave comments below the post. Ask us about additional software, third-party websites, File format, video resolution option,  Video downloader application/online video downloader, browser extensions, browser settings, conversion tool, conversion process, or anything from the article.