Partitioning the disk space in Windows basically means separating the total hard disk space into different parts or sections for storage. If all your data is in a single storage drive, it becomes a bit hard to locate the files.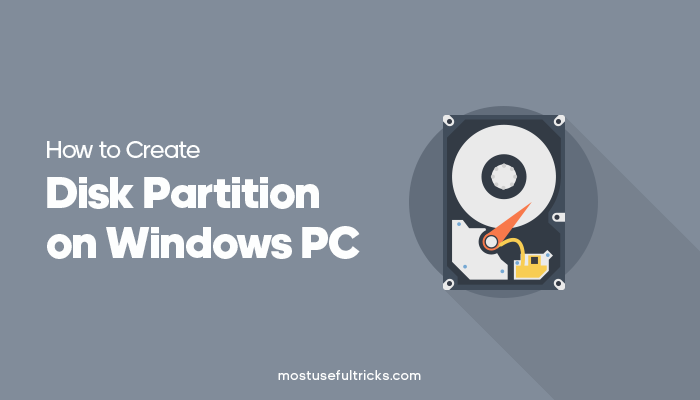 Therefore, It is a way to store data in different storage sections so that it stays organized and you don't have any problem locating all your stuff. Not only this, disk partitioning has many more useful features like you can try the different operating systems without disturbing your Windows drive.
You can create a new storage section to keep all your important files and documents as a backup, you can multiboot various operating systems on the same Windows and computer. Let's take a look at some of the many useful benefits of Disk Partitioning:
You can set a backup of your important files and documents.
You can install different Operating Systems on the same computer without disrupting the Windows.
The hard drive becomes more functional and it gets easier to access it.
Your data becomes secure as you may use the other storage section if you face any problem with the existing one.
All your files become more presentable and well-organized.
Creating a new disk partition is really easy in all the versions of Windows and the process in all of them is the same. In this article, we'll guide you how to create a new disk partition in Windows 7, 8, 8.1 and 10 using really easy steps.
Easy steps to create a disk partition in Windows
Open the Run command prompt by pressing Windows button + R.
Type diskmgmt.msc and click on run. The Disk Management console will open.
3. You'll see the graphical view of Disk Management console, right-click on a free or unallocated area. Then select New Simple Volume option to open the New Simple Volume wizard. If all your data is in one single storage drive then there are chances that you'll have to create the free area or unallocated space first in order to create a disk partition. Therefore, your hard drive needs to be shrunk to create some free space. To shrink your hard disk, right-click on your existing drive and select the Shrink Volume option. The space that is remaining after you have shrunk the hard disk will be the unallocated area.
4. You're almost there. Click Next on the Welcome page of New Simple Volume wizard.
5. Now, the Specify Volume Size page will open. In this, you'll see the total space available on your drive. Specify the number of Megabytes you want in your new disk drive in Available Simple Volume Size. Keep in mind that you have to specify the space in MBs. As 1024 MB = 1 GB, calculate the number of MBs to be assigned accordingly. After assigning the space, continue further by clicking Next.
6. You'll see the Path page or Assign Drive Letter page. You can select the letter of your choice with which new storage drive will be associated and click on Next.
7. Now comes the Format Partition page. In this, you have to select the format of the new drive. You can make the changes as per your preference or you may leave it as it is and then click Next.
8. Select a name for your new partition disk. It can be anything. You may even write your own name as new drive's name if you want.
9. With this, the New Simple Volume Wizard page will be completed. Finally, click on Finish to have a new partition section in your hard drive. It is now ready to use!