We are almost on the verge of completely making optical drives obsolete. Even the highest quality Blu ray is not getting any more popular than it was some three to five years ago. And the fact that Windows 10 does not directly support Blu ray anymore says a lot. So this article is about a brief guide on how to get free Blu ray player Windows 10.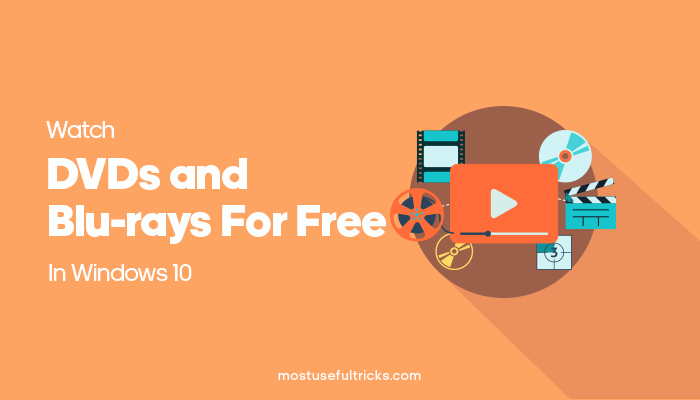 Just to clarify, there are still a handful of Blu Ray player software available online that can play Blu ray discs. But most of them are not for free. That means you will need to pay those specific players for a couple of bucks somewhere from $5 to $30.
Well, not a lot of people are willing to pay extra unless those Blu ray discs contain some important media files or personal videos. But if you just want to get DVD and free Blu ray player Windows 10, this article is the help that you need.
How to Watch DVDs and Blu-rays for Free in Windows 10
Be reminded that this tutorial is not applicable if you do not have a DVD ROM drive or Blu ray drive. Now that we got that out of the way, we can now start.
For Playing DVD Discs
The DVD player for Windows 10 have native support. In fact, most of the DVD media content can be played by the Movies and TV app and the old Windows Media Player. So DVD player for Windows 10 should not be much of a problem.
But if you want to be able to have a powerful DVD player for Windows 10, we suggest using the VLC media player. It is the most versatile media player, and one of the most useful apps today. Here is what you should do.
Get the VLC media player installer from this link. And if you are thinking of the VLC app from the Windows Play Store, that is not it. That app is nothing like the VLC player that comes in EXE format.
Make sure that you are getting the VLC version 3.03 and up because this has the latest codec to play all video formats.
Once the download finishes, double-click on the file installer to initiate the installation.
Follow the on-screen prompts and make sure to check the Discs Playback. By default, it is already checked, but just in case, keep an eye on it before you proceed to finalize the installation.
Once done, you will be able to play any media content from DVD drive through VLC.
NOTE: In case VLC is still not your default DVD player, you can always do it manually by opening the VLC media player. Click the Media button on top-left of the player and choose Open Disc.
For Playing Blu ray Discs
The Blu ray discs do not play well with Windows 10. That is why most people use third-party apps to perform this task. But a dedicated free Blu ray player Windows 10 is is not always free. And we are not here to tell you to spend money on something that can be availed for free.
Instead, we will be using the VLC player again. Blu ray discs are not like DVD discs. These optical drives have extra features that are not suitable for basic players. So we will need to do some tweaking on VLC before this player can handle Blu ray.
Get the VLC installer from this link.

Install immediately.
Once done, download the KEYDB.cfg from this link.
By default, the ProgramData folder is hidden. So click on the View tab on the top left side of the File Explorer.

Click on the Hidden Items and put a check on the box next to it.
Go to ProgramData folder on your Local Disk C. it should be visible now that you tick on the Hidden Items option.

Create a new folder and name it as aacs

.
Paste the KEYDB.cfg on the aacs folder.

After that, download the AACS Dynamic Library (libaacs.dll). Click here if you installed the VLC 32bit version. Or click here for VLC 64bit version.
Now, if you are on 64bit VLC version, go to the Local Disk C > Program Files > VideoLAN and paste the libaacs.dll for 64bit.
If you are using the 32bit VLC version, go to the Local Disk C > Program Files(x86) > VideoLAN and paste the libaacs.dll for 32bit.

You may now open the VLC player and click on the Media tab on top. Choose Open Disc. On Disc Selection, tick on the Blu-ray option.

Click on the Play button at enjoy!
Another option is to use the LEAWO Blu-ray Player. A great choice and a 100% free Blu ray player Windows 10. It is not much of a player and supports up to 4K resolution. All you have to do is download, install and play. Please note that this Blu-ray player is still under development and might show some bugs while in action.
On the other hand, the VLC media player is a lot more stable. If you do not mind the tweaking part and you are an avid VLC user, then we recommend this for you.
In Conclusion
The VLC player is the best media player around and considerably a free Blu ray player Windows 10, Android, iOS, Mac OS, and even Linux. So it would be wise to go for the VLC media player for all your media consumption.
Do you have any media player that can play Blu-ray better than VLC and LEAWO Blu-ray player? If you know one or two, please tell us in the comment section. It would be much help for people who are looking to find better ways to get free Blu ray player Windows 10.
If you have questions, you may also leave your message down below. We will try to respond to them as soon as we can.