This Brighter Guide tutorial will teach you how to play the game Slither.io Unblocked in your network. We can't freely surf the web every time, especially if you are a school/college student. The authorities impose some limitations on the websites we can browse. Most of the time, they block games, music, and movie sites.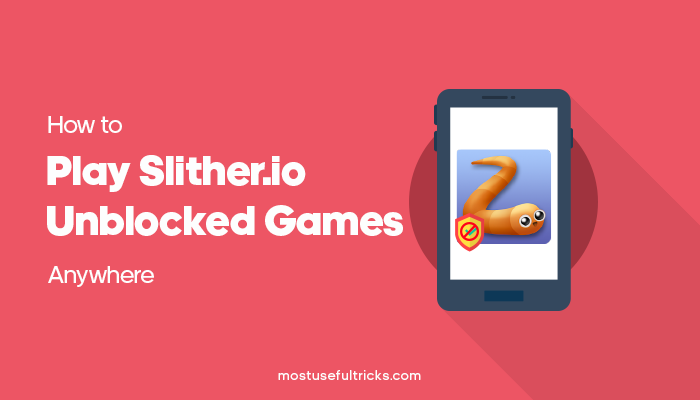 The best way you can surf a blocked site is by opting for a VPN. You know there are tons of VPNs available on the web, which you can download for free of costs.
Let's say you want to play Slither.io game and it is blocked in your school. It gets even worse if you don't have the permission to carry your gadget into the school. So, you will have to find a way to play the game on the school computer. That's exactly what you are going to read here.
How to Play Slither.io Unblocked?
I have got two methods to make yourself eligible to play the Slither.io unblocked version. You can try out both of them and stick to the one that works and suits you the most.
Method 1: Download the JavaScript Code
There are scripts available to assist you in running the Slither.io unblocked game on your computer. What you are going to get here is a Javascript, which you need to run inside your browser. Follow the steps given below to do that.
Step 1: First, you will have to download the Javascript. Use the link I have shared below to do that.
Step 2: The browser might ask you to install the script. However, you shouldn't do it. For the proper functioning of the script, you need a third-party extension. If you are using Google Chrome browser, the best user script manager is Tampermonkey. For Firefox, the ideal one is Greasemonkey and for Opera, it is either the Tampermonkey or Violentmonkey.
I am going to explain the method of installing a user script on Tampermonkey. The procedure isn't much different in others as well.
Step 3: First, you have to install the Tampermonkey Chrome extension. I am giving the link to the installation page below. But it is only a search away (all the other extensions too).
Step 4: Once you install it, you can see a button right to the address bar of the browser. Just click on it and choose to add a new script.
Step 5: Here, you will have to browse to the downloaded Javascript file. In case you find it difficult, you can just open that file using Notepad and copy-paste the code into the Tampermonkey page.
There you go! You just got Slither.io unblocked. You will notice that the keystrokes or controls are somewhat different from what you know from the original game.
New Keystrokes
T- Bot enabled/disabled
U- Log debugging
Y- Visual debugging
I- Automatic Respawning
O- Mobile rendering – Try this if you experience lag
P- Hunt prey – Moving food
D- Defense mode – bot turns around in a circle
C- Enemy avoidance / Collision prevention
Z- Reset zoom
Mouse wheel- Zoom in/out
Method 2: Visit a Third-Party Site
If you can devote some time, you can find many io game sites on the web. Many of them offer Slither or Slither-like games.
Here, I am sharing one such site. Just follow the link I have given below and start playing. You will get accustomed to the keystrokes and the nature of the game at once, given you have experience with the original Slither.io.
Do you want to try other game apps on your PC? Download Clash of clan for PC, League of Legends, and other games under 50 Mb.
Conclusion
You now have two different methods to play Slither.io unblocked. As I told you earlier, you can try out both the methods and stick to the one that suits you the most.