Windows 10 is more than just the latest offering of Microsoft to all its users. It is intended to function as the all-around operating system for every computing purpose. And one of its priced functionalities is its ability to handle multitasking inside a single device. And speaking of multitasking, this article is all about how to use multiple desktops in Windows 10.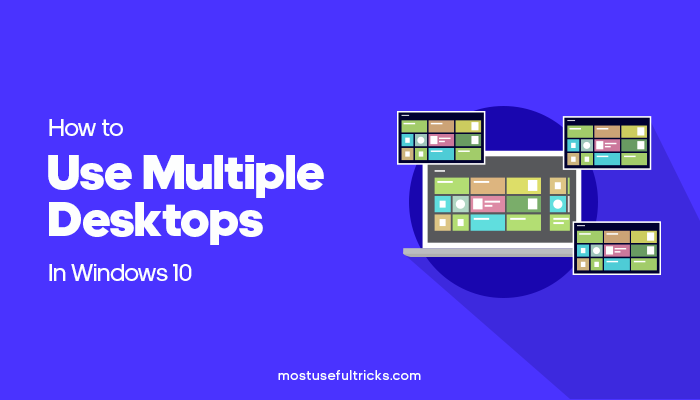 The multiple desktops in Windows 10 is not a new concept. In fact, there have been some third-party apps that offered this kind of feature back in the Windows XP era.
This time, the multiple desktop feature in Windows 10 platform is now converted as a native feature within the OS. And if you do not know how to access it or how it works, then let this article be your guide.
How to Use Multiple Desktops in Windows 10
We give full credits to the Windows developers for integrating this function within the Windows 10 system core. Not only that it is seamless, but it is also light on system resources. Let's start.
Adding Desktops
To add a new desktop, there are two ways to do this. You may press the Windows button on the keyboard along with the Tab button or click on the Task View button on Windows 10 Taskbar.

Now if you have active windows or folders, you should see all of them arranged side by side on the screen.
On the lowest left corner just on top of the clock, you will find a new button named New Desktop. Click on it, and you will see two desktop windows appearing just right on top of the Taskbar.

You can add more desktop as much as you want or better yet, just as much as your system can handle. That's how Windows 10 multiple desktop feature works.
Transfer Apps to Another Desktop
If you want an app or folder to transfer to a new desktop, the process is similar. Press the Windows button on the keyboard along with the Tab button or click on the Task View button on the Taskbar.

You should see all the active apps and folders appearing side by side on the screen.
Hover to the app that you want to transfer to another desktop.
Right-click on the active apps to show the Move To button.

Point your mouse on Move To button to show the New Desktop button.
Click on the New Desktop button and the active app will instantly create a new desktop and the app will transfer to it.
If you have already created a new desktop, all you have to do is drag the active app or folder below and choose which desktop you want it to transfer.
Switching Between Desktops
Switching between desktops is easy. There are two ways to do this. You may choose to click the Task View button and hover the mouse cursor to the desktop that you want. Or you can press the Windows key + CTRL + Left arrow or Windows key + CTRL + Right arrow keys on the keyboard.
Personally, I prefer the shortcut key combination because it is much swifter and feels more spontaneous especially when you already get the hang of it. Multiple desktops in Windows 10 has been integrated properly that it could add more efficiency to your work.
Close a Desktop
If you want to close a desktop from the multiple desktops that you launched, all you have to do is hover the mouse cursor to a desktop. The 'X' red button will instantly appear. Click on it to close the desktop. You can do this for all the active desktops that you left open.
Close an Active Window on a Desktop
Closing a window inside an active desktop is pretty much the same. All you have to do is hover to a desktop that has the active app or active folder that you want to close.
Once the mouse cursor touches the desktop, all its active windows will show up.
Now point the mouse cursor on the active window, app, or folder until the 'X' button appears.
4. Click on the 'X' button to close the app or folder.
Things to Remember
If you have 2GB of RAM in your system, it would be best to stay at two desktops max. If you have more RAM, then you may add more desktops.
The ideal and recommended amount of RAM as a system requirement should be around 8GB and more. With that amount of RAM, you can have better multitasking responses and fewer chances for lag. Remember that the minimum Windows 10 multiple desktop requirement for RAM is 4GB.
You should also be aware of how much power your processor can handle. If you are handling or dealing with more media content, adding more multiple desktops in Windows 10 might put a lot of strain on your CPU.
But if you are aware that you have a pretty powerful desktop machine, then you can have more freedom. It will be just in your discretion when it comes to the number of desktops that you want to open.
In Conclusion
The multiple desktops feature in Windows 10 is probably one of the best features that came across the Windows OS. It provides a more organized space when working on multiple tasks of a different nature. It makes the screen a lot cleaner and less cluttered.
In today's question, what other features that you think are useful in Windows 10? Tell us what you think in the comment section below. We would like to hear your thoughts and ideas.
Feel free to leave questions and suggestions down below. Your idea might just be the next topic that we will discuss. And don't forget to share this article if this is helpful to you. We appreciate little gestures such as that.