The WhatsApp messenger is probably one of the most popular, if not the number one online android/iPhone messenger to date. The app is available for four major famous operating systems. That includes the Android, iPhone, Mac OS, and even WhatsApp for Windows.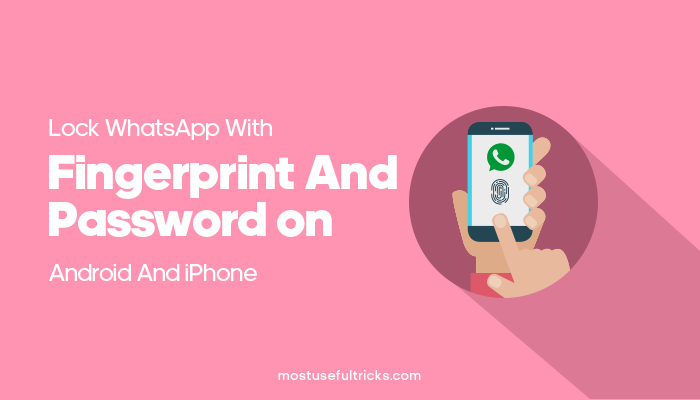 WhatsApp has many outstanding features, and that is why mobile and iPhone device users are drawn to this app. Unfortunately, despite its many features and versions, there is one important thing missing in the WhatsApp messenger. It lacks a security feature against prying eyes.
That means, as soon as WhatsApp launches, anyone holding the phone, including you, will be able to access all your messages through the app. Thus, you are left at the mercy of those people who take a peek at your phone screen.
Until WhatsApp developers include an authentication feature such as a fingerprint sensor, PIN, or pattern, we can't do much about it. But users can use a third-party app to cover this shortcoming. And this is what this article is going to help you with some steps.
How to Lock WhatsApp
Many third-party apps in the Play Store that users can use to put an authentication feature for WhatsApp. I can give you more than one option in privacy for your WhatsApp, but for now, I will only recommend the one that I trust the most. Not to mention that I have already tested a lot of apps for more than a few minutes. So I would suggest using the AppLock from DoMobile Lab to help with your WhatsApp security. Here is what you should do.
There are two options to get the AppLock APK. You can use the Google Play Store and install it the natural way, or you may use the one that requires users to modify Android System settings.
If you do not have access to the Google Play Store, use the Android third-party option. Next, go to the Settings area and find the Security option.
On the Security option, scroll down and find the Unknown Sources.

Click on it to enable that feature. After the installation, you should get back here and disable this feature again. Leaving this feature open permanently might allow some malware-infected apps to install easily.
Now, on your Android web browser, click on this link to download the AppLock APK file.
After the download, tap on the APK file to start the installation.
Launch the app for the first time.
On AppLock's first launch, you will need to create a new pattern. You will need to do this twice for confirmation.
When you are done, you will see a list of apps and even some System settings that you could lock if you want.
Scroll down and find the WhatsApp messenger.
Click on it to lock the app.
You will be prompted that the app is finally locked. You may now exit AppLock and try to open it again if the AppLock works.
Once you tap on the WhatsApp app, you will see an authentication prompt. In this case, it will be the pattern you created earlier.
That's it. Users can also use AppLock to put authentication features on other apps as well.
Other Authentication Methods
The AppLock app has many features. Aside from the pattern authentication method, the app also supports passwords, pin codes, and fingerprint locks. Here is how you can access it.
Open the AppLock.
You will be prompted to use the pattern you initially used for locking the WhatsApp app. Draw the pattern.
From the AppLock main interface, click on the Protect tab.

Under the Security settings, click on Unlock Settings.
You should see the available authentication method that you can use aside from the pattern security, like a fingerprint lock. Choose which one that you want.
In Conclusion
Without an authentication feature, anyone could easily access your phone when you leave it open or when you have no choice but to let someone borrow your phone. So an added security feature should do you great help and offer more privacy in unavoidable situations.
Ask us about Privacy settings, privacy policy, Chats with fingerprints, or anything from the article. You may also leave messages for suggestions in the comment section if you are not content if the information above. Rest assured that we will try to answer them as soon as we can.
So do you think this suggestion to add an authentication feature on the WhatsApp messenger suits you? If not, can you suggest another way to add security to the app? Tell us in the comment section below. We would love to know your opinion.