Here is Moviemaker that you need to try if you are a person who loves editing videos, making videos, and also getting creative. And this article is all about that.  Movie Maker used to be a stock application on Windows. But Microsoft ditched it a while ago. If you are a user and you want to have Movie Maker on your computer, you will be happy to read this article.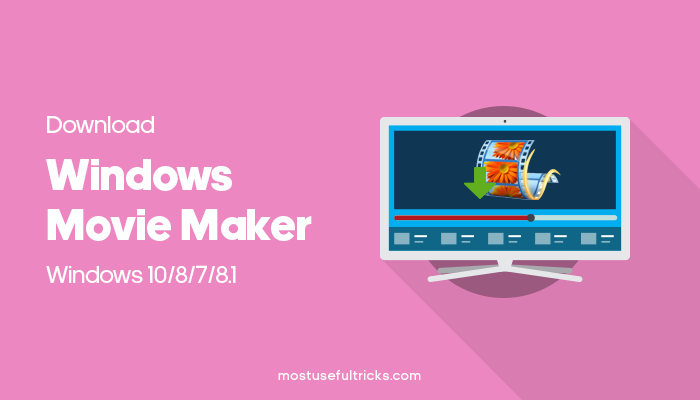 Even though I am sharing download links to Movie Maker for Windows 10, you can use it on other versions as well. So, are you ready to get into the core of this article and grab the Movie Maker? Here goes!
Movie Maker for Windows 10 Download
| | |
| --- | --- |
| Title | Windows Live Movie Maker 16.4.3528 |
| Filename | Windows MovieMaker.exe |
| File size | 134.11 MB |
| Requirements | 32/64-Bit of Windows 7/8/8.1/10 |
| Languages | Multiple languages |
| Author | Microsoft |
You can download two types of Windows Movie Maker installer; offline and online. The online installer needs you to have a working internet connection throughout the installation whereas offline installer doesn't need it.
How to Download: Once you reach the page, you have to choose the language. Then, hitting the download button will get you the installer file.
With both the installers, you will get some other Windows Live Essentials tools. You can go with it or simply uncheck them.
Microsoft officially stopped supporting Live Essentials about a couple of months ago. So, you will not get any support. Nonetheless, you can use the software as you used to do. Why do people prefer Movie Maker so much? Let's find out.
Features of Movie Maker for Windows 10
The first Movie Maker wasn't rich with features. And, the Live version came out with quite a bunch of useful specs.
#1. Easy-to-Use Interface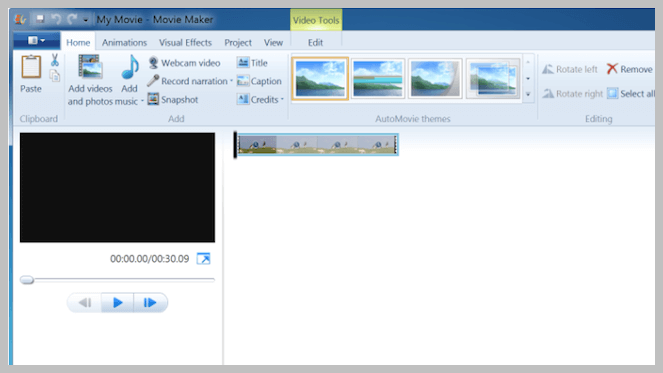 I mean it. You have to go through a learning curve when it comes to working with other editors like Adobe Premiere Pro or Apple's Final Cut Pro.
On the contrary, Movie Maker makes video editing simple. Of course, there are not a ton of features available. Still, the way Microsoft has organized them doesn't frighten a newbie. You can pretty much do everything a typical video editor can.
#2. No Heavy Specs Needed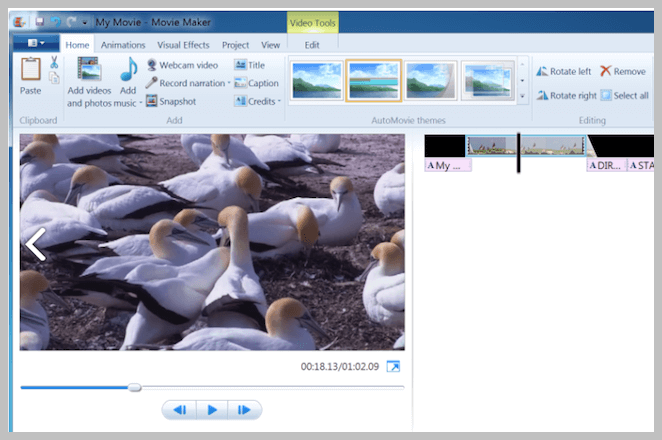 You don't need to have a computer with superior configurations to run Movie Maker. It works on a system with basic specifications. The following are the prime requirements for movie maker.
RAM– At least 1 GB
Processor– 1.6 GHz or higher
Resolution– 1024x 576
Video card– Anything with support to DirectX 9 or higher
As you read, all these requirements are basic. No one buys a computer with RAM below 1GB today. And, the standard resolution is 1024×768 now.
Don't worry about the video card. It should support DirectX. You shouldn't go for a pricey graphics card only for this purpose.
#3. Doesn't Affect the Performance
Have you ever used Adobe Premier or other so-called professional video editors? If you have, you surely experienced occasional lags during the course of editing the videos. It happens due to the higher resource usage of the software.
As a result, you can't even do even a minor task while the video editor stays open. The Movie Maker has no such issues. You can do anything you want with it in running state.
#4. Includes All the Necessary Features
As you read earlier, Movie Maker includes all the necessary features you need on a typical video editor. You can add video clips, images, and music. It also has a trimmer to cut the clips. There is a set of effects or filters available on the interface to beautify the visuals. If you want, you can apply transitions too.
Wrapping Up
I hope you downloaded Windows 10 Movie Maker. And the list of features of this software program with numerous built-in features for movie maker windows excited you. It has a simple interface and a intuitive interface that makes the process easier even for non-professional users.
Sometimes a benign program is wrongfully flagged as malicious due to an overly broad detection signature or algorithm used in an antivirus program. And the basic video editing app or software vary from country to country.
Start editing lots of photos into movies. Start making amazing videos as easy as taking photos, arrange and add titles. Trouble downloading it? Let us know! Leave a comment below about Windows Movie Maker Offline Installer For Windows PC and we will respond to it as soon as we can. Doubts about video files, Video stabilization Edit videos, photo presentations, video enhancements, antivirus services, antivirus program, benign program, movie maker tips can be dropped in the comment box below. It is one of the professional video editing tool for popular video editing to make cool videos.