Here I have shown you the exact step by step guide for creating a Paytm account and Paytm wallet. This guide will be helpful to you when you will be signing up for your Paytm account.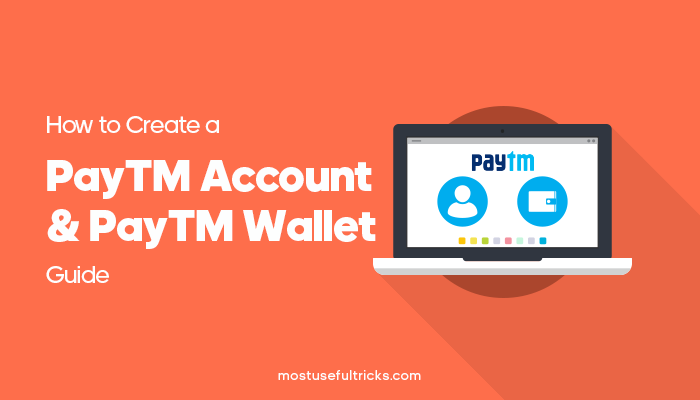 Paytm is one of the biggest online free mobile recharge providers in India. Started in the year 2010 they have grown enormous now. In 2017 PayTM is a big deal in India. These days they are expanding their business very fast, recently Paytm entered into the e-commerce market in India. At the time of writing this post, you can book movie tickets, pay for many services, book flight tickets and do many other things with Paytm.
Paytm is a digital wallet and web-based business payment system company situated in Noida SEZ, India. This e-wallets organization offers payments of utility bills, mobile recharge, film ticket, and booking of events, travel appointments. Just as store payments at necessary food item shops, cafés, parking areas, tolls, and educational associations wherein exchanges through Paytm are done utilizing Paytm QR code.
So if you are not a Paytm user yet, then it's not late you should create your Paytm account right now. It's very easy to create a Paytm account. But, I think many people will still find this guide helpful. Here I have given complete details about how to create a Paytm account. I have attached some screenshots which will help you to understand the entire process better. So don't waste any more time and jump into the main part of the post below.
How to Set Up a Paytm Account
For creating a Paytm account, you have two options, either you can download the Paytm app, or you can go to their website. For this instance, I'm presuming that you guys will step up your Paytm account from the Paytm website. So let's Start following the step by step guide below.
First of all, go to Paytm.com and click on the button on the top-right side that says "Log in/ Sign up."

After you click on that button, a pop-up box will appear, just click on the "Sign up for Paytm Wallet" option.

Now enter your mobile number, email id and desired password (you can change the password and other details in the feature) and click on Continue.

After clicking continue Paytm will send a Confirmation code to your mobile number, enter that to confirm your mobile number.
After you do so, you will see your Paytm account profile page. You can Enter your name and other details there for completing your full profile.
Note: With mobile number verification you should also verify your email id. For Verifying your email id on paytm you have to check your account page, and there you will see the option for verifying your email id.
Finally, you have successfully created your Paytm account thus you have successfully created your Paytm wallet. Hope you will have fun doing mobile recharge and online shopping from Paytm.
Paytm Wallet comes with your paytm account. When you create paytm account, you also create a Paytm Wallet for Your Self.
In case you don't want your Paytm account anymore, there is always a way to delete your Paytm account. Anyhow hope you find this Paytm guide helpful, have a good day.