WhatsApp is one of the most popular chat apps in the world. Along with sending messages, media files, documents, and contact, one can make calls through WhatsApp as well. It's true that WhatsApp is great and day by day it's coming with new initiatives like the new voice call feature. But, when they added VoIP calling on WhatsApp, they removed the normal call feature.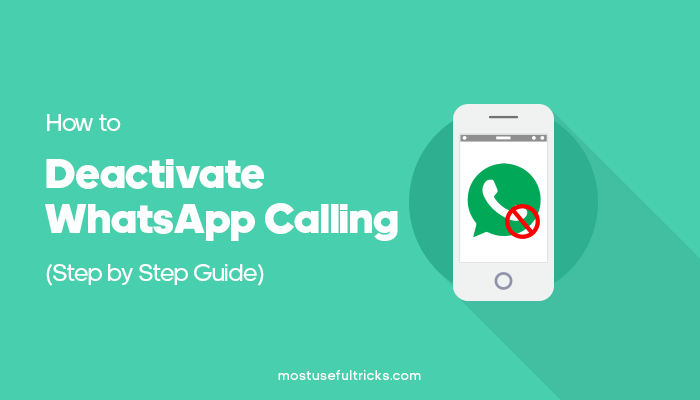 Now if you want to call someone from WhatsApp you can make only Internet or VoIP calls. Voice calling over the internet was one of the most awaited WhatsApp features for some people, but WhatsApp should allow users to choose which type of call they want to make.
This problem can be super irritating, especially when you are on a slow internet speed. As a workaround, you may try to remember the number and then open the phone dialer and dial the number (Which you may have already forgotten 🙁 ), and make the call. I know it is irritating.
However, still, WhatsApp has not included any feature that will allow users to choose which calling method they want to use. But, don't worry below I have written about how to disable or deactivate the WhatsApp Internet Calling feature, you can read it below.
The New Method for Disabling WhatsApp Calls
I was browsing the Google Play Store yesterday when I found an app called 'Disable WhatsApp Calls', this app can help you to get rid of the WhatsApp call feature. You should give it a try. It's currently in the beta stage. So, now you all you have to do is download the app, I have shared the Google Play download link with you below.
Download the 'Disable WhatsApp Calls' Application
After you download the app, check the screenshot below; this will give you a clear idea about how to use this app for disabling WhatsApp VoIP Calling Feature. This app is targeted to those people who want to use normal calls over WhatsApp calls. However, if it does not work then try the old method for doing this. You can check the old method below.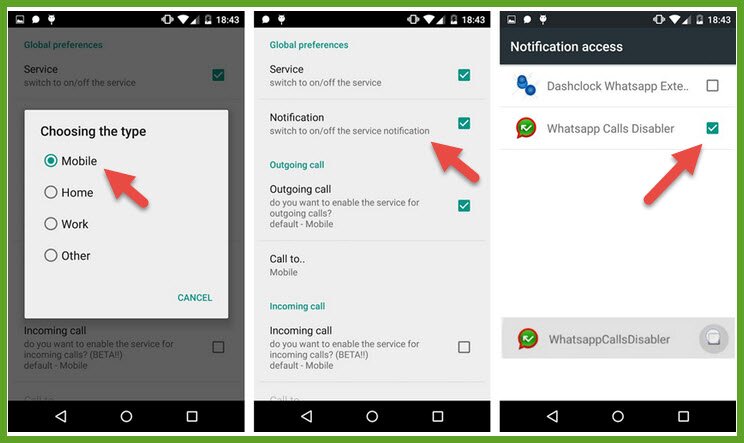 Disable/Deactivate WhatsApp Calling (Old Method)
Open your WhatsApp
Go to settings
Next tap on Chat Settings
Now click on Backup WhatsApp Chat.
After that, you need to uninstall your current WhatsApp
Now download the old version of WhatsApp from here.
Install the new WhatsApp, now enter your number.
Now it will ask to restore chats, just restore chats and in some second you will be on the new WhatsApp screen.
Finally, your WhatsApp calling is disabled.
What We Are Doing Here (Explained)
Actually, the voice calling feature of WhatsApp had been included in the latest version of WhatsApp. That is why if you want to disable the voice calling or VoIP calling of WhatsApp you have to uninstall the latest WhatsApp and install the old version which doesn't have any VoIP calling feature available.
But, if you uninstall and install the old version without doing any backup then you will lose your chat conversation. So, It's recommended for you to follow the detailed step by step guide method in this article and backup your WhatsApp conversation first and then install the old version on your device.
Conclusion
WhatsApp has recently changed their privacy policy. That makes people doubt this chat app. Irrespective of this new privacy policy, users keep getting WhatsApp calls from an unknown person. To block those calls one can follow the above-mentioned steps. You will only get calls from the saved contact list on your phone. 
So that was how to disable or deactivate the WhatsApp calling feature. If you find this article helpful then please share it on social media. And in case you have any queries, please comment below. Thanks for reading ;).