Are you trying to download a file for a long time, but due to surveys your download never starts? Follow this guide for learning some workarounds which will help you to bypass surveys from sites like Fileice, Cleanfiles, Sharecash.org, Uploadables.com, Dollar upload, etc. for free. With Brighter Guide, you can now download your desired file without completing any survey.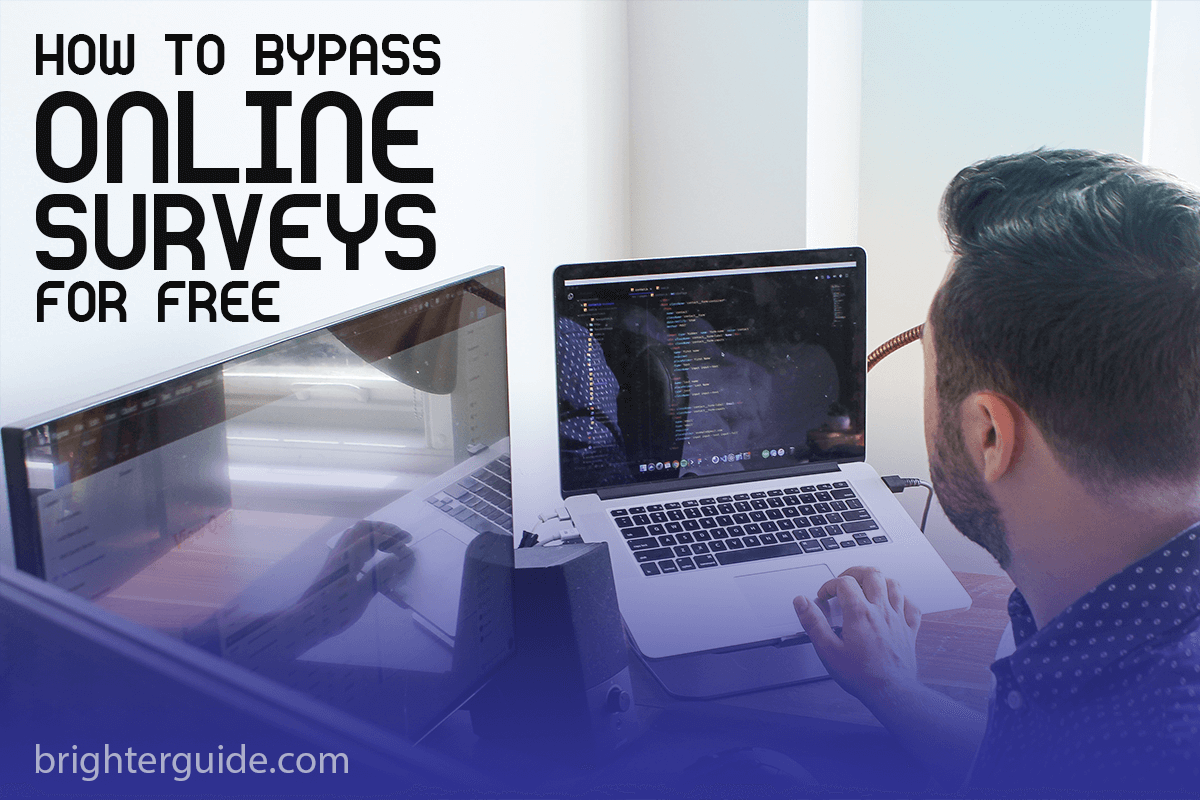 Some file-sharing websites force you to fill surveys, before downloading your desired file. They're a great time waster and annoy almost every internet user on earth. But in some ways, you can bypass them without doing much, and download your file.
The main purpose of surveys was to get feedback, but some websites have started to earn money by filling surveys. There are many methods on the internet for bypassing online surveys, but I will focus only on those which are easy and working.
Methods for Bypass Online Surveys
Bypass Online Surveys using Websites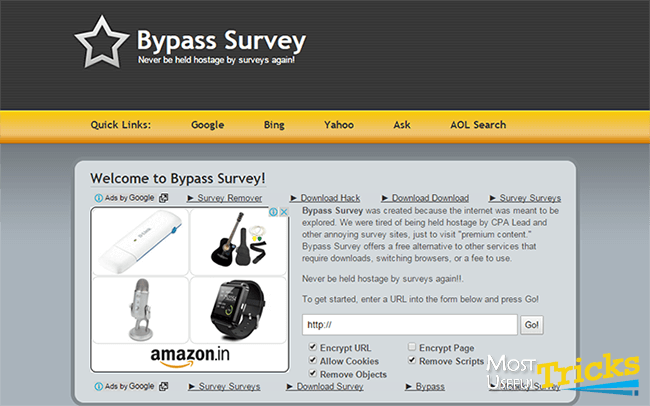 There are many websites that let you bypass surveys, by simply entering the URL. After entering the URL, you just have to click on the GO button. The website which I am going to recommend is Survey Bypass. This site will help you to easily bypass most of the popular file-sharing site surveys, without any further delay.
The website works with most file-sharing platforms. I will try to find some other useful sites which will be more helpful, till that check other methods below and also you can bookmark the page for the future.
Browser Extensions for Bypassing Online Surveys
Some extensions are available online for avoiding filling surveys, with the help of them, you can easily bypass surveys. They work by blocking pop-ups by survey websites and completing making them out of the way. The extensions work for most of the websites, and reliable. Below you can check different extensions for different browsers.
You can use Bypass Surveys for Google Chrome. The extension is famous for working on almost every survey website, Chrome users can simply download it, and use it. (Mozilla Firefox users are recommended to use Google Chrome)
Softwares which will Bypass Online Surveys for you
Many software is available on the internet for this kind of work, but, only a fraction of them are working. Some of them are malware, contain viruses, and doesn't solve the purpose.
A survey removal tool is a great software for bypassing surveys without any problems and bugs. The interface is easy, the software works on most of the websites, and hardly makes any trouble.
Another software is Survey cash killer, it works perfectly fine, without giving any a headache, and removes the survey with just a few clicks.
Note: You can disable JavaScript on your browser. This will surely make surveys unable to run on your computer, as they require it.
These methods are tested and work on most of the websites, if any survey doesn't bypass, you can try some other way, but above listed once are the easiest and most practical ways to do so. If you come across any website, survey tool, or extension that I didn't mention, please don't use it (unless you are 100% sure about the software), as it may contain a virus, malware and other malicious software's.
Conclusion
I hope you found this tutorial useful and you will follow the above-mentioned ways. Moreover, I would be very thankful if you kindly share the post on Facebook, Google plus and everywhere else. Have a good day!