Are you annoyed of slideshows in a webpage you are reading? Many useful websites can be seen using slideshows to display their list-based posts. But sadly, some users hate it and so they use specialized web browser or use a specific tool called Deslide to get rid of it.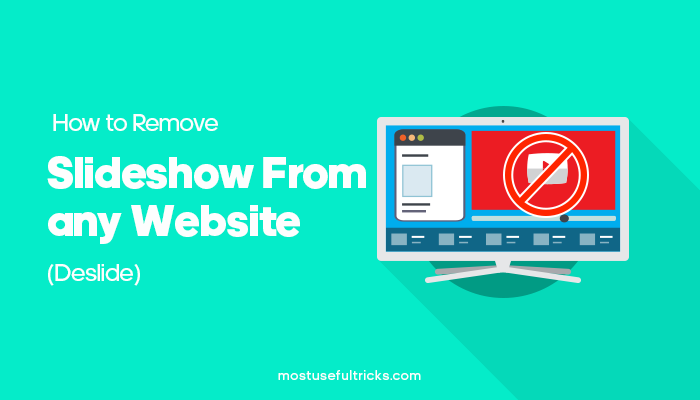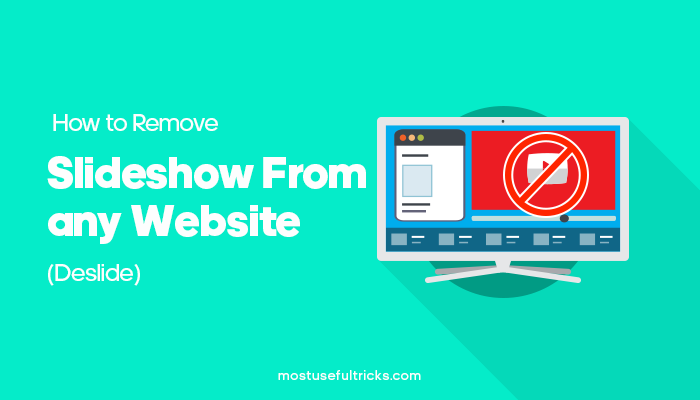 Apparently, using slides lead to more page views, higher ad impressions, and drastically low bounce rates. This is one of the tools used by a blogger and a plublisher. These above stats which is vital for search engines are observed and help the page to get higher rankings and earn money online.
However, slideshows tend to affect user experience a lot. It interrupts your reading, slows your browsing speed and uses more bandwidth. Furthermore, it is really frustrating to click on the next button while accessing content each time.
Sometimes the information available on that particular page is useful and not available elsewhere on the internet. In this scenario, you will be forced to click those slides.
But from now on, you will be able to deslide those slideshows and read the full content in a go. Sounds cool huh? Continue reading this article as I'll give you the simple solution to Deslide any slide show.
What is a SlideShow?
A slideshow is basically a compilation of text content/images/videos in a website. It is used to get more page views and increase the time a user spends on the website. So if you visit such website and read the next paragraph or a part of it you will need to click "Next" each time.
Let's do a simple calculation. If the website you visit has 15 slides then the website will generate 15 pageviews from a single user. This leads to higher ad impressions and more revenue.
Whereas the webmaster doesn't add slides then it will only generate 1 pageview. The same goes with annoying ads.
As a user, it is a real pain. Can you imagine clicking 15 times just to read a single set of content? But you don't need to worry about it anymore because now you can read the complete content without getting distracted.
How to Remove Slideshow from a Website using PrintFriendly
If you visit other sites you will notice everyone has mentioned about two websites, ClusterFake and PageZipper. They were working great a few months back but now they don't work that well. However, you can use something called Printfriendly for removing slideshow from a website.
PrintFriendly is a service which optimizes web pages so that you can save printable links and pages. I love this website. They do their job very well and the webpages also look very good when you print them. You can follow the steps mentioned below to start using PrintFriendly for desliding any website ASAP.
Step 1: Copy The URL of the webpage you want to deslide. Follow the guide in the picture.
Step 2: Go to PrintFriendly.com. Copy and paste your URL there.
Step 3: Now click on the Preview button and you will see the complete webpage without any slide. (They also remove all the ads).
Note: Print Friendly has browser extensions too. you can download those from the official website. However, i personally prefer using the website instead of downloading the extension because the extension does not work EVERY TIME.
How to Remove Slideshow from a Website (Old Method)
There are many browser-based extensions available to deslide slideshows in a website. But we are going to talk about the most simple and effective tool which is Clusterfake. Please follow the steps mentioned below to start using Clusterfake ASAP.
Step 1: Copy URL of the page which you want to deslide.
Step 2: Now visit Clusterfake website by following this link – Clusterfake. From the main page, there is a blank URL field.
Step 3: Paste the copied URL into the Slideshow URL box.
Step 4: Next, you need to select the combination of elements that you want to retrieve using the drop-down menu. Use your mouse and drag it across the part of the page that you want included.
Step 5: Once everything finishes, click deslide. Wait for the page to load. Kudos, you have successfully deslide your desired content.
Note: You can also use PageZipper for removing slideshow from a website. It has chrome and firefox extensions too. Check PageZipper Official website here.
In Conclusion

Using online applications like Clusterfake saves a lot of time while reading contents which came in slides. There were many applications available which claimed to remove slideshows but after testing many we came up with this one.
Having problems while trying to deslide? Need assistance? Drop a comment, we will get back to you.