So, your Windows 10 search doesn't work, does it? Whenever you type something into the search bar, no results get displayed.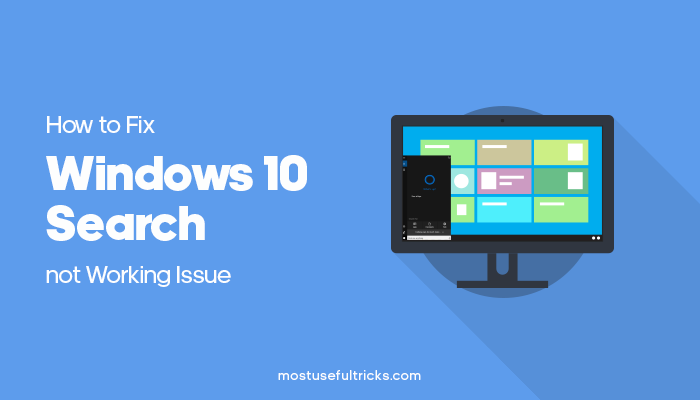 Is it your issue? Maybe, your issue is not with the file explorer, but taskbar. As you type something into the taskbar search tab, you get nothing in return.
I know you are frustrated. That's why I have come up with a fix to this search not working issue on Windows 10.
Solve Windows 10 Search not Working Problem
I have got multiple solutions to this problem. You can try them out one by one. So without further ado, let's get started.
Solution 1: Restart the Explorer
The simple thing you can do at first is restarting the file explorer. Follow the steps given below to do so.
Method 1
Step 1: First, you should open the task manager. Hit Ctrl+ Shift+ Esc simultaneously.
Step 2: Have a look under Apps on the Processes tab. Can you see Windows Explorer there? In case you don't see it there, click details and hit e. You will land on Explorer.
Step 3: If you get Windows Explorer from Processes tab, right-click on it and choose Restart.
Method 2
Under details tab, you should go through a couple of steps to restart the explorer. First, right click on it and hit End task. A pop-up window will come asking you if you want to end explorer.exe, just click on the "end process" button there.
Then, go to File>> New task. Enter explorer.exe into the field that pops up. There you go!
What if you still get the issue?
Solution 2: Rebuild Index or Add New Directories
Most of the times Windows 10 search, not working issues arises from corrupted indexing. You can get it over with after rebuilding or adding new directories.
First, try rebuilding the index.
Step 1: Hit Win key+ X to get a context menu on the start button. Choose Control panel from there.
Step 2: Search for 'Indexing options' there. Don't hesitate to go with the first result you see.
Step 3: On the Indexing Options dialogue box, you can see a button labeled as Advanced. Hit on it.
Step 4: Have a look under Troubleshooting. You can see another button labeled Rebuild right next to Delete and rebuild the index.
Click on it.
Step 5: At this step, you can see a confirmation. Choose OK.
There you go! In case this doesn't work, you have to include the directories, where your target files reside in, for indexing.
Follow the first two steps from the above process. And, then choose Modify from the Indexing Options. You can add or remove locations from the screen that comes up next.
When you are done with it, click OK until you close every wizard.
Sometimes, indexing tweaks don't work. So, you have to make sure the folders (where your target files are saved) has configured with system permission.
Solution 3: Provide System Permission
Step 1: Go to the folder where you want to carry out the search. Then, right click on it and choose Properties (alternatively, you can go with Alt+ Enter as well).
Step 2: You will get multiple tabs here. Navigate to Security.
Step 3: If you don't see System under Group or user names, hit Edit button and then Add.
Step 4: Type system into the text field, click Check names, and finally hit OK.
I have given you multiple ways to solve Windows 10 search not working issue. Don't forget to share this tutorial on social media.