WhatsApp is very popular, millions of people use it every day on a Regular Basis. I also use WhatsApp frequently and most of the time it works fine. But, last night when I was chatting with my friend on WhatsApp I faced a problem, I couldn't Click any Picture from WhatsApp.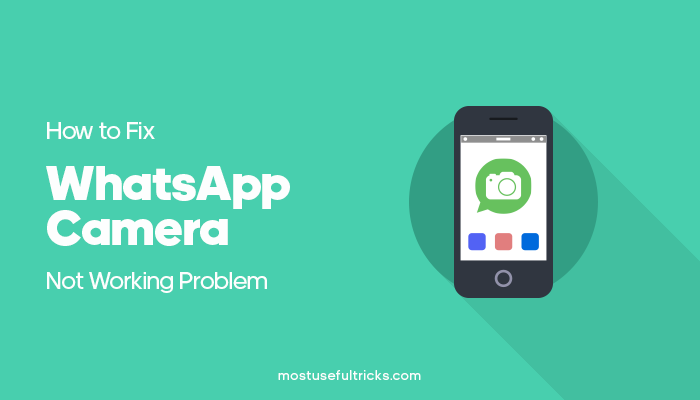 I was unable to capture photos using my smartphone's camera (Both Primary and front Camera) from WhatsApp. But, when I checked the camera I see it was working just fine. It took me quite a long time to fix this issue.
So, here in this post, I will share the steps which helped me to get rid of this problem. Below I have described the problem which I was facing in detail.
The problem was – whenever I click on the camera icon the flashlight flashed, and nothing comes on the screen. The phone was showing me the black screen, and when I click on the capture icon, only a blank black image used to get captured. After facing this problem for more than five times, I thought that I should check something to solve this issue.
I did a quick google search and saw that other people were also facing the same problem with WhatsApp camera. So, if you are among those persons who are facing the camera problem with WhatsApp then check below, I think you will be able to get rid of this problem.
How to Fix Camera Problem in WhatsApp
A great many people set out to accuse the WhatsApp application and the group behind it, yet it is not their flaw. WhatsApp will never deny you to open the camera. Yet, you, as the client, more likely than not denied WhatsApp access to use camera whenever it needs to without affirmation presumably at the purpose of installation. Whosoever shortcoming it is, fix WhatsApp is refused to utilize camera using any of the strategies below.
After my phone start showing this problem, I was irritated, as I was unable to send any picture to my friends by directly clicking photos. I thought if I uninstall and reinstall WhatsApp then I might get rid of this problem. I did that and Guess What! After I uninstalled WhatsApp and reinstalled it, the problem was gone. So, if you are facing the same problem, I will suggest you without wasting any more time do the following.
Open WhatsApp on your Phone.
Now take a Backup of Your WhatsApp Chats. (WhatsApp Settings> Chat Settings> Backup Chats)
Next Uninstall WhatsApp from your Phone
Restart Your Phone (This is not necessary)
Now you can Download and Install WhatsApp on your Phone again and you won't face this issue. Congratulations! You just fixed your WhatsApp Camera Not working Problem. Enjoy the rest of the day chatting with your friends on WhatsApp.
Conclusion
WhatsApp is one of the most utilized cross-platform mobile messenger. It permits you to send a message without paying for SMS. Lots of marvelous highlights like the voice call, answer quotes, up and coming video call, striking and italics content, and so on have been incorporated into WhatsApp flag-bearer lately.
However, at some point in time, you may have confronted the issue of WhatsApp denied to utilize the camera or can't start the camera. I hope that this article helped you solve your problem on how to fix WhatsApp is refused to open the camera issue and allow WhatsApp access and use your camera to take pictures and video.