WhatsApp is very popular. Millions of people use it every day regularly. I also use WhatsApp frequently, and most of the time, it works fine. However, last night, when I was chatting with my friend on WhatsApp, I faced issues; I couldn't click any picture or video from WhatsApp.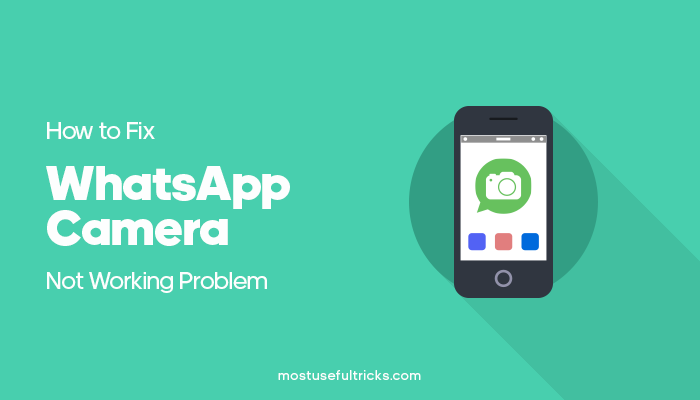 I could not capture photos or videos using my smartphone's camera (Both the primary and front Camera) from WhatsApp. But, when I checked the camera, I saw it was working just fine. It took me quite a long time to fix the issues.
So, here in this post, I will share the steps that helped me get rid of this problem. Below I have described the problem I was facing in detail.
The problem was – whenever I click on the camera icon, the flashlight flashed, and nothing comes on the screen. The phone showed me a black screen, and when I clicked on the capture icon, only a black screen image was captured. After facing this problem more than five times, I should check something to solve this issue.
I did a quick google search and saw that other people were also facing the same problem with the WhatsApp camera. So, if you are among those facing a camera problem with WhatsApp, check below on how to fix the WhatsApp camera not working. I think you will be able to get rid of this problem.
In this post, we'll explore:
How to Fix Camera Problem in WhatsApp
Many people set out to accuse WhatsApp's application itself or the team behind it. However, that is not the case. WhatsApp will never deny you the camera. Yet, as the client, you more likely than not denied access to the camera without affirmation, presumably for installation. Whatever it is, WhatsApp's camera should be fixed using any of the strategies below.
After my phone started showing this problem, I was irritated, as I could not send pictures or videos to my friends by directly clicking photos. I thought if I uninstalled and reinstalled WhatsApp, I might get rid of this problem. I did that, and after I uninstalled WhatsApp and reinstalled it, the problem was gone. So, if you are facing the same problem, I will suggest you do the following solution.
Open WhatsApp on your Phone.
Now take a Backup of Your WhatsApp Chats from your settings. (WhatsApp Settings> Chat Settings> Backup Chats)
Next, Uninstall WhatsApp from your Phone
Restart Your Phone (This is not necessary)
Now you can Download and Install WhatsApp on your Phone again, and you can finally take photos and videos. Congratulations! You just fixed your WhatsApp Camera Not working. Problem. Enjoy the rest of the day chatting with your friends on WhatsApp.
Also check other articles from our blog on How to Text Someone Who Blocked You on WhatsApp – 4 Ways, How to Block WhatsApp Calls but Not Messages.
Conclusion
WhatsApp is one of the most utilized cross-platform mobile messenger. It allows you to send a message without paying for SMS. Many marvelous highlights like the voice call, answer quotes, incoming video calls, striking and italics content, and so on have been incorporated into WhatsApp flag-bearer lately.
However, you may have confronted WhatsApp, denying you use of the camera, or can't start the camera. I hope that this article helped you solve your problem with the perfect solution on how to fix WhatsApp refusing to open the camera and allow WhatsApp access and use your camera to take pictures and videos. Then, start taking incoming video calls with excellent video quality and good video calling experience on WhatsApp. Then, continue with the video calling sessions with Whatsapp Video Calls with your friends and family. Ask us about quality on video, video calling options, permission menu, microphone permissions, video conferences, default settings, app settings, application cache, app-related issues, minor firmware issues, permission manager, or anything from the article in the comment box below.